Format Recovery Software
Last updated on 22/03/2017
Read this article to get methods to recover files after formatting / reformatting hard drive, external HDD, flash drive, pen stick and memory card, phone / digital camera.
Table of Contents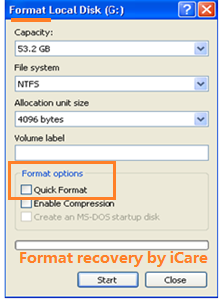 Format Recovery Situations
Format recovery software is data recovery tool, which has the ability to recover files after format / reformat a digital device like SD memory card, micro SD card, mini SD card, SDXC, SDHC, CF, XD card, SQD, memory stick, USB hard drive / HDD, digital camera and smartphone and more.
1. File Recovery after Reformat by Mistake
You ever mistakenly formatted or reformatted a digital device and erase all files? Most of time, such kind of a mistake is usually made on computer when you connect an external HDD or memory card to the PC for data viewing, editing or transferring. Sometimes, you may accidentally format a micro SD card in a smartphone or reformat an SD, CF or XD card in a digital camera. Formatting does not cause any hurt to a device, but only wipe the device completely.
Format error refers the situation that digital device shows an error message, allowing you to format the media. For instance:
File system changes to RAW and needs to be formatted to NTFS or FAT32
…
For many errors on a storage media, formatting offers a perfect way to resolve the problem. However, the data on the media that has errors is deleted at the same time.
3. Format Virus Infected Device
Whether it is a card used in your mobile phone / camera or a portable / internal hard drive used for your computer, it is easily infected with virus or Trojan. In order to remove viruses completely, many people would like to perform complete format on a virus infected device in addition to use an antivirus program to scan the device, because formatting is often considered as a good way to erase viruses from any media.
A drive / card will show nothing whether you reformat it due to mistake or for error fixing, in which situation only format recovery tool is available for data recovery from formatted media.
Tutorial for Data Recovery after Format

Format recovery software, iCare Data Recovery Pro, is specialized in file recovery after formatting or reformatting. With this format recovery program, you are unable to undo format memory card, thumb drive, hard disk or other removable disk for file recovery within 3 steps:
Step1. Free download the software and install it on Windows computer. Then, launch the software and select a proper scan mode.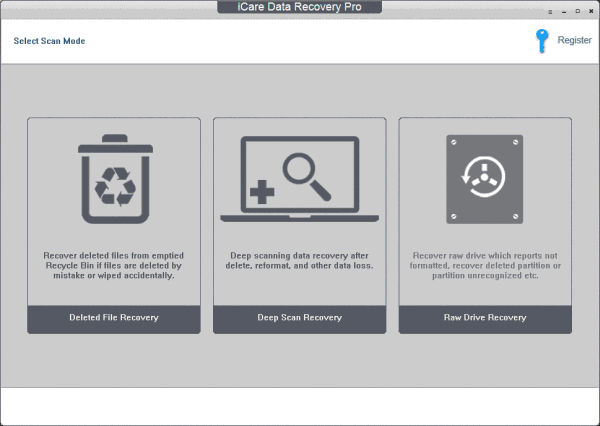 Please do not install the software on the formatted drive in case of data overwriting.
Step2. Select the formatted media as target device and then let the software perform a scan for lost files recovery.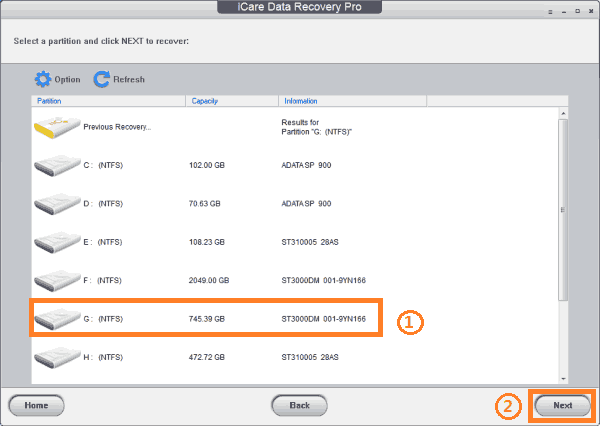 Step3. When scanning is over, you can click each file to preview and then save the files lost due to reformatting.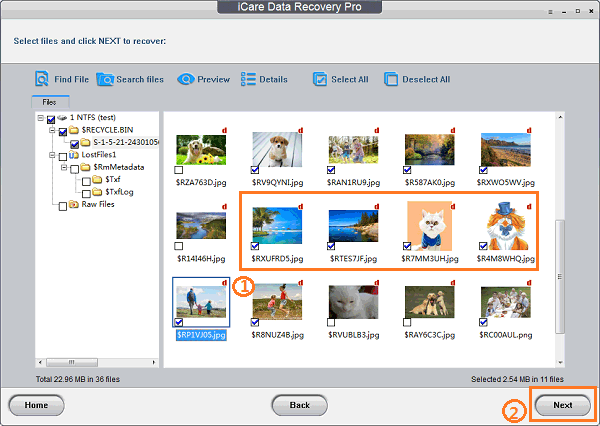 You should not save the recovered files to the formatted drive.

Windows Format Recovery Program
iCare Data Recovery Pro is a Windows format recovery program, which supports for format recovery on all Windows platforms:
Windows XP is Microsoft Windows operating system released in 2001. You can perform format on Windows XP using following two methods:
Method1: Open "My Computer" > right click the device you want to format and select "Format" option > select the file type (usually FAT32 or NTFS) > click "Start" button to format
Method2: Right click "My Computer" > select "Manage" > click "Disk Management" to show all disks and partitions > right click the partition you want to format and click "Format" option > select a file type and click "OK" to format
In 2007, Microsoft released Windows Vista. There are three different methods to format a media on Windows Vista. The first two methods are similar to that of formatting on Windows XP. In addition to format under My Computer and Disk Management, you can run Diskpart to format internal / removable disk on Windows Vista following:
Click "Start" button > enter "cmd" in the search bar > right click "cmd.exe" and choose "Run as administrator" > type "Diskpart" and press "Enter" to open diskpart command > type "list disk" > type "select disk [number] (such as select disk 0) > type "list volume" > type "format fs=ntfs label=volume label quick"

Recommend: Diskpart to format>>
Windows 7 was launched in 2009. To format a disk drive or memory card, flash drive on Windows 7, you can use the same solutions as recommended for Windows Vista format.
Windows 8 / 10 Format Retrieval
Windows 8 and Windows 10 were released respectively in 2012 and 2015. Windows 8 / 10 have similar user-interface, which are quite different from previous Windows XP, Vista and Windows 7. However, the methods to format on Windows 8 /10 are the same including format in Windows Explorer, format under Disk Management and format using diskpart command.
You can unformat disk drive on Windows XP, Vista, 7, 8 and 10 with iCare Data Recovery Pro no matter which method you use to perform the format on any media.
Format Recovery Software for Different Digital Devices
Any media that used for data storage or backup can be formatted on different devices. iCare Data Recovery is able to recover files from different digital media:
Data Recovery after Format Hard Drive / External HDD
Hard drive / external HDD from any manufacturer cannot escape from data loss due to formatting. Generally, when we say format a drive, it usually means to perform high-format (quick format or full format) on the drive. Low-level format is not allowed to perform on any drive unless you use a third-party tool because it causes many hurts to the disk drive. A disk partition that has capacity less than 32GB is usually formatted to FAT32 file system. Otherwise, the disk partition is often formatted to NTFS file system.
Recover Files from Formatted USB / Thumb / Pen Drive
To format a USB flash drive or pen stick, the first thing is to insert it to a computer. A USB thumb drive is shown as a removable storage in Windows Explorer and Disk Management, so you can simply quick format or complete format it there. A USB drive is usually formatted to FAT16 or FAT32 file system.
Memory Card Recovery after Reformatting
Memory card is available in different types, sizes and capacities. A micro SD card or micro SDHC has the smallest size, which is used for smartphone. SD, SDHC and SDXC have larger size than micro SD, so they are usually used for digital camera. CF card and XD card has the largest size, which are compatible with some certain digital cameras.
When formatting a memory card, you should format it to proper file system in order to use it normally. To avoid formatting a memory card to improper file system, you can format it in your phone or camera.
Tip:
No matter you format a card or disk drive, it only takes a few seconds to complete the format if you perform quick format a device. It takes a little more time to perform full format on a device because it will scan bad sectors on the media.
Format Recovery Tool for Various Files
The format recovery tool, iCare Data Recovery Pro, is designed with different scan modes to search lost files. It is able to reclaim almost all kinds of files including video files, audio files, office files, documents, emails, and more.

Free download iCare Data Recovery Pro
---
Format Recovery Resources
Raw file system recovery
---
Related Articles from other guide
Seagate external disk recovery : recovering data from seagate external when it was not recognized by PC, reformatted by mistake, raw drive or other problems and need to restore inside imporant data.
Data Recovery Free software guide: use free software to recover data from various kinds of data loss.
How to use data recovery software : guide that shows how to use data recovery program to bring lost data back.
Free software to recover lost data: freeware to bring lost data back
Dynamic disk recovery software - restore data from dynamic disk when it was formatted, deleted, damaged etc.
Windows 7 data recovery software: data recovery from Windows 7 operating system related media drive
FAQ Data Recovery : most frequent data recovery cases
Hard Disk Data Recovery Software - recover data from hard disk when laptop desktop hard disk usb external disk encounters data loss or other problems
Format Recovery Resource : data recovery guide related with format reformat unformat