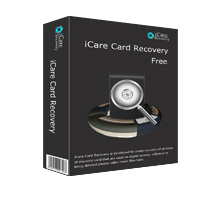 Data Recovery Free - iCare Data Recovery Free
iCare Data Recovery Free is a 100% free data recovery tool, which is able to retrieve files from various storage devices like hard drive, external HDD, USB thumb drive, memory card / stick, pen drive, digital camera, android mobile phone, etc.
With powerful file recovery options, this data recovery software free works for all data loss situations including accidental format / delete or digital devices reports not formatted error, RAW error, write protected error, I/O device error, cannot be detected, etc.


iCare Data Recovery Free
Table of Contents
Tutorial for File Recovery with Data Recovery Software Free

Step1. Free download, install, run iCare Data Recovery Free and then select a proper scan mode.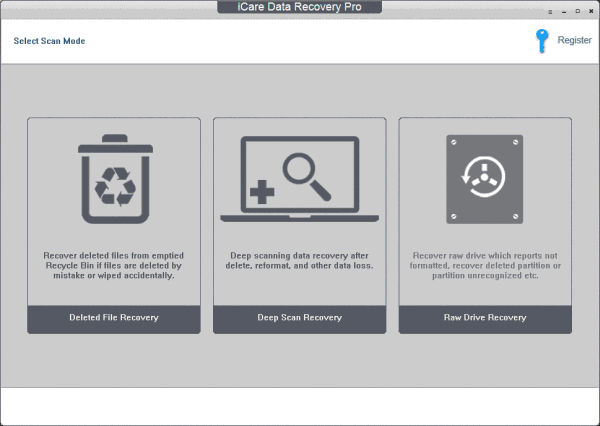 Step2. Choose the storage media where data got lost and wait the software to scan for lost files.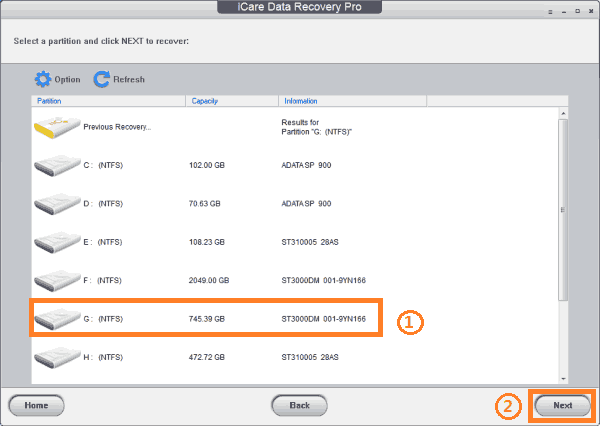 Step3. Preview images and documents in details or thumbnails and then select the files you need to recover to save them to another place.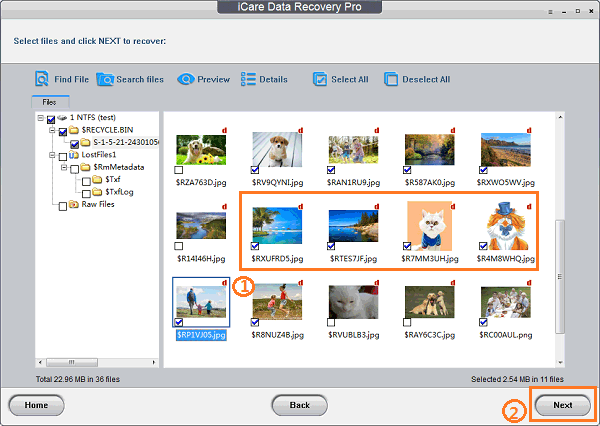 Data Recovery Free in Different Situations
Data recovery software, iCare Data Recovery Free supports for file recovery in different situations:
Format is a command that can be executed on a computer, phone or digital camera. Formatting provides the easiest and fastest way to erase a media completely but not permanently, which leaves you a chance to unformat the media for file recovery after formatting.

Recommend: Format recovery>>
2. Deleted Files Recovery Free
Comparing to formatting, deleting files from a media enables you to erase the certain files that you no longer need. To some extent, it prevents you from wiping the whole device by deleting files rather formatting the device.
There is some difference between file deleting from a computer's hard drive and deleting from a removable disk, namely files deleted from an internal HDD would be moved to recycle bin, while data erased from a removable disk would be deleted immediately.
3. RAW / Unformatted Drive Recovery Free
RAW and unformatted error is a kind of data loss problem which usually occurs when the digital device's file system is corrupted or damaged and system cannot recognize it. The common symptom is that you receive error alerting:
Data recovery free is possible from any storage device that turns to RAW file system and asks to be formatted using iCare Data Recovery.
4. Inaccessible / Unreadable Device Recovery Free
The above error RAW and not formatted is a situation that stops you from access a device. In addition, there are some other error messages that could cause a media to be inaccessible:
A device t that reports the similar message above will become inaccessible. To get back files from an inaccessible device, iCare Data Recovery Free provides free recovery solution.
What is worse, sometimes digital device might become unreadable. For example,
A memory card is not recognized after inserting to phone, camera, PDA, etc
Portable hard drive is not detected by Windows system
Disk partition of internal hard drive disappears and becomes unreadable
Unreadable media is usually recognized by iCare Data Recovery Free as an unknown device when this free software offers solution for unreadable disk recovery.
5. Free Recovery from Windows System Crash
Windows system crash or similar problems would make the internal hard drive become inaccessible since you even you no chance to boot your computer normally. Or sometimes, you can start PC and enter Windows operating system, but it appears some error like:
For file loss due to Windows problem, iCare Data Recovery Free is also able to retrieve the lost files. If computer cannot boot anymore, please add the hard drive to another computer for file recovery for free.
Tip: Please search each problem on our site if you want to get detailed solution for different Windows error fix when it reports the error code.
Digital Device Recovery Free
The above data loss problems can occur on any digital device. Although iCare Data Recovery Free is a Windows based data recovery freeware, it supports to rescue data from all kinds of devices:
1. Photos Videos Recovery from Memory Card Free
Memory card can be different types including SD (miniSD, micro SD, SDHC, micro SDHC, SDXC), compact-flash card, XD card and XQD and memory stick. Memory card is frequently used for phone, camera, MP3 player and PDA, etc, so you have to attach it to your computer via a card reader for memory card recovery free with iCare Data Recovery Free.

Recommend: Memory Card Recovery>>
2. External Hard Drive / HDD Recovery Free
External hard drive and HDD works similarly, but the former is removable disk that is often connected to computer through USB cable and the latter is installed on computer. Removable or internal hard disk from any manufacture like Seagate, Western Digital, Hitachi, Samsung, Sony, HP, ADATA, Silicon Power, Maxtor, Memorex, Buslink, LaCie, Crucial and other generic disk lost data is recoverable with free data recovery tool – iCare Data Recovery Free.
3. Restore Files from Recycle Bin Free
Recycle bin only store files temporarily deleted from internal hard drive of computer, so you can restore mistakenly deleted files from recycle bin after erasing data from any hard drive. For emptied recycle bin, data recovery free program helps undelete recycle bin for file retrieval.
4. USB Flash Drive / Pen Drive Retrieval Free
USB flash drive and pen drive are small media that is easy to carry. For file storage, transferring or moving, you need to connect it to computer. USB thumb drive and pen stick cannot be used for other device. In fact, a flash drive is like an external HDD but it has smaller size and less storage capacity. Today's USB memory stick has capacity from 1GB to 1TB, but an external HDD is usually 500GB at least and 5TB at most.
Though a USB drive cannot save as much data as an external hard disk, it takes less time to get back lost files from a USB stick because data recovery software spends less time in scanning a device that has smaller capacity and contains less data.
5. Android Mobile Phone Recovery Free
Nowadays, smartphone can be two types including android phone and iPhone. Android mobile phone gets a big share of market. Android smartphone has its own internal memory 16GB, 32GB, 64GB and 128GB. Android phone also supports flash memory card (usually micro SD card) for data storage. Therefore, when referring to android data loss, you may lose files from android ROM or micro SD card inserted to the phone.
6. File Restore Free from Digital Camera
Digital camera needs to store photos or videos to a memory card. Today's digital camera usually supports CF card, SD card and XD card. Each type or brand of digital camera can be compatible with different memory cards. Usually, you can know what kind of memory card a digital camera supports when you buy it. Therefore, when saying file recovery from camera, it usually refers to restore files from the memory card for the camera.
Data Recovery Freeware vs. Data Recovery Shareware
iCare Data Recovery Free is complete freeware that works for different kinds of data loss problems from all types of digital devices. It provides two scan modes, namely Deleted Files Recovery and Advanced File Recovery for data recovery free.
If it failed to restore all lost files with the data recovery freeware, you can try data recovery shareware – iCare Data Recovery Pro. The Pro edition allows users to free download and have a try with it for file recovery before buy it. It provides more advanced technology for scanning and recovering files you need.
| | |
| --- | --- |
| Free download iCare Data Recovery Free | Free download iCare Data Recovery Pro |
Articles Related to Free Data Recovery
Related resources:
Seagate external disk recovery : recovering data from seagate external when it was not recognized by PC, reformatted by mistake, raw drive or other problems and need to restore inside imporant data.
Data Recovery Free software guide: use free software to recover data from various kinds of data loss.
How to use data recovery software : guide that shows how to use data recovery program to bring lost data back.
Free software to recover lost data: freeware to bring lost data back
Dynamic disk recovery software - restore data from dynamic disk when it was formatted, deleted, damaged etc.
Windows 7 data recovery software: data recovery from Windows 7 operating system related media drive
FAQ Data Recovery : most frequent data recovery cases
Format Recovery Resource : data recovery guide related with format reformat unformat