Table of Contents
This article is telling about raw drive to ntfs converting with raw ntfs converter when your sd memory card, usb drive or disk changed to raw from ntfs.
Is it possible to format raw drive to ntfs without losing data?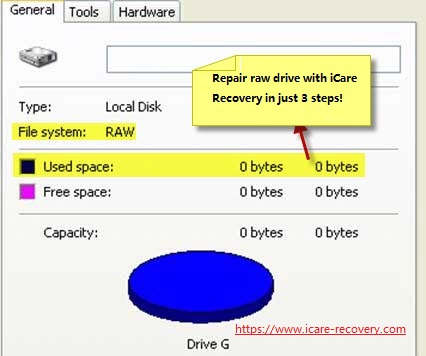 Solution:
Free raw to ntfs converter download to convert raw to ntfs for disk/memory sd card by iCare Data Recovery Free, which can help when your device is raw.
RAW File System to NTFS Converter Download

Download iCare Data Recovery Pro to Convert RAW to NTFS for RAW external drive, mobile SD memory card, raw USB thumb/pen drive/portable hd, internal/removable HDD, etc.on all Windows system.
Part 1: Raw to NTFS Converter Download
Step 1 - Download iCare Pro, the professional raw to ntfs converter to save the raw drive at first.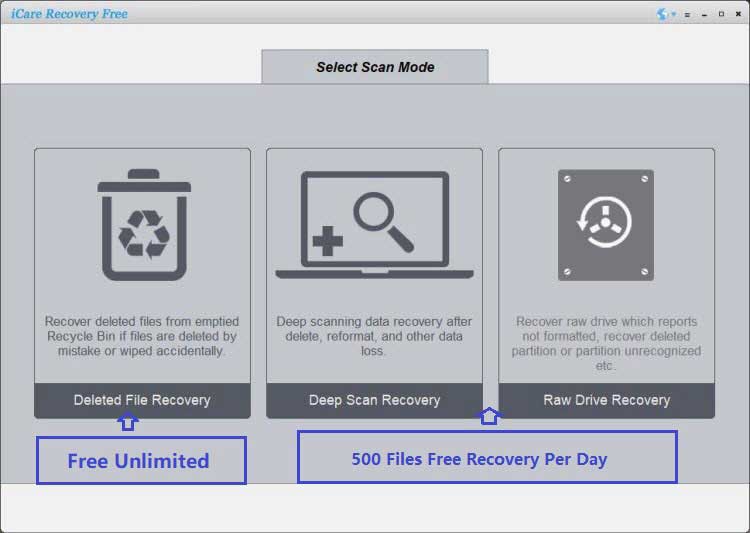 Step 2 - Select a possible drive that contains your files and let it build file structures for recovery.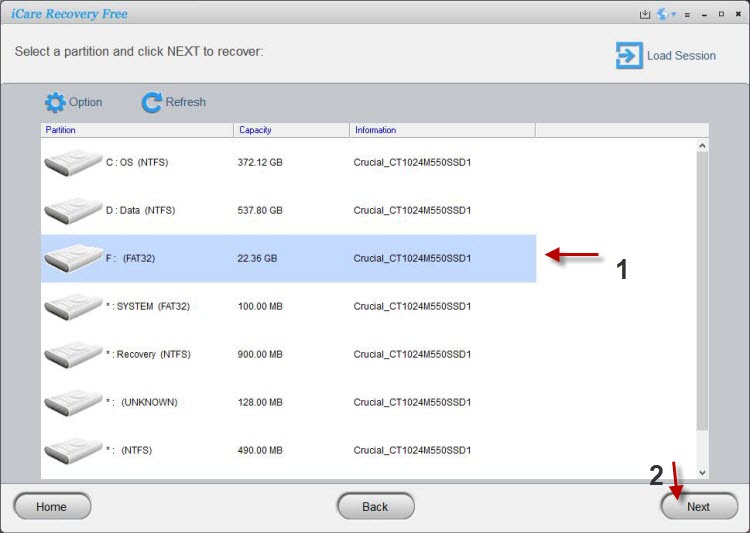 Step 3 - Save lost files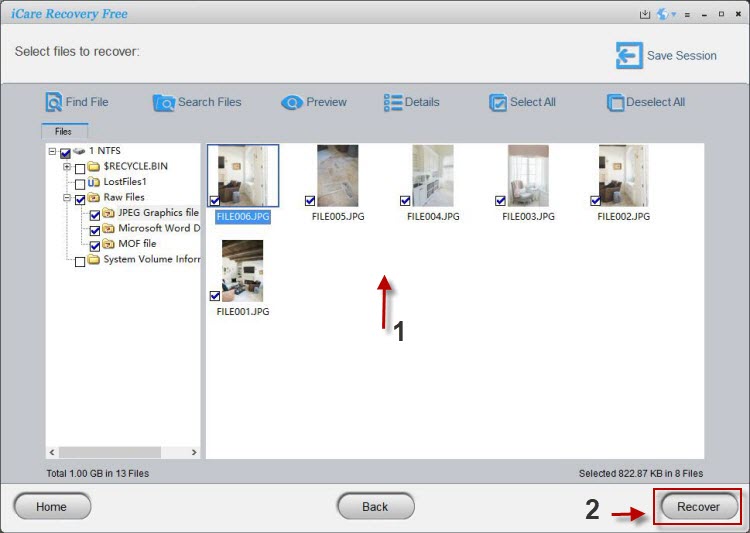 Repair damaged disk/flash/card without formatting
You may use free tool, not chkdsk but it works the same since chkdsk would be difficult for pc starters to manage, to repair damaged digital devices by the following steps.
Step1 - Connect your media to your PC, recover data from the media with the previous tool mentioned above, or when there were no important files inside, just go to the next step
Step2 - Right click the media once you see it under 'This PC' -> Property -> Tools -> Check
Step3 - Select both available options after you clicked the CHECK in a window that showed up, and run it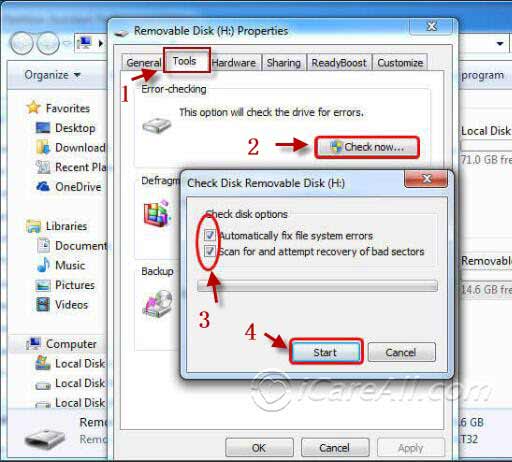 Repair damaged drive without formatting
Or you may check out how this is working in this video.
Part 2: Format RAW Drive to NTFS with CMD command prompt
Step1: Run CMD.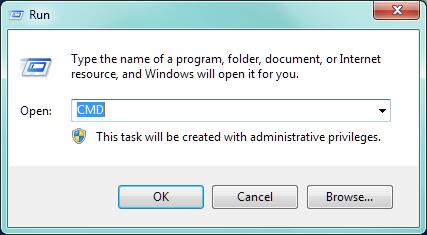 Change raw to ntfs with CMD
Step2: Type"format X: /fs:ntfs"(X is the drive letter of your raw hard drive)
You can also convert raw file system to fat32, and the command line should be the following,
format F: /fs:fat32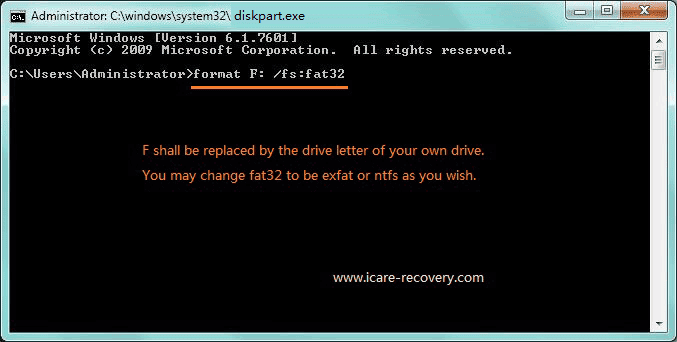 Change raw to fat32/ntfs with CMD
Please note: Formatting raw to ntfs would make it more difficult for recovering old data on your digital device. That's the reason we showed you how to recover the raw drive with iCare to get inside data out from the raw device in the first part of this article.
You can run diskpart command line to format a RAW drive to change the Raw NTFS. Just simply follow this guide:
In Windows XP/7: you may running
CMD > type list disk > type select disk < type list volume > type format fs=ntfs label=volume label quick (or type convert x: /fs:ntfs, x: refers to the drive letter of the RAW partition)
Or the following as option:
CMD > diskpart > format X: /fs:ntfs
In Windows 10, open cmd by typing 'cmd' in the search bar which is next to 'Start' icon, and then
Type: "convert e: /fs:ntfs" in the CMD directly (e is the drive that you want to convert on PC)
You should pay attention to following points:
1. Do not format the RAW drive to NTFS before getting the data you need
2. Stop using the RAW device and you had better not perform any operation to fix the problem before data recovery
3. Protect the RAW device from physical damages
3 Free Ways to Format RAW HDD/SSD/SD/USB Flash RAW to NTFS
RAW file system, or sometimes people call it RAW drive has the following problems when your disk runs into the raw problem like:
Disk is not formatted, and ask a format
CHKDSK is unavailable for RAW drives
File system shows raw and disk space become 0 bytes
Under such circumstances, you may convert/format the raw file system to ntfs by the following 3 different ways to get it done.
Before the converting/formatting, please make sure the inside data have been rescued to somewhere else by iCare Pro.
Part 1: Convert raw to ntfs by right click the raw flash drive and format option
Right click the raw media,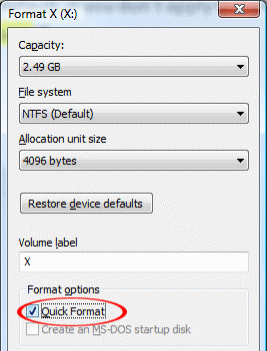 Format raw drive by right click option
Part 2: Format raw digital media under My PC disk management
You may go to this route: right click 'This PC' -> click option 'Management' -> Disk Management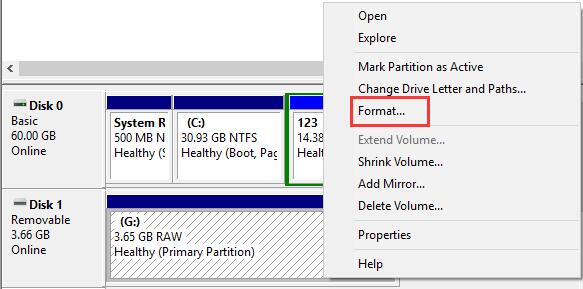 Format raw drive under disk management
Part 3: Format raw disk drive with a free raw format tool.
There are more than 5 options of format tools all free of charge, and here we would like to introduce Partition Resizer Free which is a completely free tool that also has repair bad blocks functions for your damaged device.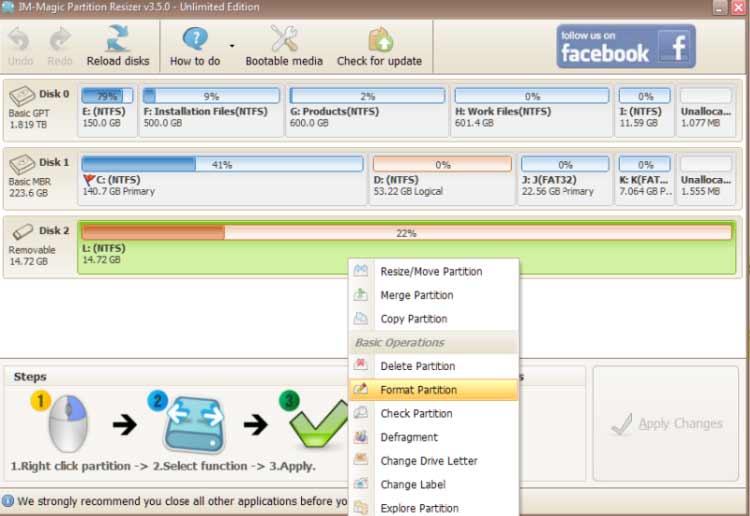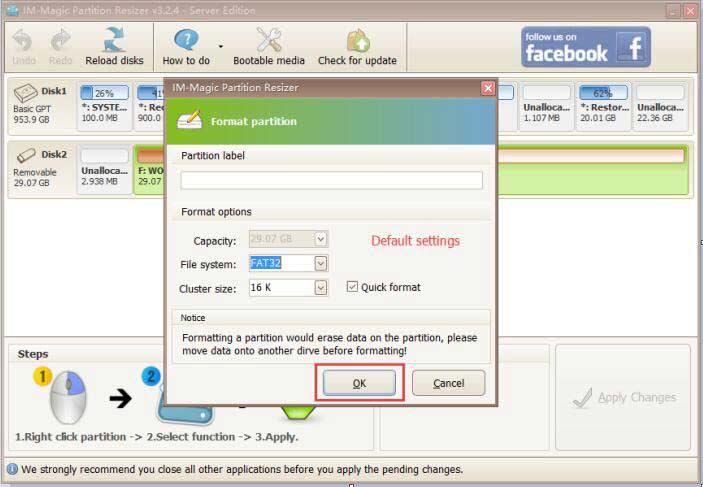 Warning: formatting raw drive file system is making damages to its old data. Make sure that you don't have important data on the corrupted device before do any formatting.
Also read: 8 ways to format a drive/card
Convert/Format RAW to NTFS cmd
Convert raw file system to ntfs using diskpart cmd without losing data? You may try this following cmd to see whether the cmd can help convert the raw format to ntfs when you have backup the data or restored the data from the device to another drive.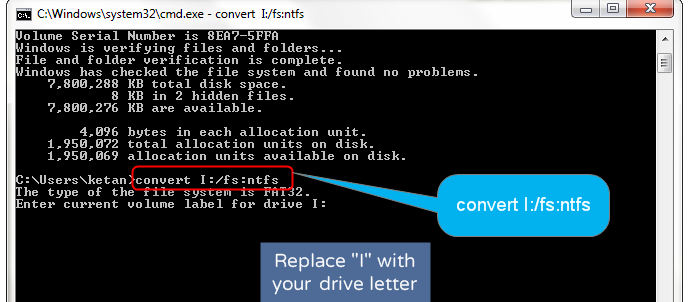 Note: You need to insert the raw drive to pc and see whether it has a drive letter on the raw device. If there was no drive letter on the raw drive, then you may try this following order to get it selected and converted.
Open cmd, and type diskpart to start
Type 'list disk'
Type "select disk *" (You need to replace * with the drive letter your raw drive has, for example, if the raw drive shows disk 1, then you need to type select disk 1 and press enter)
Type "convert fs:ntfs", and then press enter to start the conversion.
Convert/format failed? Follow this guide
If this formatting does not work, you may see a message like: Windows was unable to complete the format, or convert was not available for raw drives, diskpart failed to format...
If the above cmd/format tool do not work for you, then you should use diskpart to clean the disk at first which shows as follows.
Run CMD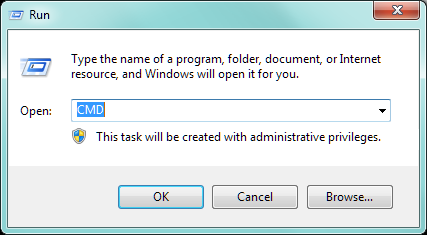 Use cmd to fix error "you need to format the disk in drive"
1. type "diskpart" on the command box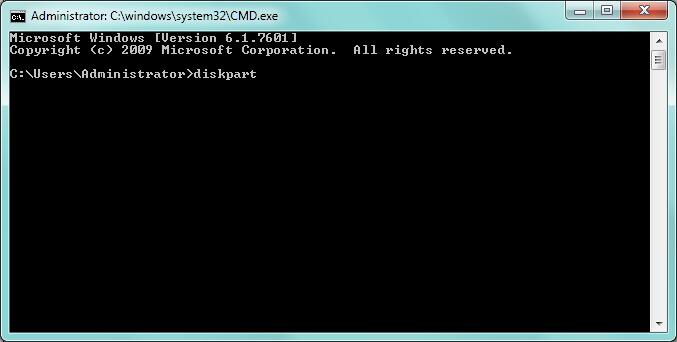 Use cmd to fix error "you need to format the disk in drive"
2. type " list disk" after "DISKPART" and enter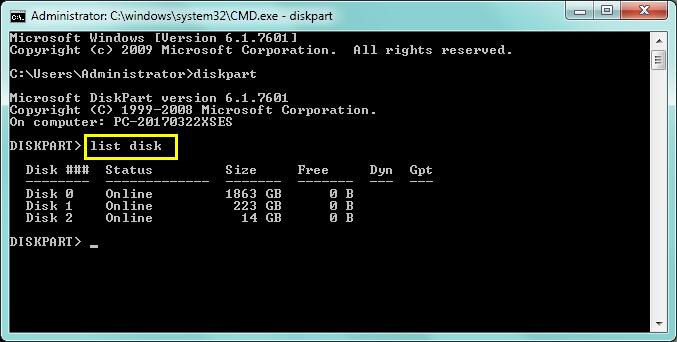 Use cmd to fix error "you need to format the disk in drive"
3. type "select disk 2" and enter.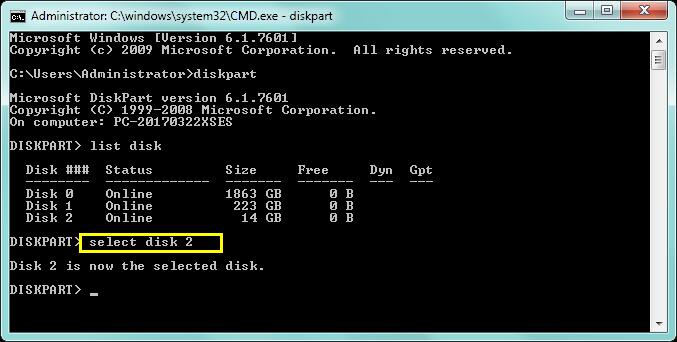 Use cmd to fix error "you need to format the disk in drive"
4. type "clean". Wait for a minute.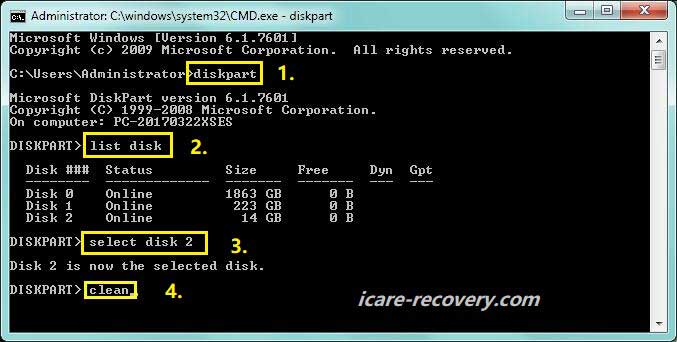 Use cmd to fix error "you need to format the disk in drive"
5. type 'create partition primary' and enter
6. type 'format X: /fs:ntfs' or 'format fs=ntfs quick'and enter. Here 'ntfs quick' is a order to quick format the drive ntfs.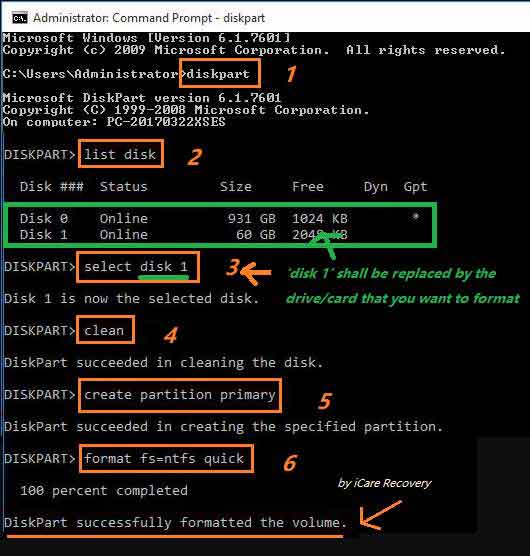 diskpart to format raw to ntfs
==>> To convert RAW to FAT32, please visit this page - convert RAW to FAT32 >>
Also read: 6 ways to fix unable to format usb drive
FAQ: RAW to NTFS Converting Problems in Windows 11/10/8/7
1). Free download RAW to NTFS converter/formatter to change raw file system
Answer: The RAW to NTFS file system converting tools are able to convert disk file system from raw to ntfs after raw drive data is recovered back.
2). Change external drive from raw to ntfs in Windows 11/10/8/7
Answer: The formatting process is needed to change raw to ntfs on an drive. And, in addition, without causing cause worse data loss troubles, you should also use free raw drive data recovery software offered by iCare to firstly recover inaccessible raw format usb hd before applying any converter.
>>100% Safe free data recovery software for raw file system hard drive/usb/sd

Download iCare Data Recovery Pro to retrieve lost data when storage device becomes/shows raw and need be converted/formatted from raw to ntfs.
3). Convert/Format raw to ntfs using cmd diskpart in Windows
Answers: Also go try command prompt diskpart in Windows 7/8/10.
4). Recover files from raw not formatted
Answer: Free download iCare Recovery Pro free software to recover inaccessible files, including photos, songs, apps, videos and more data, back with its Deep Scan Recovery mode.
5). Convert ssd raw to ntfs?
It's the same ways to get ssd or external ssd changed from raw to ntfs with free formatters, or format ssd ntfs with cmd.
5). NTFS partition changed to raw?
Data recovery when ntfs partition chagned to raw shall comes as the initial part of the raw partition fixing when a hard disk partition changed from ntfs to raw without notice or error message. And then you may change the disk partition from raw to ntfs by formatting with free format tools or methods.
Last updated on Sept 14, 2023
Related Articles