Data Recovery from all kinds of memory card in various kinds of loss
Last updated on 23/03/2017
This article will guide you to recover files from various kinds of memory card such as SD, micro SD, mini SD, SDHC, SDXC, XQD, CF card, memory stick and XD-Picture card in all data loss problems.
Table of Contents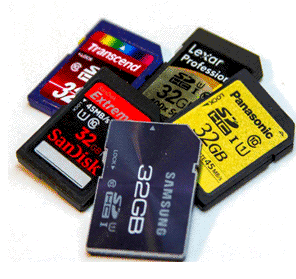 Memory Card Data Loss Situations
For a memory card user, it is a common thing to lose data from his card because of following situations:
1. Delete Files from Memory Card
2. Format / Reformat Memory Card
Memory card is not formatted error / RAW file system / shows 0 byte space
Memory card is write protected
Memory card is attacked by virus and all files are wiped
I/O device error on memory card
Memory card is blank or has unsupported file system
File or directory is corrupted and unreadable on memory card
Memory card is corrupted becomes inaccessible
Memory card has wrong capacity
More other card error messages
Card Recovery & Repair
For all situations above, there is a serious risk of all data loss from the memory card. For all cases, you can use following methods for memory card recovery:
1. Memory Card Data Recovery Software Free Download

For card recovery, you can free download memory card data recovery software – iCare Data Recovery Pro. This software has the ability to recover files from memory card in any situation within 3 steps:
Step1. Free download and install the card recovery program on Windows. Then, launch it and select a scan mode.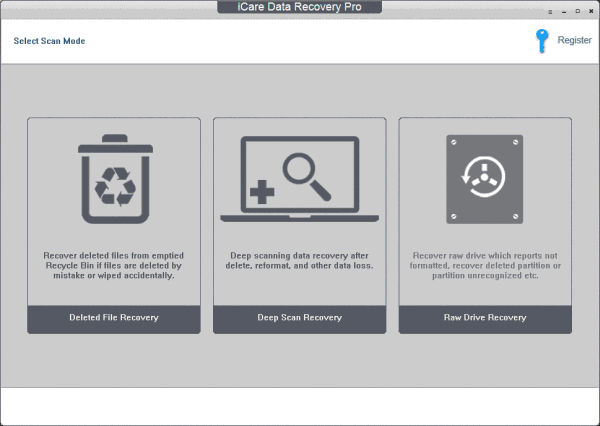 Step2. Select the memory card to enable the software to scan lost files on it.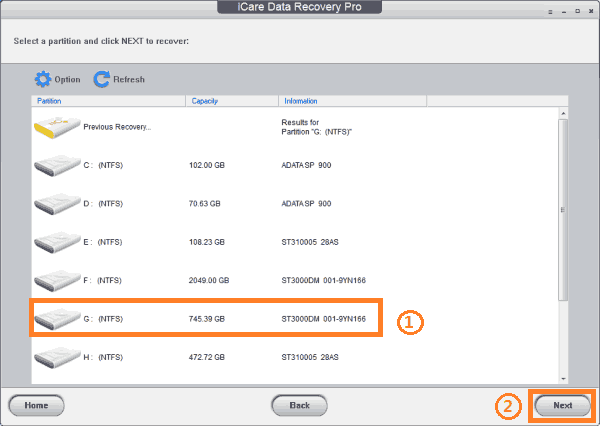 Step3. Preview files and save what you need.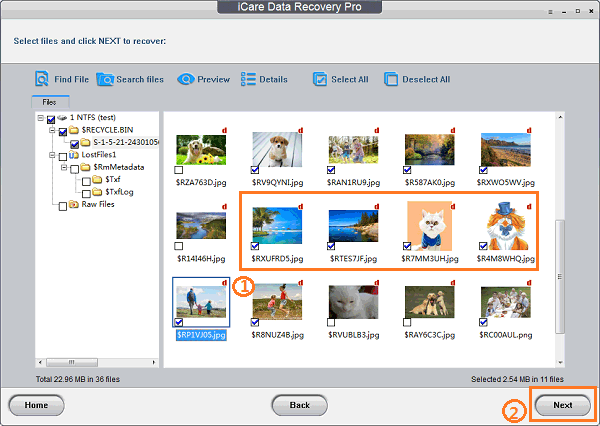 The solutions for different errors on a memory card could be various. In generally, there are following common ways to repair a memory card:
Solution 1: Format memory card that shows error messages
Solution 2: Connect the memory card to computer and use diskpart or error-checking tool to check and fix bad sectors on it
Solution 3: Check if the memory card is write protected and remove write-protection
Solution 4: Update and install drivers for memory card
Solution 5: Run antivirus software to scan and check the memory card

Recommend: For more details about fixing different errors on a memory card, please visit – Fix Errors>>
Memory Card Brands & Types
iCare Data Recovery Pro is a memory card recovery tool that is able to recover memory card of different brands, types and capacities. Therefore, you can use this software for card restore in following situations:
Card recovery from manufactures of SanDisk, PNY, Lexar, Sony, Panasonic, Samsung, Kingston, Kingmax, Toshiba, Transcend, Dane-Elec and all other brands of card.
SD is a kind of flash memory card, which has several types including micro SD, SDHC, SDXC, miniSD card, micro SDHC and miniSDHC.
Secure Digital card – An SD card has size of 32mm x 24mm x 2.1mm. Different types of SD card have different capacity and can be used in different devices.
Generally speaking,
A standard SD card has capacity from 1GB to 2GB, which has FAT12 or FAT16 file system.
An SDHC has capacity from 2GB to 32GB, which has FAT32 file system.
An SDXC has capacity from 32GB to 2TB, which has exFAT file system.
All kinds of SD cards can be used in digital camera, video camera, MP3 player and PDAs.
Micro SD card – Micro SD or micro SDHC has size of 15mm x 11mm x 1.0mm. Its capacities vary from 128MB to 128GB. Micro SD and micro SDHC are widely used by mobile phone users.
MiniSD card – MiniSD card has size of 21.5×20x1.4mm, which is smaller than SD card but larger than micro SD card. The performance and features of miniSD card are similar to an SD card, but it is more convenient than SD card to use for cell phone, PDA and other mobile devices.
iCare Data Recovery Pro is compatible with all SD card recovery.
CF card was released in 1994, which is the largest memory card released in 1990s. CF card is often used for PDA, digital camera and notebooks / desktops.
Using iCare Data Recovery Pro, you can resolve CF card data loss problems in different situations.
XD card, namely XD-Picture card, has size of 20mm×25mm×1.7mm. XD card is mainly manufactured by Olympus and FujiFilm, which is often used for FujiFilm and Olympus digital cameras.
Files lost from an XD picture card when you are using it in your camera or after connect the card to your computer can be retrieved by iCare Data Recovery Pro.
XQD card is a type of flash memory card, which was developed to replace CF card. The first generation XQD was announced in 2012 in Japan. A XQD card has size of 38.5×29.8×3.8mm.
If you lose any file from a XQD card or the card has any problem that prevents you from accessing any data, you can run iCare Data Recovery Pro to complete XQD card recovery.
Memory stick has size of 31×20×1.6mm, which is tiny and easy to carry. Memory stick can be used in some small mobile phone, digital camera and various kinds of MP3 player and more.
iCare Data Recovery Pro supports for different memory stick recovery no matter you mistakenly delete files, format memory stick or the memory stick is not accessible or detectable by any device.
SM, short for smart media, is a flash memory card released in 1995 by SanDisk. SM has size of 37mm×45mm×0.76mm, which was widely used in MP3 player at the beginning. SM is also used in Olympus and FujiFilm digital camera before 2002. Due to a poor compatibility, there is no SM card in market today.
Although SM card is no longer used by today's digital device, iCare Data Recovery Pro has the ability to recover files lost from SM card.
Avoid Card File Loss
If you want to avoid card file loss, the first thing you should do is to avoid mistakenly deleting files or reformatting memory card. In addition to make mistake to erase files due to deleting or formatting, it is also very important to perform careful card maintenance and get a good memory card.
Good maintenance of a memory card is able to increase the life of card and avoid data loss. For card maintenance, you can do following things:
Keep memory card in safe place when you do not use it and keep it clean
Remove memory card safely from computer or remove it after switching off the digital device like camera, smartphone.
Stop adding new files to card when camera or phone has low battery
Protect memory card from suffering physical damage
2. Memory Card Performance vs. Price
It is difficult to say what kind of memory card has the best performance because every person has their own interest and uses it for different devices. The important thing is to buy the proper one. When you buy a memory card, you can pay attention to following points:
Card Performance vs. Card Price
The high quality high price, but it does not mean that a high price memory card must have the best performance. When you buy a memory card, check its anti-fake label and anti-fake code to see if it is the real one. Don't resort to cheap fake memory card to ensure its good performance.
There are different types of memory cards that are compatible with various kinds of devices. When you buy a card, please check if it can work for the device you want to use.
It usually has no quality guarantee if you buy a generic memory card. Therefore, it is a good way to make sure good performance of memory card to buy memory card from popular manufacturers.
---
Articles Related to Memory Card File Recovery
---
Related Articles from other guide
Seagate external disk recovery : recovering data from seagate external when it was not recognized by PC, reformatted by mistake, raw drive or other problems and need to restore inside imporant data.
Data Recovery Free software guide: use free software to recover data from various kinds of data loss.
How to use data recovery software : guide that shows how to use data recovery program to bring lost data back.
Free software to recover lost data: freeware to bring lost data back
Dynamic disk recovery software - restore data from dynamic disk when it was formatted, deleted, damaged etc.
Windows 7 data recovery software: data recovery from windows 7 operating system related media drive
FAQ Data Recovery : most frequent data recovery cases
Hard Disk Data Recovery Software - recover data from hard disk when laptop desktop hard disk usb external disk encounters data loss or other problems
Format Recovery Resource : data recovery guide related with format reformat unformat
Memory Card Recovery : data recovery from memory card when it has encounters various kinds of error