Windows Was Unable to Complete the Format - Solution of How to Bring Drive/Card back to life by iCare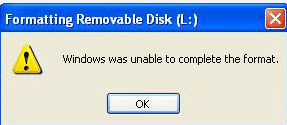 Sometimes, you will receive error message such as "Windows was unable to complete the format" when you perform formation on a hard drive, memory card or any storage units. Normally this error message pops up after the file system of certain digital device becomes raw, which might be a symbol that there might be a damage area of your device.
Windows Was Unable to Format RAW Drive
Your digital device might be damaged/corrupted due to improper operation, virus attack or any other unknown reasons, warning message will pop up "* is not formatted, do you want to format it now".
If Windows fails to perform the formation, you will receive "Windows was unable to complete the format" message on your screen from a RAW drive if it was damaged badly.
This article tells us three important messages:

Recover Data from Device That Cannot Be Formatted
Firstly Download iCare Data Recovery Pro to recover files from external HDD, memory card, USB, hard drive, when Windows cannot complete the formatting.
Part One: How to Recover Data When Windows Was Unable to Format?
It is essential to recover inaccessible files from the RAW disk in advance when you are requested to format it. Therefore, please stop take any further actions and fix the problem first.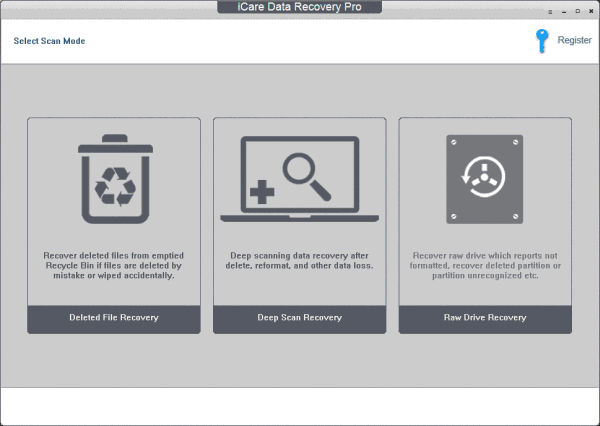 Start bad disk recovery with 'Deep Scan Recovery' or 'Lost Partition Recovery'
4 Free Ways to Fix Windows Failed to Complete the Format?
Attention: If the components like chip or circuit board of the storage device is damaged, it is often impossible to fix the problem unless you send it to professional repair company to replace to damaged part.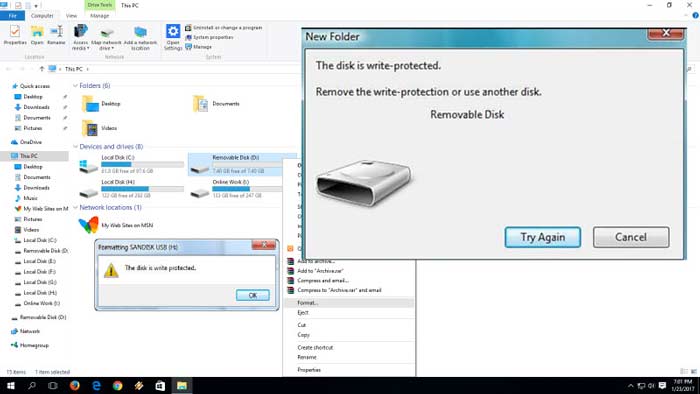 Since the causes varies, you should check the reasons and fix the issue first of all before performing any formation on the disk. Simply follow the instructions below:
1. Run antivirus program on your computer to scan for signs of virus infection. Erases all detected viruses or spyware.
2. Update all program on your computer to ensure that it is compatible with the device that you want to format. In addition, you can go to BIOS settings when booting up your computer to modify the settings. you can enter BIOS settings mode by pressing "Delete (Del)" key when the message "Press DEL to enter BIOS SETUP" shows up on the screen while booting up your computer.
3. Scan and repair bad sectors on hard disk or other storage media. You can read another article about <Bad Sector>to find out more repairing methods.
3. Scan and repair bad sectors on hard disk or other storage media. You can read another article <Bad Sector>to know all methods to repair bad sectors.
4. Remove the write-protection on the device that you try to format.
==> Referred to as instructions of how to remove write protection on different storage units
Format RAW internal / removable disk
After the above operation have executed, simply complete formation on the disk using methods such as below:
Method 1.
Go to Disk Management on your computer and select the disk you want to format.
Go to directory select "My Computer" > "Manage" > "Disk Management" > Right click the disk you need to format and select "Format" > Select the file system (NTFS or FAT32) and click "Start" button to complete the format
Method 2.
If Disk Management does not format your device, you may use the following under 'Disk Management'
Delete Volume
Create Volume
If the 'Delete volume' grayed out, you should go to the method 3 to use cmd for the formatting.
Method 3: Run command prompt to format the device.
Go to this way: Click "Start" button > "Run" > type "cmd" > type "diskpart" > type "disk volume" (e.g. type "disk 1" if you the drive you want to format is on the disk 1) > type "format d:/fs:ntfs" (d: is the drive letter of partition that you try to format) and press "Enter"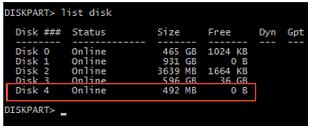 Diskpart to format
==>For more details about how to use Diskpart to format a digital device, please visit Diskpart to format
Method 4: You can use a professional formation tool to complete the action. For example,
HP USB Disk Storage Format Tool – A free USB format tool which formats the USB drive into FAT, FAT32 and NTFS file system
HDD Low Level Format Tool – A free format tool which can perform simple formation on hard disk
IM-Magic Partition Resizer Free - a freeware that has 'Format' function.
Reasons Why Windows Says Unable to Complete Format Error
You can format Windows internal hard disk drive or removable hard disk using Windows platform, but Windows may report unable to format error due to following reasons:
1. Virus infection
The disk you want to format is probably seriously infected with Trojan or virus since you visited an unsafe website, or opened an unknown link from a stranger or watched some videos contain dagerous files. Virus infection will probably destroy files stored on the disk, corrupts the disk file system and prevent you from formatting the disk.
==> Download antivirus software to prevent virus attack cause damages to your computer or storage units, or use antivirus software to isolate virus from the disks.
2. Incompatible issues
Windows would fail to complete the format because the storage media you want to format is incompatible to the drivers or BIOS or the Windows system does not support the device. For example, some old Windows operating system like Windows 95 does not support hard disk partition that is larger than 2GB.
3. Bad sectors
This problem happens to any storage media but it is very unlikely to happen to hard disk drive using as its operating system. A hard disk contains multiple sectors. When you write data to its hard disk, it usually occupies discontinuous sectors on the disk. Since Bad sectors cannot be read or written, Windows will deny formation on the particular sector.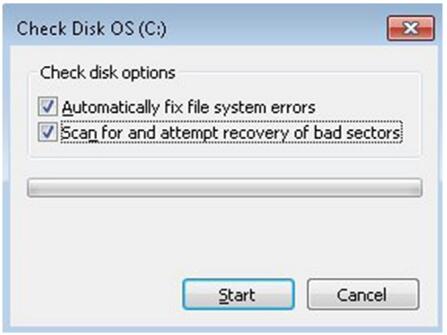 Check disk bad sectors
==> Learn more about how to fix bad sectors
4. Write-protection
If the hard disk or removable hard disk is write-protected, you cannot copy, delete, move, write files or format the disk at all cost. Sometimes alert messages will appear on Windows screen that you cannot format the disk when it is a write-protected disk.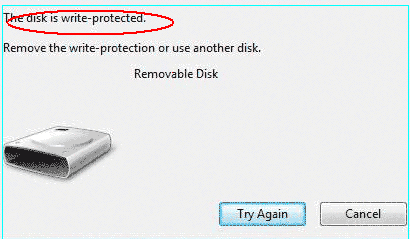 The disk is write protected
5. Physical damage
Physical damage is usually irreparable damage. For example, circumstances such as the chip of a USB drive, memory card or hard drive stops working due to humidity environment or the device fallen to the ground.
As long as the storage media is not physically damaged, you can fix the problem easily when Windows reports the format error.
Windows Cannot Format SD Memory Card
"Windows was unable to complete the format when formatting a 64GB micro SDXC card. I have tried to format the card in both Windows XP and Windows 7, but the same problem exists even after trying updating OS for exFAT file system." - User from SanDisk forum
Solution for above circumstances>>> Windows sometimes cannot format a memory card due to many reasons. Please visit this page – Windows was unable to complete formation on memory card and its solution
Other articles that you may want to read
Windows Was Unable to Complete the Formation on External Hard Drive
"I have a 20GB 2.5 Samsung external HDD, but Windows says that the external hard drive cannot be formatted while performing format on it. I have no idea whether the external is compatible with my desktop." - User from microsoft forum
Solution: If you run into such problem that an external hard drive was unable to be formatted, below is a link you can refer to as a solution – Unable to format external hard drive
Windows Reports IT WAS Not Able to Format USB Flash Drive
If Windows can not format a USB flash drive, you can click "Restore device defaults" button when formation can not be completed.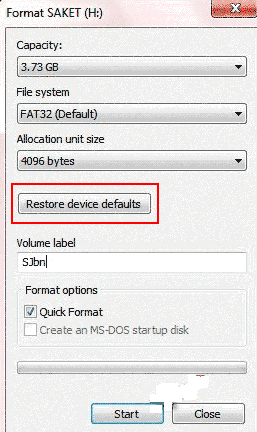 Restore device default setting
For more information, you can visit this page – Windows was unable to format USB flash drive
==> Please see pen drive unable to format solution if you need details about how to resolve the problem on different pen drive / sticks when Windows can not complete formation.
You will soon realize that Windows cannot complete the formation when a formation is required. For its data protection, use a data recovery tool like iCare Data Recovery instead to recover data before any further problem occurred
Related Articles
More Articles That You May Be Interested