Windows Was Unable to Complete the Format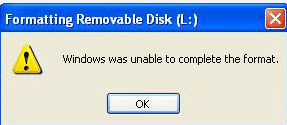 Sometimes, you will receive the alert message "Windows was unable to complete the format" when you perform format on a hard disk drive, memory card, USB flash drive, pen drive, external hard drive or any storage media on a Windows computer. Usually, this error message pops up when you attempt to format a hard disk or removable HDD that shows not formatted error message. This article tells reasons why and methods how to fix Windows cannot format a disk in different situations on personal computer.
Windows Was Unable to Format RAW Drive
Usually, you get the warning message saying "Windows was unable to complete the format" because you want to format a RAW drive. When any disk changes to RAW file system, it will ask you to format the disk in order to open it. Then, Windows pops up another message to tell you that the disk cannot be formatted by Windows.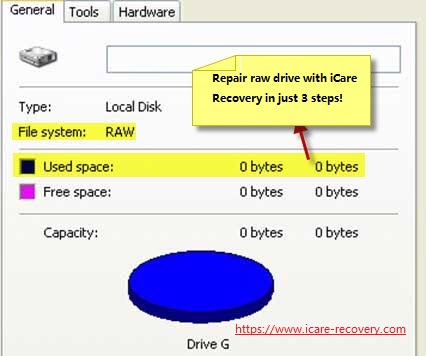 >> Free Download Tool to Fix Digital Device That Cannot Be Formatted

Download iCare Data Recovery Pro to recover files from external HDD, memory card, USB, hard drive, when Windows cannot complete format. Solution for Data Recovery from various digital devices When PC reports Windows Was Unable to Format
How to Recover Data for Windows Unable to Format Error?
It is important to retrieve all inaccessible files from the RAW disk in advance when you are asked to format it. Therefore, please stop performing any further operation to fix the problem. What you should do is to run the data recovery software to scan the RAW drive and get back what you need.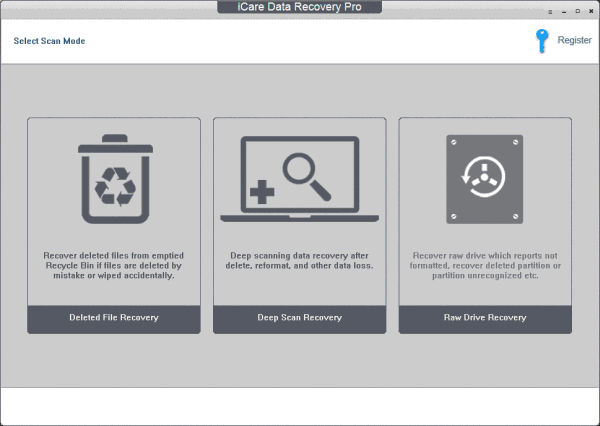 ==> Refer to get step-by-step guide to recover files from RAW drive
Common Reasons Why Windows Says Unable to Complete Format Error
You can format Windows internal hard disk drive or removable hard disk under Windows platform, but Windows may say unable to format error due to following reasons:
1. Virus infection
Probably, the disk you want to format is seriously infected with Trojan or virus since you visited an unsafe website, open an unknown link from a stranger or watched some bad video files. Virus infection probably destroys files stored on the disk, corrupts the disk file system and disables you to format the disk.
==> Get antivirus software to prevent virus damage to your computer or storage media
2. Incompatibility issue
Windows would fail to complete the format because the storage media you want to format is incompatibility with the drivers or BIOS or the Windows system does not support the media. For example, some old Windows operating system like Windows 95 does not support hard disk partition that is larger than 2GB.
3. Bad sectors
This problem occurs on any storage media but it is more likely occur on hard disk drive for Windows computer. A hard disk contains lots of sectors. When you write any data to the hard disk, it usually occupies discontinuous sectors on the disk. Since Bad sectors are the sections that cannot be read or written, Windows will refuse to format the disk if there is any data being stored on the bad sectors.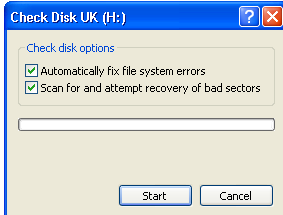 ==> Learn reasons and how to fix bad sectors
4. Write-protection
If the hard disk or removable hard disk is write-protected, you cannot copy, delete, move, write files or format the disk. Therefore, Windows may show message saying cannot format the disk when you attempt format a write-protected disk.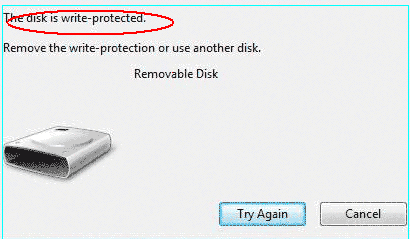 5. Physical damage
Physical damage is usually irreparable damage. For example, if the chip of circuit board of a USB drive, memory card or hard drive stops working due to water damage or the device falls from high place.
As long as the storage media is not physically damaged, you can fix the problem all by yourself when Windows reports that it cannot complete the format error.
How to Fix Problem When Windows Failed to Complete the Format?
Attention: If the components like chip or circuit board of the storage device is damaged, it is often impossible to fix the problem unless you send it to professional repair company to replace to damaged part.
Since the reasons for the error are different, you should check the reasons and fix the issue first of all before performing format on the disk. Therefore, you can do following things in advance:
1. Run antivirus program on your computer to scan if there is virus infection. Then, erases all viruses with the program is any virus or spyware exists.
2. Update all drivers on your computer to ensure that it is compatible with the device that you want to format. In addition, you can go to BIOS settings when booting your computer to change the settings. Usually, you can enter BIOS settings on PC by pressing "Delete (Del)" key when you see the message "Press DEL to enter BIOS SETUP" by booting your computer.
3. Scan and repair bad sectors on hard disk or other storage media. You can read another article <Bad Sector>to know all methods to repair bad sectors.
4. Remove the write-protection on the device that you want to format.
==> Refer to how to remove write protection on different storage media
Format RAW internal / removable disk
After executing the operations above to fix the problem, you can try following methods to complete the format:
Method1. Go to Disk Management on your computer and right click the disk you want to format to complete the format.
Go to this way: Right "My Computer" > "Manage" > "Disk Management" > Right click the disk you need to format and select "Format" > Select the file system (NTFS or FAT32) and click "Start" button to complete the format
Method2: Run command prompt to format the hard disk.
Go to this way: Click "Start" button > "Run" > type "cmd" > type "diskpart" > type "disk volume" (e.g. type "disk 1" if you the drive you want to format is on the disk 1) > type "format d:/fs:ntfs" (d: is the drive letter of partition that you want to format) and press "Enter"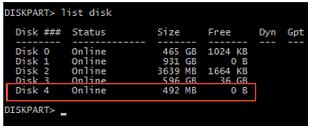 ==> For more detailed information on how to use Diskpart to format a digital device, please visit Diskpart to format
Method3: You can use a professional format tool to complete the format. For example,
HP USB Disk Storage Format Tool – A free USB format tool which is able to format the USB drive into FAT, FAT32 and NTFS file system
HDD Low Level Format Tool – A free format tool which is able to perform low-level format on hard disk
Windows Cannot Format SD Memory Card
"Windows was unable to complete the format when formatting a 64GB micro SDXC card. I have tried to format the card in both Windows XP and Windows 7, but the same problem exists even after trying updating OS for exFAT file system." - User from SanDisk forum
To read the original FAQ, please refer to the related articles at the end of this page.
Solution for above user >>> Windows sometimes cannot format a memory card due to similar reasons above. You can go to this page – Windows was unable to complete format memory card solution
Useful information:
Windows Was Unable to Complete the Format on External Hard Drive
"I have a 20GB 2.5 Samsung external HDD, but Windows says that the external hard drive cannot be formatted while performing format on it. I have no idea whether the external is compatible with my desktop." - User from microsoft forum
Solution: If you run into the problem that an external hard drive was unable to be formatted by Windows, you can refer to – Unable to format external hard drive
SSD Is Unable to Be Formatted by Windows
SSD is different from basic hard drive, which is flash-based drive. An SSD provides much faster read speed when you want to access any file stored on it.
==>> See Windows cannot format ssd
Windows Reports IT WAS Not Able to Format USB Flash Drive
If Windows is not able to format a USB flash drive, you can click "Restore device defaults" button when formatting it on your computer.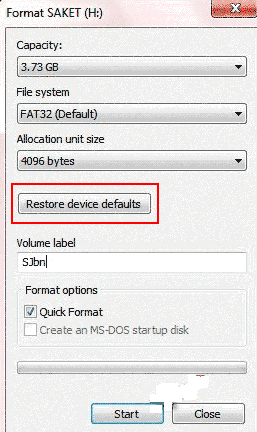 For more information, you can visit this page – Windows was unable to format USB flash drive
Pen Drive Cannot Be Formatted Solution
Pen drive is also known as USB drive in most cases. There are different brands of pen drives such as SanDisk, PNY, Lexar, Samsung, Toshiba, etc. A pen drive is easy to carry wherever you go, so it is a convenient tool for data storage and transferring.
==> Please see pen drive unable to format solution if you need detailed information to resolve the problem on different pen drive / sticks when it cannot be formatted on Windows.
Windows Was Unable to Complete the Fomat Windows 7 8 10
Microsoft has stopped providing updates for Windows XP in 2014. So far, Windows 7, Windows 8 and Windows 10 are widely used by PC users.
Windows Was Unable to Complete Format CD
CF refers to compact disc. You can insert a CD to your computer to write or read data. A CD can contain words, images, audios, animation, etc. A CD is availabe in CD-ROM and CD-R, CD-RW, VCD, etc.
Windows Was Unable to Complete Format DVD
DVD, namely Digital Versatile Disc, is digital optical disc storage format which can be used to store different kinds of data. A DVD has a higher capacity than CD, so it can be used to save a large amount of data.

You usually realize that Windows cannot complete the format when you format a disk that requires formatting. For the sake of data, you had better use a data recovery tool like iCare Data Recovery to recover data in advance before fixing the problem.
---
Related Articles
More Articles That You May Be Interested