USB flash/pen/thumb drive says blank/raw not formatted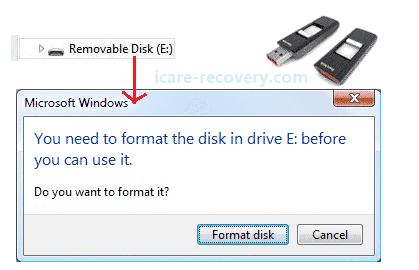 Last updated on 17/01/2017
Does these problems occur on your flash stick/memory/disk that shows/wants/asks/requires formatting?
"USB Flash drive is not formatted, do you want to format it now?".
"The drive is not ready, please format it?"
"USB flash stick has not format, it keeps warning unformat"
"How to format flash drive without losing data? Is it possible to format usb drive without losing files?"
The type of file system is raw on usb flash drive/disk. CHKDSK is not available for raw usb drive.
Due to virus attack/infection/usb not removed properly/safely, USB flash drive would report/show not formatted error in raw filesystem and ask formatting when there was inside data inaccessible, sometimes it says that the drive is not ready, sometimes it says/shows USB flash/thumb/pen drive is raw not formatted, do you want to format it now? If you formatted it, your data will become inaccessible without special software. No matter you formatted it or not, you may start free recovery with iCare Data Recovery Pro Free Edition.

>>Free software to Fix RAW USB Flash/Memory/Pen Drive Not Formatted -100% safe
Download iCare Data Recovery Pro Free Edition to retreive inaccessible files from an USB flash drive/stick/disk which reports blank/raw not formatted error when you attemp to access it.
iCare Data Recovery Pro is able to help for recovering data from not format usb thumb drive/stick.
iCare Data Recovery Pro - read-only usb flash stick format recovery software to recover data from not recognized, needs to reformat.
iCare Data Recovery Pro is a free efficient utility, it can help us with different kinds of data lost problems like flash stick data deleted by mistake, usb became unrecognized, usb stick not formatted error, usb flash drive not formatted error, all these problems can be solved by iCare Data Recovery Pro.
If you meet the USB drive not formatted error, just turn to iCare Data Recovey Pro for help.

Free download iCare Data Recovery
Video Tutorial: how to use iCare Data Recovery for file rescue
Steps to Recover Data from not formatted usb flash drive
Step1. Connect the thumb drive properly to PC. Start iCare and select a scan mode.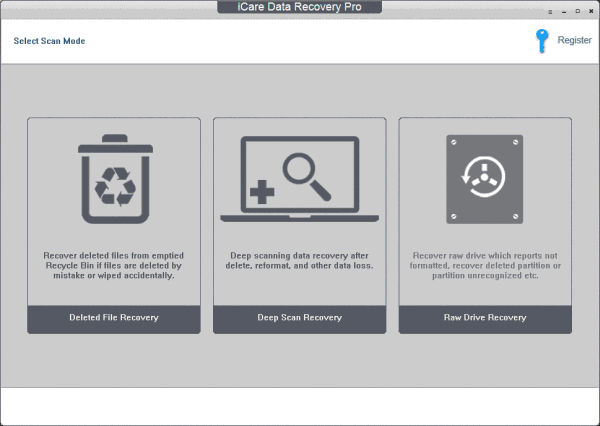 Step2. Select the usb flash drive as aim disk to search files.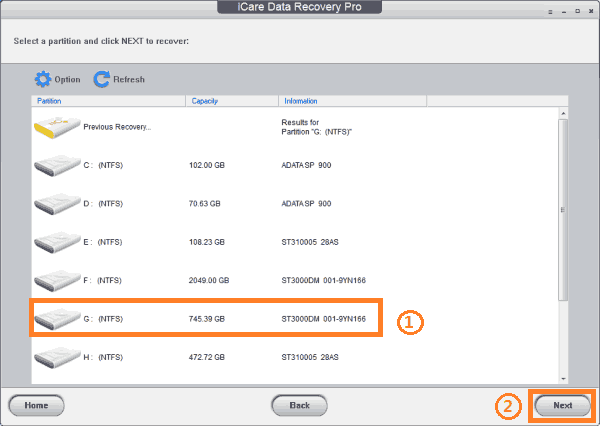 Step3. When the software display all files, you can preview photos or documents. Then, choose the files and save them.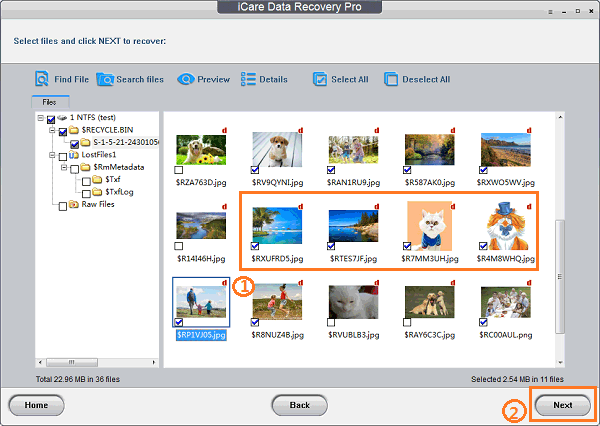 USB Flash Drive RAW Format
Sometimes you plug your USB flash drive in, the system will tell you that the drive is not ready or the drive is not accessible, at this situation, you need to check out that the physical connection is right, if it's right, but you still cannot read the data, it comes the USB flash drive not formatted error, at this occasion, don't touch any keyboard, leave it to the data recovery software for USB drive.
How to Deal with the USB Not Formatted Problem?
As mentioned above, when USB drive reports not formatted error, it will show RAW file system. In this situation, the first thing you should do is to rely on the data recovery utility for file restore. Then, you can format the USB flash drive to repair the unformatted problem.
When USB flash drive has not formatted error, you will find that its file system will turn to RAW. Usually, the reason why a flash drive shows RAW format and asks you to format it is that the file system is corrupted due to virus infection, bad sectors and more other kinds of reasons. You can format the USB drive to convert RAW to FAT32, but formatting will lead data to be erased. Therefore, you had better not format it immediately.
You can download the iCare Data Recovery software and install it on your computer to retrieve files from the RAW flash drive which shows not formatted error first of all. Then, you can format the flash drive to fix not formatted problem. The free edition allows 2gb free data recovery.
How to Open USB without Formatting RAW?
You ask such a question probably because you meet some problem when trying to format the flash drive from RAW to FAT32. It is difficult to fix disk format error without formatting to change its file system from RAW to FAT32. Here, we would not talks too much about the problem that USB drive cannot be formatted becuase another article shares detail

Recommed: Windows cannot complete the format>>
There's a user's experience:
My usb flash drive is very good, and I'm sure it works well, but nowadays, problems occur, Every time I plug it into my computer, there'e a letter saying that my USB flash drive is not formatted, I need to format it first, I know if I format it, I will loss my data, but I don't know what to do ,so I press format, but problem is that I can't format it.
My friend told me that iCare Data Recovery is a very good software which can help me with this problem, so I had a try, it really works well.
If you have USB flash drive not formatted error, just try to use iCare Data Recovery Software.
What is USB flash drive on earth?
USB flash drive is a kind of transfer, it has a capacity ranging from 64MB,128MB, 256MB…2G, 4G… It can store a lot kind of files such as RIFF, GIF, TIFF, JPG/JPEG, BMP, PNG, mp3, mp4 and so on…there's no doubt that it's a very useful transfer, but sometimes, problem will occur.

Download iCare Data Recovery Pro Free Edition
---
Related Articles
Hot Articles