The drive is not formatted, do you want to format it now
Last updated on May 9, 2018
This article shares contents related to disk drive not formatted error including: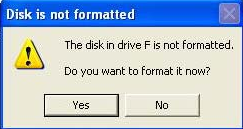 Disk Drive Not Formatted Symptoms
Disk Drive Not Formatted Error Message
When any disk like hard drive, portable hard drive, pen stick, USB thumb drive has not formatted error, the error message usually shows:
"The disk in drive * is not formatted, do you want to format it now?"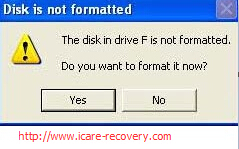 Windows XP
"You need to format disk in drive * before you can use it"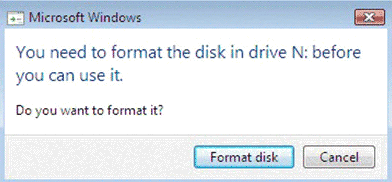 Windows 7 /8/10
Disk Drive Turns to RAW When Requires Formatting
Have you noticed the file system of your drive became RAW when getting the not formatted alert message? Some PC professionals call it RAW drive, or RAW filesystem. When the drive is not readable or accessible, then you will receive the notice disk drive needs to be formatted. Therefore, the not formatted error usually appears when you attempt to open a disk drive that changed to RAW file system and its capacity says 0 byte space.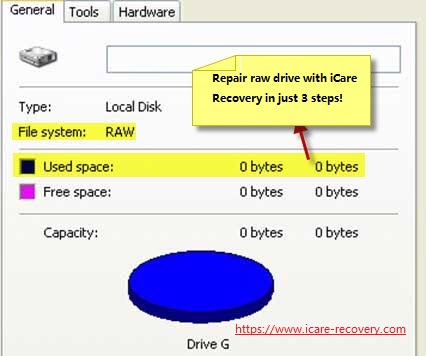 ==> Related Article: RAW drive fix

>>Quick Solution for Not Formatted Error
Use iCare Data Recovery Pro to rescue inaccessible external hard drive, hdd, pen drive, usb flash drvie, memory card when of of them shows not formatted error.
Solutions for "The drive is not formatted, do you want to format it now"
Simply say, you can click Yes button to confirm the format when you receive the notice says disk not formatted if you do not need to recover any data from the drive. On the contrary, you should click No button and ignore the error message if you want to recover even one single file from the disk drive. Generally speaking, you can follow two steps to fix any storage media that reports not formatted error message.
Solution Step1: Recover Inaccessible Data before Format Device
(Please skip to solution step2 if you have no data on the disk drive)
It is very important to get back all data at first from the inaccessible device when it reports not formatted error alert if there is any essential data on it.
Data Recovery for Disk Drive That Needs to Be Formatted
When you encountered the notice says your disk is not formatted, we have solutions for you no matter you did confirm to perform the format, or still keep it RAW drive(RAW file system). The key point is to avoid overwriting the disk drive which contains your data. In other words, even if you have mistakenly formatted the disk drive when it asks to reformat, you still have chance to perform data recovery before writing new data to the drive. (Anyway, it is highly recommended not to format the disk in case of unexpected overwriting or problem, so stop using the disk drive if you still haven't reformatted it!)
>> Download the data recovery utility to get your lost data from any device including SD, XD, CF, micro SD, pen drive, external HDD, flash drive, etc. It is simple and easy to use. You can take your files back. Try Now!
It does not matter it is an internal/external hard drive, digital camera SD card, flash card, CF card, or flash drive, pen drive, you can follow the following steps to recover data:

Video Tutorial: how to rescue your data before format
Step1. Download and install the tool you will see a screen with many options of recovery. You can select a recovery module to begin data recovery.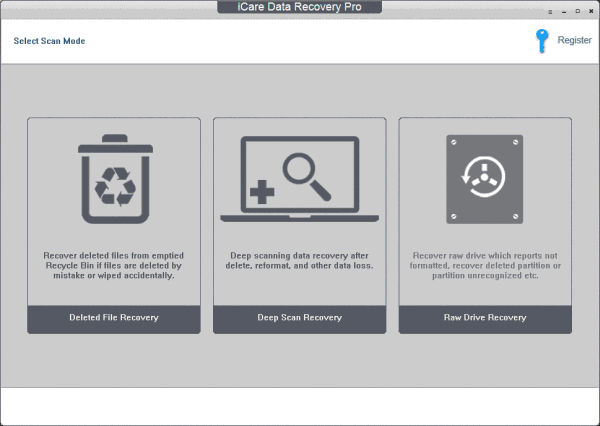 Step2. Select the drive which has not formatted error and let the it to be scanned.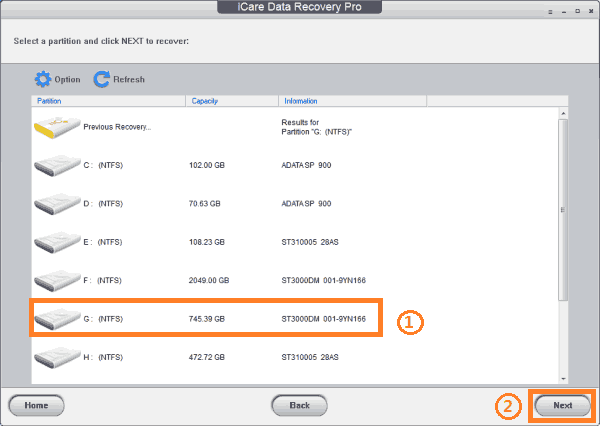 Step3. take a preview of some files and select those needed files to recover (Save the recovered data to a different drive).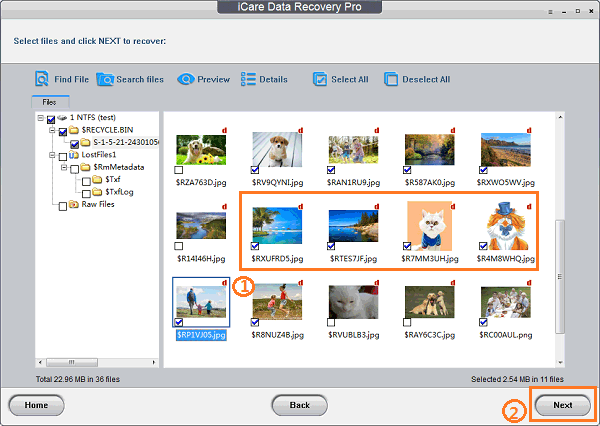 User's Success of Data Recovery from WD Disk that Warns to Be Formatted
Solution Step2: Fix Not Formatted Problem
After recovering data with iCare Data Recovery, you had better go to the location where is used to save the recovered files to see if all data has been restore successfully. Then, you can go to the disk drive that reports not formatted error and format it.
==>> Whether it is an internal hard disk or removable disk that has not formatted error, you can refer to this page to get useful methods to execute format on the device: Methods to format internal / removable disk
Check Hard Drive / Removable Device for Erro
You had better check your disk by Windows Error-checking function if it contains bad sectors. If a disk contains too many bad sectors, you had better stop using it in order to avoid further data loss.
==>> You can go to this page for more details: Fix bad sectors
Windows Reports It Was Unable to Format Disk Drive
Whether you format an internal hard disk whether it is Samsung, Seagate, WD, Kingston, etc or a removable disk like pen drive, portable hard drive, USB, memory card, microSD, miniSD, XD, CF or memory stick, the error message shows the same "Windows was unable to complete the format".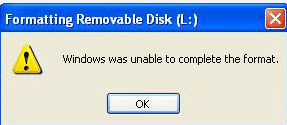 ==>> Please refer to this article for reasons and solutions: Windows wont complete the format
The Disk Drive Is Not Formatted Do You Want to Format It Now?
This error message usually shows on Windows XP when you try to open an unformatted internal hard drive or external hard drive. Windows XP is a Microsoft operating system which has been used by many PC users, so lots of people have received the same error message more or less.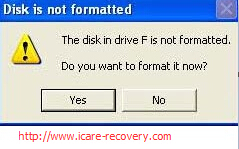 You Need to Format Disk in Drive before You Can Use It
Along with the development of Microsoft operating system, the disk drive not formatted error message began to show "You need to format disk in drive before you can use it" on Windows. Although the alert message shows different from Windows XP, it has the same meaning, namely you have no chance to access the drive unless you format it.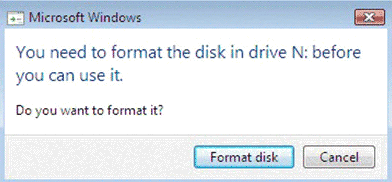 ---
Related Resource
Disk Drive Not Formatted vs. RAW File System
You will receive the not formatted error message when CF card is in RAW format or other storage media like SD memory card, USB drive, portable hard drive turns to RAW. Here are some users encountering the same problem all related with this not formatted issue. Let's take a look at the cases:

Case1:
HDD in question: External 160GB firewire drive from Maxtor.
O/S: Windows 2000 Advanced Server
Windows stopped recognizing the data on the disk suddenly while I was trying to fix a sound card resource conflict issue. Prior to this, I could access the drive and the data without any issues. At present, when I try to access the disk/drive, I get the message "Disk in drive E: is not formatted. Do you want to format it now?". Could this be a file system driver issue? Because the file system is RAW now. If yes, where can I get the driver from? I think, the drive has FAT32 file system before as the external drives come preformatted under FAT32 and I don't remember changing it. The data on the disk is really important! Please help!
Case 2 - Another same problem:
Using XP
Two weeks ago, I used my D drive to backup the files and "My Document" placed in C drive. Every week or so, I would backup all files from My Documents on C drive to My Documents on the D drive. Today trying to do the same but got an error message telling me The disk in drive is not formatted and ask for a format. Icannot access the files and my backed up My Document files in D drive. Should I just say yes to format it and not worry about it?
Resolution: The two cases are all related with format problem, you need to find a recovery utility like iCare Data Recovery Pro which can help you rescue your files from the RAW drive(file system), or even formatted drive. Do not write any new data into the drive before the recovery. The recovery tutorial is listed above to guide you through the recovery process.

---
Related Articles
Hot Articles