Memory Card Blank or Has Unsupported Filesystem - 8 Fixes
"Memmory card is blank or unsupported what do? I have an corrupted SD card on my Android phone. There are lots of precious pictures and videos on the SD card, but the phone says that SD card is blank and has unsupported file system. I cannot access the card. Connecting the SD card to my computer, Windows system also reports the similar message to say that SD card is blank and has unsupported file system. How can I get back photos and videos from SD card when it is not accessible?"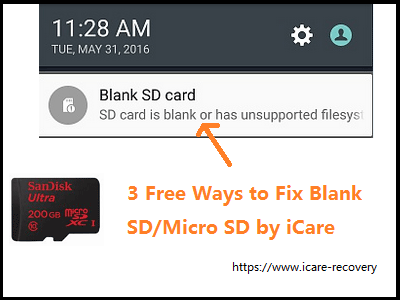 SD card is not working on phone error blank so card how to solve
Quick Guide
Fix #1 - Repair blank sd card on android mobile without pc/software
Can a blank or unsupported SD card be corrected? My sd card is blank or unsupported can I restart sd without format? Neither a computer nor software would be needed for this solution to fix sd card blank error on mobile phones. And here comes the detailed method.
=> Simply take the sd card out and insert it back. (Around 60% users get it fixed by this way)
Video - how to fix blank sd card on android phone
If it does not work for your phone, here are more ways coming up in the following methods.
Fix #2 - Take your sd card out and then clean it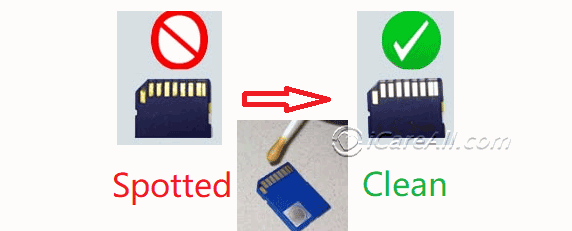 Clean sd card chips
Fix #3 - Recover Data from Blank SD Card (On PC)
How to save files in a blank or unsupported sd card without formating it? Fix unsupported SD card without formatting? Rescue files from blank sd card at first!
When data matters to you, we would highly recommend you restore files from blank sd card error for free with iCare Pro. If there was nothing important on the sd card, you may directly go to Fix #2.
Get your sd card inserted to a card reader, connect it to a computer and run iCare to recover data from your sd card - 100% safe way under the fact that recovering data on android without pc would risk partial data overwritten if you insist on recovering data from blank sd on your phone without pc.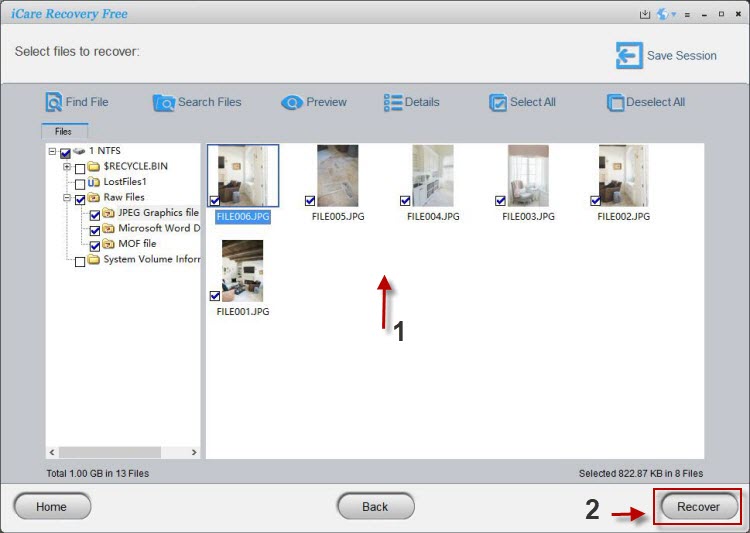 Also read: 5 free ways to backup sd card data
Fix #4 - Format Blank sd card in Phone/device
Blank sd card error could be fixed by reformatting card in your device (phone, camera, digital media...) since another formatting is to make the sd card refresh again.
We would recommend you backup data to somewhere else before the formatting if data matters to you since formatting card would delete all files on the sd card.
How to format blank sd card? You can get your blank memory card formatted by the following ways.
If it's a camera: Settings -> Format card
If it's a phone: Storage -> Format sd card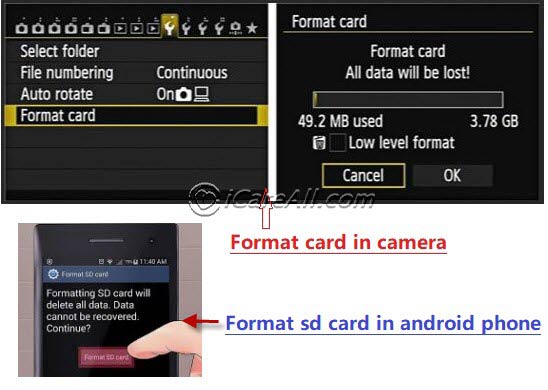 Format blank sd card
Cannot format sd card? Solution -> 5 ways to fix sd card unable to be formatted
Sometimes the blank sd card won't get it formatted simply because you did not set the sd to be usb mass storage mode in your phone when it was connected to a computer for a formatting.
Bonus - Unsupported SD card without formatting Android
If you are wondering how do I fix blank sd card without formatting, or how to fix unsupported sd card without formatting android phone, you may try the following ways at first.
Pull out sd card, and slide it back on android phone to fix the unsupported sd card without formatting.
Clean the sd card with a swab and remove spots on the reader chips or pins on the memory card
Fix unsupported sd card with chkdsk on Windows computer (required since only Windows provides such free repairing for blank sd card)
Retrieve blank sd card at first, and then what ever formatting on blank sd card won't get you in trouble. Read here -> blank sd card data recovery
Fix #5 - Connect phone to PC and Turn on USB Storage Mode or USB Debugging, Format blank sd with pc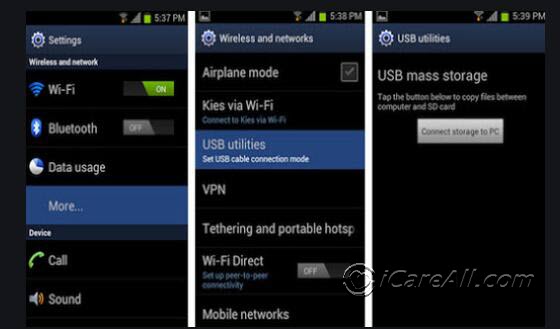 Connect phone sd card to PC and set it usb mode, and then format it
Or sometimes it looks different on other types of phones.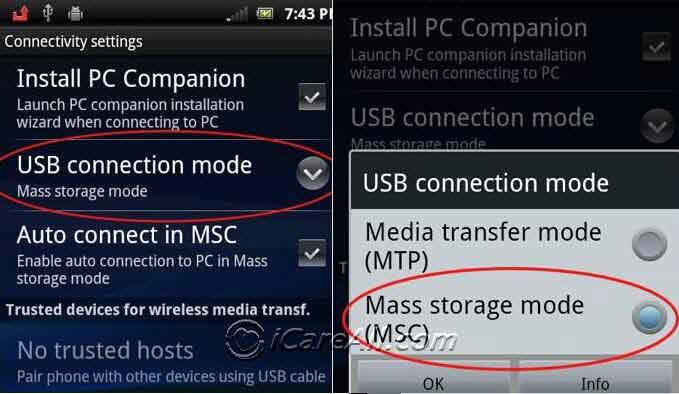 USB connection mode
You may right click your phone that recognize as usb mass storage, and then format it.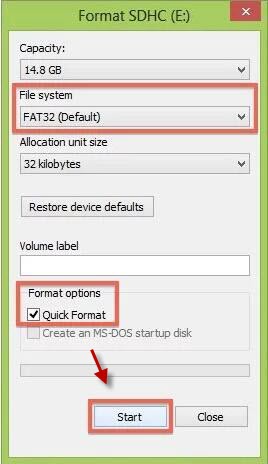 Fix #6 - Repair blank sd card in computer Windows 11/10/8/7
We would highly recommend you use the following method to repair blank sd card in a computer with chkdsk.
Not working? Here are 10 ways to repair damaged sd card
Fix #7 - Fix blank/unsupported sd card in Windows by diskpart cmd
You need to insert your sd card with a card reader to a computer, and then type diskpart.exe in Run to get it started.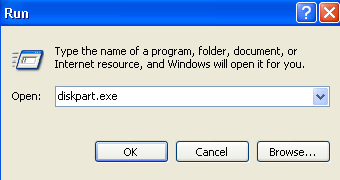 Diskpart to fix blank sd card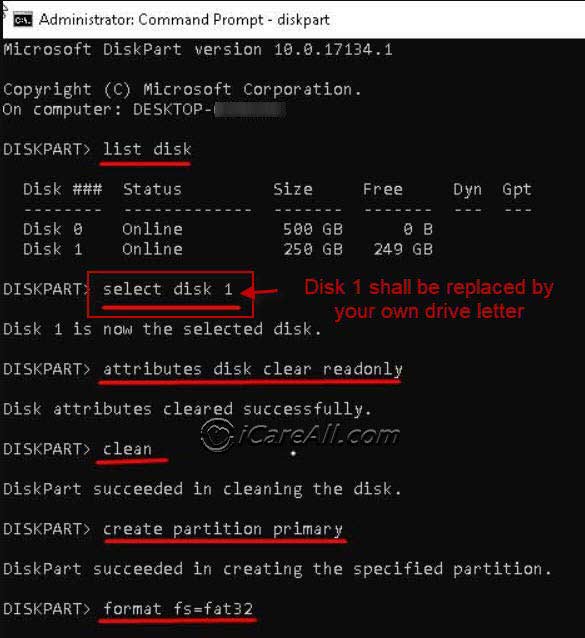 Diskpart to fix blank sd card
Video - Efficient 3 ways to fix blank sd card in Windows
Fix #8 - Factory Reset in Phone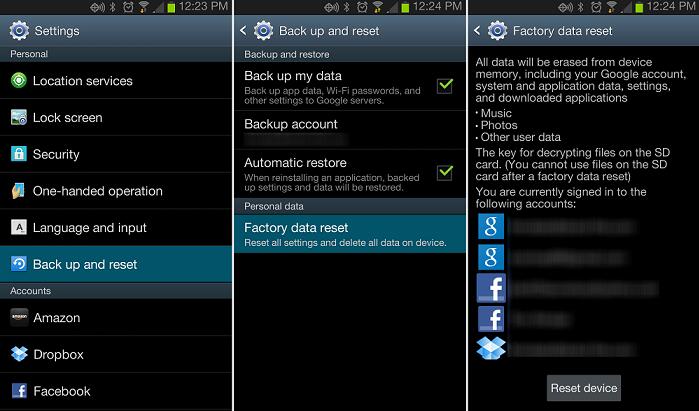 Factory reset to fix blank sd card
How to Recover Data from Blank SD Card
Blank sd card unsupported filesystem data recovery is easy. Free download iCare to recover files from blank memory card with the following steps:
Free Memory Card Recovery

Download iCare Data Recovery Pro Free to recover files from mobile phone camera memory card including photos, videos, music...
Step1. Get your SD card out of phone/camera and connect it to computer via a card reader(must). Then launch iCare Data Recovery on the computer. Choose a recovery module. 'Deep Scan Recovery' or 'Lost Partition Recovery' are both working for this situation.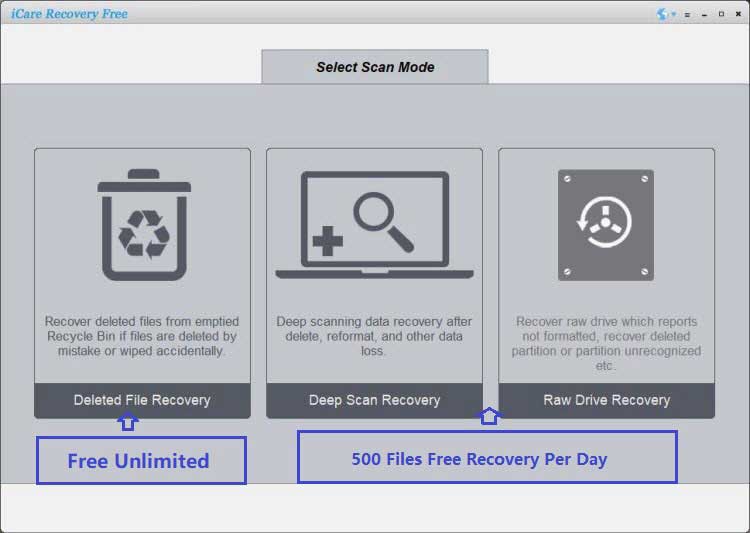 Step2.  Choose the SD card and then wait patiently until it shows all lost files.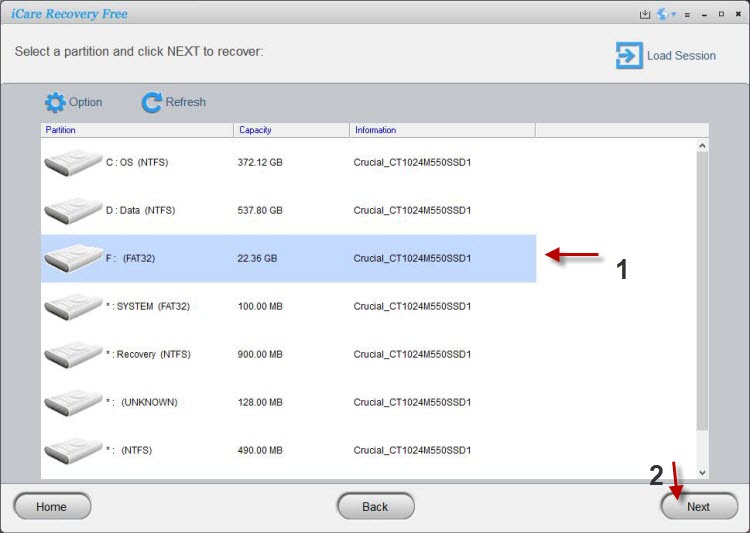 Step3. Preview pictures to see whether they are able to be recovered. If photo can be previewed, it is of 100% success of recovery.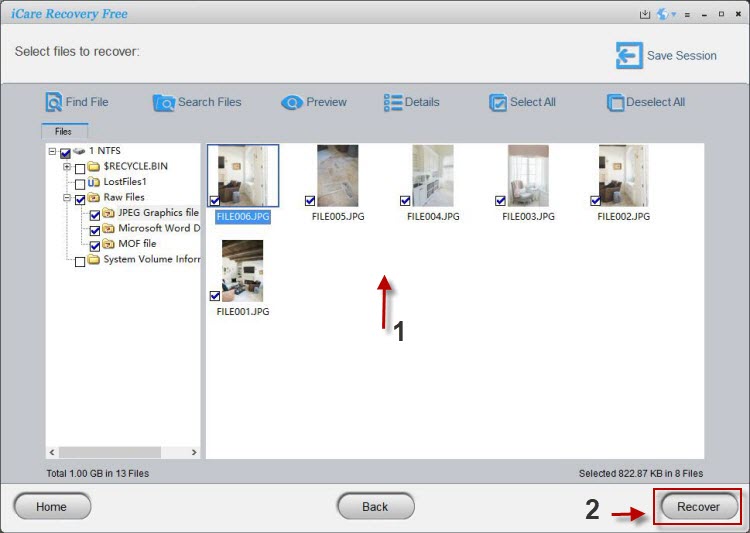 Step 2: Repair blank unsupported memory card with CMD
Condition: when your data on sd card were successfully restored, you may operate the step 2 to repair the sd that reported blank.
Video - format damaged sd card to fat32
CMD to repair blank sd/micro sd
Step 1: Run CMD (Not knowing where to open cmd? Go to the very left bottom of your PC and type 'cmd' in the 'Find&Search Files')
Step 2: type "format x:/fs:fat32" and enter ( Here please replace x with the drive letter of your sd card; you may choose fat32/exfat/ntfs for the format of your memory card as you wish)
Step 3: wait for the formatting to be completed (no operations from you, just wait)
Step 4: once it finished, type 'exit'
And now your sd card is repaired.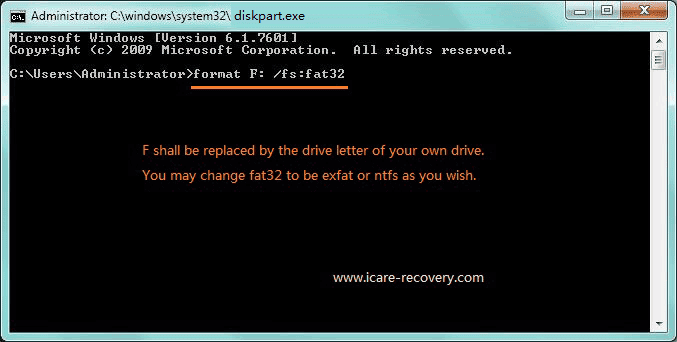 Note: the above cmd steps does not work for a hard disk which has a few partitions, the cmd would be not the same.
Blank SD Card Requires Formatting - format it or not?
When you attempt to access the memory card, it may ask you to format the SD card. Can you format SD card when it shows blank and requires formatting? If there is no important data on the SD card, you can format it to fix the problem. However, if you still have important data on the card, you had better not format it. Instead, you can run the data recovery software to rescue the files you need. You can format the SD card when all data has been restored successfully.
Also read: 10 ways to repair damaged sd card
FAQs
Question: Why did my SD card go blank?
Answer: Why is my sd card suddenly blank? -> The sd card may contain unknown logical errors that made the sd card blank on smartphone. You can recover data from blank sd card for free with iCare Recovery Pro and then fix the blank sd card on mobile or on Windows 10 computer.
---
Last updated on Sept 14, 2023
Related Articles
Hot Articles