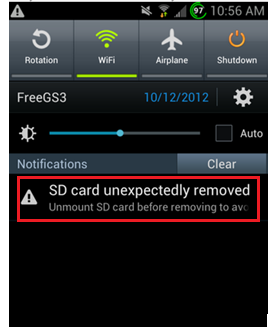 It says "SD card unexpected removed. Unmount SD card before removing to avoid data loss" when you open "Storage" on Android?
SD card shows as storage on a mobile phone, which can be used for data storage. However, when you receive the message, you can no longer save even a single file to it. What is worse, you cannot read the data stored to it previously.
First thing: Just unmount SD card and reboot the phone.
It resolves problem in most of time. Smartphone still shows the message? Now, it probably indicates that your phone or SD card has some problems.
How to fix the problem when your SD memory card shows unexpectedly removed error even after unmount the card and rebooting phone?
Step1 – Use iCare Data Recovery Pro to repair SD card data
Step2 – Try following methods to fix the SD card unexpected removed problem

Free download iCare Data Recovery Pro
Reasons Why SD Card Reports Unexpectedly Removed Error & Solutions
Generally speaking, an SD card will report such an error message due to different reasons. Here are some possible reasons that lead an SD card to be inaccessible and show the error:
1. Check Whether SD Card is physically damaged
When you receive the error message that SD card has been expectedly removed error whenever you want to read any data, the first thing you should do is to check if the SD memory card is corrupted. You just need to remove the SD card out of the digital camera or mobile phone and then connect it to a computer through USB cable to check if it can work normally. If the SD card works fine after connecting to your computer, it means that there is no problem with the card. On the contrary, the card can be damaged if it is not accessible on your computer. The best solution is to change a new card when the SD card is corrupted.
2. Check if the cell phone or digital camera is damaged
If SD card has no problem, you may need to check if the Android phone or digital camera is damaged. Sometimes, mobile phone or digital camera hardware failure might also cause SD card to be unreadable and shows the unexpectedly removed error. For Android phone users, you can unmount SD card on your phone and then mount it again after rebooting your smartphone. You can also restore your Android phone to factory settings to fix the problem.
3. SD card not formatted error
SD card not formatted error is another common reason that might result in SD card not readable and shows removed unexpectedly error message. In this situation, you can format SD card to resolve the issue. Since formatting will delete all data on the SD card, you had better make a backup before formatting it. You can format the unformatted SD card in your smartphone or digital camera. Or you can also insert it to a computer or laptop via a USB cable and then format it on your PC.
4. SD card has been infected with virus
When you visit an unsafe link or open an email from a stranger on your smartphone, the SD card inserted to the phone is easily to be attacked by virus. Virus infection is also a possible reason that causes an SD memory card to be unreadable and show removed unexpectedly error. For this problem, you can connect your SD card to your computer and run antivirus software to scan the card and remove virus.

Recommend: Android says SD card removed insert a new one>>
How to Repair Files from SD Card That Says Removed Unexpectedly Error?
Do you need to recover inaccessible files like photos, videos, music, documents, etc from an unreadable SD card which says removed unexpectedly error message? You can use free memory card data recovery program iCare Data Recovery to deep scan the SD memory card and extract all files you need from it. You can follow the guide below to retrieve SD card files:

Step1. Free download and install the software on your computer. Connect the SD card to the computer and launch the software and then select a scan mode.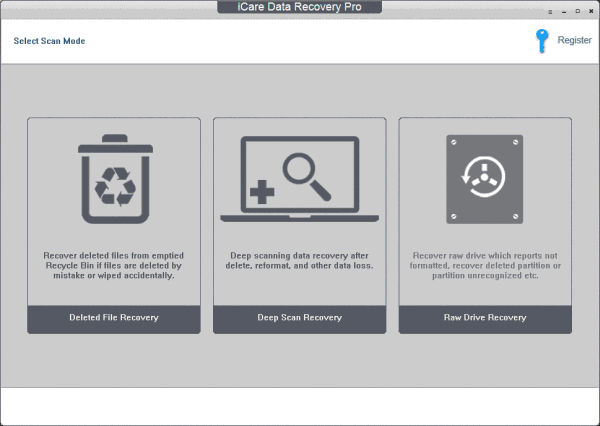 Step2. Select your SD card to scan.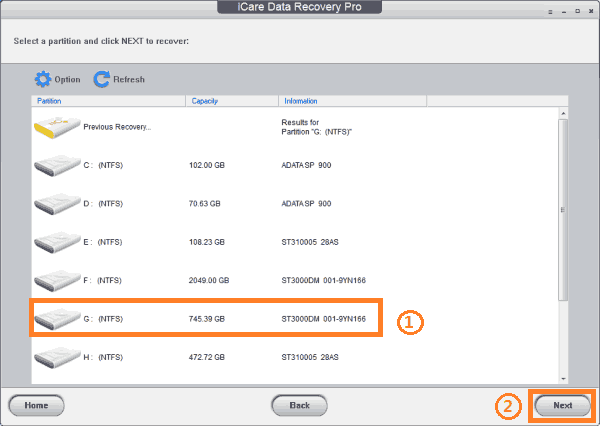 Step3. Preview files and then save the lost data to another media.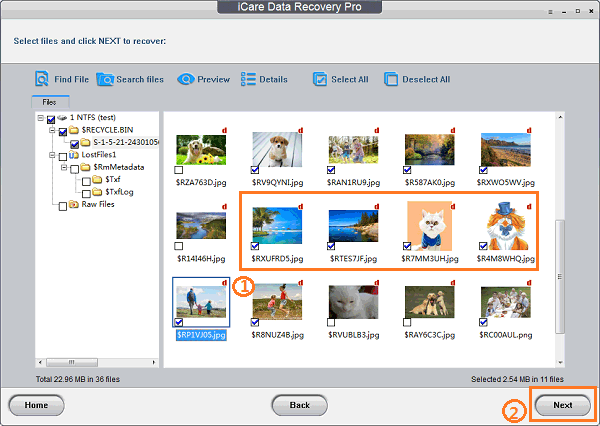 Please remember not to write new data to the SD card if you want to free recover deleted files from SD card when it stops working and shows unexpectedly removed error.

---
Related Articles
Hot Articles