External USB Disk Not Recognized Data Recovery
Last updated on 16/01/2019

Unrecognized External USB Hard Drive Recovery:
If your external HDD or USB can not be recognized by Windows, Windows OS probably says there is no disk in drive on your computer or it just wont show up in MY COMPUTER or disk management.
iCare Data Recovrey Pro provides solution for external HDD data recovery when it is not detected by Windows OS.

>>Fix Unrecognized External USB disk
Use a professional tool--iCare Data Recovery Pro to restore data when external hard disk drive is not recognized by your computer before any other repair operations.
Data Recovery from External Hard Drive that won't show up
It is true that data is recoverable from an external USB which can not be recognized by PC, but you need to rely on a third-party data recovery tool. You may rely on iCare Data Recovery Pro, which is a powerful, advanced, reliable and easy-to-use data recovery program for all Windows users. This data recovery software enables you to recover pictures, videos, music, document, etc from all brands and types of external hard drive including Western Digital, Seagate, Samsung, Toshiba, Seagate, Hitachi, Maxtor, etc from 160 GB to 6 TB. In a word, iCare Data Recovery Pro is a useful and secure data recovery tool that can help you recover any data from all types of external hard drives when PC fails to recognize it normally. This tool also works in the cases that thumb drive can not be detected.

Video Tutorial: how to fix external USB disk not recognized
Steps to Restore External USB disk Data
Step1. Install iCare Data Recovery on your computer. Connect the external USB disk to the computer and launch the program. Then you can select the proper mode to recover your data.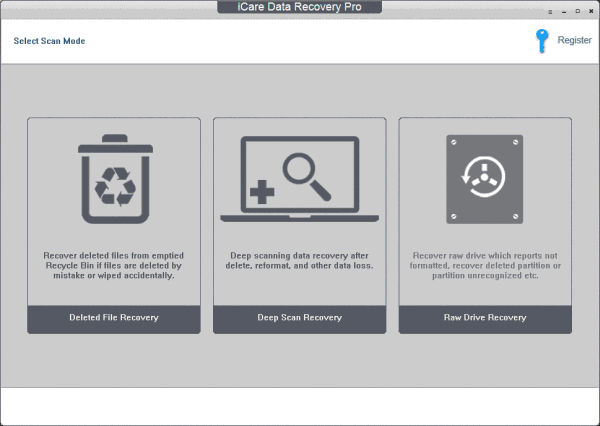 Step2. Select the device where data lost and the software will perform a scan on your disk .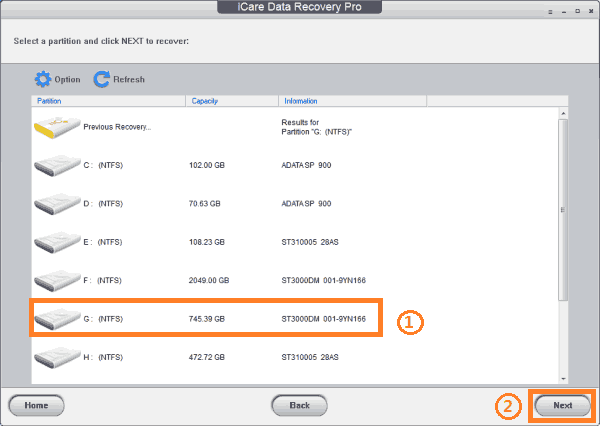 Step3. After scanning , you are allowed to preview all found files to evaluate their quality. You can choose the files you want to restore.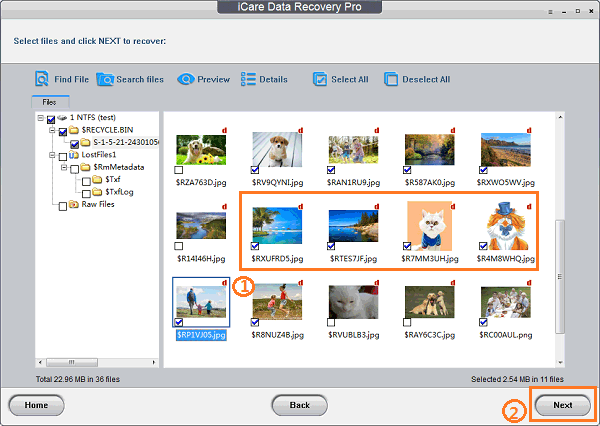 Ps:You can save the selected files to any other device such as a USB drive or hard disk partition instead of the original place.
Hard disk drive recovery
There are many popular brands of external hard drives in market such as Seagate, Western Digital, Samsung, Toshiba, Maxtor, Hitachi, and more. External hard drive is often used to store and transfer data, but sometimes users might troubled when their data get lost on USB or HDD when PC cannot recognize the external hard drive. Usually, an external hard drive might be unable to be recognized due to different reasons such as virus infection, improper operating, hardware issue, bad sectors, etc. If the device is no longer recognized by PC, many users will think that the files will be lost forever. However, is it true? In this article, we will share those possible reasons why PC stops recognizing an external hard drive and how to recover data.
External Hard Drive can not be Recognized because of Virus Infection
Although you have installed anti-virus software on your computer, your external hard drive might still be attacked by virus or spyware when you plug it to a stranger's computer, especially a public computer. If your external HDD is attacked by virus or malware, the virus might do harm to the external hard drive or data stored on the drive. In this situation, your external hard drive may fail to be recognized by your PC. Therefore, it is very important to avoid your external HDD being attacked by any virus or spyware in order to avoid data loss.
External Hard Drive Is Not Recognized due to Improper Operation
Improper operation will corrupt the external hard drive and even cause data loss. What is improper operation on an external hard drive? For example,
You always remove your external hard drive directly without clicking "Safely remove hardware".
You unplug your external hard drive in the data transferring or writing process.
Such kind of improper operation might lead your external hard drive to be corrupted and it will be recognized when you plug to the computer. It is recommended you to operate properly on your external HDD to avoid data loss due to such kind of reason,.
USB Is Shown as Unknown Device in Disk Management
Sometimes, when you plug a USB to a computer, it is not recognized as a removable disk in "My Computer". However, you may find that it is shown as an unknown device in "Disk Management". If you right click the unknown device, you may receive a message like "Disk drive is not accessible.Access is denied ". An external hard drive will show such kind of message due to different kinds of causes, but as long as your device is not yet physically damaged, you are able to get back files on external.
Seagate External USB Hard Drive Is Not Recognized
Seagate external hard driveis a popular external drives all over the world, but you can also find that many Seagate users are trying to look for a solution for data recovery when their external hard drive is no longer recognized.
Case: I have a 500GB Seagate external hard drive. When I plug it in, it cannot show up in My Computer" but it is shown as a RAW device on "Disk Management". How can I fix Seagate external RAW error without data loss?
If the external hard drive can still be detected on "Disk Management", the device is not completely damaged. In this situation, you cannot format the RAW drive. Instead, you should run data recovery software to recover data first of all, and then format the RAW drive to NTFS or FAT32.
Western Digital Portable Hard Drive Cannot Show up
"When I connect my Western Digital hard disk drive to my computer, it cannot show up. I cannot find any external device on my computer."
If you are a Western Digital external HDD user who is looking for a method to fix the similar problem when the drive cannot be recognized, data recovery software is always the best solution to rescue data from an unrecognizable device.
PC Cannot Detect Samsung External HDD
"I need some help please because my Samsung external hard drive is unable to be recognized on my computer. A lot of important files are stored on this external drive, but I cannot access it anymore. What should I do to get back the lost files? Any help will be appreciated very much."
Samsung is another famous brand of external hard drive. As an external device for data storage,Samsung portable hard drive will also fail to be recognized by computer in some situations. It doesn't matter why your Samsung external hard drive can't be recognized, what matters is that you should avoid overwriting the lost files on the drive and protect the Samsung from being physically damaged.

Data is recoverable from all kinds of external hard drive when it is not recognized by PC, or it is shown as unknown device. Before data recovery, what matters is don't do any operation on the external hard drive, which may decrease the chance of data recovery. The data recovery tool is also work on micro SD card file recovery when it cannot be recognized due to micro SD RAW drive error on the card.
Resource
iCare Data Recovery Pro : Restoring files from external HDD that is not detected by PCRelated Articles
Related Articles
Other Articles
Related Resource