Recovering data from Hard disk, usb disk, usb drive
Last updated on 27/04/2017
Tutorial for file recovery from hard disk drive, external hard drive and USB flash drive, pen drive.
Table of Contents
Data Loss Situations for Disk Drive
Generally, disk drive includes internal hard disk for computer and removable disk like external hard disk drive, USB flash drive and pen drive. Those disk drives have differences in appearance and performance, but the data loss reasons for them are similar.
Here are common causes for disk drive data loss:
1. Disk Drive Deleted Files Recovery
Whether it is an internal hard drive or removable disk, you need to connect it to a computer in order to delete files from a disk drive. However, when deleting files from computer's internal hard drive, the deleted data goes to recycle bin which leaves you a chance to restore mistakenly deleted files. When deleting files from an external hard drive or flash drive, the data gets erased immediately.
You can format any disk drive on a Windows or Mac computer, after which no data can be read from the formatted disk drive.
A disk drive might be corrupted, in which situation you may need to fix errors. Simply, disk drive corruption can be divided into two types, namely physical damage and logical failure. A physically damaged disk drive is usually difficult to fix, we will introduce this problem later in this article. Now, we focus on disk drive logical failure like:
Access to disk drive is denied
Disk drive is write-protected
The parameter is incorrect
The volume does not contain a recognized file system
CHKDSK is not available for RAW drives
Disk drive is infected with virus
Disk drive contains bad sectors
For all kinds of errors on a disk drive, data is recoverable with a data recovery program for disk drive.

Recommend: Fix errors for disk drives>>
Disk Drive Recovery Software Free Download
iCare Data Recovery Pro is a hard drive data recovery tool, which supports for format recovery, deleted file recovery and resolve data loss problem from any disk drive errors.

Step1. Free download and install this software on Windows computer. Start the software and select a scan mode.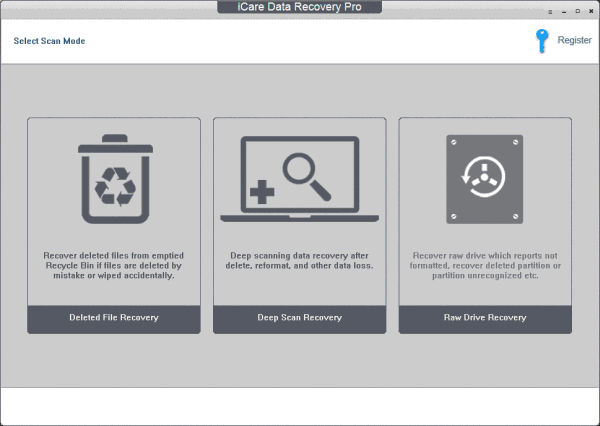 Step2. Choose the disk drive for scanning to search lost files.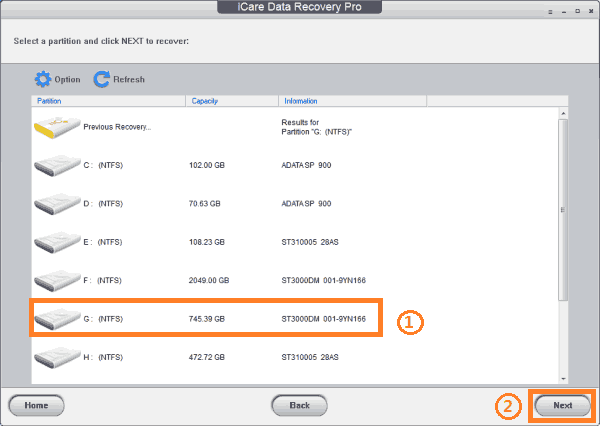 Step3. After scanning, you can preview and save found files.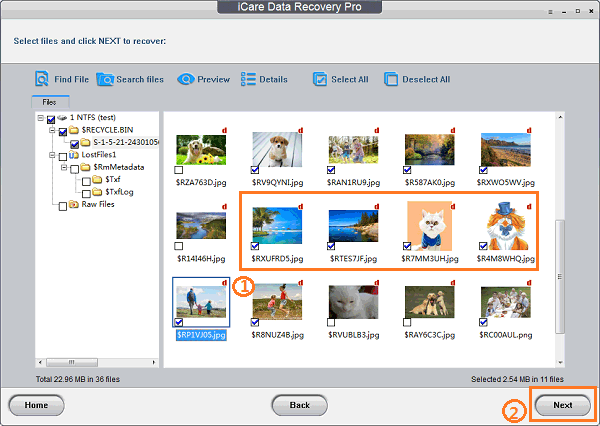 Disk Drive Recovery Supported Types
Disk drive can be different types, which have different sizes and capacities for usage.
Hard drive is one of the main storage media for computer. A computer cannot work without a hard drive being installed on it.
For hard drive recovery, it includes:
HDD recovery – HDD, namely hard disk drive, is traditional hard drive which includes head, control circuit, disc, etc.

SSD recovery – SSD, namely Solid State Drive, works more quickly than traditional hard disks. Therefore, an SSD is able to offer performance benefits to most applications. The performance of an SSD is better than that of hard disk drive because of memory storage technology used in SSD.

SSHD recovery – SSHD, namely Solid State Hybrid Drive, is combination of traditional hard disk and SSD. An SSHD has the basic head, motor, etc of HDD and use NAND memory storage.
Hard drive has the capacity from 500GB to 5TB at most. You are able to recover files from hard drive that has any capacity. Usually, HDD that is less than 2TB has MBR as partition table, while the HDD that is larger than 2TB has GPT. Therefore, you may need to perform:
MBR disk recovery –Main Boot Record, supports 2TB disk. MBR disk supports to be divided into 4 primary partitions at most.

GPT disk recovery – GUID Partition Table, supports 128EB disk. GPT disk supports to be divided into 128 partitions at most.
2. External hard drive recovery
External hard drive recovery situations are similar to that of hard drive recovery. An external hard drive is not installed to computer, but can be connected to PC via a USB cable. A portable hard drive provides more convenience for you when you need to transfer data from one computer to another. A removable hard disk is also from 500GB to 5TB. For external HDD recovery, you need to connect it to computer normally to perform file recovery.
USB flash drive or pen drive is much smaller than an external hard drive, which can be put in a pocket. USB drive is usually used for data storage. A USB drive can be FAT16 and FAT32 file system. Today's flash drive usually has FAT32 file system for a better performance of data storage and transferring.
USB/Pen drive capacity – USB thumb drive capacity includes 1GB, 2GB, 4GB, 16GB, 32GB, 64GB, 128GB, etc.
USB drive manufactures – SanDisk, Toshiba, PNY, Transcend, HP, Kingston, Samsung, Patriot, Lexar, Silicon Power, etc
Tip:
Usually, the more data is stored to a disk drive, the more time it usually takes to complete the file recovery. In addition, it costs more time to perform disk drive recovery if it contains many bad sectors.
Disk Drive Retrieval Supported Manufacturers
There are various manufactures that develop and produce different disk drives. Below are some famous disk drive manufacturers. iCare Data Recovery Pro is able to recover files from disk drives from all manufactures:
1. Seagate Disk Drive Recovery
Seagate is the largest disk drive manufacturer in the world, which develops and produces both internal hard disk and external hard drive such Seagate backup plus drive.
2. Western Digital Disk Drive Recovery
Western Digital, also called WD, is the second largest disk drive manufacturer. Hard drive and portable drive from WD Corporation have good reputation and appeal to many users.
3. Samsung Disk Drive Recovery
Samsung develops and manufactures hard disk, removable hard disk and USB flash drive. In addition, it also produces some other devices like memory card, smartphone and digital camera.
4. Hitachi Disk Drive Recovery
Hitachi is a corporation from Japan, which manufactures both hard disk and portable hard drive.
5. Kingston Disk Drive Recovery
Kingston was founded in 1987, which is located in USA. It mainly manufactures USB flash drive and pen drive as well as memory card.
6. Toshiba Disk Drive Recovery
Toshiba Corporation is the largest semiconductor manufacturers in Japan, which was founded in 1875. Toshiba Corporation is specialized in manufacturing mobile phone, television, memory card, internal / external hard drive, etc.
7. SanDisk Disk Drive Recovery
SanDisk is an American corporation, which was founded in 1988. SanDisk mainly produces SD card, CF card, TF card, card reader, memory stick, USB flash drive and SSD and MP3. SanDisk was acquired by WD in May 2016.
8. Other Disk Drive Manufacturers
There are some other manufacturers, which include:
Internal / External hard drive manufacturers – Transcend, Silicon Power, LaCie, Sony, BusLink, Crucial, Maxtor, Memorex and more generic disk drives.
Flash drive manufacturers – HP, PNY, Transcend, Patriot, Lexar, Silicon Power, etc.
Disk Drive Physically Damaged
Disk drive physical damage means that some component of the disk drive is damaged. For example, the head component or control circuit of a hard disk is damaged. Or the chip of USB / pen stick is damaged. When any disk drive gets physically damaged, you can do following things to repair the damaged disk drive:
1. Send the disk drive to a repair company or manufacturer to replace the damaged component.
2. Buy a new disk drive to replace the damaged one.
---
Articles Related to Disk Drive Recovery
---
Related Articles from other guide
Seagate external disk recovery : recovering data from seagate external when it was not recognized by PC, reformatted by mistake, raw drive or other problems and need to restore inside imporant data.
Data Recovery Free software guide: use free software to recover data from various kinds of data loss.
How to use data recovery software : guide that shows how to use data recovery program to bring lost data back.
Free software to recover lost data: freeware to bring lost data back
Dynamic disk recovery software - restore data from dynamic disk when it was formatted, deleted, damaged etc.
Windows 7 data recovery software: data recovery from Windows 7 operating system related media drive
FAQ Data Recovery : most frequent data recovery cases
Hard Disk Data Recovery Software - recover data from hard disk when laptop desktop hard disk usb external disk encounters data loss or other problems
Format Recovery Resource : data recovery guide related with format reformat unformat