Frequently Asked Questions for File Recovery
This page will list some frequently asked questions related to data recovery from digital devices.
Table of Contents
Data loss is a frequently asked question by many people. Every person probably meets different problems for data recovery in various situations. Therefore, we would like to list some FAQs related to file recovery and share useful solutions for those questions.
Is My Lost Data Recoverable?
This is the most common question that is frequently asked by lots of users. People may ask such a question when they lose files due to deleting, formatting or their storage media has any error.
FAQs related to "is lost data recoverable?" include:
For all those questions, the answer is yes! Data is recoverable from any device in any data loss problem.
What Should I Do before Data Recovery?
Lost data can be restored no matter how it got lost, but there is something you should do in order to retrieve everything you need:
1. Stop adding new files to the device where data got lost.
2. If it is a memory card where data got lost, you had better remove it out of the device like your phone or digital camera before data recovery in case of writing new data to it.
3. Protect the digital device well from suffering any physical damage.
It is quite important to keep the storage media untouched in order to retrieve every lost file.
How to Restore Files from Digital Device?

Free download iCare Data Recovery PRO
To rescue files from any media, you need to get a useful data recovery tool unless you have a backup of the lost data. iCare Data Recovery Pro is a data recovery program, which provides perfect file recovery solution for users who did not make any backup before data loss.

Being data recovery software for all, iCare Data Recovery Pro supports:
Step1. Select a scan mode to start data recovery after installing the software on your computer.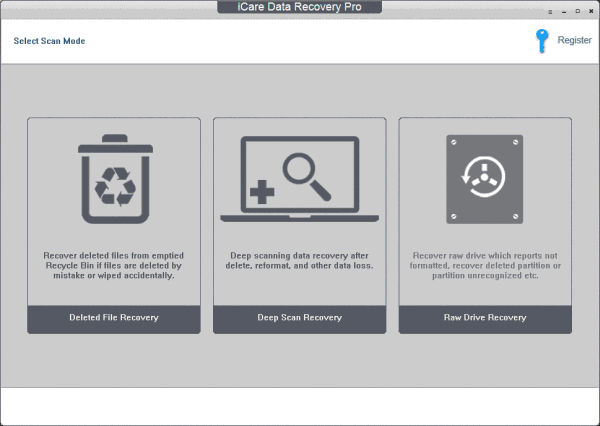 Step2. Choose the media so that the software will scan to search lost files.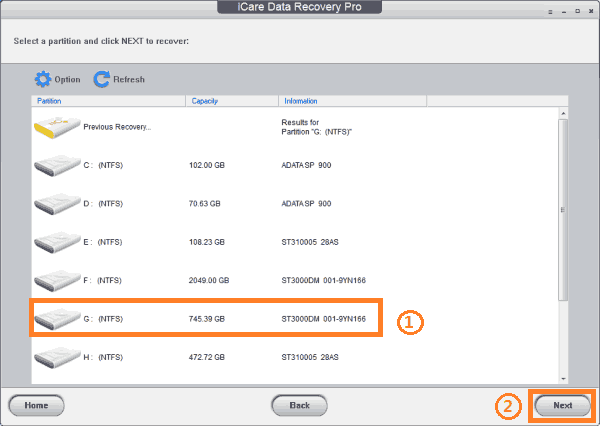 Step3. Preview files and save what you need to another drive.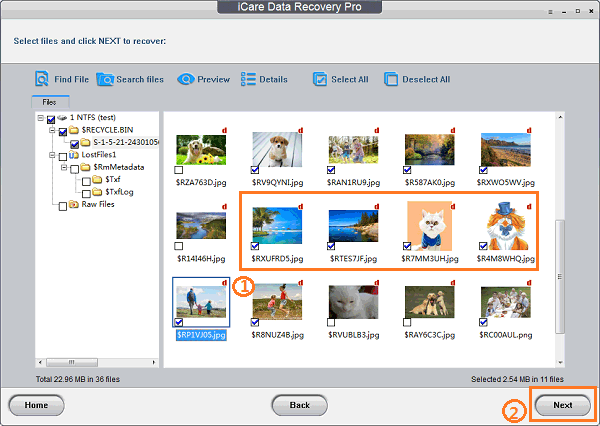 How Much Time Does It Take to Complete File Recovery?
Data recovery operations can take anywhere from a few minutes to several hours to complete, depending on how much data needs to be recovered and whether the device has bad sectors. Usually, it takes about 5 minutes for about 1GB data and 30 minutes for 32GB data. It is normal to take several hours to scan a 1TB hard drive for file recovery. If the device contains many bad sectors, it probably takes more than 10 hours to complete the scanning. In this situation, you can cancel the scanning to see how much data has been found. You should be patient when the software is building the lost file trees to show all found files.
Can I Preview Found Files?
The software would list all found files in different folders based on their types. You can see those folders on the left side of the software. Click each folder, and you can see all found files showing on the right panel. iCare Data Recovery allows you to preview some files before recovering them. To preview each file, you can click "Thumbnail" to show each file in details or click "Details" to show each file in thumbnail. Select a file and click "Preview" button, it allows you to preview the selected files. If you want to preview the certain file, you can click "Find File" and type the filename to find the file you want to preview. Or you can click "Search Files" and type the file name of a part of the file name to search the files you want to preview.
File Type Supported for Preview
All types of files will show after scanning, but the data recovery software only supports to preview some types of files, namely images and documents. You can preview JPG, GIF, PNG, BMP, RAW images, etc and doc files, xls files, txt files, etc. For large file like videos and music, it is not allowed to be previewed, but you can recover them normally.
Can I Preview File That Show Messy Code?
Some files show as messy code? Usually, a file shows as messy code because it is corrupted due to data overwriting or virus infection. In this situation, you cannot preview it.
Why Does the Filename Change after Scanning?
You probably have lost thousands of files or even more from your memory card or disk drive, but when the software show all found files you find that all files do not show their original filename. Instead, the filename shows FILE001.JPG, FILE002.JPG…, FILE001.DOC, FILE002.DOC, FILE003.DOC…, FILE001.PNG, FILE002.PNY, etc.
The reason why the filename changes after scanning is that the scanning is not completed. This problem usually occurs when the scan the scanning before it is finished automatically. If you hope that all found files show original file name, patience is needed to complete the scanning.
Where Should I Save the Recovered Files?
You can save all files you need in batch. To recover and save files, you just need to select the files and click "Next" button, after which you can select a path to save selected files. In order to recover and save all files successfully, you should pay attention to following points:
Save the files to a different patch rather than the original place (E.g. If the files got lost from F drive, you cannot save the recovered files to F drive)
Make sure that the drive you select to save the recovered files has enough free space for data storage
Can Data Recovery Software Fix Errors on My Media?
Digital device error is a common reason that causes data loss. Are you wondering if data recovery software is able to fix errors on your media after data recovery? The answer is no! Data recovery software is only able to get back the inaccessible / lost files from a corrupted / inaccessible / RAW / unreadable / unformatted drive, but it cannot repair the errors.

Recommend: Fix problems>>
---
FAQ: List
---
Other related resource:
Seagate external disk recovery : recovering data from seagate external when it was not recognized by PC, reformatted by mistake, raw drive or other problems and need to restore inside imporant data.
Data Recovery Free software guide: use free software to recover data from various kinds of data loss.
How to use data recovery software : guide that shows how to use data recovery program to bring lost data back.
Free software to recover lost data: freeware to bring lost data back
Dynamic disk recovery software - restore data from dynamic disk when it was formatted, deleted, damaged etc.
Windows 7 data recovery software: data recovery from Windows 7 operating system related media drive
FAQ Data Recovery : most frequent data recovery cases
Format Recovery Resource : data recovery guide related with format reformat unformat