"I accidentally formatted Micro SD card on my Android phone. can i recover files from formatted sd card on mobile? I formatted this SD card after connecting it to my Windows computer through a card reader. When I realized that I mistakenly clicked Format option and formatted the SD card, it is too late to backup all files stored on the card. Can anybody tell me how to recover deleted photos from android phone sd card after formatting?"
What will happen if sd card is formatted by mistake/accident?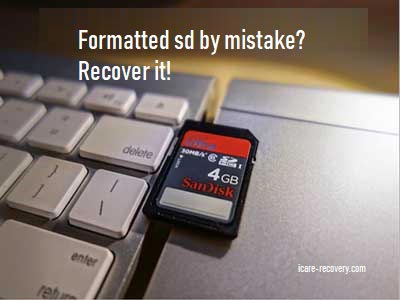 If you mistakenly formatted SD card on phone/camera/device without backup, all files stored on this sd card will be erased immediately after format, however images, videos can be restored by professional tools before they were totally overwritten by new photos/videos. When files get deleted after formatting Android phone SD card or other device memory card by mistake, you can rely on professional unformat SD card software to get files back.
100% Safe Formatted Memory Card Recovery
First of all: Stop using the SD card, you must not write any new file to this SD card after formatting.
Preparation: Free download and install iCare Data Recovery Pro on computer. Insert the SD card to the computer with a card reader and launch the sd card format recovery software.
Step1. Select a 'Deep Scan Recovery' scan mode for formatted memory card recovery on your computer.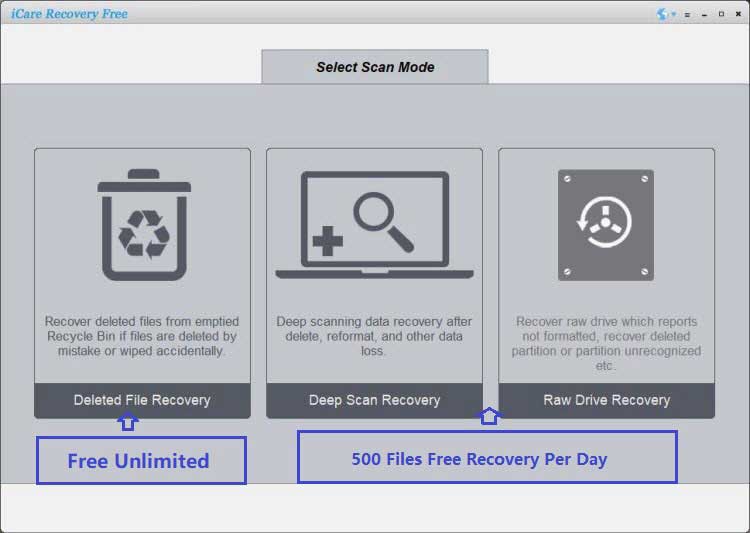 Step2. Choose the formatted SD card as aim and then wait the software to scan it for lost files.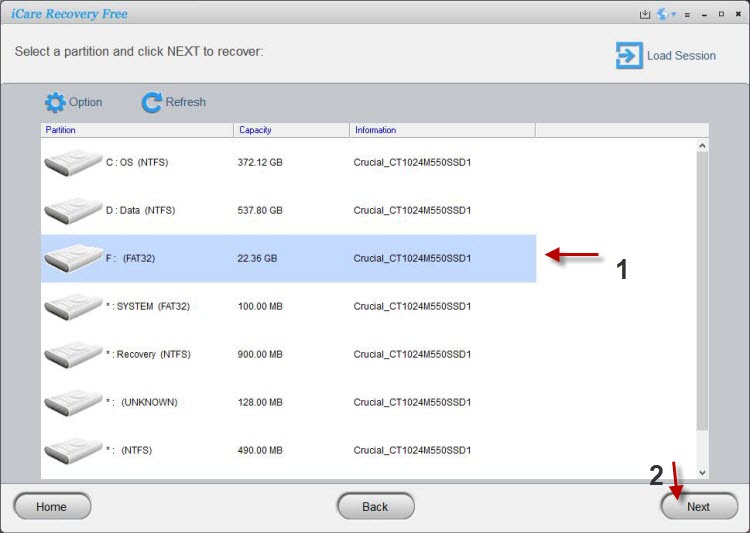 Tip: We recommend users run the software and let it finish the scanning by itself. Usually it takes about 10-30 minutes scanning for an 32GB memory card.
If your sd card is damaged with bad blocks or bad chips, the software may show it needs many hours such as over 30 hours to finish a scanning for a 128GB sd card, at this time, you may click "Cancel" button after the software finished the first 1 hour and then it will show some found files.
Step3. When scanning completed, preview images by right click one image -> preview, and then save files to another drive instead of the memory card to avoid data overwriting.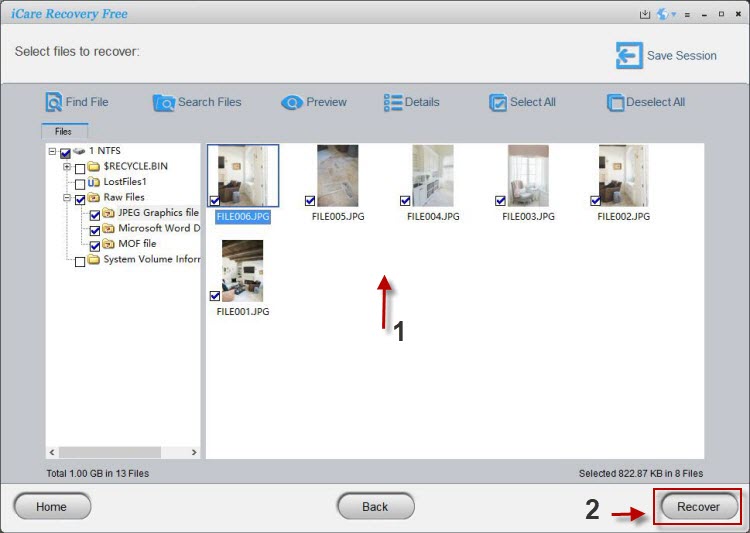 Note: This professional recovery tool can restore formatted sd card for totally free when data is within 1GB without any obligations. If you want to recover more files for free, free code can be accessed by emailing the support under review request.
Why can't I save data to formatted Android phone SD card?
We usually advise you not to save the selected files to the formatted Android phone SD card, because it might overwrite the previous data and lead to some lost data corrupted/unrecoverable. Therefore, please do save the recovered files to any storage media instead of the previous formatted SD card.
This is the same theory why a formatted sd card on an android phone contains risks since there is no other path to save the data from the formatted sd card but the memory card itself which would result in potential data being overwritten.
Is It Safe to Use iCare Pro Free for SD Card Recovery?
iCare Data Recovery Pro Free is a professional Windows memory card unformat recovery tool which provides read-only scanning algorithm that won't write data onto the memory card to ensure the data safety when you connect the memory card to pc.
Can I Recover Files from Formatted SD Card on Mobile?
Is there any android sd card format recovery app that could help recover files from formatted memory card on the mobile phone without computer?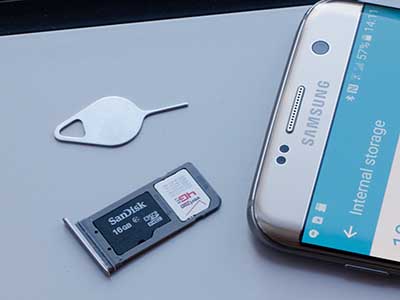 NO COMPUTER AT ALL? -> TRY THIS FOLLOWING FORMATTED MEMORY CARD RECOVERY APP!
If there is no computer for help but just your mobile phone, you may try the following sd card recovery apps that you can search them on Google Play to get them installed and recover files/photos from a formatted sd card on android phone.
Formatted sd card recovery Android apps: Restore Image, DiskDigger, Dumpster
https://play.google.com/store/apps/details?id=com.defianttech.diskdigger&hl=en_US
(PLEASE NOTE THERE IS A LITTLE RISK SINCE THE RECOVERED DATA WOULD OVERWRITE SOME OLD DELETED DATA ON THE SAME SD CARD)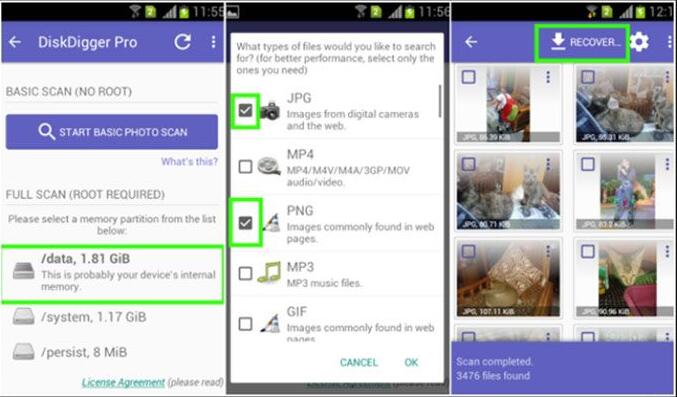 Video - how to use Restore Image as formatted sd card recovery app
Also read: recover sd card app on Android mobile without pc [NOT THE First OPTION]
Why Recovery on an Android SmartPhone is not recommended?
We won't recommend you recover sd card on Android phone since any further operation on your phone could possibly result in permanent data overwritten, especially
when you have set sd card as phone storage memory to save downloaded apps
the process of pulling back formatted sd card data onto the same media, is exactly the overwriting old files (many lost files would be restored as corrupted, not openable by this way)
Solution: You may look to someone(family/friend) for help and get your sd card connected on their computer and start for a safe recovery when you don't have a computer.
Formatted SD Card Due to Other Errors
There are many chances that your memory card may ask for a formatting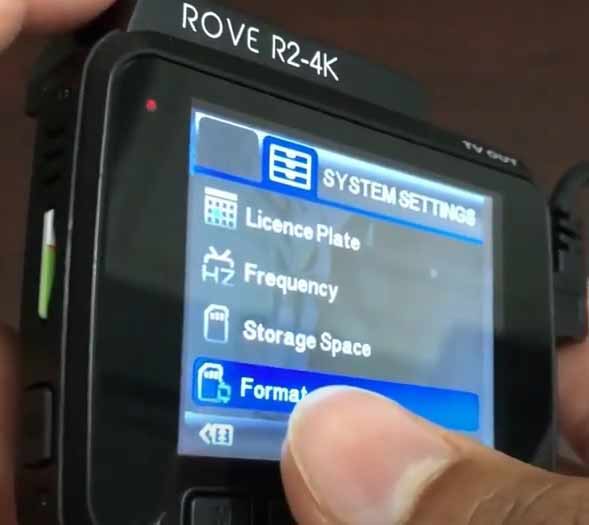 When sd card cannot be read by your device, phone, camera...
When your memory card is corrupted or damaged
When your card is damaged with its file system...
Or you simply formatted memory card by mistake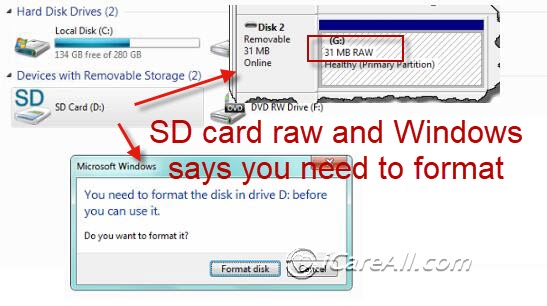 Also read: raw sd card recovery free
If you formatted phone/camera SD card that requires formatting, you should remember not to write new files to the formatted card. Thus, the previous data will not be overwritten, so you can make use of iCare Data Recovery Pro Free to deep scan the formatted SD card and restore what you need.
Also read: Formatted memory card by mistake
==>> If you receive error message showing SD card cannot be formatted when you try to format it to fix sd error, this article may help - Windows was not able to format SD memory card>>
"I want to recover data from formatted SD card for an Android Phone. I inserted my SD card to my Android phone for data storage, but I formatted this SD card by mistake. I want to know if there is any solution for formatted SD card file recovery. If anybody knows any useful solution, please share with me. Thanks for any kind help!"
Also read: Unformat sd card
FAQs
Question: How do you reverse a formatted sd card on android mobile?
Solution: Unformat sd card on android phone can be done with free program like Restore Image, you may download it from Google Play, install its app on your phone and run the recovery. Better option is available than recovering formatted sd card on android phone -> Recover files from formatted sd card on a computer which is safer (no data destruction involved) with a tool like iCare Recovery Pro.
Question: What to do if you accidentally format your phone?
Solution: Stop using the phone from more changes like downloading new app, taking more photos etc. And then take out your sd card to a computer for a full recovery.
Question: If you format sd card can you get pictures back?
Answer: YES, it is highly possible that your formatted sd card images could be full restored when you stop using the sd card immediately, pull out your sd card from camera/phone/device and then insert it to a computer for a full recovery.
Last updated on Nov 28, 2023
---
Related Articles
Hot Articles