Accidentally Formatted SD Card on Android Phone - Solution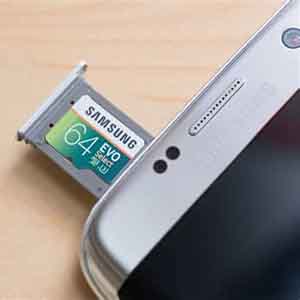 "I accidentally formatted Micro SD card on my Android phone. Is it possible to get back photos from SD card? I formatted this SD card for Android phone after connecting it to my Windows computer through a card reader. When I realized that I mistakenly clicked Format option and formatted the SD card, it is too late to backup all files stored on the card. Can anybody tell me how to recover deleted photos from android phone sd card after formatting?"
"I want to recover data from formatted SD card for an Android Phone. I inserted my SD card to my Android phone for data storage, but I formatted this SD card by mistake. I want to know if there is any solution for formatted SD card file recovery. If anybody knows any useful solution, please share with me. Thanks for any kind help!"
If you mistakenly format SD card without backup data, all files stored on this card will be eased immediately. When files get lost after formatting Android phone SD card by mistake, you can only rely on professional data recovery software to unformat SD card with all data back.
Accidentally Formatted Android Phone SD Card File Recovery
First of all: stop using the formatted SD card, especially you should not write any new file to this SD card for Android phone after formatting.
Then, you can use iCare Data Recovery Pro to scan the formatted SD card to search lost files. iCare Data Recovery is a data recovery tool which provides read-only solution for data recovery when you format an SD card in Android phone or computer, and also works for corrupted sd card.This data recovery software helps recover not only pictures but also other types of files from formatted SD card whether you format it due to mistake or SD card reports not formatted error. This data recovery software for Android is compatible with Windows operating system for data recovery after formatting SD card for any brand of Android phone.
Steps for Photo Recovery after Formatting SD Card for Mobile Phone

Preparation: Free download and install iCare Data Recovery on computer. Insert the SD card to the computer and launch the data recovery software.
Step1. Select a proper scan mode after running the software on your computer.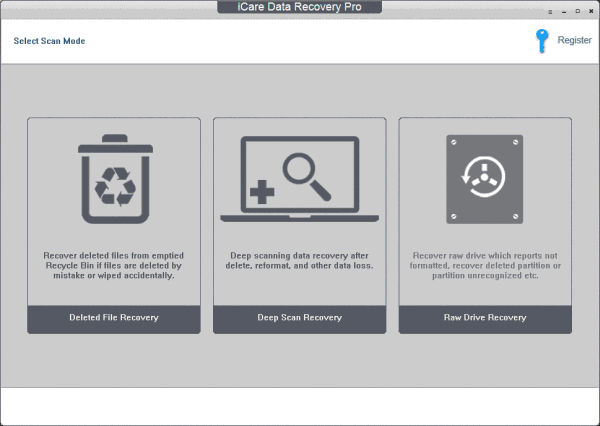 Step2. Choose the formatted SD card as aim disk and then wait the software to scan it for lost files.
Tip: If you do not have patience to wait the scanning to be completed, you can click "Cancel" button and the software will show all found files. However, if you want to recover all lost files, you had better not stop scanning in the process.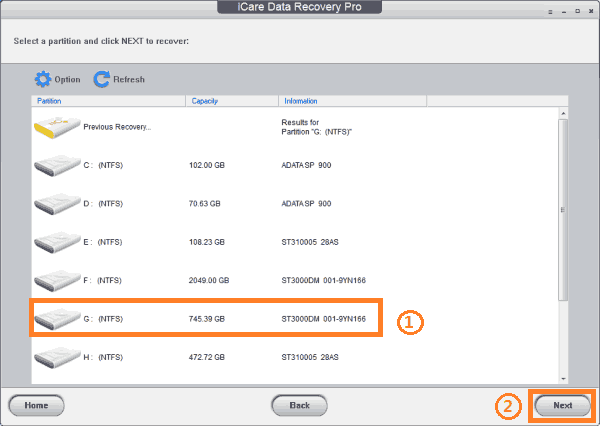 Step3. Preview files when scanning is completed and the save the lost files to another drive.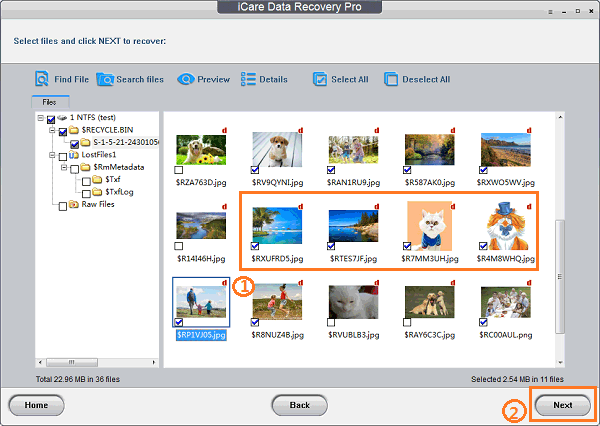 Why can't you save data to formatted Android phone SD card?
We usually advise you not to save the selected files to the formatted Android phone SD card, because it might overwrite the previous data and lead the data to be unrecoverable. Therefore, you are allowed to save the recovered files to any storage media instead of the previous formatted SD card.
Format Cell Phone SD Card by Mistake
Many Android phone users like to use an SD card as external storage media when the internal memory of phone is not enough. The Capacity of SD card is from previous 128MB to today's 128GB, so people is able to save lots of data on an SD card.
It is not a difficult thing to format a cell phone SD card. One possible situation is to format SD card for cell phone by mistake. As a matter fact, many people have made the same mistake. Somebody even made the same mistake more than once. However, a few people know the solution for data recovery after formatting SD card for cell phone. When you format SD card for cell phone whether on the phone or computer, it only erases table address from the memory card, so you can use iCare Data Recovery to recover recover deleted files from SD card for Android app.
Format SD Card for Smartphone due to Error
Another situation to format an SD card for smartphone is that the SD card shows RAW format asking to reformat. In this situation, you might format SD card on smartphone on purpose because you want to fix the error so as to access the card normally. If you format smartphone SD card when it requires formatting, you should remember not to write new files to the formatted card. Thus, the previous data will not be overwritten, so you can make use of iCare Data Recovery to deep scan the formatted SD card and restore what you need. This data recovery software supports all types of SD memory card such as micro SD, mini SD, SDHC, SDXC, MMC, etc from SanDisk, Samsung, Toshiba, Kingston, Sony, Lexar, PNY and more.
==>> If you receive error message showing SD card cannot be formatted when you format it to fix error, please see this article - Windows was not able to format SD memory card>>

---
Related Articles
Hot Articles