[3 Free] Recover Files with Android SD Card Recovery APK/APP
Last updated on Nov 28, 2023
Recovering files from android mobile with android sd card recovery apk would be possible with freeware. Here we would like to show you a list of possible free ways to restore files from Android phone or its memory card sd/microSD etc.
Part 1 - Android Data Recovery APP Download for SD
Free #1 - Diskdigger
DiskDigger is able to recover deleted photos, videos for free. It asks for a pay if you want to recover deleted text messages or contacts.
Download url: https://play.google.com/store/apps/details?id=com.defianttech.diskdigger&hl=en_US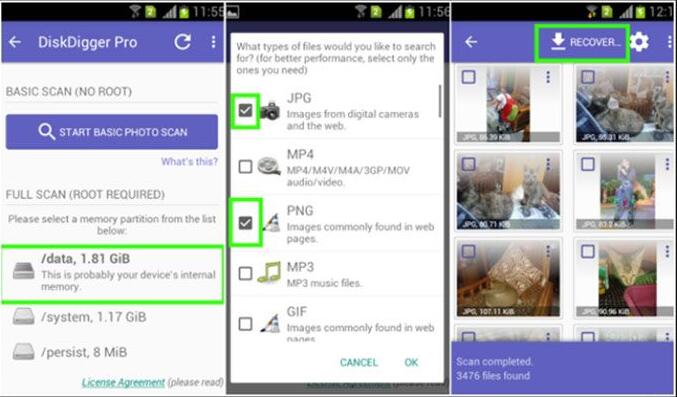 DiskDigger for Android Phone Recovery
Video Guide - How to use DiskDigger
More android recovery apk? -> 5 free android recovery software for recovering files from android phone with mobile phone recovery apk download
Free #2 - Restore Image
Download url:https://play.google.com/store/apps/details?id=alpacasoft.restoreimage&hl=en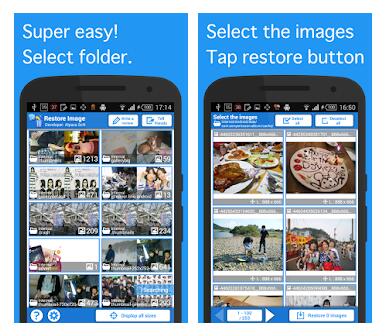 Restore Image for Android Phone Recovery
Video - how to use Restore Image for android sd card recovery
We recommend - Why not use android SD card recovery software instead of APK for deleted/lost files recovery from an SD memory card or micro SD card for your mobile phone since recovering data from computer with your sd card connected would be more safer.
The truth - Recovering data from sd card on android phone may easily get lost data overwritten when your download path is set to save the download file on the sd card plus recovering the lost files to the same card is a kind of data overwritting...
How to avoid this? - 2 Ways
Save the download apk/app file onto the phone internal memory
Save the rescued files on another sd card or a usb flash drive using otg
More apps to undelete sd card on android mobile
Free #3 - Dumpster
Free #4 - EaseUs MobiSaver (recover 1 file free at a time, so it is partially free)
Free #5 - Minitool Mobile Recovery Free (recover 10 files free at a time, so it is partially free)
More information? -> 5 free android recovery software
Other tools that are not free: Recoverit, Stellar Phone Recovery, Disk Drill...
Also read: How to format SD card on Android without losing data
Part 2 - Recovering sd card from PC for free - Better Choice
Recovering data from sd card would be much safer and won't be overwritten if you connect the sd card to computer with a card adaptor or card reader.
iCare Data Recovery Pro is an exe file, which can be installed on Windows OS for smartphone data recovery. It enables you to recover deleted files from SD card without causing any hurt.
Free Memory Card Recovery

Download iCare Data Recovery Pro Free to recover files from mobile phone camera memory card including photos, videos, music...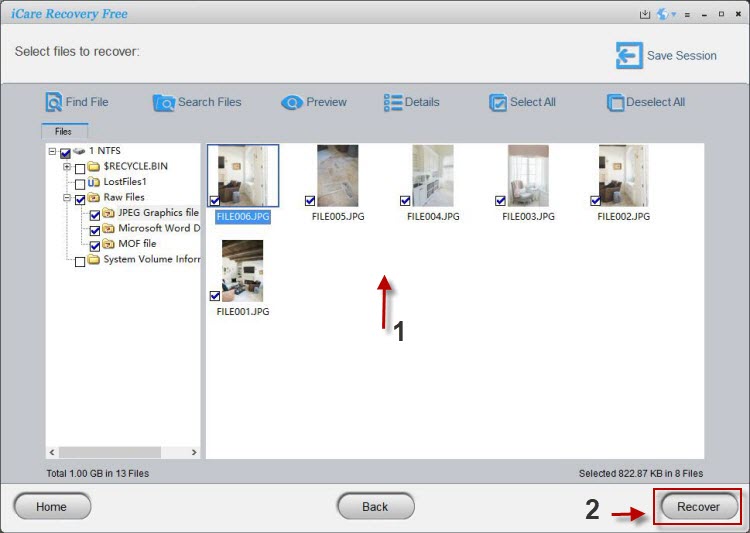 Also read -> 7 free memory card recovery software
Need Recover Deleted Data from SD Card using APK?
Some people would like to use an app directly on cellphone for deleted or lost data recovery from phone internal memory or micro SD card inserted in the phone because it is more convenient to install an app on mobile phone than to install on computer. Imagine, you even do not boot your computer or connect the phone or card to the PC, you can get back all lost files.
It sounds good, but it is not easy to achieve this goal.
Android SD Card Recovery Software vs. APK
Firstly, we prefer you to recover files from a mobile phone or SD card for the phone using a data recovery tool on computer instead of phone recovery APK. An APK probably causes unexpected disaster to your data or phone.
Also read: android data recovery apk free download
Hot Articles