Android Data Recovery APK Download - 5 Free
Last updated on Sept 14, 2023
Before using data recovery android apk, be aware that the data recovery on the phone contains high risks of data overwriting that may bring the lost/found files corrupted, unreadable, or even permanently erased. Advice: It's safer to connect the phone sd card to pc for a recovery.
Are you wondering whether there is an android data recovery APK without root that can be installed on your cellphone directly to recover deleted or lost photos, videos, deleted messages, contacts and music without a computer?
We have searched on internet and realized that there are many online resources that offer method to download app APK for android device. See this link: https://apkpure.com/app It allows users to download app APK for android phone online.
5 Free Android Data Recovery APK Download
If you insist on recovering android files on the phone itself, here are some free programs that you may try them free. (Some totally free, some partially free of charge.)
#1 - Restore Image (Totally free android recovery apk without root)
If you ever want to recover anything from your smartphone free, Restore Image would be your first free choice that provides full free file recovery, not limited to any file type or any file numbers but totally free of charge. And this Android mobile recovery apk does not ask for root permssion.
It is able to recover deleted messages, notes, contacts, photos, videos and other files for free.
Download url:https://play.google.com/store/apps/details?id=alpacasoft.restoreimage&hl=en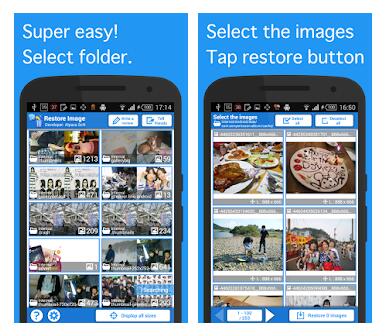 Restore Image for Android Phone Recovery
Video - how to use Restore Image for android sd card recovery
#2 - DiskDigger (Limited to photos&videos free)
DiskDigger offers free photo&video recovery in Android phone while it asks for a payment if you want to recover contacts, deleted messages and other type of files. You will be lucky if your phone just needs some photo or video recovery with this tool.
Download url: https://play.google.com/store/apps/details?id=com.defianttech.diskdigger&hl=en_US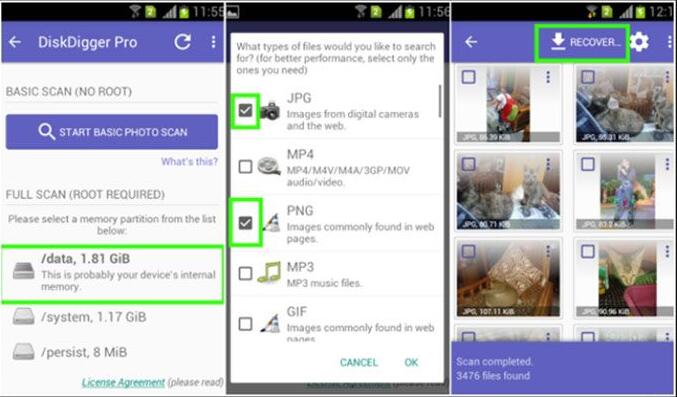 DiskDigger for Android Phone Recovery
Video Guide - How to use DiskDigger
#3 - Undeleter Recover Files&Data
Undeleter is another easy but not that powerful recovery app that is available for android phone download in the following urls.
https://play.google.com/store/apps/details?id=fahrbot.apps.undelete&hl=en_US
https://undeleter.en.uptodown.com/android
#4 - Dumpster (7 days trial and it requires a credit card registeration)
https://play.google.com/store/apps/details?id=com.baloota.dumpster
This one has huge donwloads since it was totally free in its ealier editions with just some ads in the program, however the lastest version asks for a credit card information that offers a 7 days free trial. It would charge you if you foget to cancel the subscription.
#5 - Stellar Data Recovery APK (Not completely free)
Stellar Android Data Recovery offers limited free recovery that you may use it on your phone to restore limited data recovery free.)
Download url:
https://apkpure.com/stellar-phoenix-data-recovery/com.stellarinfo.stellarandroidrecovery
Also read -> 5 free android recovery software for recovering files from android phone or discover Recuva for android apk
Free Memory Card Data Recovery Software on Windows PCs
iCare Data Recovery Pro is a free Windows data recovery tool that supports smartphone memory card file recovery in any data loss situation including deleted file recovery, format recovery, RAW file system recovery, etc.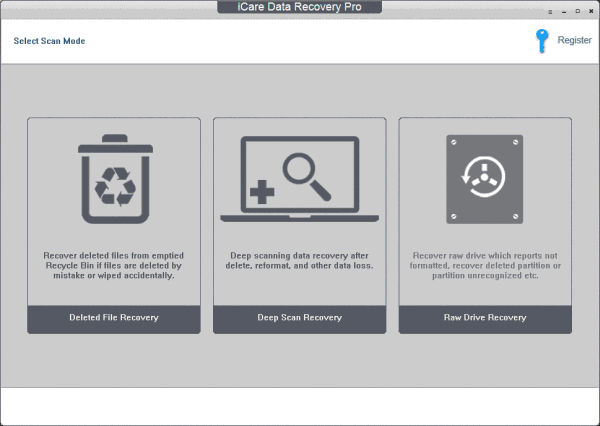 Free download iCare Data Recovery Pro
What Is an APK & How to Install It on Cellphone?
APK, namely android application package, is able to install and run on android device. All APP that can be installed on a mobile phone has .apk as its extension.
To learn more about APK file, please visit:
https://en.wikipedia.org/wiki/Android_application_package
To install an APK on mobile phone, you just need to find the location where the file is stored and then double click the APK file to install on your phone.
Note: Before all this android recovery apk introductions, we need you to be aware of that recovering files from a computer with android phone connected is far more secure than downloading some android recovery apk to recover files directly on the phone since downloading and saving data on the phone would definitely get lost data partially overwritten.
How? -> Read this: android phone recovery free
Risk of Photo Recovery APK for Smartphone (Data OverWriting)
Installing a photo recovery APK on smartphone directly for lost file recovery has many risks:
1. The data restored to the same phone no matter internal memory or microsd card would result in recovered data to be somehow corrupted, permanently damaged, data overwritten etc. due to the same place data overwritting.
2. If you save and install a data recovery APK on the phone memory where data got lost, the lost files may be overwritten by the new installed APK file.
3. The APK file is probably not safe such as it contains virus. It may cause file corruption on cellphone after installing it on your phone.
Therefore, please think it carefully before installing an APK file on your phone.
For safer smartphone data recovery, it is better to connect it to a computer with a memory card reader and use a Windows data recovery tool for the data retrieval.
---
Hot Articles
Related Articles