13 Android Data Recovery APP Download for Phone Internal Memory + MicroSD Card [6 Freeware Included]
Quick Navi
This page includes the following parts when you are looking for free data recovery software for android mobile
Part 1

- Best free android recovery software for sd card [Not for phone memory] - 2 freeware

Part 2

- 11 Best Android Recovery APP for Internal Memory [with/without computer] - (4 free + 7 paid tools)
Stop using your phone for taking more photos/videos, stop sending messages or doing anything on the phone, remove the sd card from Android mobile since any further use of the phone may result in permanent data overwritten.
We do not recommend you download android photo/video recovery apps since it is kind of data overwritten too. A computer is recommended as a better android data recovery solution.
Part 1 - Best Free Android Phone Data Recovery Software Download for memory card - completely free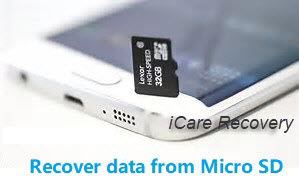 If the photos, videos, messages are stored on the android internal memory, please jump to part 2.
This part is focusing on free data recovery from memory card used on android phone when most users stored their photos, videos on the external storage, an sd card, or usually a MicroSD/TF card.
What you need for this Android phone memory card recovery?
-> A computer (Windows 11/10/8/7), and a memory card reader/adaptor.
Question: may I use the mobile to connect the sd card with the computer for a recovery?
=> Answer: No! A card adaptor is required since most data recovery tools won't detect mobile phones as a storage device. (When your sd card is not showing up in your computer, do connect it with a card reader to computer and try it again.)
Or you may connect your phone directly to your laptop if there was a sd card slot built in the computer.
Freeware #1 - iCare Data Recovery Free
Step 1 - Download iCare Recovery Free, connect your memory card to your computer, open the freeware -> Select 'Advanced File Recovery' for complicated data loss, or 'Deleted File Recovery' for recent deleted files from the memory card used in your mobile phone.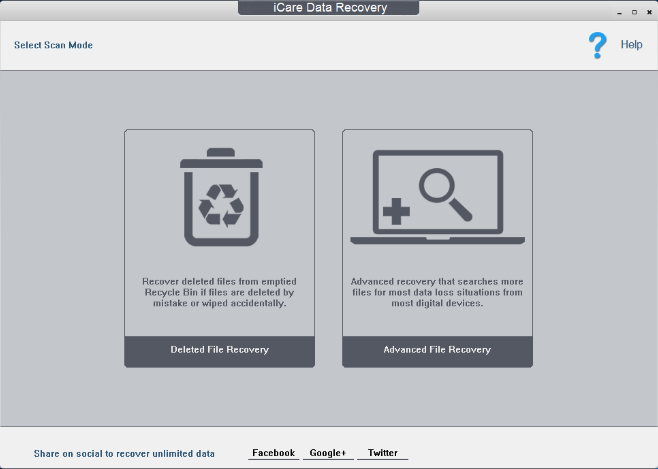 Step 2 - Click the memory card in the device list and click next to start scanning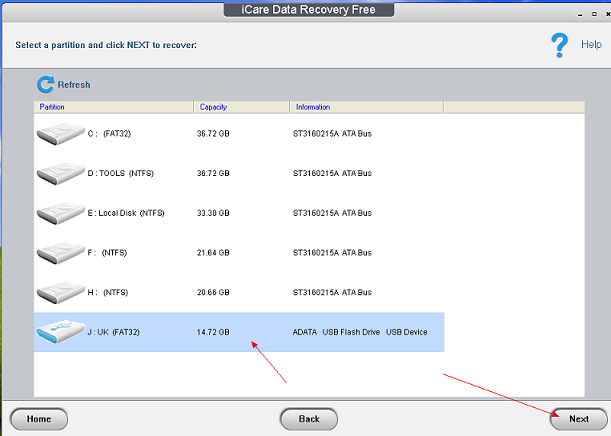 Setp 3 - Save found data to another hard disk.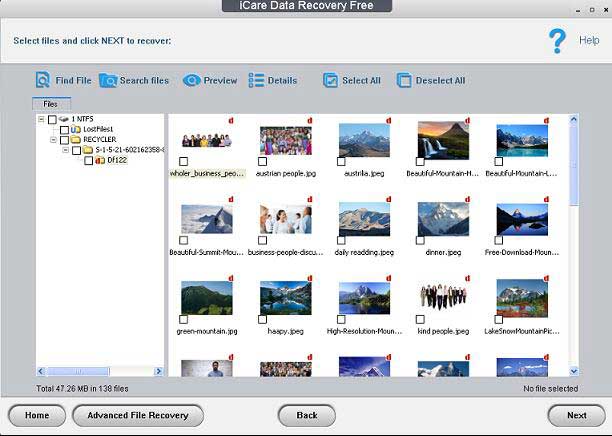 Video guide on this page: How to use iCare Recovery Free
Tip: if your memory card is over 32GB, you may need to download and use iCare Recovery Pro edition which provides exfat large memory card data recovery.
Freeware 2 - Recuva
Recuva supports all kinds of android phone memory card data recovery and it provides a free edition for all users and a paid pro edition with virutal disk&premium support. This tool has been recommended highly on the cyber world since it had only provided free version in the past decades and it only started to provide a paid edition in recent years.
Note: There is no recuva for android since it is a Windows program that can run on Windows computer only.
Download url: https://www.ccleaner.com/recuva/download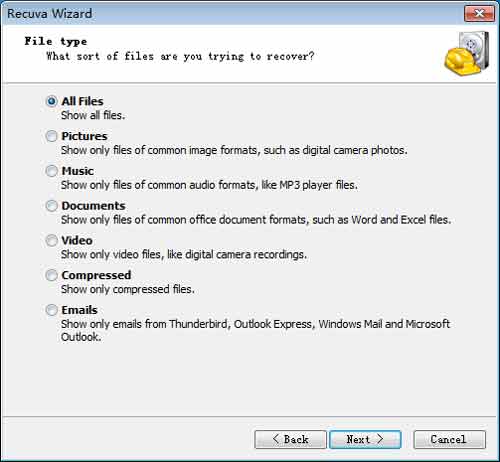 Note: Recuva only provides a Windows edition for android phone memory cards, there is no Recuva for android internal memory recovery. We will introduce some free alternatives in the coming part 2.
Part 2 - How to recover deleted images/videos from android phone internal memory [4 freeware + 7 shareware]
Something you should know - the best way for recovering deleted files from android phone internal memory is to stop using it and get it connect to a computer to scan lost files instead of downloading some android data recovery app. We WON'T recommend you perform a android file recovery without a computer, although we would introduce some tips later if you insist on recovering data from android phone without computer.
4 Free + 7 Paid Phone Data Recovery Software
#1 - Restore Image (Super Easy) - Completely freeware for android phone recovery

As the best free android data recovery software, Restore Image is provided by Alpacasoft for deleted file recovery that can not only recover deleted files, messages but almost everything in the mobile and it is free to save all found files.
Download url:https://play.google.com/store/apps/details?id=alpacasoft.restoreimage&hl=en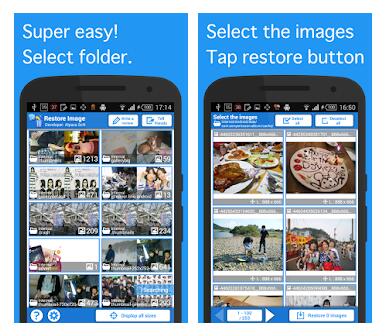 Restore Image for Android Phone Recovery
What we like
It is completely freeware only with ads
Easy as it is named
Mobile phone apk for the recovery
Video Guide - how to use Restore Image super easy (Download, install, recovery)
Failed to download Restore Image(Super Easy) from Google Play?
Restore Image (Super Easy) APK download on Android steps
Step 1: Access apktovi.com and search for Restore Image (Super Easy) via the search bar.
Step 2: Tap on the app you want, then hit "Download APK". Next, choose OK
Step 3: Select "Install" and wait for the downloading process to complete.
Video - How to download and install Restore Image (Super Easy) APK
Attention: we would recommend you save files found from the mobile to another storage device to avoid data overwritten.
#2 - DiskDigger [Free android recovery apk for recovering deleted photos, videos]

It is totally free of charge for deleted images, video files. It needs a pay if you want to recover deleted text messages, notes or something else in the android phone with its pro edition called DiskDigger Pro.
Android apk download url: https://play.google.com/store/apps/details?id=com.defianttech.diskdigger&hl=en_US
What we like
It is able to recover deleted files from android without computer with android data recovery apk download in Google Play
It also provides a Windows version for recovering deleted data from android which enhanced the data safety by avoiding data overwritten.
What we dislike
It asks fee for recovering other information other than the photos and videos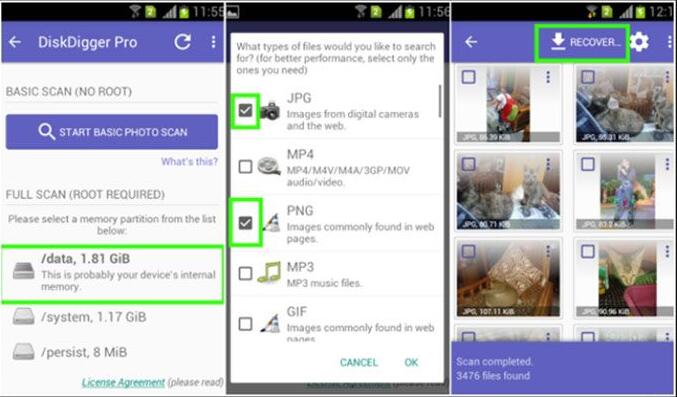 DiskDigger for Android Phone Recovery
Verdict - We would recommend you stay with its Windows version for the mobile recovery for the safety of your data.
Video - How to recover deleted photos from Phone using DiskDigger
Or Another Video Guide with DiskDigger
#3 - MiniTool Mobile Recovery for Android Free [Free with limit, $39 to extend the limit]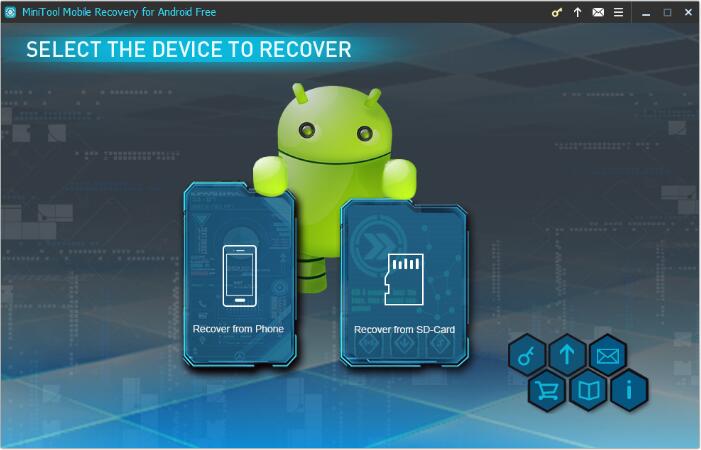 Android Phone Recovery
What we like
It is able to recover photos from android phone together with video, text messages, notes...
Free to recover 10 files at each time, and then you need to come back to the data list again and select a next 10 files and click save button (No file type limitation but just file numbers). It is efficient for small amount of mobile data recovery.
What we disklike
It asks for a pay of $39 to extend data saving limitation
It is made for Windows and you need to own a computer for a phone recovery with this tool
There is only Windows edition for android phone recovery that you need a Windows computer for the recovery.
Download url: https://cdn2.minitool.com/?p=adr&e=adr-free
Video Guide - How to use MiniTool Android Recovery
#4 - Easeus MobiSaver for Android [Free save 1 file at a time, needs a cost to extend limit]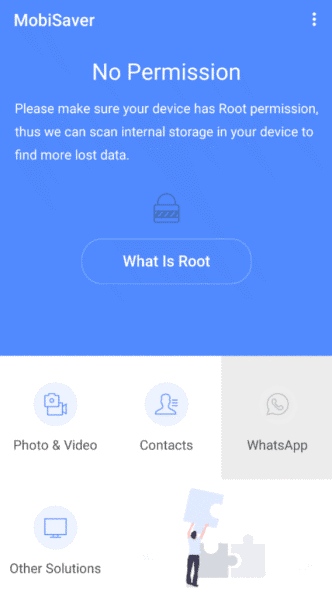 MobiSaver for Android Phone Recovery
Easeus MobiSaver provides everything much the same as the #2 freeware. It can be used in Windows 11/10/8/7 plus android phone recovery without a computer if you search it in Google Play.
Windows download: http://down.easeus.com/product/emsa_free
Android apk download: Search 'MobiSaver' in Google Play
#5 - Phonerescue for Android [Shareware, free trial, needs a pay]
Phonerescue provides many edition for different platforms, Windows, android, iphone and mac editions that you may get a free trial to start free mobile scanning and see what it could bring up to you from your mobile.
#6 - Stellar Data Recovery for Android [Needs a pay]
If you ever need a professional paid tool, Stellar Data Recovery for Android would be another nice choice that it both provides Windows, mac, android, iphone editions.
#7 - Dr. Fone Data Recovery Android from Wondershare [Needs a pay]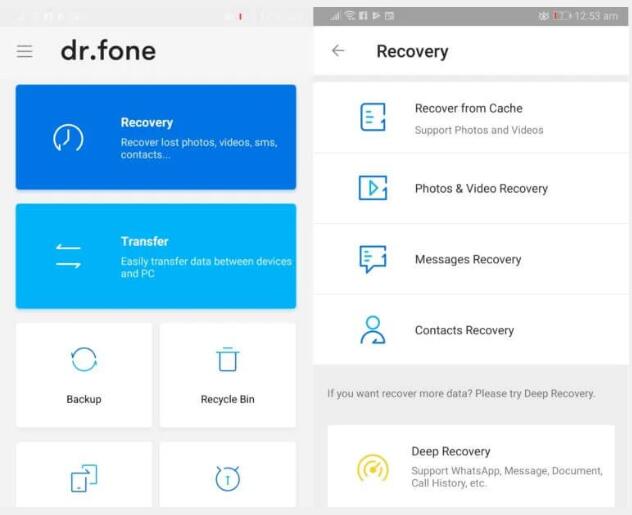 Dr.Fone
#8 - MyJad Android Phone Recovery [Needs a pay]
#9 - Jihosoft Android Data Recovery [Shareware, free trial, needs a pay]
#10 - FonePaw [Needs a pay]
#11 - Disk Drill [Needs a pay]
How to prevent data loss on android mobile phone
To avoid data loss problems on your android mobile phone or micro sd memory card, you need to take these advice as follows:
1. Choose a reliable brand of micro sd card that can provide you with a good quality of storing data, and also is more friendly to your device.
2. Never eject your android mobile phone or micro sd card memory card without any safe ejection. Abrupt ejection will cause you data loss from your device and do harm to your device.
3. Do not insert your android mobile phone or micro sd card on a public computer. To avoid virus infection problem, you'd better choose a reliable computer like your own computer or your work computer at the company.
Background
How do I recover deleted images from android phone Samsung galaxy s9 when I deleted a few important photos by mistake? The images are stored on the internal memory, is there any tool to recover deleted images from the phone internal memory?
I did a factory resetting to my smartphone since the phone is not working properly as before, is there any way to retrieve deleted messages from factory reset?
How do I recover deleted whatsapp text messages in android mobile if the message were deleted by mistake...
These are frequent users' cases from different brands of Android smartphones, Samsung, HTC, Google Pixel, Moto, Huawei, Xiaomi, Nokia Redmi, Honor...when these phones are developed for communication plus entertainment and users take them for digital information storage in daily life.
What may happen to these smartphones when they need data recovery utilities?
You mistakenly deleted messages, photos, videos, notes from the android phone and need a recovery
The smartphone is not reading its memory card, mini sd card, micro sd card...
SD card error on the android phone, not found, unsupported file format, sd card was formatted on android by mistake
Factory resetting or other improper operations...
Other FAQs
??? Is there any android recovery software without root?
Answer => So far almost every android recovery software asked for a root permission since files are stored on your phone that needs privacy protection that cannot be accessed without permission.
??? Why my deleted files can be restored in android phone?
First, you need to know that data deleted from your android mobile phone or micro sd card memory card was not removed from your device, your device system just marked the place where you save your data as an empty space, so you only need to undo the "empty space mark", then you can recover your data deleted. Well, you may be curious about how to cancel the "empty space mark". Is there a undo option like "Ctrl + Z" ?
Sorry, there is no way to undo delete by a simple option like "Ctrl + Z", but don't worry, a deleted data recovery tool can help you make it easily.
Last updated on Nov 28, 2023
Hot Articles