How to recover deleted photos/videos/files from Android mobile phone through memory card sd micro sd for FREE
Last updated on 1/21/2018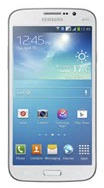 iCare Recovery Pro Free Edition: free android phone free data recovery software
Do you want to recover deleted files from memory card from Android mobile phone? Simply connect your sd card using card reader to Windows 10/8/8.1/7/Vista/XP PC, and run iCare Data Recovery Pro, the dedicated data recovery tool for android mobiles.
Recovering files from android mobile's internal storage memory? Please follow these simple instructions >> Android Phone internal memory data recovery
Free download iCare Data Recovery Pro product download for Android mobile phone memory card data recovery for all scenarios:
Recover deleted photos/videos/files from phone SD memory card such as SanDisk, Kingston, Lexar, Samsung, etc.
Retrieve data from Android smartphone memory card that were deleted, reformatted, RAW, not formatted, virus affected, not formatting, micro sd not detected/working/readable/showing, sd removed unsafely insert a new one, damaged/corrupted, etc.
Recover data from Android phone including Samsung, Blackberry, HTC and more.
>>Free software for Android Phone Memory Card Data Recovery

Download iCare Recovery Pro Free Edition to recover files from all kinds of memory card including SD, micro SD, miniSD, CF, etc from Android Phones such as Samsung, HTC, Blackberry. It provides 2G free data recovery.
Must-Read Tips for recovering cellphone data:
1, android phone memory card data recovery -->Download iCare Recovery Pro Free Edition >> Connect memory card with a card reader to Windows PC, and run iCare Recovery.
2, Android Phone internal storage recovery, download >> Android Phone internal memory data recovery
3, Please stop using your phone once data was deleted/wiped! Any changes made to your phone will cause corrupted file type. Do not install any more software on your mobile or take more actions. If it was the memory card data you need to recover, disconnect your memory card at once.
iCare Data Recovery Pro for Corrupted SD Card File Recovery from Android
Here is the iCare Recovery users' feedbacks.
More feedback from real users...
Video Tutorial: How to use iCare Data Recovery on Android Devices
Three steps to recover deleted data from Android phone micro sd card

<<< Free Download Android Phone memory card data recovery
Tip: if you want to recover data from android phone internal storage, Download Data Recovery for Android here
Step 1 - Download and install iCare Data Recovery Pro on your PC and then simply connect your phone sd card to PC.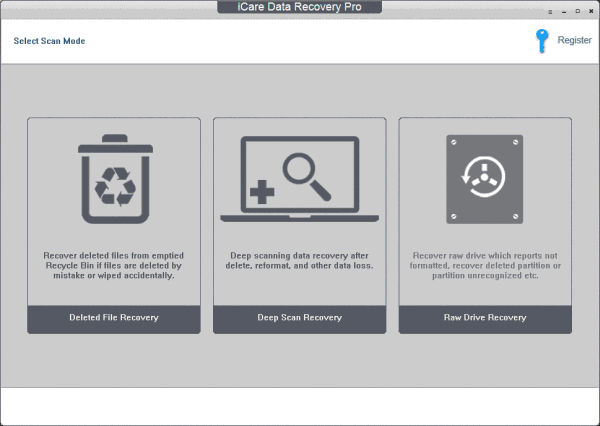 Step 2 - Select types of media to search deleted files from Android Devices. Wait for scanning to proceed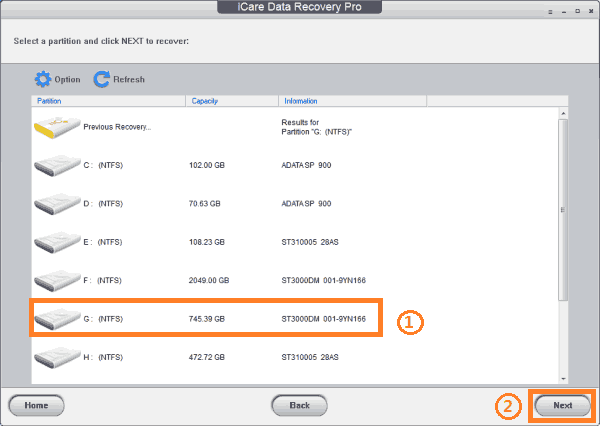 Step 3 - Preview lost files/photos and then save them to your PC hard disk.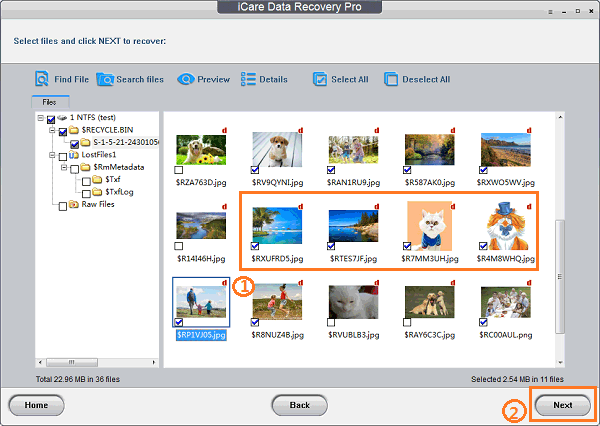 iCare Data Recovery Pro is a read-only tool which will not make any changes to your phone or phone memory card after installing. This tool works as Android data recovery software for PC, please feel free to download our software to recover photos or video files from your Android cellphone SD memory card by running it on Windows PC.
How to Avoid Data Losses:
There are several ways to avoid data losses on Android phone.
1. Prevent physical damage by handling the memory card carefully and keeping it away from humidity environment.
2. Think before you act. Files deleted from Android phone are not moved to Recycle Bin, instead, they are deleted directly from your phone.
3. Sync important photos and documents on your computer.
Download the software now to recover data if you lose files from Android phone memory card.
Other Reasons that makes data losses such as  RAW SD Card or raw drive problem on hard disk and cannot be formatted . To recover deleted photos from android memory card or recover deleted photos after formatting memory card ,simply run our software.
Photo/Video Files Recovery Software APP for Mobile Phone
Is there any app that can be installed on smartphone for recovering deleted files/photo/video/sms/contact list from android phone directly? ---> Never do this! since it would make damages to lost data.
Safe tips --> Stop using your phone before recovering happened. If it was memory card you want to recover, connected it to PC and run iCare Recovery for lost file recovery.
Android Mobile Data Losses, Recoverable or Non-Recoverable?
Data losses on Android is caused by reasons such as file system corruption, virus attack, mistaken human deletion, quick and full format, software malfunction, memory card for Android phone not detected, etc. Data losses under such circumstances are recoverable and disk drive can be recognized by the computer. But man-made damaged can cause memory card failure, and files become unrecoverable. For example, the memory cards get burned, broken or rusty, or chip damages.
Data Recovery Software for Android Phone Internal Storage
If there is no micro sd card or any memory card but you just saved all your photo video to your Android phone internal storage, or if you want to restore deleted notes, contact lists, text messages, then please try Data Recovery for Android.

Use iCare Data Recovery to recover data From Android phone memory card
Data losses on Android phone can be restored. In most cases, there are memory cards such as sd card can be used on android phones. If data losses occurred on sd card/cf card, you can use iCare Data Recovery Pro to restore deleted files from sd card on Android, or simply perform Sd card recovery with this software.
Instructions:
Normally sd card provides more space for phones' storage purposes while the internal storage is limited. Therefore, to recover data from phones take recovering data from its the memory cards. You need to remove the card and then plug it into the computer via a card reader. If the connection is terminated, it will display a message that shows the computer as "removable disk drive" or similar. Now you can download and install iCare Data Recovery. Remember don't download it to the memory card!
Android Data Recovery without Rooting
Rooting on an Android phone allows administration permission to use your phone. For example, when you buy an Android phone, usually its manufacturer installed pre-installed apps on the phone. However, some of those programs might not be in use and you want to uninstall them. In most cases, the manufactory does not allow you to uninstall pre-installed apps on the phone, under such circumstances you need to root the phone for administration permission to be able to uninstall those pre-installed apps. Rooting provides easier access to Android devices, but it also very risky because your personal information might be leaked. Or accidental deletion may happen after phone rooting when you persist administration permission. Therefore, it is strongly recommended not to root your phone unless you have to.
About Android Phone
Android Phone is the general term that refers to any smartphones that use Google Android as operating system. It may be a Samsung, a Motorola or a Sony Ericsson. Built upon those distributors such as open-source Linux communities and more than 300 hardware, software, and carrier partners, Android has its rapid growth and developed fastest-growing OS mobile market.
---
Related Articles
Hot Articles