Free Software for Permanently Deleted Files Recovery - 100% safe
Last updated on 14/4/2017
Can you recover permanently erased/deleted/wiped files on Windows XP, Vista, 7, 8/8.1, 10 for free? You may have deleted data in following situations, in which you may run iCare Data Recovery Free Edition for deleted files recovery:
Deleted files permanently by emptying recycle bin in Windows PC

Permanently removed data from Windows internal hard drive by pressing Shift + Delete keys

Deleted photos, videos and music from removable hard disk, SD memory card, USB drive, external HDD, mobile phone, camera... Deleted data forever by mistake or without awareness
>>Free Software for Deleted File Recovery

Download iCare Data Recovery Pro Free Edition to restore deleted files including photos, videos, music, etc which have been permanently/accidently deleted from digital devices or on Windows hard disk partitions for free.
Are Data Recoverable or Non-Recoverable After Permanently Wiped Out
If you deleted files from hard drive/usb/sd/phone/pen drive/other removable device, you can still recover them since the files were never really wiped and Windows just marked the space the file occupied as available for new data storage. It is still possible to recover data even if you deleted files permanently from the Recycle Bin.
They would only disappear forever when new data taken up their spaces. If you saved new data, some deleted files would become partially corrupted and would be totall gone when they were fully overwritten by new files.
Why iCare Data Recovery Pro for Permanently Deleted Data Recovery
Here is feedback from one of our users who applied a recovery with iCare on his USB hard drive.

More feedback from real users...
Video Tutorial : how to use iCare Data Recovery for file rescue
How to Restore Permanently Wiped Files from SD / Phone / External / Internal HDD?
Do you still feel unbelievable that deleted files can be recovered? I believe you will be clearer with the help of step-by-step instruction on iCare Data Recovery.

Step1.Free download, install and start iCare Data Recovery. Then choose a recovery mode used to scan your SD card, phone, USB flash drive, external hdd where data got permanently erased.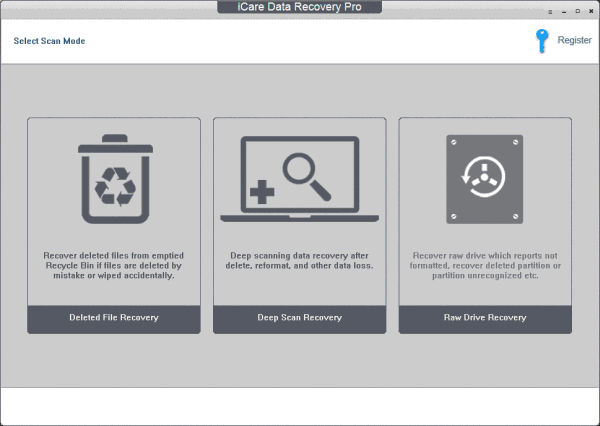 Step2. All media would show in the software whether you want to undelete a removable disk or internal hard drive.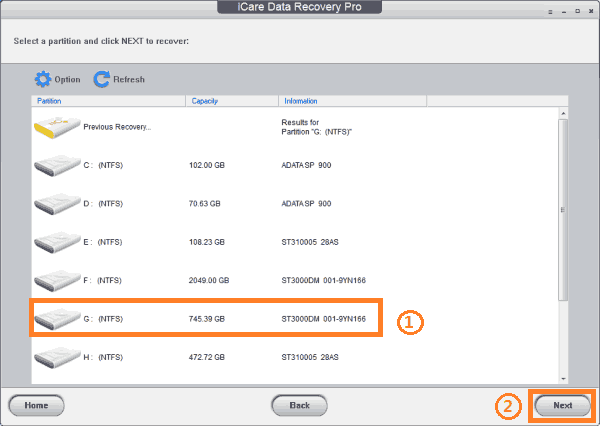 Step3. Preview the files when scanning is completed. So far, the software supports to preview images and microsoft files.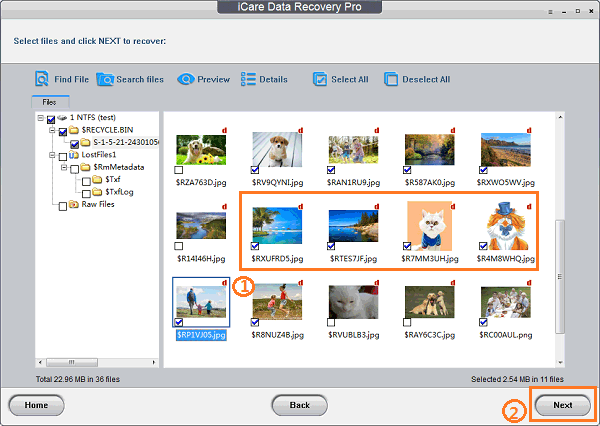 Step4. Select the deleted files to recover and save them. Please don't save the files to the partition where they were deleted.

How to Recover Files When Permanently Deleted from Windows 7/8/10/XP/Vista
When you empty the Recycle Bin after deleting some files from Windows partition, or when you delete a file by pressing Shift + Delete button, Windows system will prompt you that the files will be permanently deleted. In this case, a data recovery software is required if you want to restore the files which has been marked as permanently deleted by system. iCare Data Recovery Pro enables all users to recover files no matter how they got deleted as long as the files are not overwritten. Most types of files are recoverable whether they are deleted permanently from hard drive partition or Recycle Bin until they were taken up by new data.
For permanently deleted data from SD card, pen drive, mobile phone, digital camera or other media on Windows, it is also recoverable with the software with the same methods because the software can recognize any removable disk as a normal device.
Can We Recover Shift Deleted Files from Windows PC?
You know when you delete a file from Windows partition, system only says the file will be moved to Recycle Bin. Recycle Bin gives us one more chance to restore the mistakenly deleted files without using a data recovery tool. However, when you delete a file by pressing Shift + Delete key, Windows will delete the file directly without moving it to Recycle Bin. When you empty the Recycle Bin or delete files from the Recycle Bin, you will lose the only chance to restore the mistakenly deleted files to original partition.
Files will disappear from your computer after you delete it by pressing Shift + Delete keys or emptying the Recycle Bin, so you will think the files have been permanently deleted from your computer. In fact, it is not true. The files are only deleted from the address table, so they become invisible on your computer and only professional data recovery software can help restore the deleted files.
How to Retrieve Permanently Deleted Data from Reycle Bin after Emptying?
1. Recover permanently deleted files from Recycle Bin which was emptied
Files will still occupy the partition space when they still remain in the Recycle Bin after being deleted from partition. Deleting the data from Recycle Bin can only free the space on the partition.
2. Stop writing files to the partition where files were deleted
If it is impossible to restore files from Recycle Bin, only data recovery software is available for data recovery. Thus you need to stop writing new data to the partition where files were deleted to protect the deleted files from being overwritten.
Pay attention: Only the space where stored the deleted files is occupied by new added data can the deleted files be overwritten. When you write a file to the partition, you don't know which space Windows will store it to. If the new added data is not stored to the space where stored the deleted files, the deleted files will not be overwritten. On the contrary, if the space is occupied by new added data, you will lose the chance to recover the deleted files from hard disk or else where. Therefore, we often recommend you not to write any data to the partition where files got deleted.
Windows XP Deleted Files Recovery

When you permanently delete files from Windows XP, it would show message "Are you sure you want to delete ...?". The selected files will be permanetnly deleted without being moved to Recycle Bin if you click Yes button to confirm file delete when receiving this message on Windows XP.
Rescue Deleted Files Windows 7 Free Software

When you delete data on Windows 7, it's not permanently deleted before you empty the Recycle Bin. However, all data would not go to Recycle Bin when you shift delete files on Windows 7. When you delete any file by pressing Shift + Delete keys, it would show message like "Are you sure you want to permanently delete...?".
How to Recover Permanently Deleted Files in Windows 8 / 10

Windows 8 and Windows 10 shows the same message when you delete files permanently on them.
To permanetnly delete files from Windows 8 / 10, you can select the file you want to delete and then press Shift + Delete keys so that you can delete all selected files forever without moving them to the Recycle Bin. You can also permanently delete all data by emptying Recycle Bin on your computer.
Restore Permanently Deleted Files in Android SD, CF, XD, USB Flash Drive, External HDD
You can delete files from a mobile phone internal memory, memory card, thumb drive or portable HDD on your computer. Recycle Bin provided by Windows OS is not able to store data deleted from any removable device. You are able to recover deleted files with WIndows 7 undelete software iCare Data Recovery from any storage media.
1. Recover Permanently Deleted Files from memory Card on Windows
SD memory card and other types of memory card such as XD, CF, micro SD card, etc can be used in different devices like camera or mobile phone. You may permanently delete files from an SD memory card or CF, XD card when inserting the card to a digital camera or smartphone.
2. Deleted FIles Recovery from USB Thumb Drive
USB thumb drive including SanDisk, Kingston, Toshiba, Adata, Transcend, PNY, HP, etc can be recognized by all Windows operating systems. You may delete files from a flash drive after inserting it to any Windows computer.
3. Portable Hard Drive Deleted Data Recovery on Windows
Portable hard drive makes PC users easier to transfer data from one computer to another. However, it also makes many people upset without no good idea to recover deleted files from external hard drive on WIndows.
iCare Data Recovery is able to restore permanently deleted files from any removable storage media on Windows XP, Vista, 7, 8, 10.

Works on Windows 7, Vista, XP, 2000, Windows 8/8.1, 10
---
Related Articles
Hot Articles