Last updated on 14/4/2018
Can you recover permanently erased/deleted/wiped files on Windows XP, Vista, 7, 8/8.1, 10? You may have deleted data in following situations, in which you may run iCare Data Recovery Free Edition for deleted files recovery and it is totally free of charge.
Permanently deleted files by emptying recycle bin from Windows PC

Permanently removed data from Windows internal hard drive by pressing Shift + Delete keys

Deleted photos, videos and music from removable hard disk, SD memory card, USB drive, external HDD, mobile phone, camera... Deleted data forever by mistake or without awareness
>> Free Software for Deleted File Recovery

Download iCare Data Recovery Free (100% freeware) to restore deleted files including photos, videos, music, etc which have been permanently/accidently deleted from digital devices or on Windows hard disk partitions. If freeware failed, try advanced trial of iCare Data Recovery Pro - paid edition.
Are Data Recoverable or Non-Recoverable After Permanently Wiped Out
If you deleted files from hard drive/usb/sd/phone/flash drive/other removable device, you can still recover them since the files were never really wiped and Windows just marked the space the file use to be as not occupied or available for new data storage. It is still possible to recover data even if you deleted files permanently from the Recycle Bin.
They would only be permanently erased when new data was written on those storage units. If you pressed save, some deleted files will appear to be partially corrupted/damaged and would be totall gone when they were fully overwritten by new files.
Solution 2: Recover Deleted Data with iCare Data Recovery Pro - Paid Edition
Here is feedback from one of our users who applied a recovery with iCare Recovery Pro on his USB hard drive.

More feedback from real users...
Video Tutorial: how to use iCare Data Recovery for file rescue
- paid edition
Step1.Free download, install and start iCare Data Recovery. Then choose a recovery mode used to scan your SD card, phone, USB flash drive, external hdd where data got permanently erased.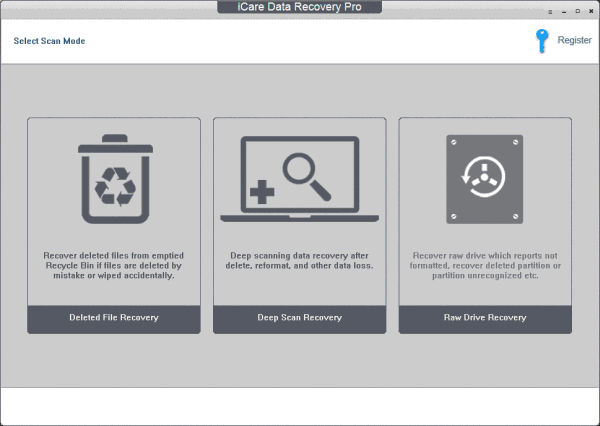 Step2. All media will appear in the software whether you want to retrieve data from a removable disk or from internal hard drive.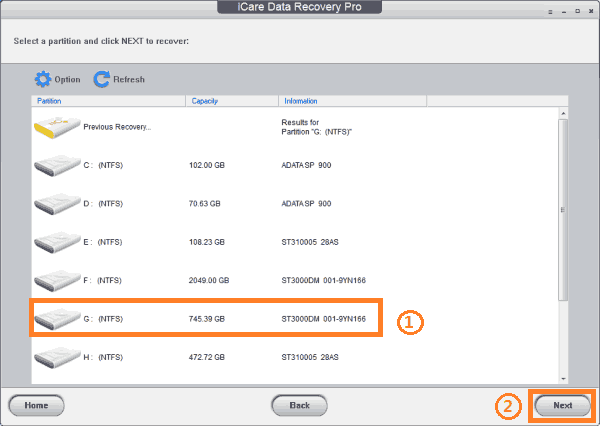 Step3. Previewing the files when scanning is completed. So far, the software supports to preview mode for images and microsoft files.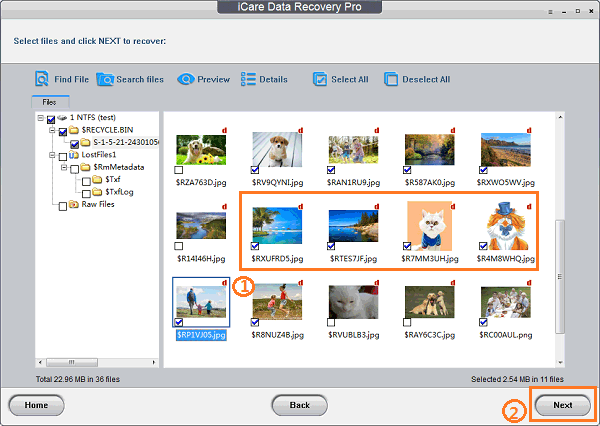 Step4. Select the deleted files to recover and then press save. Please don't save the files to the same partition where they were deleted.
How to Recover Files When Permanently Deletion was Performed Windows 7/8/10/XP/Vista
When you press empty the Recycle Bin after deleting certain files from Windows partition, or when you delete a file by pressing Shift + Delete button, Windows will automatically prompt you that the files will be permanently erased. Under such circumstances, a data recovery software is required if you want to restore the files which has been marked as permanently deleted by system. iCare Data Recovery Pro enables all users to recover files no matter how they got deleted as long as storage units are not overwritten.
Can We Recover Shift Deleted Files from Windows PC?
Files will disappear automatically from your computer after you press Shift + Delete keys or emptying the Recycle Bin, you will recognize the files have been permanently deleted from your PC. In matter of fact, this is not the case. The files can only be deleted from the containing folder, so they become invisible on your computer and only professional data recovery software can help restoring the deleted files.
How to Retrieve Permanently Deleted Data from Reycle Bin after Pressing "Emptying recycle bin"?
1. Recover permanently deleted files from Recycle Bin which was emptied
Residual files in the Recycle Bin will still occupy the partition space. Deleting data from Recycle Bin can only free up space on its partition.
2.Stop Overwriting Files to Certain Partition Where Deleting Was Performed
If it is impossible to restore files from Recycle Bin, only data recovery software is able to retrieve them. Thus you will need to stop transferring new data to the same partition where files were deleted from (located) to prevent losing root data.
Notice: The space where the deleted files were stored will be occupied by new data or after overwritten. When you transfer a file to certain partition, you don't know which space Windows will automatically store it to. If new data is not stored under the same folder where those deleted files were stored, the deleted files will not be overwritten by it. On the contrary, if the space is occupied by new added data, you will not be able to recover the deleted files from hard disk or anywhere else. Therefore, we will not recommend you overwrite the same partition where files got deleted from.
Related Articles
Hot Articles