Recovering data from Windows 7 storage devices
This page shares data recovery software, which is able to work on Windows 7 OS for file recovery from different storage media such as internal hard drive, recycle bin and removable disk.
Table of Contents

Data Recovery Software Compatible with Windows 7
For data recovery on Windows 7, data recovery software that is compatible with Win7 system is very important. Sometimes, you may want to perform data recovery from an internal hard disk or removable disk on Windows 7 because your computer runs Win7 OS. Or sometimes, you may need to fix Windows 7 problems to retrieve files.

iCare Data Recovery Pro provides file recovery solution from any media on Windows 7 following the guide below:
Step1. Download and install the software on Windows 7 for free. Then, start the software and select a proper scan mode.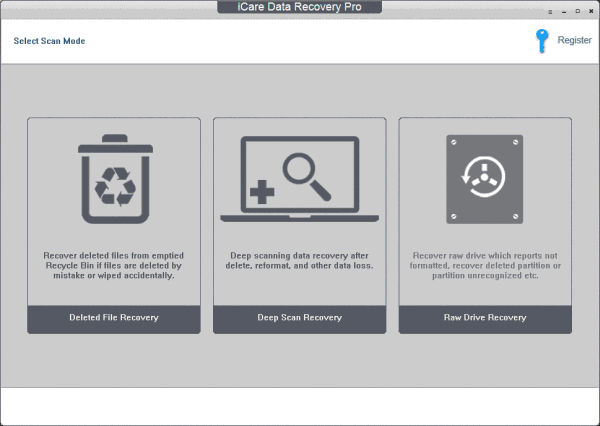 Step2. Select the drive where data got lost and then the software will scan it.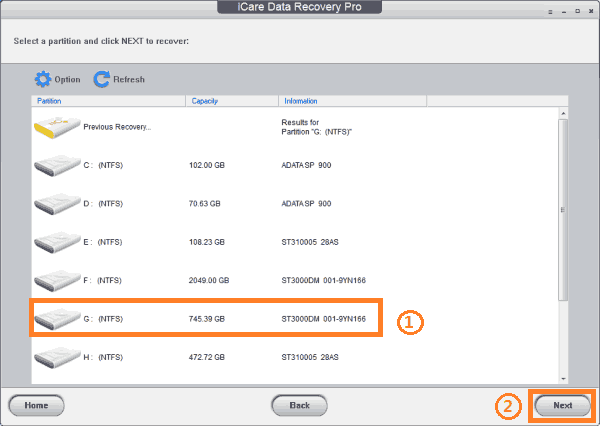 Step3. You can preview files and then save them to another path.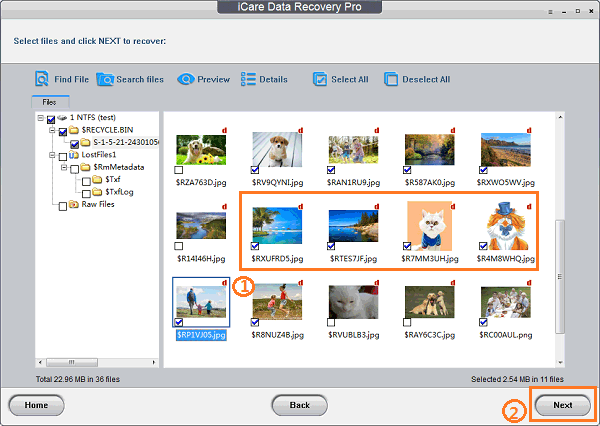 Recover Data from HDD Windows 7
Whether you use a desktop or laptop, hard drive is a necessary part on which you can install system and save all kinds of files. In addition to system partition, you can erase data from hard disk partition easily by formatting or deleting. Although files deleted from any hard disk partition on Windows 7 will be moved to recycle bin, the deleted data does not keep there permanently. For hard disk recovery on Windows 7, you should remember not to install the data recovery tool on the partition where data got lost.
Restore Files off Removable Disk Windows 7
Sometimes, you lose some data from a removable disk like external hard drive, memory card or USB flash drive. The files on those removable disks might be erased when you connect it to Windows 7 or files get lost on other devices like your mobile phone, digital camera, PDA, etc.
Windows 7 Deleted File Recovery
You can permanently delete files from Windows 7 hard disk partition in following situations:
Erase files from removable storage on Windows 7
Empty recycle bin on Windows 7
Permanently deleted files are recoverable before new data is written to the disk partition on Windows 7.
Format Recovery on Windows 7
There are three basic ways to format a disk drive on Windows 7, namely
Format disk drive by opening My Computer
Format a volume under Disk Management
Use diskpart command to format disk drive on Windows 7
When formatting any volume on Windows 7, you can perform quick format to erase the disk fast, or you can perform full format to check if the volume has bad sectors. Any method to perform a format would wipe the disk immediately, in which situation only data recovery software for Windows 7 has the ability to undo format.
Windows 7 Troubleshooting
If Windows 7 has any problem, the data loss is probably serious and difficult to recover. When you meet different problems on Windows 7, it might be:
Windows 7 detected hard disk problem
Windows 7 reports problem on hard disk and disables you to read, write, move or copy any data? Such kind of problem usually includes:
Windows 7 reports you need to format disk in drive before you can use it
Disk volume has I/O device error
…

Recommend: For more disk problems and solutions, please visit: Disk Drive Recovery>>
Windows 7 system is crashed or has similar problems, which lead the computer to unbootable or stops function?
Windows 7 black screen of death
Windows 7 stops responding all of a sudden and reboots
Windows turns off without any warning
Cannot boot computer from Windows 7 OS
…
Windows 7 system may have many other errors, which stops you from accessing the system normally. If any data got lost due to Windows 7 error, the first thing is to recover data. If it does not cause any data loss, you had better make a backup to protect against future data loss.
You can run iCare Data Recovery Pro on Windows 7 if PC can still starts normally. If computer cannot boot anymore, you can connect the hard disk in Windows 7 to another computer to perform data recovery.
File Recovery after Windows 7 System Reinstall
System reinstall is a good way to fix Windows 7 system problems. Usually, you can reinstall Windows 7 from CD, DVD, USB flash drive or hard disk drive. Usually, it needs 25GB available space for Windows 7 32 bit version reinstallation and 50GB for Windows 7 64bit version reinstallation. You can reinstall Windows 7 system without touching any data on all hard disk partitions except for system partition. Of course, you can also erase all other partitions during system reinstallation. You can perform file recovery after losing due to reinstalling Windows 7.
---
Articles Related to Windows 7 Data Recovery
---
Related Articles from other guide
Seagate external disk recovery : recovering data from seagate external when it was not recognized by PC, reformatted by mistake, raw drive or other problems and need to restore inside imporant data.
Data Recovery Free software guide: use free software to recover data from various kinds of data loss.
How to use data recovery software : guide that shows how to use data recovery program to bring lost data back.
Free software to recover lost data: freeware to bring lost data back
Dynamic disk recovery software - restore data from dynamic disk when it was formatted, deleted, damaged etc.
Windows 7 data recovery software: data recovery from Windows 7 operating system related media drive
FAQ Data Recovery : most frequent data recovery cases
Format Recovery Resource : data recovery guide related with format reformat unformat