How to Fix Computer No Boot Device Available Error Problem?
Computer Says No Boot Device Available?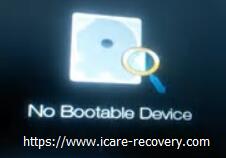 Case 1: Hello, last night, when I was playing games newly downloaded last Friday, my computer just suddenly froze and made me have to reboot it with Ctrl + Alt + Del. However, that didn't work. So, I reboot it into the PC BIOS interface and check the computer first boot device. And then, when I tried to restarting this computer again, the computer just said: "No boot device available". But, I did only check the computer boot device order and changed nothing there in computer BIOS interface. Why does it just report boot device not found? Is my computer internal hard disk corrupted? Is it possible for me now to perform damaged hard disk data recovery so that I can still use or access much important computer data left inside? What am I supposed to do now? How to fix this PC no boot device available?
Case 2: Hello, friends there! My computer went into a blue screen of death last night and it could not be restarted up till now. There is just a error message keeping popping out and saying: "No boot device available. Press F1 to retry or F2 to setup". What does that error message mean? I really know nothing about such PC boot device not found issues and the only thing I know is that my computer recently seems to be infected with some Trojan horse viruses. How serious is my PC problem? Is it still fixable? Is it still possible for me to recover data from computer 3TB hard disk?
Case 3: Hello, recently, to extend my computer space, I do have added a second internal hard disk to my Windows 7 laptop and set everything related well. However, when trying to boot it, I just get a no boot device available issue and cannot boot it properly as usually. Have I done something wrong? What can I do now to remove this PC boot device not found error problems? Thanks for any advice here!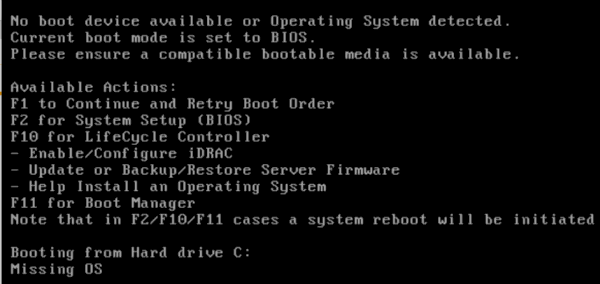 Hello, you guys have reset your computer boot device order, update your PC operating system or have some serious physical damaged with your computer hard disk before encountering this PC no boot device available error message? No matter what your answer is, such computer boot device not found error problems are often fixable. Just keep reading this article to check more detailed information below:
Symptoms of "Computer No Boot Device Avaiable"

No bootable device please restart system
Windows No bootable device and unable to use boot disk to restore PC
Windows 10 upgrade failed, no bootable device
No bootable device insert boot disc and press any key
My computer says no boot device available/found on startup page
What Does "No Boot Device Available" Mean?
The computer pops a message says no bootable device error this often means the computer operating system is not able to find the bootable hard disk or hard disk boot drive so that it does not start. Hence, in such scenario, as long as you figure out why your PC OS platform cannot find the hard disk or hard disk boot drive, so due to circumstances such as this, does anybody have a clue?
Why Does "No Bootable Device" pops on your PC screen?
OK! Here are several major causes behind for this scenario
1).The computer just has been misled to boot from an unbootable hard disk or device.
Have you attached an unbootable CD/DVD/External hard disk/flash drive and wrongly set it as its boot disk? Or have you changed your PC boot device order before this problem occurred? In matter of fact, in order to start your PC in a timely manner, connect a bootable disk, which contains PC operating system files and its drive, re-set the settings in the configuration panel. However, once you change the settings to boot from a second disk, you do get such notice from computer shows bootable device not found error. Therefore, the first thing you are supposed to do now is to check your boot device order in BIOS mode if you get stuck on occasions such as this.
2).The computer internal hard disk gets jammed/damaged or corrupted somehow.
When "no boot device available" occurs, "device" often indicates PC internal hard disk. So, what we do when such problem occurs? First of all, by checking the disks status and running diagnosis.  When your hard disk is damaged or corrupted, your OS platform will not be able to find the drive on the disk or the disk to start your PC. However, by checking your PC boot device order first, you can also check internal hard disk's workability.
3).The computer's boot hard disk MBR sector has corrupted somehow.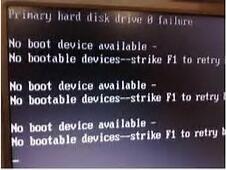 Honestly, "boot device not found" can be caused by bad MBR (Master Boot Record) sector, though this doesn't happen often. Actually, the MBR sector is a hard disk that contains operating system files and drives required to start a computer. Therefore, once this drive is damaged, such PC "boot device not found" issues will happen.
4).Th Operating System has changed configuration settings or damaged disk.
Normally "no bootable device available" issue is caused by operating system errors. For instance, your OS updated its system files or experienced file losses when it frozed? I wouldn't deny that those situations may occur during daily use. Doesn't matter what is the cause of it, check your OS files and folders might be a solution to it.
5).The computer infected with virus
Trojan is the biggest nightmare for any internal hard disk and it can damage the hard disk MBR sector, OS files and folders, as well as internal hard disk and even more somehow you will have to deal with it eventually. We truly hope it have not done any harm.
Fix Boot Device Not Found Error on Windows 10 8 7 XP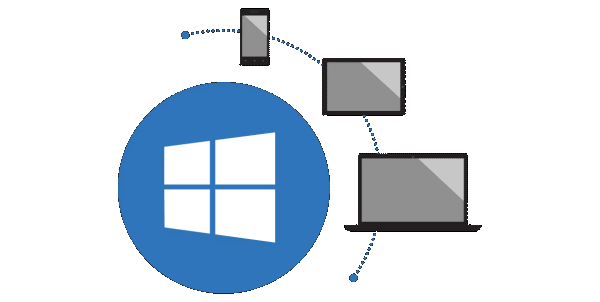 First of all, figure out what caused this problem and then make it functioning well as it use to be. Take a step back and stop worrying. Simply follow the instructions as below to make it work:
1). Check or reset the boot order on your PC.
Reset your computer boot device order or simply load second hard disks to your PC settings when this problem occur? OK! The problem is you set the wrong drive to boot the device from. To solve "boot device not found" error/ issues, check and reset your boot order as below:
Step1. Turn on your computer and press "F2" button to switch to BIOS mode.
Step2. Click "BIOS Setup Utility" option bar and select "Advanced BIOS Features".
Step3. Highlight "Hard Disk Boot Priority" area simply check or reset your bootable hard disk on top of the boot device list.
Step4. Press "Esc" to re-start your computer. Generally, your computer will operate well beyond any of your expectations. when "no boot device available" happens, it often means you set a wrong boot disk.
2). Diagnose, modifications or replacement for internal hard disk.
After checking the computer boot device order, the next step is to check boot hard disk status. To be frank, many "boot devices not found" error/issues are caused by damaged or corrupted internal hard disk. Do run a hardware test before turning on your computer.
Run CHKDSK to see if there are corrupted bad sectors or cracked mocrochip. Or download diagnostic software to help you with hard disk issues. Unless of course your internal hard disk has cracked chips and cannot be recognized or used on any computer, please do not hesitate to plug in another hard disk to your PC.
Try disconnecting internal hard disk and plug into another PC to see if the same problem occurs. You can check internal hard disk status to determine if its corrupted. If possible, please attach bootable external storage device to see how your computer works with this device
Please Note: Hard disk could be damaged and problems such as hard disk RAW file system, hard disk not formatted error, CHKDSK not available for RAW drive error or even unrecognizable hard disk error, etc could occur, when you shut down PC and disconnect hard disk, data losses may happen under such circumstances. Make sure backing up all files and turn off your pc before disconnecting hard disk.
3). Check, Repair or Reinstall Computer Operating System.
If you are not sure about the cause of this PC OS problems, check the operating system files and folders. If the problem happened because of unexpected deletion, try to recover them first with our undelete file recovery software. If they can't be restored, try updating or reinstalling your operating system to see whether the same "no boot device available "error message pops.
4). Check or restore MBR sector from your boot hard disk.
If you are sure your internal hard disk is fully functional, and this issue may be caused by bad MBR sector on your boot hard disk, check and restore your hard disk MBR sector. Simply download software to fix this problem. If possible, also check the status of your hard disk MBR sector by following some online instructions manually.
Please Note: Though the process of restoring disk's MBR sector does not erase or delete hard disk files without a sign or warning, to prevent data losses, make sure all files are backed up on another hard disk or device.
5). Run antivirus software or format your hard disk to clear the virus
Doesn't matter whether this "boot device not found error" problems are caused by viruses or otherwise, it is necessary to clear all viruses and threats. Run antivirus software on your computer to detect and isolate all suspicious programs/virus once for all. Perform a full scan on internal hard disk to clear all virus out of your computer.
Please Note: When you lost PC documents, games, programs, videos, photos and files after formatting hard disk or to clean all possible vicious viruses completely, please don't worry. Do not transfer new data on this formatted hard disk and download recover data from formatted drive with format recovery software.
---
Related Articles
Hot Articles
Reference: