Summary

This page contains information related to data recovery from Windows XP, Vista, 7, 8 and 10 when running into various problems.
Table of Contents
Windows Data Loss Troubles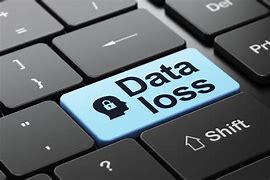 Windows is operating system released by Microsoft, which can be installed on personal PC (desktop and laptop) and Mac computer. You must enter Windows normally in order to perform any operation or run program on your computer. Windows provides high performance and good solution for many operations, but you may encounter Windows data loss disaster in many cases:
1. Delete files
Deleting files is an operation to select one or several files and delete them on a device. You can delete files on Windows OS in different situations: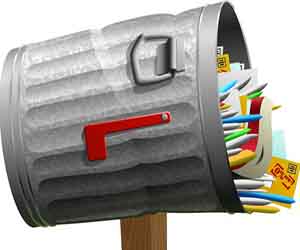 Deleting files is an operation to select one or several files and delete them on a device. You can delete files on Windows OS in different situations:
Delete files from hard drive by mistake (Files usually go to recycle bin, where you can simply restore the deleted data to previous place)
Delete files from removable storage media on Windows like memory card, external hard drive, USB flash drive, pen stick, etc (Deleted files does not go to recycle bin)
Wipe hard drive using software
Delete partition on Windows
Delete files on Windows pressing Shift + Delete keys
2. Format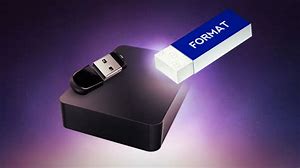 Format is another operation that you can perform on Windows, which is able to erase the formatted device within a few seconds. When you perform format on Windows, it usually refers to high-level format including quick format and full format.
3. Windows errors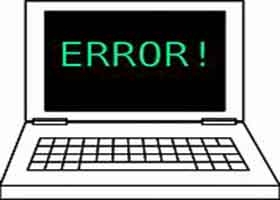 Windows probably run into some errors and disable the normal function of your computer. For example:
Disk drive requires formatting on Windows
BOOTMGR is missing and cannot enter Windows OS
Windows turns to blue / black screen showing error alerting
Windows needs more space
Windows freezes up frequently
When there is problem with Windows OS, it usually results in two bad things, namely,
1. PC can boot normally, but Windows keeps saying warning message to prevent you performing further operation.
2. Computer cannot boot anymore.
Windows Data Recovery Software Download
To recover files from Windows due to any data loss problem, iCare Data Recovery Pro provides a useful solution. This data recovery software for Windows works on every Windows OS to restore all kinds of files.

Preparation: You need to install the software on Windows computer.
When installing the software, please pay attention to following:
1. Avoid installing the software on the drive on which data got lost.
2. If PC cannot start anymore, you need to connect the hard disk to another Windows computer or boot Windows from USB flash drive.
Then, following tutorial will guide you to rescue files on Windows:
Step1. Select a scan mode for file recovery after starting the software.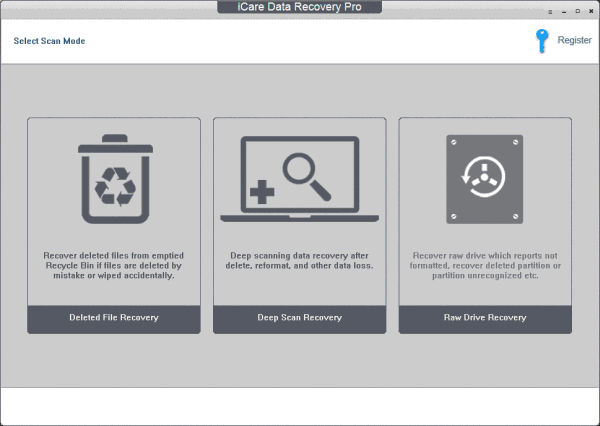 Step2. Choose the disk drive for scanning so as to search every single lost file.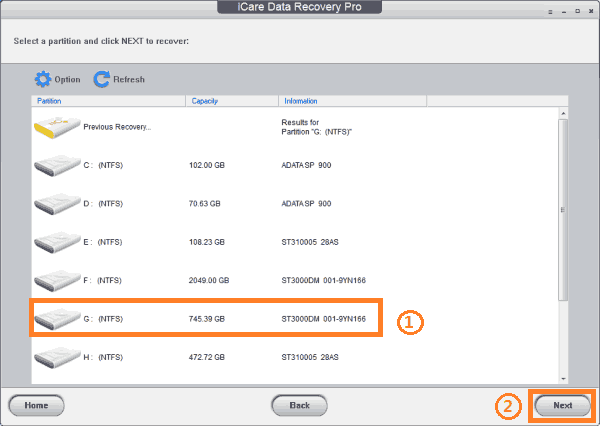 Step3. Pick the files to preview and then restore the lost files to another drive.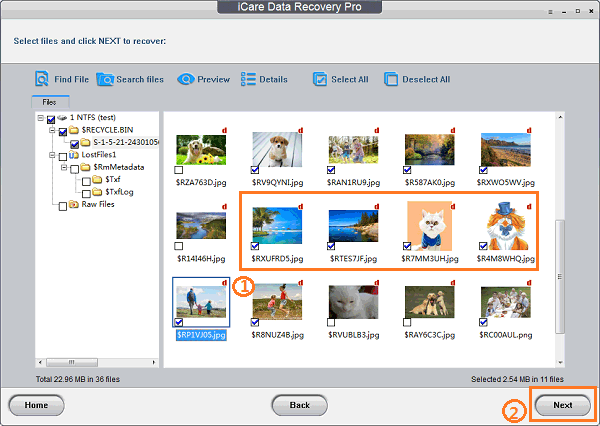 Fix Windows Problems & Troubles
Operating system is system software, which is an important part on a computer. Operating system is needed in order to ensure the normal function of all programs on a PC. When Windows OS has any problem, it slow down PC or cause computer to frequently reboot or even more seriously cause PC to be unbootable and leads to data loss.
1. Windows blue screen of death
Windows turns to blue screen usually in the case when you run a program or you run several programs at the same time. This problem is usually caused by hardware issues, software incompatibility, software conflict, virus infection, etc.
For this problem, you can do following things:
Run antivirus software to check virus
Update hardware drivers
Uninstall software which is not compatible with Windows OS or which have conflict
Restore Windows system to system restore point or reinstall Windows OS
2. Windows black screen of death
Black screen problem is another problem for Windows, which is usually caused by hardware issues, CPU issues, computer accessories, power supply, etc.
Check following problems when PC often turns to black screen of death:
Check hardware problems
Check logical failure like system crash, virus attack, driver software incompatibility, etc
3. Windows needs more space
Usually, PC reports Windows needs more space when you attempt to upgrade Windows OS. Therefore, please check if there is enough free space left on the system partition.
4. Windows cannot boot
If Windows cannot start, probably there is something wrong with hardware or the system is corrupted. If it is hardware problem, you just need to replace the bad hardware. If system is crashed, you can reinstall system or restore back to system restore point.

Recommend: For more other Windows problems and solutions please go to: Fix problems>>
Windows Recovery Supported
It supports all Windows platforms for file recovery in various data loss situations using iCare Data Recovery Pro, including:
Recover Files Windows Vista / 7
Restore Data Windows 8 / 10
The software does not offers solution for fixing Windows errors, but it only help find all lost files from any Windows problem.