Fix External Hard Drive Not Recognized or Showing Up - 6 free ways
Here are some error messages when your removable disk can no longer be detected.
Please insert a disk into removable disk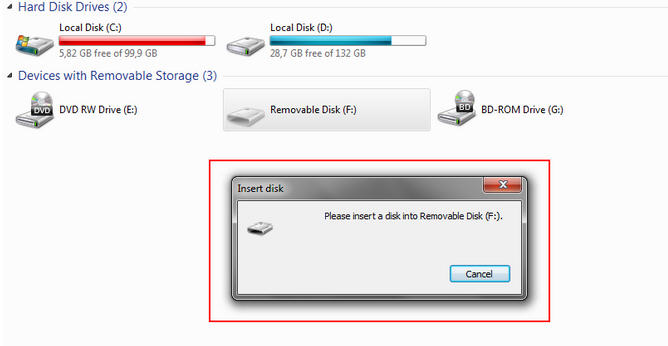 Removable disk not recognized, please insert a disk into removable disk
Removable disk 2 no media
Also read: disk no media error fixing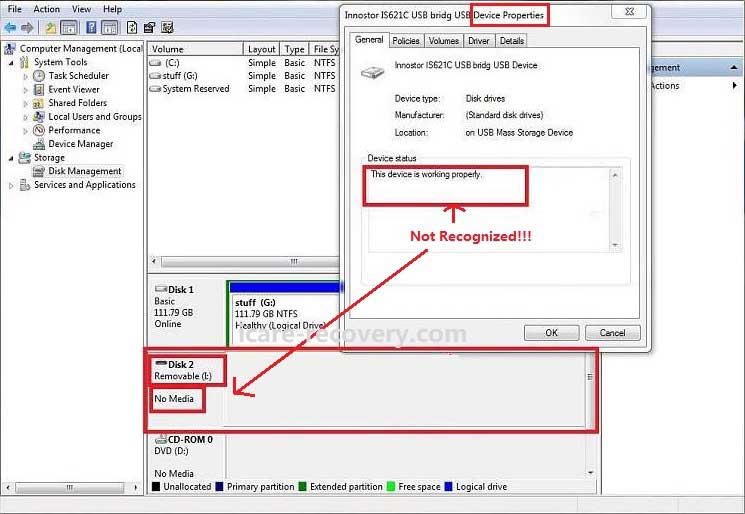 External hard disk not recognized saying no media
Or even this one - Disk is not initialized
Disk unknown unallocated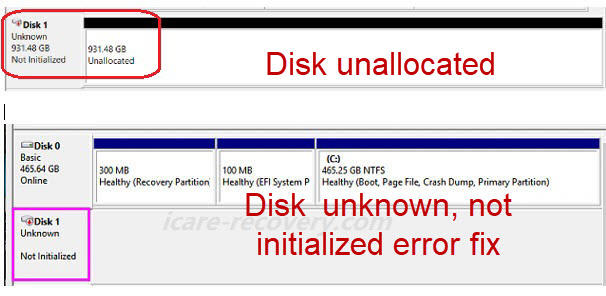 external hard disk not recognized and unknown not initialized with unallocated space
Background
My WD external hard drive is not showing up under This PC.

I have a 500GB WD external disk which is often used for data backup. Yesterday, I wanted to reinstall operating system on my computer, so I moved all important files to the external hard drive. After system reinstalling, I attempted to move those files back to my computer. However, the problem is when I connected the external hard drive to my computer, Windows system cannot detect the external HDD. I think my external drive is corrupted due to some unknown reasons, but I really want to get back the lost files how to repair data from WD external drive when it can't showing up in My Computer?
Why removable disk is not showing up in Windows 11/10/8/7
There are many possible causes that may lead to an unrecognized hard drive in Windows 10 or even other operating systems like Windows 7 and Windows Server OS. And here are just some of them.
Windows 10 update that brings disk drive to be out of date and this could be some reason why your disk is not visible in Windows 10. Later we will show you how to update the disk driver for free.
Sudden power surge or unsafe removal that made damage to the removable disk.
File system corrupted on the hard drive or usb disk due to logical damages
Virus attack and the file system or fat (file allocation table) was damaged...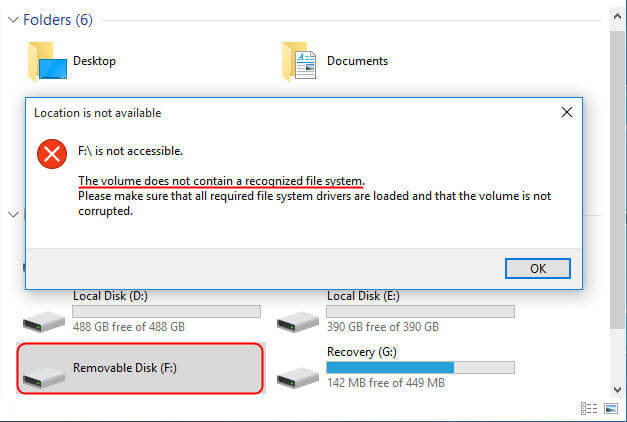 removable disk not recognized and does not contain a recognized file system
6 Free methods to fix removable disk is not recognized/undetected
If external hard drive is not detected by system when you plug it to computer, you should stop using the external HDD. Then use a read-only tool to pull data out of the external hd before using any tool to repair the damaged disk since every repairing is making changes to the inside data that would make the inside data corrupted/changed.
Data Recovery from Unreadable External HDD
iCare Data Recovery Pro provides a way to recover files. It is a read-only tool to recover files from external HDD when it is corrupted, shows disk error or even cannot be recognized by PC. This  tool lets you recover all kinds of data including photos, videos, music, office files (excel file recovery, word file recovery and ppt recovery), etc from any brand of external HDD including Western Digital, Seagate, Samsung, Maxtor, Kingston, etc.
External drive recovery software download

Download iCare Data Recovery Pro Free to recover files from external hard drive which is not recognized nor readable on Windows 10 8 7 to get files from removable disk including photos, videos, music...
Steps to Recover Files from Corrupted Portable Hard Drive
Step1. Plug the portable hard drive to Windows PD. Run the software and choose scan option.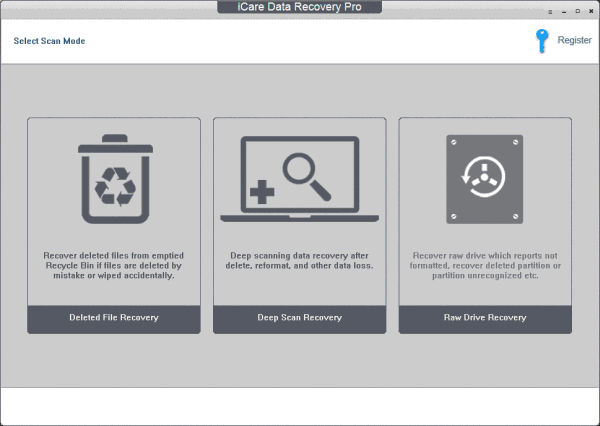 Step2. Choose the portable hard drive and click Next button to scan.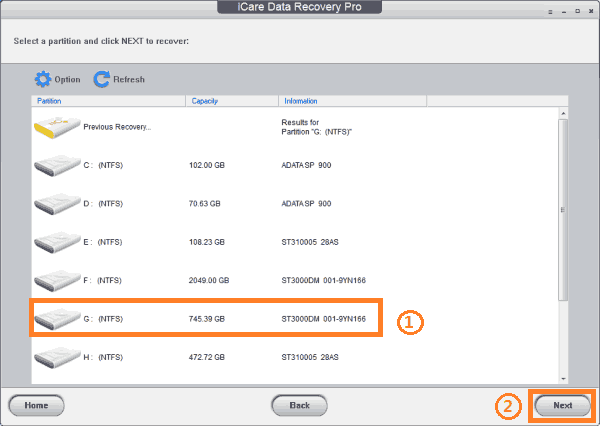 Step3. Double click the file to scan and then select all needed files to recover.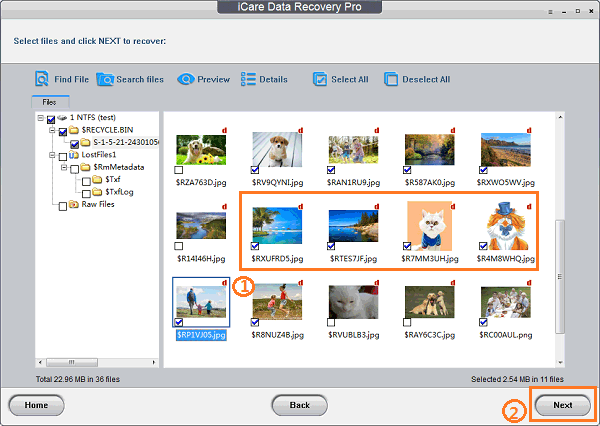 Why Is External HDD Not Showing up?
Usually, when you plug an external hard drive to computer, system can detect it as a removable HD . However, why does the external HDD stops working and become not readable? The reasons are various. Sometimes, external drive will be corrupted because of some unknown reasons. Windows cannot detect external hard drive when it is corrupted or damaged, so the external hard drive will not show up on your computer. To avoid these problems, you should always use your external hard disk properly and keep it from any possible virus.
USB Hard Drive Has Unrecognized RAW File System
Sometimes, when you plug USB hard drive to your computer, it can show as a removable disk or under Disk Management. However, you are unable to access the USB hard drive because it has an unrecognized file system RAW. If your USB shows RAW file system and becomes not readable, you don't need to worry about data loss. At least, it can still be detected by system, so you still can recover files. In this situation, the most important thing for you is to prevent overwriting or physically damage the USB hard drive.
How Does Data Recovery Software Work for Corrupted External HDD Recovery?
When portable hard drive is not working due to RAW file system or other reason, try iCare Data Recovery to restore data. This data recovery software works as a read-only tool to deep scan the device so as to search for all lost files. In order to recover lost files from damaged external hard drive, the following points are very important:
1. The drive is not physically damaged
If the external HDD is physically damaged and becomes undetectable, you cannot get back lost files. Therefore, it is necessary to protect the external HDD from being physically damaged due to any possible reason like water damage, fire damage, etc.
2. Avoid overwriting the data stored on the removable hard disk
You should avoid writing any new data to the removable hard disk before data recovery. If the lost data is overwritten by recent added data, you may be not able to perform data recovery.

Last updated on Nov 01, 2022
Related Articles