Recover Deleted Photo Video off Memory Card
Last updated on 17/01/2017
Memory Card Photo Recovery - iCare Data Recovery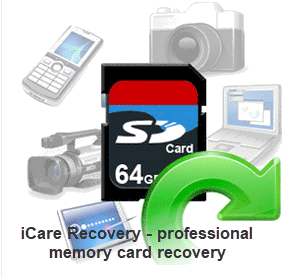 Retrieve deleted photo off memory stick?
Need to recover deleted photo (Gif, PNG, BMP, etc) from memory card after deleting by mistake?
How can I recover corrupted memory card pictures when it shows error (RAW, not formatted)?
How to recover images from memory card for Android phone (Samsung Galaxy, Blackberry, HTC, etc), digital camera (Nikon, Canon, Samsung, or Olympus)
How to format a memory card which cannot be formatted when it still contains important pictures?
Is there any memory card photo recovery software for recovery of memory card erased photos by PC?
How to recover VCF file from memory card?
Are you worried about lost memory card file recovery? iCare Data Recovery, powerful free flash memory card recovery software, helps recover photos, videos, music from formatted, deleted or corrupted memory card, which supports SD, XD, CF, memory stick, etc.
Download the free card recovery software to retrieve lost photos.

>>Quick Solution for Memory Card Photo Video Recovery
Download iCare Data Recovery Pro to retrieve deleted photos videos from memory card for Android phone or digital camera after formatting or delete it by mistake.
Video Tutorial: how to use iCare Data Recovery for file rescue
Steps to Recover Files from memory card

Step1. You can connect your memory card to Windows computer via a card reader or USB cable. Then, run the software and choose recovery module.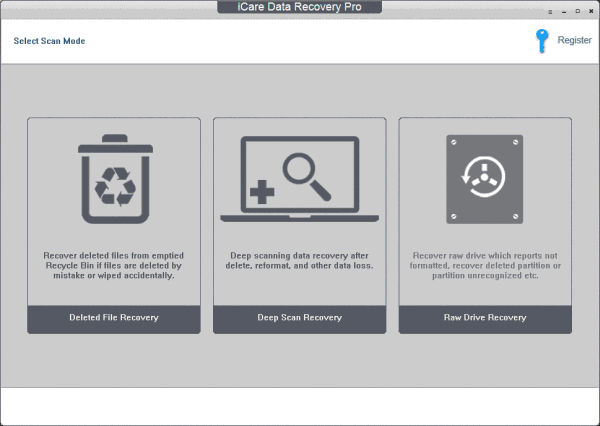 Step2. Choose the memory card to wait the software to have a scan.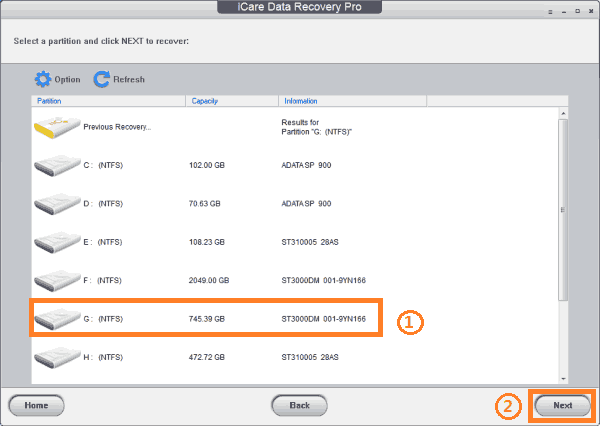 Step3. Preivew files displayed in the list and then save all needed data to another destination.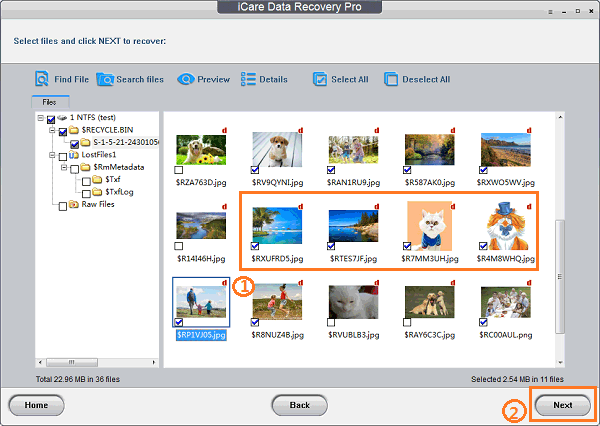 ---
Related Resource
Memory Card - An evolution of data storage
Data storage used to rely on some big not easy to take devices like hard disk drives. However as memory card was firstly introduced in Digital camera, a popular digital device to take photos, memory card brought an evolution to our data storage. How? It is small but huge capacity and easy to take. There are many types of memory card like SD card, xd card, cf card, mmc card, flash card etc.
Why memory card photo recovery?
Memory card is used to store data like photos, files and is mostly associated with digital cameras like branded Nikon, Canon, Kodak, Panasonic, Olympus, Fujifilm etc. Memory card is good to store photos but still brought risks to the photo once the there are human incorrect operation, PC virus etc. What shall we do when photos are threatened and you might risk loosing your precious memories which were recorded by the photos?
Solution for Memory Card Photo Security
What can we do once we encountered memory card problem? iCare Data Recovery Pro, memory card recovery software for Windows, is always your help whenever you suffered photo memory card problems.
You can recover images from formatted memory card; retrieve deleted pictures from memory card and recover data from unformatted memory card.
How to retrieve deleted photos files from memory card with free software
If you ever need to retrieve deleted files like photos pictures from memory card of your mobile phone, camera memory card, be free to download iCare Data Recovery Pro, which is read-only software if you do not install the software on the memory card. 100% SAFE for getting back deleted pictures!
How to recover deleted photos from memory card without any software?
Some users may wonder is there any method that users could perform memory card recovery using cmd, well, cmd won't work for the memory card when data are deleted or get lost.
The right thing to do is to use iCare Data Recovery Pro for deleted memory card data recovery.
You probably lose data from your memory card due to various kinds of reasons such as mistaken deletion, formatting or memory card shows not formatted error, RAW error and more. When you meet any data loss problem on your memory card, the first thing you should do is to stop using the card.
Free download iCare Data Recovery and install it on your computer. Then, you can use it to deep scan the memory card and get back all data you need.

How to Recover Deleted Photos from Memory Card in Android Mobile Phone?
You can insert a memory card in Android mobile phone for data storage when the internal memory of the phone is not enough. In most of time, Android cellphone is compatible with memory card like SD, micro SD, micro SDHC card, etc. You should connect the Android phone memory card to Windows computer in order to restore deleted pictures from phone memory card.
How to Restore Deleted Pictures off Memory Card for Digital Camera?
Some digital camera has internal memory, but it is not enough free data storage when you often use the camera to take photos. A digital camera usually supports various memory cards like SD, mini SD, CF and XD card. It is important to insert a proper memory card in order to make your camera work normally. You should stop saving new photos in the digital camera memory card if you want to recover any deleted picture off the memory card in camera.
How to Recover Photos from Corrupted Memory Card?
Your memory card is corrupted and disables you to access any picture? This is a problem that might result from many reasons. A corrupted memory card cannot be used in mobile phone, digital camera or any other device. A photo recovery program like iCare Data Recovery is available for corrupted memory card photo recovery. If you want to fix the corrupted memory card, you can connect it to Windows computer and run Windows Error-checking tool to scan and repair bad sectors on it.
---
Related Articles
Hot Articles