SD Card Repair Software
SD Card Data Recovery before Repairing
For any error on Samsung SD card for example, the most important thing is not to repair it but to get back every important file on it. Before using any repair software, you can use a data recovery program for corrupted Samsung SD card recovery at first.
Free SD/MicroSD Recovery

Download iCare Recovery Pro Free Edition to restore data from memory card sd card, micro SD card that can help recover data for free. Connect sd with card reader (required), start free recovery with iCare
Recover Data from SD Card Firstly (Required, if your data on the sd were important)
Top 8 ways to repair damaged sd card
Tool #1 - recover damaged memory card with iCare Pro Free

Step1. You can connect your memory card to Windows computer; download the memory card recovery utility. Then, install it, run the program and use Deep Scan recovery mode for damaged sd card recovery.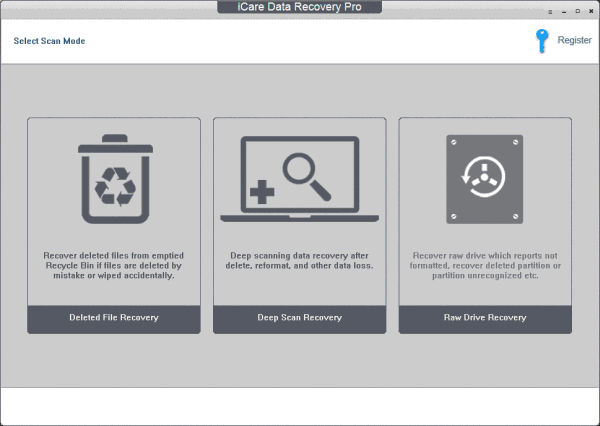 Step2. Select the memory card for recovery, and click 'Next'.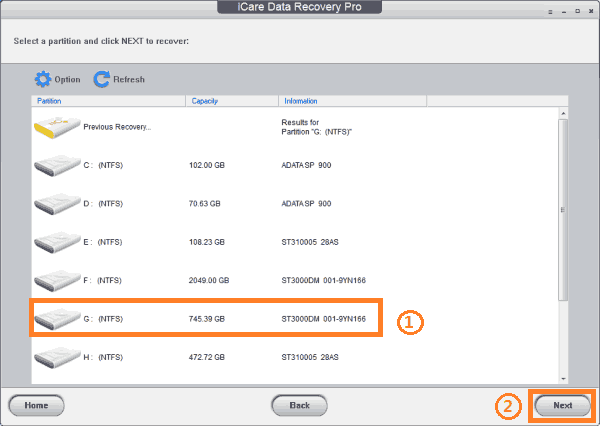 Step3. Save data to another destination.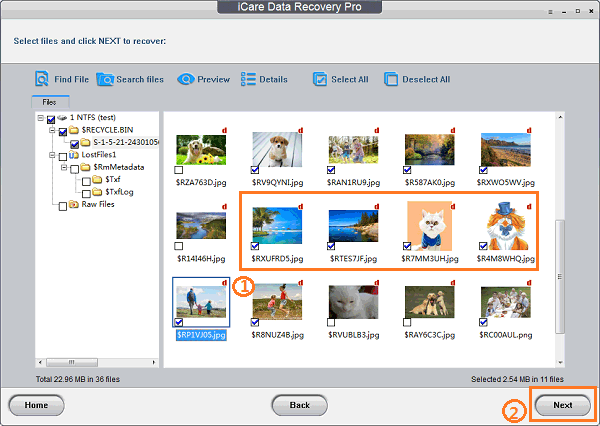 Tool #2 - Repair Memory Card with CMD Diskpart
Step 1: Run CMD
Step 2: type "format x:/fs:fat32" or "format x:/fs:ntfs"and enter
Step 3: wait for the formatting to be completed (no operations from you, just wait)
Step 4: once it finished, type 'exit'
And now your sd card is repaired.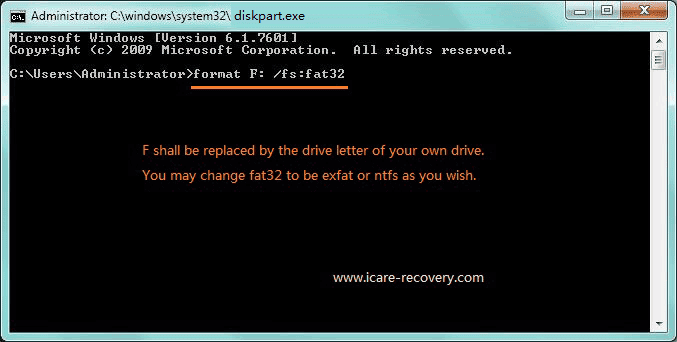 Or you may use the following steps too which can solve other possible errors on sd like io device error, write-protected error...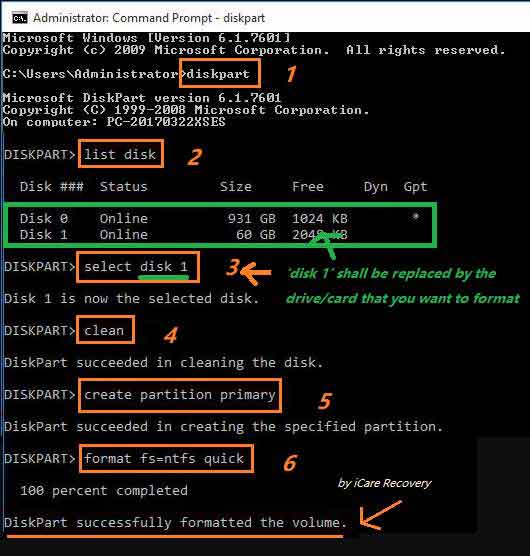 Tool #3 - Repair damaged sd card with chkdsk
Or you may use the following cmd to repair damaged sd card.
chdksk /f/r i: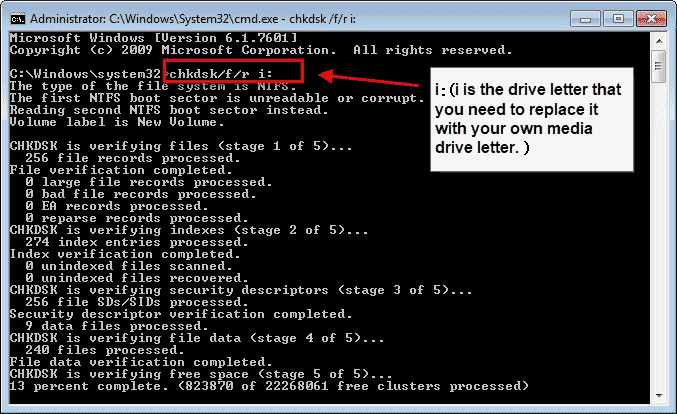 cmd chkdskk to repair sd card
Or you may simply try the following cmd to fix memory card. You need to replace h: with the drive letter for your own memory card that appeared on your pc.
chkdsk h: /f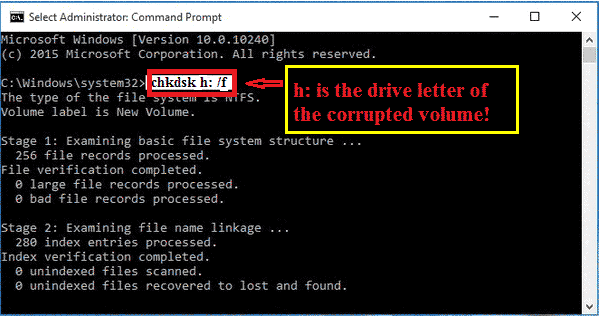 cmd chkdsk to repair sd card
Video Guide - how to repair sd card using chkdsk
Memory card corrupted repair software is usually a tool which is able to scan and fix bad sectors on a card. It works similarly to the Windows error-checking function for hard disk fixing. You can run Samsung SD card repair software to repair damaged SDHC.
Also read: 8 efficient ways to fix damaged sd card
Tool #4 - Format Software for Fixing SD Card Errors
Most of time, you need to format Samsung SD card for error fixing whether it shows SD card not formatted error, write-protection, I/O device error, etc. There is much format software which provides solution for formatting a corrupted Samsung SD card. Or you can format the Samsung SD directly on your camera or computer without software.
Here are at least 4 ways that you may format a memory card without any software.
Format damaged memory card with your camera/phone without using any software or computer
Format memory card in Windows computer by right click format option
Format memory card in computer with disk management -> format option
Delete the memory card inside of disk management, and then reconnect it to PC, load it, and then create new volume and set it to fat32/exfat/ntfs as you wish.
Also read: samsung sd card format tool
Best memory card repair tools free download (freeware) including repairing its bad sectors
1, IM-Magic Partition Resizer Home, freeware that can repair damaged sd card for free.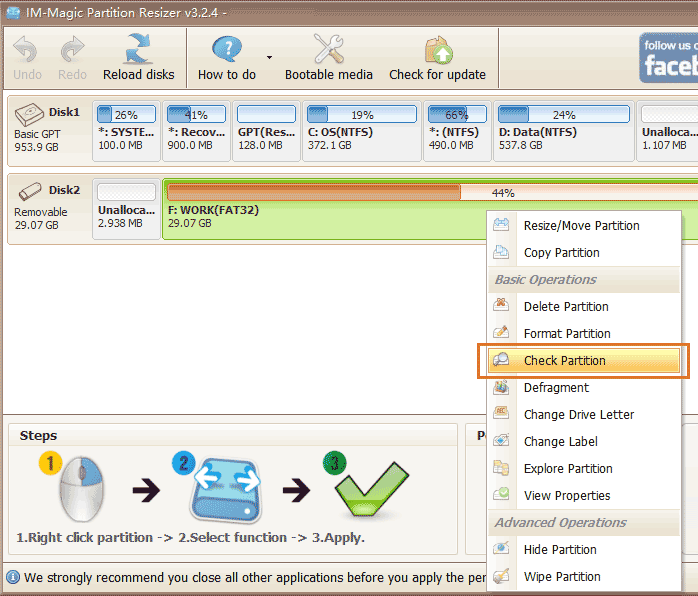 Step 1: Download this freeware and connect your memory card with a card reader to pc.
Step 2: Right click the memory card that shows up in the software, and choose option ->"Check Partition" to start the repairing process.
Step 2: Confirm the repair setting and click 'OK', and it would begin to repair your memory card.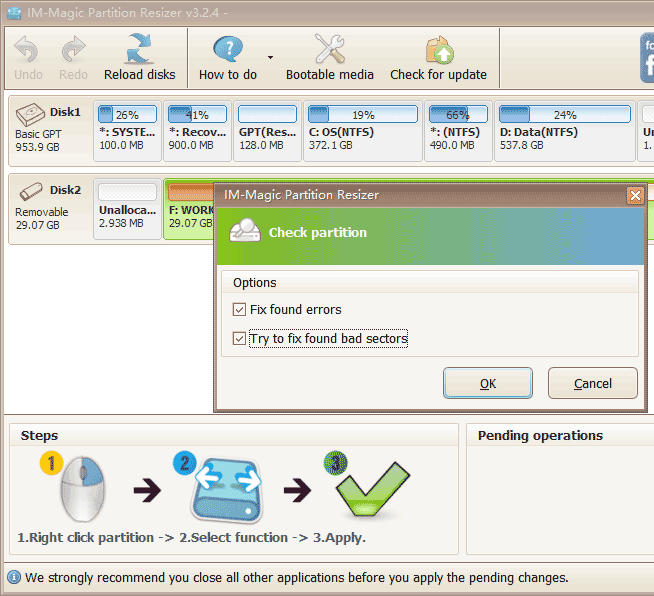 Tool #5 - fix sd card free with Windows built-in repair utility
This tool is provided by Windows that you may easily get access to it if you are using Windows XP/VISTA/7/8/8.1/10.
Here is how it can be operated.
Get your memory card into the computer with a card reader
Double clicking 'This PC' on your desktop -> your memory card -> right clicking -> property -> tools -> check
Select both available options after the check box pops up another window (to start fixing possible errors on your memory card)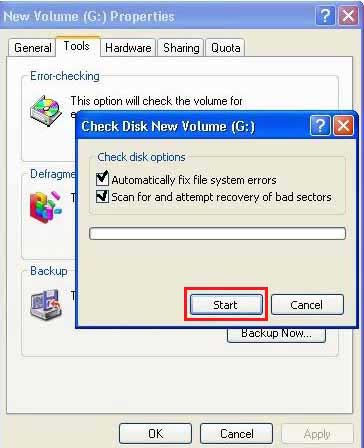 Repair damaged sd card with Error-Checking
Video guide for repairing not working sd card with Check disk options
Tool # 6 - repair sd card with format tool
We would recommend you try formatting the sd card since mostly reformatting could simply resolve many kinds of errors on sd card, here is a simple guide to get it done.
Step 1 - right click the memory card that shows up in your pc -> format
Step 2 - select the format options such as file system (fat32/ntfs, the later one is recommended), and then get it formatted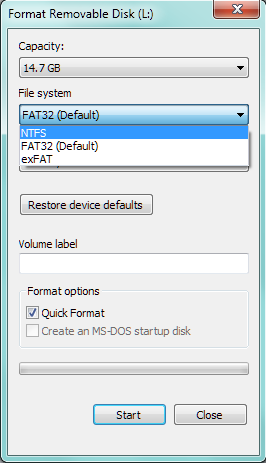 Repair damaged sd card by formatting
If this above formatting does not work for your memory card, try low formatting it if the previous repairing like the cmd, chkdsk or the repair tools did not work either.
Tool #7 - Repair sd card with low level format tool
As some cameras provide low level format, you may directly get it formatted inside of the camera, and if it does not work, you may download third party low level format utility to get it done.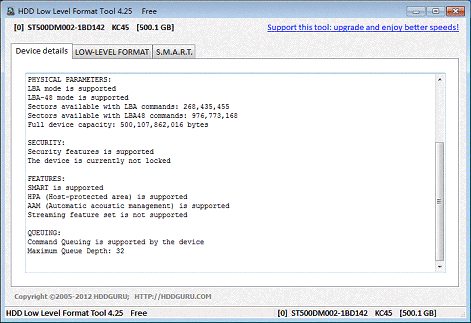 Tool #8 - Repair memory card with Rufus
Rufus is a free format utility that could fix memory card errors by formatting it brand new again.
Rufus download url: https://github.com/pbatard/rufus/releases/download/v3.11/rufus-3.11.exe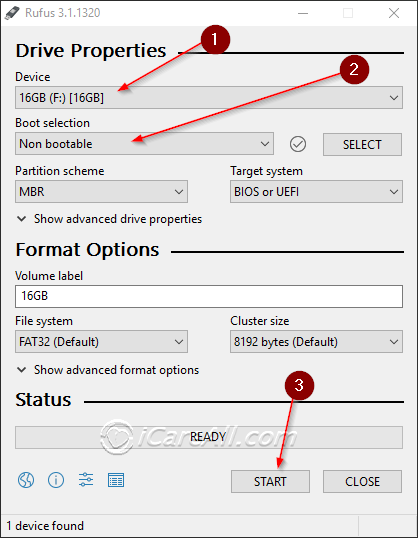 Rufus to format damaged memory card
Also read: 8 best tools to format sd card
4 SD Card Online Repair with Android Phone
If you have got no computer but just an Android mobile, here are some possible ways and tricks that you may try them on Android when you need some sd card repair apk hoping to find such repair app on Android to repair damaged sd card. Note: please backup sd card data at first.
Erase the sd card with phone storage
Pull the sd card out and then insert it back after you powered the phone off
Unmount sd card, and then reload it
Clean the memory card with some soft stuff to make the chips clean and spotless
Try factory restting the phone when everything was backup safely (please backup contact list, chat history, sms...)
Also read: More methods to repair sd card on phone
SD Card Not Working Cannot Be Repaired SD Dying
When the sd memory card could no longer be repaired by the above methods, here are more ways that worth a trial.
Ask a local digital media repair center or service center for help
Buy a new memory card
Best Samsung SD Card
Buying a good SD card sometimes help decrease the chance of card damage. Samsung SD is manufactured by Samsung Electronic, so you can go to its flagship store to buy a genuine one. If you would like to buy a Samsung SD card online, you can go to amazon.com or other legal sites to buy one.
FAQs
???Is Kingston sd card repair tool the same as Sandisk sd card repair tool or Samsung sd card repair tool?
Mostly the memory card no matter sdhc, sdhx, microSD, compact flash card are no other much difference in use and damage. They are all sharing many same common errors and problems, so the free sd card repair tools offered on this page can be used for any memory card brands of different capacities ranging from 128MB to as much large as it could be, for example, 1TB memory card...
Last updated on June 11, 2021
Hot Articles