9 Best Free USB/Disk Formatting Software/Methods - tested
Last updated on Aug 30, 2021
These best free formatters work for all brands and types of usb flash drive, hard drive, memory card... You may use them to force format usb drive/disk/sd for free.
Format usb flash or memory card on MAC? Be free to visit: Top 3 free formatters for MAC; Flash drive corrupted? Try these usb repair utilities: 8 usb repair tools for Windows
Hard Disk Formatting Software to Format Hard Disk?
"Windows was not able to complete the format when I received drive not formatted error message and performed a chkdsk and it reported error'The type of file system is raw, chkdsk is not available for raw drives.' Can I format hard disk smoothly and also restore its common use. Thanks!"
"I am searching for best free drive formatting software to wipe everything stored inside before selling this drive online. Do you have any suggestion? Hope the suggested formatting software would help delete data permanently and any erased file will never be restored again. Thanks"
Hello, friends, are you looking for hard drive reformatting utility to fix hard drive problems or remove hard drive viruses, bad sectors and sensitive data, etc? OK! No worry! Here are several tested best hard drive formatting programs for you.

Note: Before any formatting, we would recommend you backup data from your media. If the device is no longer accessible, you may try this tool: how to recover data from not formatted drive/card

Free Disk Drive/Memory Card Data Recovery Tool

Free Download Tool to Recover Data from Damaged Media, inaccessible drive, not formatted disk/usb/memory card.
Tested 5 Best Free Hard Drive/USB/SD Formatting Tool
Here are several common and useful free hard disk formatting utilities for you:
1). HP USB Disk Storage Format tool
HP USB Disk Storage Format Tool is really a free disk formatting tool which allows people to easily and quickly format a USB flash drive to FAT32, exFAT or NTFS file system. And it can work flawlessly even when Windows was unable to complete the format when your usb pen drive turned raw format.
MUST READ: * It needs you to run it under "Administator"
With this software, if necessary, you can also make a bootable USB drive by choosing its "Create a DOS startup disk" option.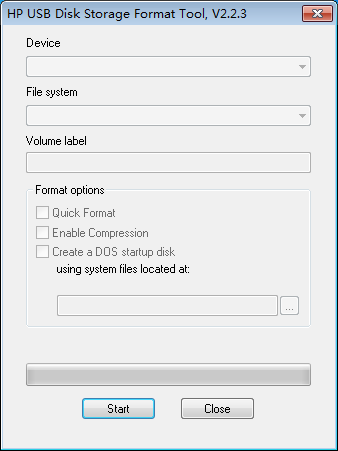 Pros:
*It is completely free and easy to grasp and use.
*It works well in formatting USB drive into FAT32, FAT or NTFS.
*It is portable and could be installed on a flash drive to be used on different PCs.
*It allows people to "Create a DOS startup disk" to help boot up a computer from USB flash drive.
*It supports common Windows operating systems.
Cons:
* It works well on USB flash drive and does not recognize internal hard drives and partitions.
* It needs you to run it under "Administator"
Also read: HP USB Disk Storage Format Tool Review and Error Fixing
2). IM-Magic Partition Resizer Free
As a disk formatting tool, Partition Resizer Free Edition also allows people to format the selected hard drive or partition into FAT32/ntfs for free. As a partition managing program, this software also help format, create, wipe, delete, resize, hide and manage partitions effectively for you.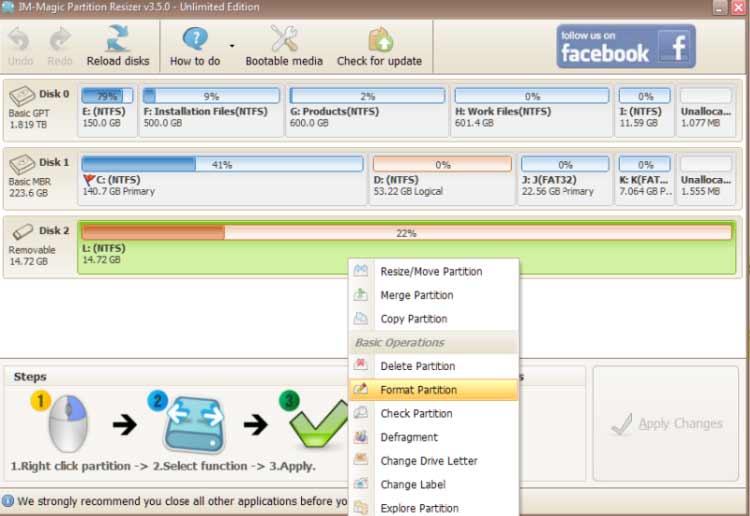 Free USB/Disk Formatter

Download IM-Magic Partition Resizer Free Edition to format disk/usb/memory card totally free of charge.
Format, repair bad blocks totally free of charge.
Must have: it has 'Check Partition' function to check and repair possible errors for your digital devices.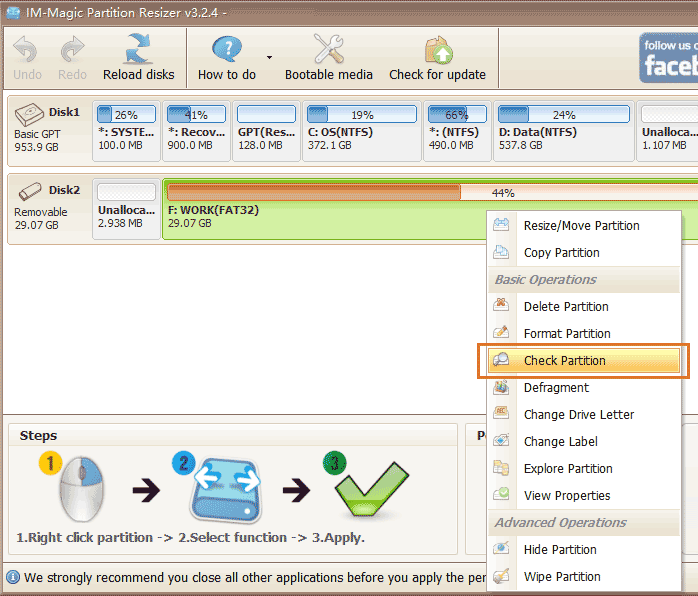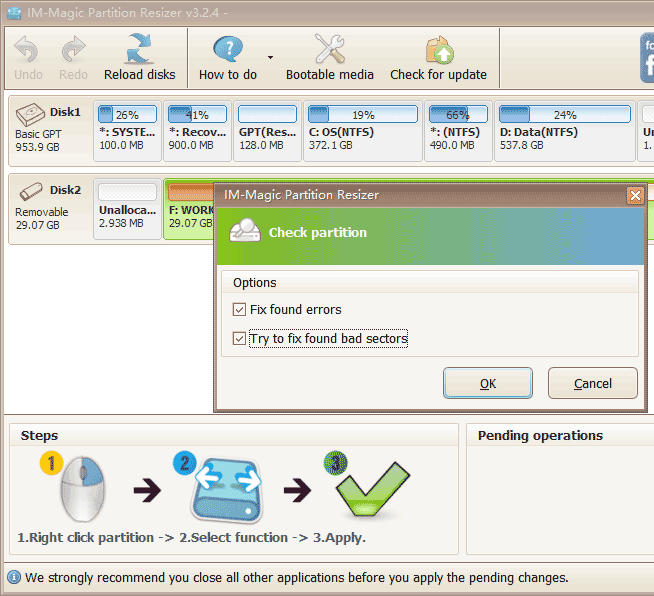 Pros:
*The home edition is free and easy.
*It helps format hard drive or partition into FAT32 as you wish.
*It also help format, wipe, delete, resize, hide and manage computer internal hard drive partitions well.
*A tutorial video will also be automatically popped out and lead you to this software step by step.
*It supports the latest Windows 10/8/7 Vista and XP.
Cons:
*This home edition is free for personal use.
Note: this freeware also provides bootable iso version that you may format disk/usb under WinPE.
Read more details: Partition software bootable iso download
3). Rufus - format device that cannot be formatted
Rufus is an easy to use freeware that is able to format media which cannot be formatted in regular ways.
Rufus download url: https://github.com/pbatard/rufus/releases/download/v3.11/rufus-3.11.exe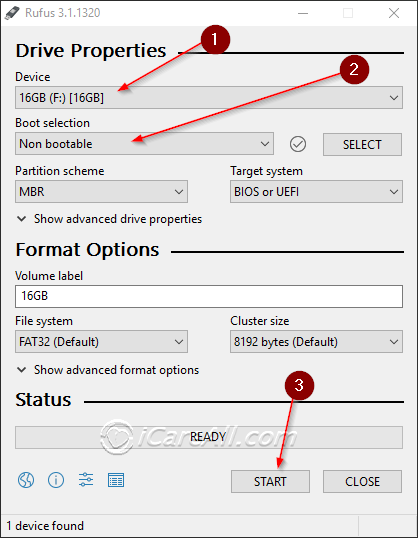 Also read: how to format sd card that cannot be formatted, or format usb drive that won't format
4). HDD Low Level Format Tool
HDD Low Level Format Tool is also another completely free disk formatting utility and allows people to easily format internal and external hard disk. With a Low-level format function, it often helps users format a hard drive completely and leave no original drive data there as well as removing some basic hard drive problems.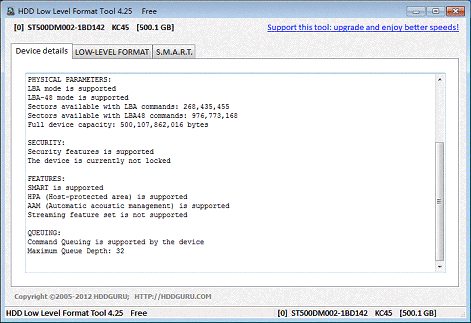 Pros:
*It is free and user-friendly.
*It support not only external hard drives, and also reads internal hard drives.
*It also offers a low-level format option to help users completely format hard drive and also ease everything inside drive.
*It also supports external memory cards, like SD, MMC, memory stick, CF card and more.
Cons:
*Pay $3.30 to upgrade this free tool to get faster speed and free lifetime updates.
*It recognizes the internal hard drive as one, not separated partitions.
*The speed of this free version is capped at 180GB per hour which is 50MB/s.
5). USB Disk Storage Format Tool
As the second disk formatting tool tested and listed here, USB disk storage format tool is also 100% freeware and allows people to completely format any USB flash drive or memory card with FAT, FAT32, exFAT and NTFS file system formats.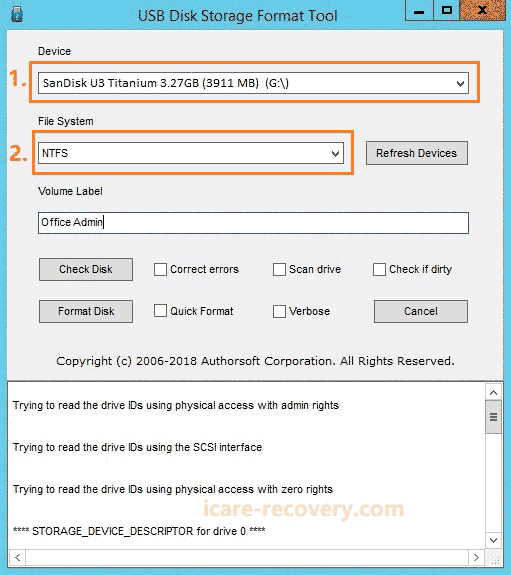 Pros:
*It is free, fast and safe to format a flash drive or memory card.
*It supports all USB flash drives and memory card, like pen drive, thumb drive, CF, SD, Micro SD, TF, SDXC, SDHC memory card and more storage devices with different bands.
*It supports USB drive and memory card with FAT, FAT32, exFAT and NTFS file system types.
*It helps formatting storage device and also removes all stored videos, music and files completely. 
Cons:
*It also does not read any internal hard disk and partition.
*Upgrade software to pro version to get more features, like creating bootable USB disk, formatting USB disk not recognized by Windows, doing a low-level format or adjusting cluster size for USB disk for faster speed, etc.
*It supports FAT, FAT32, exFAT and NTFS file system types only.
6). Tokiwa FAT32 Formatter
Tokiwa FAT32 Formatter is also a free disk formatting program which also helps everyone format hard disk and partition into FAT32 for free. With an easy-to-use interface, this software is also able to help delete or initialize a drive or partition smoothly.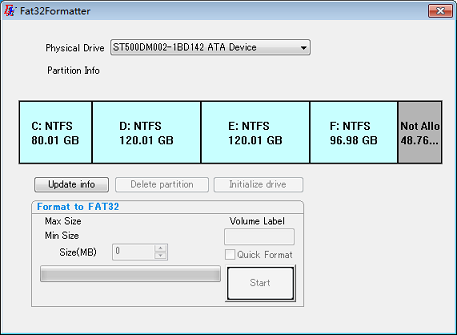 Pro:
*It is free and easy to grasp.
*It allows users to delete or initialize hard drive partitions with simple clicks.
*It also reads all computer internal hard drives as separated partitions.
*It also allows user to format drive or partition into FAT32
Cons: 
*It is able to format only unallocated space into FAT32 file system type.
*It only allows people to format hard drive or partition into FAT32.
*It supports Windows XP/Vista /2000 /7 only.
Free usb/disk formatting without software
Here are also some free methods that are available for you to operate hard drive formatting or usb format without any software under Windows.
Tool #6: format by right click the disk drive, pen drive or sd card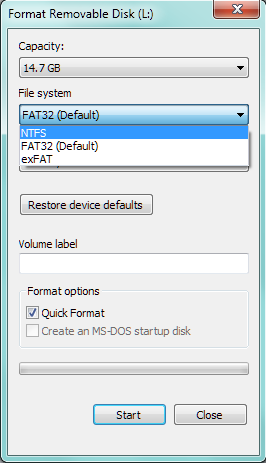 Tool #7: Format under PC Disk Management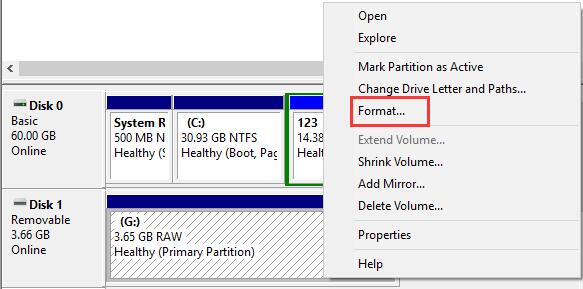 Tool #8: format with cmd, it works when Windows was unable to complete the format
Step 1: open cmd by typing "cmd" or "diskpart" in "Search Programs and Files" under Windows start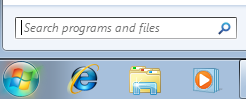 Step 2: type the letters inside of the quote "format F: /fs:fat32" and enter. F must be replaced by the drive you want to format.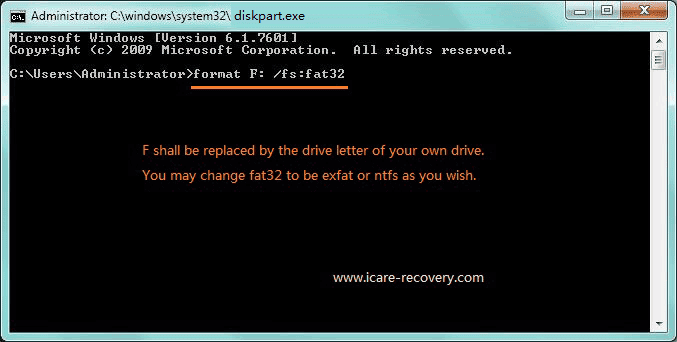 If you want to know more solution about why and what to do when Windows was unable to complete the format, you may read this article: Windows failed to format
Or you may see the following video to get a quick fix when it is unable to format your drive/card.
Note: when your flash drive or hard disk is damaged, be free to try these 8 free usb drive repair software for free repairing.
Remove Sensitive Data on Hard Disk/USB Flash by freeware Partition Resizer Free
Some users want to download disk formatting programs with the purpose of removing personal information on their storage media that they do not want to share any byte of the confidential data with another one.
In case of removing sensitive data with the usb format tools, we would recommend this freeware - Partition Resizer Free to you since it is built with a function - 'Wipe Partition' that could wipe the whole disk or usb by writing 0 or 1 into the disk, which makes the old data to be completely overwritten and can not be restored by any data recovery programs.
Step 1: Download and install Partition Resizer Free and get the usb/card to your PC if you want to remove an external device.
Step 2: Launch Partition Resizer Free and then right click the media you want to remove its privacy.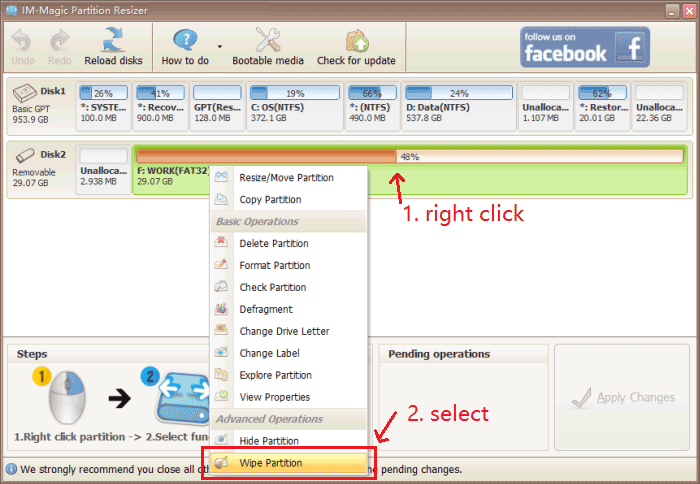 Step 3: Choose a wiping method. Time consumption depends on how much data on your media. Usually 120GB data would take about 10 minutes.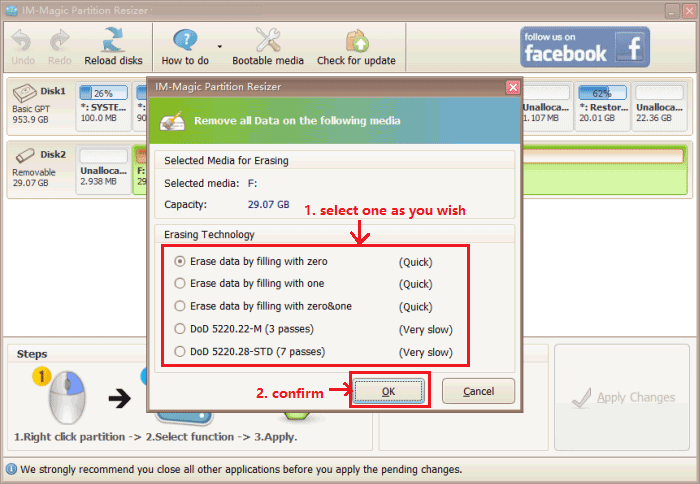 Conclusion:
No matter why you have to format a hard drive or memory card, there are always five common ways for you to choose, like formatting it in My Computer, performing a formatting process in Disk Management, formatting a hard drive with common line, doing a formatting process with drive partition managing software or disk formatting software. And No matter which way you choose at last, hope you can extract and save important data backups well in advance to avoid any unexpected data loss troubles.
Other articles that you may want to read
Hot Articles