SD Card FAT32 Formatter to Format SD Card FAT32 On Windows/Mac and Android Phone (32GB/64GB/128GB/256GB etc.) - 4 ways
Format sd card fat32 on mac? Try this SD card formatter mac
Background
New TF/SD card not recognized by mobile phone? Since some mobile phone only reads fat32 media instead of exfat memory card which mostly applied exfat when its capacity is larger than 32GB, users may want to know how to change the 64/128/256GB memory card to fat32.
There are many chances that a memory card may require fat32 conversion. As many memory cards are set to be exfat file system by the manufacturers when memory cards are over 32GB. Is it safe to change a 64GB sd card to fat32 without losing data? How about changing the 128GB memory card fat32? 256GB sd/microSD fat32 formatting? Or something else may get you do a fat32 memory card converting?
Tips, if your memory card is damaged, unreadable, you may get it repaired here: 7 free tools to repair damaged sd card
This article includes the following parts
Top 4 Ways to Format SD Card FAT32 on Windows 10
Important Notice: Formatting/Erasing sd card to fat32 would erase the data inside of the memory card, you need to move your data to somewhere else before all the following changes.
SD Card not accessible? Recover data from sd card before formatting with iCare Pro Free.
Tool 1 - Windows Disk Management (Windows 11/10/8/7)
Here in this part, we would show you how to format memory card fat32 by Disk Management.
Preparations: Connect your memory card to your computer (Better with a card reader), Open Disk Management by the following steps:
Right click 'This PC' -> 'Manage' -> 'Disk Management', and it would show up like this.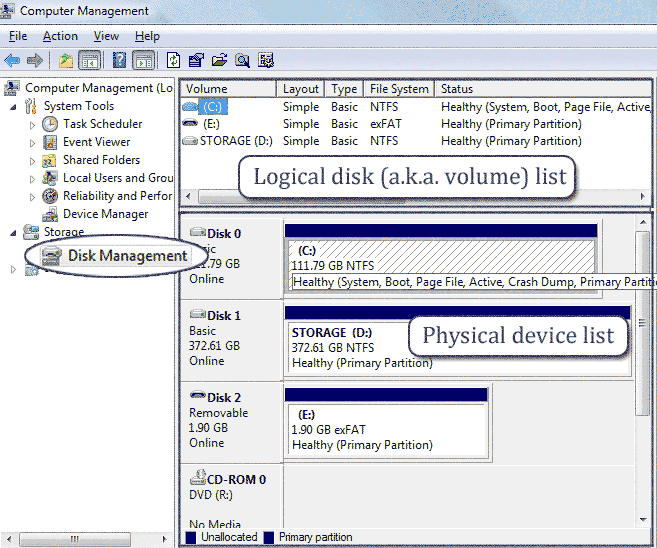 Open Disk Management
Step 1 - Right click your media under Disk Management -> Format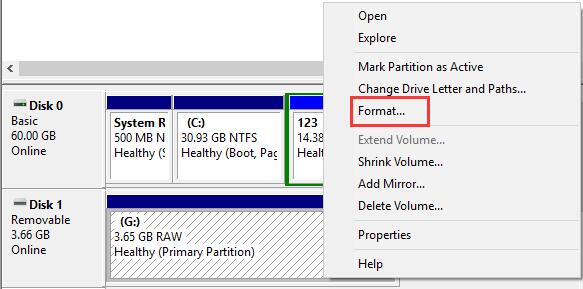 Format sd tf card under Disk Management
Step 2 - Set the file system to FAT32 as you wish for your memory card in the following photo.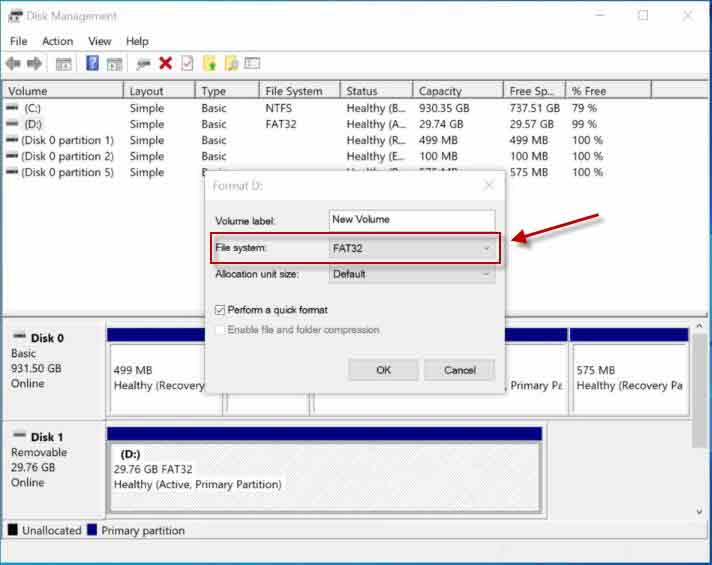 Format sd card fat32 under Disk Management
If the sd card cannot be formatted to fat32, you may firstly delete the volume of your sd card in the Disk Management, and then create new volume and set it to be fat32.
Tool 2 - Format sd card fat32 by right click format in Windows
This is the simpliest work that could be as easy as you start you computer. And here it comes the steps.
Connect sd to computer ->Double clicking 'This PC' ->Right click sd card, 'Format' -> Set it to fat32 in file system -> 'Start'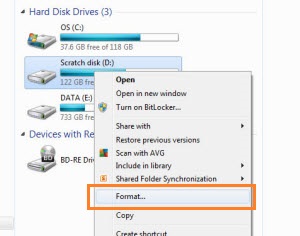 Right click memory card - Format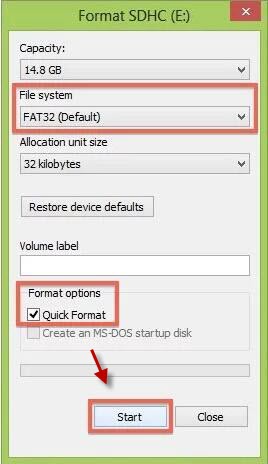 Quick format sd card (Quick Format is optional in this step)
Tool 3 - Diskpart CMD to Format sd card fat32

(Even damaged SD Card in RAW File System)

Here in this step comes with Windows built-in utlitiy Diskpart that could convert sd/tf card from whatever the file system was before, including the damaged raw file system to be a fat32.

How could you tell whether the memory card is damaged?
It is showing used space '0 bytes' in property with file system RAW
It would report error 'The disk in drive * is not formatted, do you want to format it now'
Or it also works when your memory card is in total good condition and you just bought it for device which could not read its filesystem. No matter whether the sd/tf card is in healthy state, you may get it formatted to fat32 using Windows command prompt with the following steps.
Preparations: Insert your sd/tf/cf card to Windows 11/10/8/7 with a card reader or your device and then launch cmd by using Windows icon + R on your keyboard, type 'diskpart' and enter to launch cmd diskpart.
Steps to format sd card fat32 using cmd from file system exfat/ntfs/fat/raw
This guide applies to memory card of any files system, FAT, EXFAT, NTFS, OR RAW FILE SYSTEM.
1, Type 'list volume' and enter
2, Type 'select volume *' and enter (replace * with your own sd card drive letter that shows in your computer)
3, Type 'format fs=fat32 quick' and enter
4, Type 'exit' and enter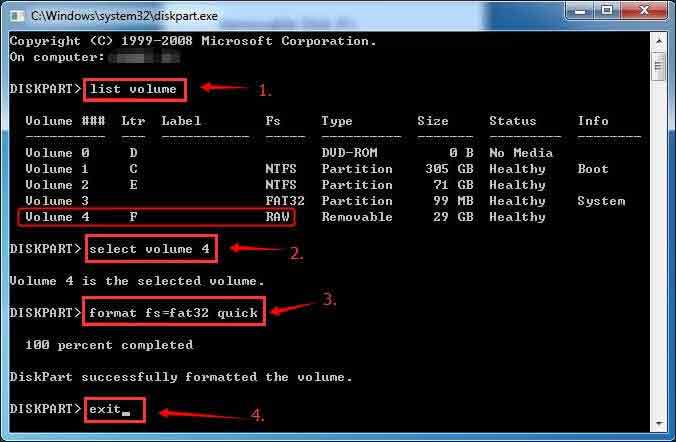 Quick format sd card using cmd diskpart
Tool 4 - Change SD Card FAT32 by HP USB Disk Storage Format Tool
FAT32 is provided as a file system in HP USB Disk Storage Format Tool, which is easy to use that the interface resembles the Windows right click media quick format option.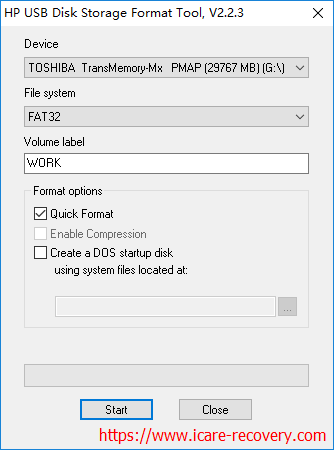 Format sd tf card by HP USB Disk Storage Format Tool
Also read: HP USB Disk Storage Format Tool User Guide, Review and Error Fixings
More tools to format memory card? Here is an option: 8 Free tools to format memory card
Unable to Format SD Card FAT32 Causes and Fixing
There are many factors that may lead to a sd card format failure.
SD card is write protected. (Can be fixed), See how to remove write protected sd card
SD card is set read-only. (Can be fixed), See how to remove read only attribution
SD card has bad sectors
SD card has raw file system => fix raw sd card
The last two errors(bad sectors, raw sd card) could be fixed here: how to repair damaged memory card
There is one dilemma that you need to know, when your memory card cannot be formatted, it may come to its end of life.
We would recommend you watch the following video when memory card cannot be formatted in Windows.
Freeware to Convert SD Card FAT32 on Mac
If you are converting the sd card on a Macbook or Mac machine, you may use freeware provided by Mac called Disk Utility to get the sd/tf converted to fat32.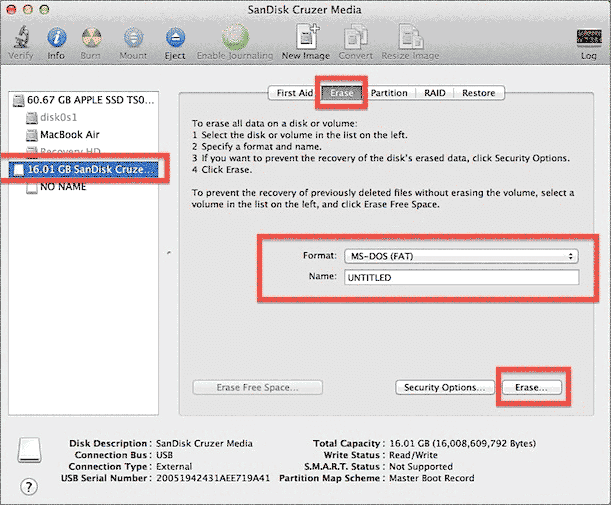 Disk Utility to format memory card fat32
Steps to Format SD Card FAT32 on MAC
Open Disk Utility, which can be found in Applications -> Utility
View -> Show all devices
Select the one you want to erase/format, and then click the Erase button. (The same function that is to perform the function of 'Format')
Select file system -> MS-DOS(FAT), which represents FAT32 in MAC
Erase
Also read: 3 free tools to format fat32 on MAC
How to format sd card to fat32 on Android
Is it possible to format sd card fat32 on Android mobile phone? It's simple and easy that could be operated inside of your cellphone to get the memory card formatted when the memory card was FAT32 before the format that only to do a reformatting.
Recommend: How to format sd card on Android phone (The file system remains no change.)
If you are wondering is it possible to change sd card file system on Android? You should know the answer is the following.
NO! If the file system of your memory card was not fat32 and you wanted to change it to fat32 on mobile, the answer would be NO!
Solution: Fomat memory card fat32 in Windows 11/10/8/7 or MAC if you want to change its file system.
New 32GB exfat sd/TF card not recognized in Phone
You may want to know how to fix 32/64/128/256GB SD/TF card not recognized by Android phone like SAMSUNG, HUAWEI, HTC etc., the truth is the memory card which is over 32gb was set to exfat file system that could not be detected/read by many mobile phones.
This could easily be fixed if you change its file system from exfat to fat32, then your mobile would read it without problem.
Other FAQs
Question: Can I format 64gb sd card to fat32 free?
Answer: Yes, you may use free sd card fat32 formatter mentioned above to get your memory card formatted to fat32 for free.
The above sd card formatters may format 128gb sd card fat32, format 256gb sd card to fat32, ie it is regardless of the memory card capacity.
Question: Format 128GB SD card FAT32
You may use free format tool IM-Magic Partition Resizer to format sd card 128gb to fat32 file system.
Last updated on June 8, 2022
Hot Articles