Pendrive/usb flash memory not recognized/detected in Windows 7/8/8.1/10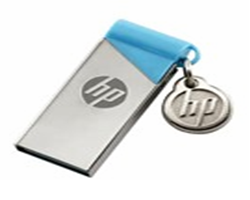 Last updated on 20/04/2017
How to fix/restore data/information/files from USB device/pen drive/thumb drive if it is not detected/recognized/showing/opening/visible in Windows 7/8/8.1/10/disk management?
Solution: Use a reliable data repair tool to solve quickly
iCare Data Recovery Pro Free Edition is helpful when you want to repair/fix pen stick/flash memory invisible/inaccessible/unreadable problem without losing data in Windows PC.

>>Quick Solution for Unrecognized Pen Drive Fix
Download iCare Data Recovery Pro to repair data from pen drive which is not recognized by any computer. Fix the problem with all data back.
Solution for Undetected Pen Drive Data Restoration
You still have chance to recover files even when pen drive is undetected on PC. What you should do is to make sure that the pen drive is not physically damaged and stop using the pen drive. As long as the pen drive is not physically damaged and you have not written any new file to the pen drive, try iCare Data Recoverysoftware to repair files from an unrecognized pen drive. The pen drive data recovery software can deep scan thepen drive and help get back any type of lost files. This tool supports all brands of pen drive including SanDisk, Samsung, Sony, Lexar and more to recover lost photos, videos, music, etc.
Video Tutorial: how to recover pen drive USB not recognized in windows
Steps to Restore Files from Undetected Pen Drive

Step1. the pen drive to computer. Install iCare Data Recovery software. Choose a recovery module.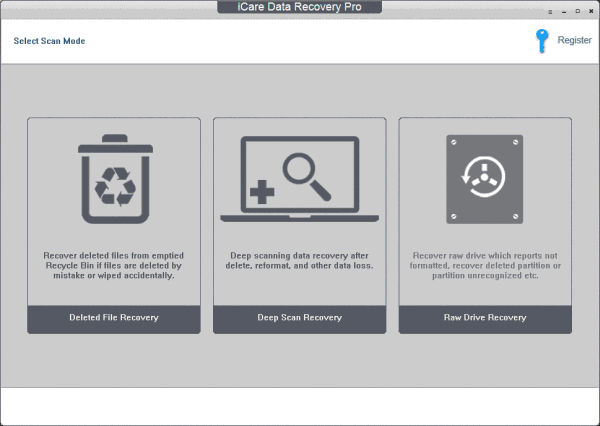 Step2. Choose the device to scan.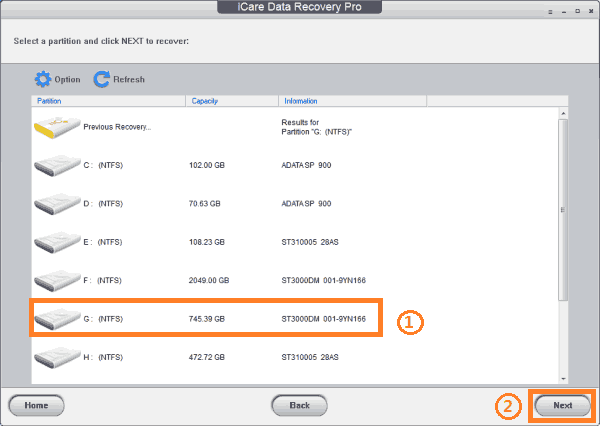 Step3. preview found files and select needed files to recover.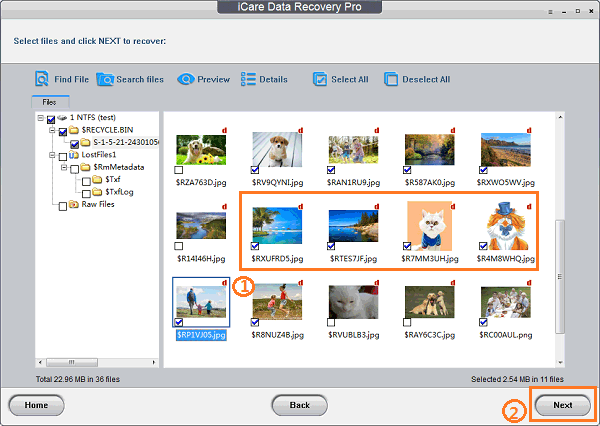 How to Recover RAW Pen Drive Not Readable?
Sometimes, when you insert your pen drive to computer, system can recognize the pen drive normally. However, the problem is that the pen drive is showing RAW file system and requires formatting. When you want to open the pen drive, it will be not readable. Do not rush to format the pen drive. First of all, you should run the data recovery software to restore files from the unreadable pendrive. After data recovery, you format the pen drive and recover RAW file system.
Fix Pen Drive Corrupted with Virus
When a pen drive is infected with virus, it might become unrecognized or unreadable. Virus infection can corrupt pen drive or erase files stored on the pen drive. Usually, you can run anti-virus software to remove virus, but you had better run data recovery software first of all before running any antivirus software. Sometimes, antivirus software might remove files from your pen drive and make them unrecoverable. Therefore, it is strongly recommended you to perform corrupted pen drive data recovery at first before removing virus.
How to Get Corrupted Data off Pen Drive When It Does Not Show up?
When a pen drive is undetected on My Computer after connecting to your computer, probably the files stored on the drive are corrupted. Try iCare Data Recovery software to recover files off unrecognized pen drive, but remember the data recovery software is read-only tool which helps restore files without modifying any information on the pen drive. In the other words, if the files are corrupted, the recovered files might be also corrupted.
You may try to insert the pen drive to another computer to see if it can be recognized. If pen drive is still not recognized, the most important thing is to extract all precious data from the unrecognized pen drive with iCare Data Recovery. After recovering everything you need, you can try any method you know to fix the issues to make the pen drive work normally again.
>> Download the data repair program  now and run it to scan unrecognized pen drive for inaccesible data recovery.

Related case
"My pen drive is corrupted because it does not work when I insert it to my computer under Windows 7 operating system. At beginning, the pen drive is showing as a RAW drive and asking for format. Since I cannot format it, I remove the pen drive and reinsert it to my computer, but the system cannot recognize the pen drive anymore. I have tried several times to reinsert the pen drive to my computer again and again, but it cannot be detected by system. How can I recover files from an unrecognized pen drive? Is there any way to repair the corrupted pen stick?"
---
Related Articles