RAW RAID Volume Recovery - RAID Disk RAW File System
You can combine two or more physical hard drives together to create a logical hard drive. We usually call it RAID array. A RAID array works similarly as physical hard drive, but it provides more efficient and safer way to store data. On a RAID array like RAID 5, when one hard drive failed, there is no influence on data stored on the rest hard drives.
However, data stored on the failed hard drive will get lost. Do you know how to recover data from a RAW RAID volume when disk such as raid 5 volume has raw file system? Do not worry! Today, this article will tell solution for RAID data recovery when it shows RAW file system on disk drive.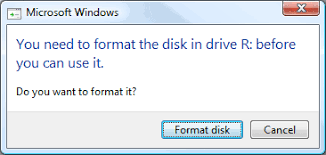 Media raw needs formatting when you try to access the drive.
Video - fix raw disk error
RAW RAID Volume Data Recovery Software Download
Truthfully, data recovery software is needed in order to recover data when RAID hard drive turns to RAW file system. When you find that you cannot access the RAW drive, you can use iCare Data Recovery Pro to extract all files from the inaccessible drive without rebuilding RAID array. This software supports all RAID array including RAID 0, 1, 2, 3, 4, 5 and more. You can free download this software and install it on Windows computer like Windows XP, Vista, 7, 8, 10 to perform lost file recovery when you receive RAW format error on RAID array hard drive. Usually, this data recovery software helps recover different kinds of files such as photos, videos, music, documents, etc from any brand of hard drive.
Steps to Recover Files off RAW RAID Drive
Preparation: Free download and install iCare Data Recovery on a Windows computer. Please do not install the software on the RAID drive which shows RAW file system.
Step1. When you enter the main interface of the software, you should select a proper scan mode.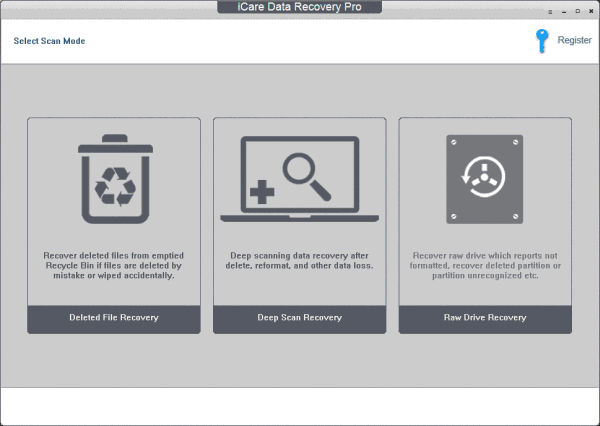 Step2. Choose the drive which has RAW file system and then wait patiently when the software is scanning to search lost files.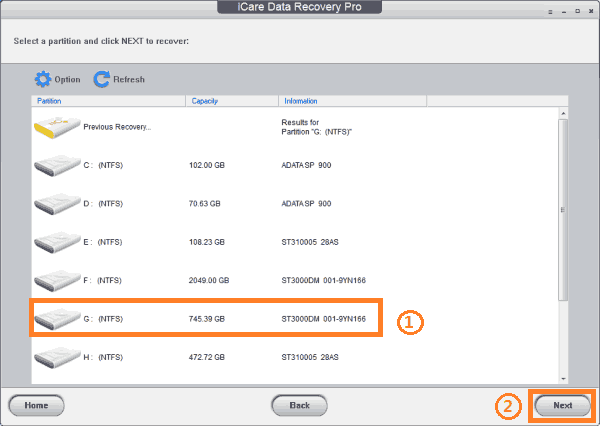 Step3. Preview files after scanning and then you can save the lost files to another drive.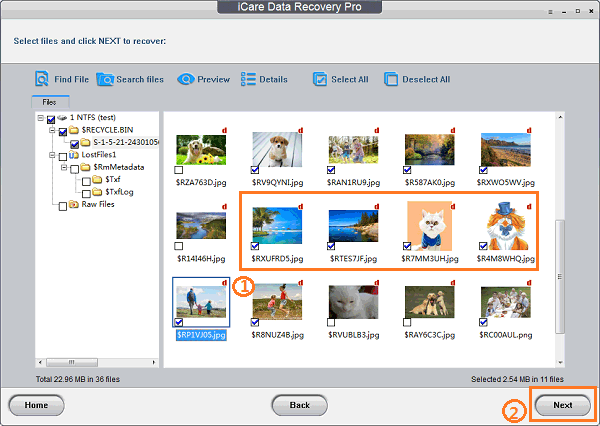 Causes for RAID Drive RAW Error
RAW drive is a problem that usually occurs on any storage media including memory card, flash drive, external hard drive and RAID hard drive and more. Everything occurs due to some reasons, while the causes for RAID drive RAW problem might be:
The format for RAID drive is not completed. Probably, you mistakenly click Format option on the RAID drive. When you realize the mistake, you click Cancel button before the formatting is completed. In this situation, when you double click the drive again, your may receive message like disk drive is not formatted do you want to format it now and the file system of the RAID drive will turn to RAW format.
RAID hard drive is corrupted due to virus infection. If the drive is infected with virus, it might corrupt the file system of the drive, in which situation RAID hard drive may show RAW file system and become not accessible.
There are bad sectors on one or more hard drives which is (are) used to crate the RAID array. If a hard drive has any bad sector and files are right stored on the bad sectors, the RAID drive might report RAW format error too.
What mentioned above are the most common reasons that might result in RAID volume RAW format problem, in which situations you can use iCare Data Recovery to get back inaccessible data.
CHKDSK Is Not Available for RAW Drives in RAID Array
When you find that disk drive shows RAW error in RAID array, it may give you some related information, such as:
The type of file system is RAW
You need to format disk drive before you can use it (Or disk drive is not formatted do you want to format it now)
RAID drive is not accessible, showing 0 byte space and RAW
Cannot run CHKDSK.exe…
iCare Data Recovery is able to recover inaccessible files when you receive the similar message above and cannot access any data from the RAID drive.
==>> Related Article: Windows reports it was not available for RAW drives>>
Convert RAID Partition RAW to NTFS
Formatting request appeared when you get RAW drive error message on the RAID drive? Well, you need to format the RAW drive if you want to change RAW file system to NTFS/convert raw to fat32 without losing data and make the drive accessible again.
Formatting is a process to converting the RAID drive from RAW to NTFS and erase all previous data from the drive, so it is highly recommended to get back all inaccessible files first before formatting it. You can save data to this RAID drive again after formatting is successfully. Therefore, when hard drive shows RAW fie system and asks to be formatted in RAID, you just need to format it after data recovery without rebuilding the array.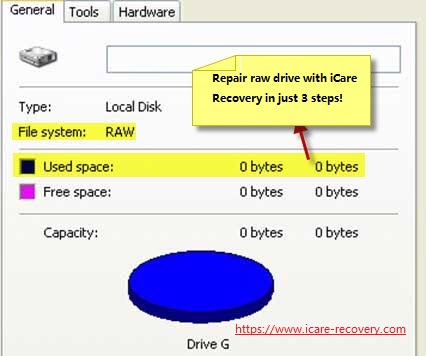 DISK file sytem raw unreadable
RAID Volume Recovery without Rebuilding Array When It Needs to Format
There are differences among different RAID array, but it is the same to recover data when any RAID array shows disk drive needs to be formatted. iCare Data Recovery enables you to restore data from any RAID array without asking you to rebuild the array. This data recovery software provides easy solution for disk drive data recovery in RAID array, so you do not need to worry that you have no experience or skill.
Can You Format RAID Drive When It Says Not Formatted?
Are you wondering if you can format hard drive when RAID array says not formatted error and does not allow you to access any data? Well, you can format disk drive when you have restored all inaccessible data.
Usually, you can full format the disk drive in RAID array if you want to mark possible bad sectors if the hard drive contains any bad sector. Of course, you can also quick format disk drive to simply fix the not formatted error. Sometimes, you may find that you cannot complete the format.
If you face the similar problem, you can try to rebuild the RAID array to fix the problem. You had better run Windows built-in Error-checking tool to check whether the hard drive contains any bad sector before rebuilding the array.
---
Last updated on Nov 01, 2022
Related Articles