External Hard Disk Data Recovery Software - Recover files from HDD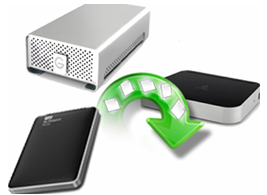 Last updated on 17/01/2017
Here are some common problems that you need to restore disk data:
Recovering data from external hard disk HDD is possible with iCare Data Recovery Pro. Many people use external disk as a backup media that could save many important photos, video files and other important data. However the external hard disk HDD may run into various kinds of problems that put your data into risk that you could no longer access the data. Then you need an external hard disk recovery - file rescue software that could bring lost data back to you when your media has lost data due to various kinds of cases.
Sometimes, you may meet the similar problem on a USB pen drive. If pen drive is not readable due to RAW not formatted error or other reasons, you can also use the software below to get back lost files.

>>Quick Solution for External HDD Disk Data Recovery
Download iCare Data Recovery Pro to recover deleted or lost files from external hard disk drive after formatting, deleting or not formatted error, RAW file system and more.
Real User's Feedback after Using iCare Data Recovery Pro for External HDD Recovery

More feedback from real users...
Video Tutorial: how to use iCare Data Recovery for file rescue
How to Recover Data from External Hard Disk HDD
Step1. Connect your external hard disk to PC and free download iCare Data Recovery on your computer. Install, run the software and choose a proper recovery option.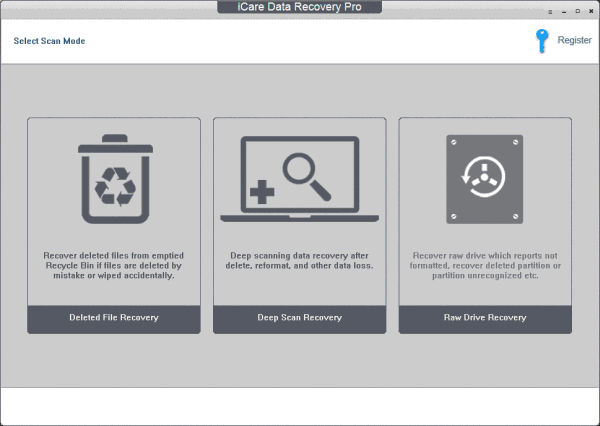 Step2. Choose the external hard disk partition and then the software will scan the selected partition for lost files.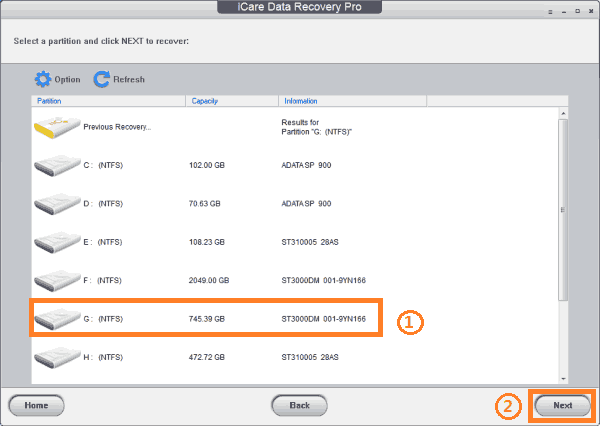 Step3. Preview the files after scanning. Then, you can select and restore the files you lost from the external hard disk.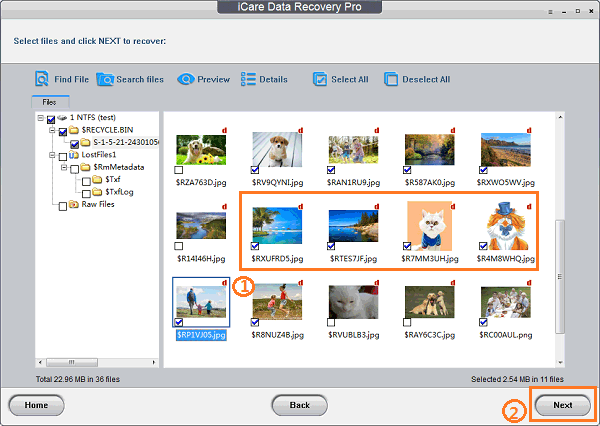 External hard disk is different from hard disk because it works as an external device to store or transfer data. You don't need to install external hard disk to your computer but you only need to connect it to your computer through a USB cable to write or transfer a large amount of data, so people consider external hard disk as a convenient and large device for data storage and transferring. Along with more and more people like to use external hard disk due to its convenience and large capacities, they also find an unavoidable problem on external hard disk – data loss.
All Possible Situations that needs External Hard Disk Data Recovery
What mentioned above are the most common causes for external hard disk data loss, among which external hard disk error is often the most annoying situation. Below are some possible reasons for external hard disk error:
1. External Drive Format or Deleted File Recovery Attention:
After formatting an external hard disk or deleting files from the external disk, the files will be erased from partition table and the external disk space will become available. In order to recover all lost files due to formatting or deleting, it is strongly recommended you not to write new data to the external hard disk where data got lost.
2. External Hard Disk RAW Recovery Attention:
When your external hard disk is not accessible due to not formatted error, RAW file system, bad sectors or other reasons, you may want to try anything you can do to improve the current situation. However, anything you try to improve the situation might make the situation even worse. For instance, you may want to format the external hard disk to change its file system from RAW to NTFS or FAT32, but what is worse, all data is lost after formatting. In order to prevent you from running into such a terrible situation, we advise you to get back lost data first before you can repair the problem on your external hard disk.
Recover data from external hard disk hdd drive after it crashed damaged corrupted
If you cannot afford to lose any data from your external hard disk, you can employ iCare Data Recovery Pro which provides useful solution to solve your problem like external hard disk format recovery, external hard disk deleted file recovery, external hard disk not formatted or external hard disk RAW file system, etc. As a data recovery tool, iCare Data Recovery Pro is even able to recover files from external hard disk when it is not recognized or detected by computer. This data recovery software can quickly scan the external hard disk and get back lost files in batch, so it is an effective and efficient data recovery tool.
Recover Deleted Data off External HDD Using Command Line
Command Line is able to help delete files from an external hard drive or internal HDD on Windows, but it is able to recover deleted data with Command Prompt.
The similar data loss problem can also occur on micro SD card, in which situation you can also use iCare Data Recovery Pro to get back lost files. With this software, you can recover files from RAW micro SD card, recover formatted micro SD card data or deleted files.

Recover data now!
---
Resource
iCare Data Recovery Pro : Data recovery software for all external hard drive file recovery
Related Articles
Other Articles
External Related Resource