8 Ways to Fix Bad Sectors on Hard Drive, USB, SD Card
Content Navi
Bad sector chkdsk? Repair bad sectors on hard drive, usb drive using cmd chkdsk
Would low level format repair bad blocks on hard drive/usb/sd?
Logical bad sector vs physical bad sector
Fix Hard Drive/USB/SD Bad Sectors on Windows PC/MAC (5+ Ways)
There are several useful ways to repair bad sectors on a storage device such as hard disk drive, usb stick, memory card etc.
#1 - Windows Explorer Error-Checking Utility [easy&free]
Windows computer has built-in Error-checking tool to scan and repair bad sectors on media such as hard drive. You can follow the guide below to repair bad sectors: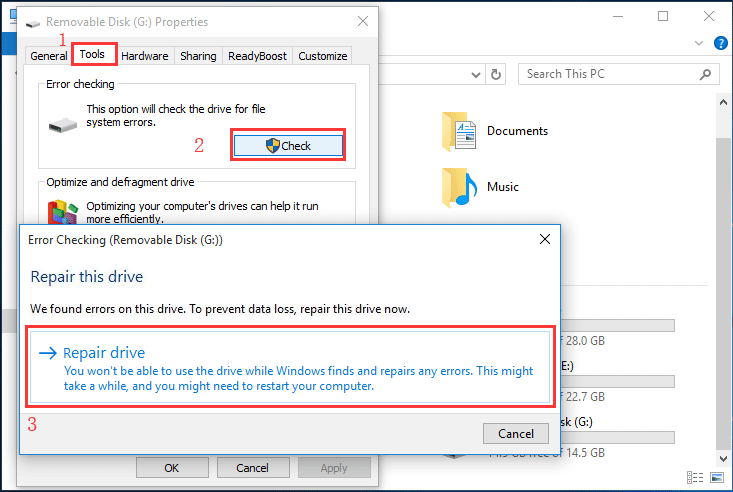 Step1. Double clicking This PC on desktop and you may see your storage media on Windows explorer.
Step2. Right click your hard drive or usb drive and then select Properties option.
Step3. Click Tools tab and click Check button in Error checking section.
Step4. Click Scan and repair drive and then wait patiently before it is completed.
1. You should close all programs and files before checking and repairing bad sectors, because it may fail to check and repair bad sectors if the sectors which are marked as bad are used by an open program or file.
2. You should wait patiently during scanning and repairing process. And do not close the disk bad blocks repairing when it's not finished.
#2 Fix Bad Sectors by Format [right click format, full format]
Reformat hard disk drive, usb flash stick is another easy and efficient way to repair the bad sectors besides Windows built-in error-checking tool. Here are the simple steps to get it done.
Insert your media to computer if it's the external drive that needs bad blocks repairing
Open it under 'This PC', right click your media in your computer
Select 'Format' option
DO NOT SELECT 'QUICK FORMAT' in format options, and then it would start to fix possible bad blocks on your storage disk.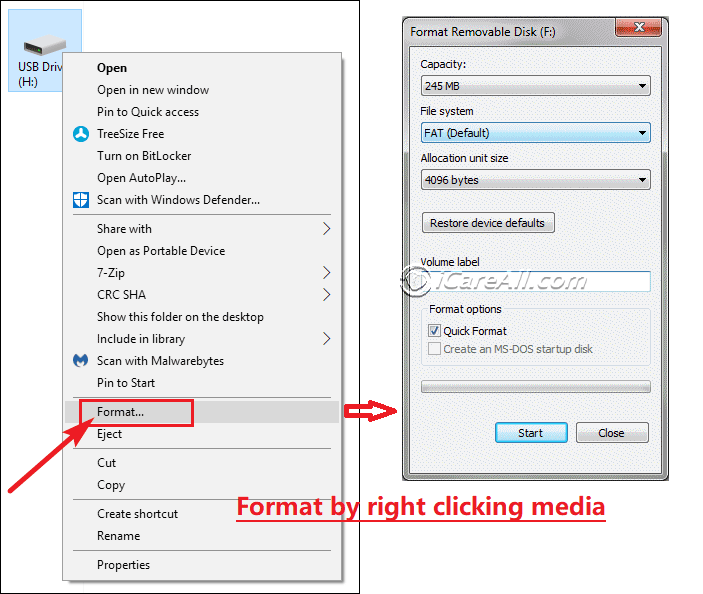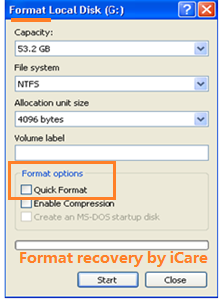 Note: The quick format option is to avoid marking the bad sectors in order to save time when formatting. Full format the hard drive can not only mark bad sectors, but also repair the bad blocks when you do not select the quick format box.
#3 Bad Sector Repair Tool on Windows 11/10/8/7 by Partition Resizer Free
There are several bad block repairing tools free, and IM-Magic Partition Resizer Free is just one of them that could repair bad sectors and regererate your hard drive, usb portable disk, usb flash drive or memory card for free.
Here are the steps to use Partition Resizer Free to check and repair bad blocks.
Insert your hdd or usb flash drive to computer if it's an external media
Download Partition Resizer Free, the free version and install it on your computer
Open Partition Resizer, and right click your media in this software -> 'CHECK PARTITION', which would start the journey.

Check both option items 'Fix found errors' and 'Try to fix found bad sectors' at this following window. And the software would start fixing bad blocks and possible errors if found by Partition Resizer Free.
#4 Repair bad blocks by USB Disk Format Tool
USB Disk Storage Format Tool provides a simple and easy to handle user interface that you may clearly see it has an option check box 'Correct errors' if you open the program.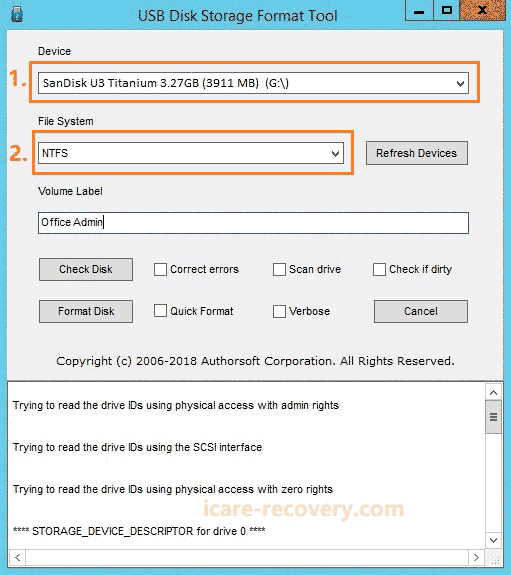 #5 Repair bad sectors on hard drive, usb drive using cmd chkdsk
CHKDSK has a command /r for repairing bad blocks on computer internal hard drive, external hard drive, pen drive or memory card if you ever doubt your storage media needs a bad block repairing or when your drive does not work properly.
CHKDSK is an advanced computing command line that are favored by professionals. Here are the steps to get it started.
Open cmd as administrator
Type 'chkdsk i: /f /r /x' when you need to fix disk volume i, which needs to be replaced by your own drive letter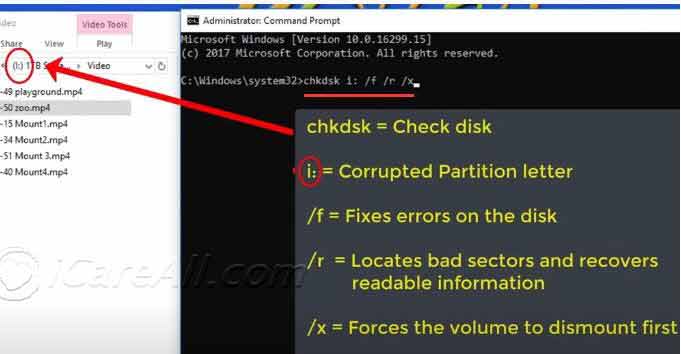 For example, if your drive E is corrupt or needs bad sector repairing, you need to use the command line 'chkdsk e: /f /r /x' and press enter.
Chkdsk is not available for raw drives? If you ever see this error message, it means your drive cannot be fixed by chkdsk, you may see solution here: how to fix chkdsk is not available for raw drives

>>Quick Solution for Data Recovery When HDD Has Bad Sectors
Download iCare Data Recovery Pro to recover files from hard disk drive, external hard drive, memory card, flash drive that contains bad sectors.
Part2 Fix Bad Sectors on Android Phone without PC
If there is just your mobile that you want to repair the sd card or usb drive on your phone without computer, you may go with erase sd card option on your mobile to get the memory card or usb drive formatted, which would repair errors on the storage media.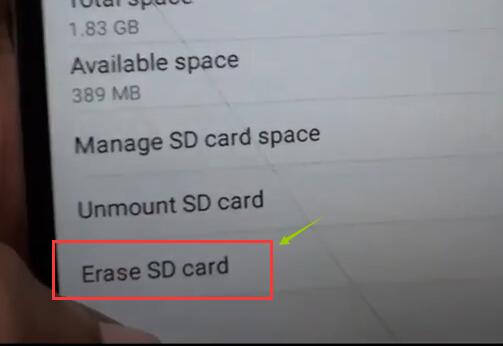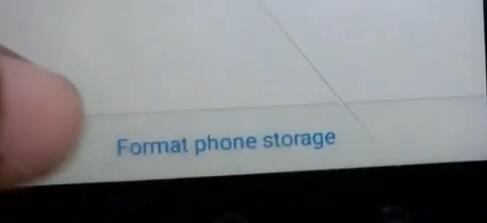 Also read: how to repair bad sector on sd card
Tip: if you want to repair bad blocks for usb flash drive, external usb disk using android phone, you need a OTG cable to get your usb stick connected to phone, and then format the usb on mobile.
Warning: Please backup all data on your sd card or usb drive before the above operations since it would erase all files.
Part3 Fix bad sectors on MAC
Mac Disk Utilities is free for repairing sd/usb/external usb disks on MAC. Here are the steps to repair bad blocks on MAC.
Insert your external hard drive to MAC, open Disk utilities and load the removable disk on the utility automatically
Get your external drive selected on the left panel, and then click 'First Aid' -> Repair Disk, and then it would automatically start repairing bad blocks on your external hdd, ssd on MAC.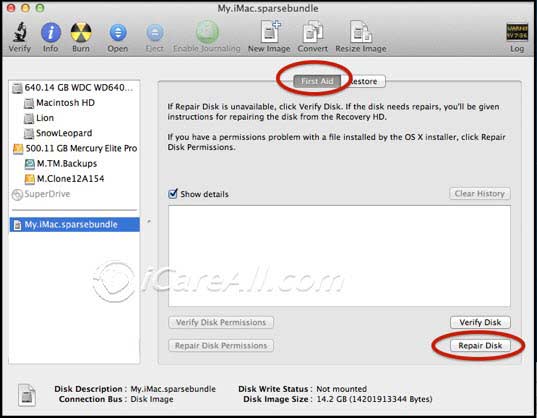 More methods? Read this: how to repair bad sectors on hard drive [free ways] or how to repair usb drive MAC
FAQs
Question: How to repair bad sectors on usb/sd/hdd with cmd chkdsk?
As an excellent bad sector repair tool, Chkdsk can remove bad blocks if you use the command line after openning cmd in admin mode "chkdsk i: /f /r /x", or you may simply go with "chkdsk i: /f /r" to fix a volume which has drive letter i. Here are the explanations for the command line.
chkdsk : the command to open chkdsk and use it
i: -> the target of chkdsk is i volume
/f -> fix errors on the drive i
/r -> mark bad sectors and repair it
Question: Can low level format repair bad blocks?
Well, technically, low level formatting would only regenerate the disk with new sectors to avoid the dead blocks instead of repairing them. The logical errors can be repaired, while the physical damages on bad blocks can no longer be fixed.
Warning: low level format is not harm-free, which would make some damages on your storage media everytime you use low level format until your storage media is totally dead.
ADVICE: FULL FORMAT(WITHOUT QUICK FORMAT SELECTED) WOULD USUALLY WORK ON REPAIRING DAMAGED DRIVES.
Question: What's the difference between logical bad blocks and physical bad blocks on hdd/usb/sd?
1. Physical bad sector is the bad blocks caused by the damage of hard disk disk itself. (Spots, physical damages...)
2. Logical bad sector refers to the logical errors caused by software failure, virus, fault operations, etc. on a regular disk block.
Also read: 8 free format tools to repair hdd/usb bad sectors
Signs That Hard Drive Has Bad Sectors
When a hard drive contains bad sectors, it means that the sections which have been marked as bad are damaged. Here are some signs telling a hard drive probably has bad sectors:
1. Hard drive frequently reports error message to say files are corrupted when you read some file or run a program. Or it takes a long time to read a file or run a program. Sometimes, the computer shows blue screen finally.
2. Hard drive makes strange noises when you boot your computer, especially when you try to open hard disk drive and write or read any data.
3. PC was not attacked by virus, but computer cannot boot normally and shows warning message "Sector not found" or "General error in reading drive C".
4. Windows was unable to complete the format whether you want to quick format or full format hard disk drive.
5. It automatically runs Scandisk to scan hard drive for errors every time you boot your computer.
If you can still access a hard drive normally but it has similar symptoms mentioned above, you had better check carefully if the hard drive has bad sectors. You should repair the bad sectors as soon as possible for the sake of data security.
Also read: 8 free format tools to repair hdd/usb bad sectors
Causes for Bad Sectors
There are two types of hard drive bad sectors, namely logical bad sectors and physical bad sectors.
1. Logical bad sectors
Logical bad sectors usually refer to sections that are not writeable, but there is no physical damage to the hard drive. Usually, hard drive may have logical bad sectors due to virus infection, software conflict, sudden power outage, sudden shutdown or reboot of computer, system crash, etc.
2. Physical bad sectors
Hard drive might have physical damage due to long time use. As you know, a hard drive is not lifelong media. A hard drive can be physically damaged due to impact, dust, wear out and more. Usually, it is difficult to repair if a hard drive had physical bad sectors.
How to tell if my hard drive needs bad sector fix?
Almost every hard drive contains some bad sectors. Usually, it does not cause any trouble when a hard drive only has little bad sectors and there is no data being written to the sections that contain bad sectors.
However, if a hard disk drive contains too many bad sectors and you have written lots of data to these bad sectors, the hard drive probably becomes inaccessible which disables read or write any data on the hard drive.
Bad sector repair needed or not depends on how frequently you used your hdd or usb stick. If you use it to hold lots of data or almost every week, then you may repair it once a year.
Also read: 8 free format tools to repair hdd/usb bad sectors
Here are some cases when users are looking for solutions for bad sectors repairing: hdd bad sector, hdd bad sector repair, ssd bad sector, check for bad sectors windows 10, bad sectors on hard drive, ssd bad block, fix hdd bad sectors, fix bad sectors on hard drive, hard drive bad sector repair...
Related Articles