8 Ways to Fix Disk Unknown Not Initialized Error in Disk Management
Summary
This article would share 8 efficient ways for repairing damaged disk (internal disk, external hard drive, usb flash drive) that shows Disk Unknown Not Initialized Unallocated in disk management, together with disk 1 unknown not initialized no size/storage capacity in disk management.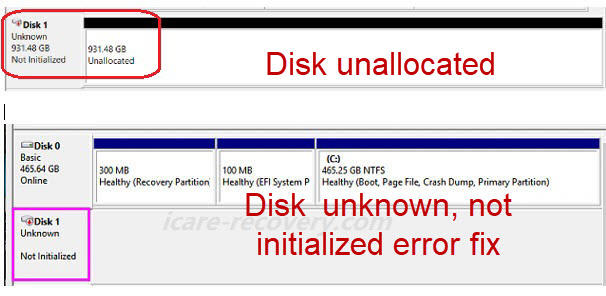 Disk 1 unknown not initialized error in disk management
Video - 5 ways to fix disk unknown not initialized error (More methods are included in later part of this article)
Quick Navi
Note: Initializing disk directly on the Disk Management would erase all data on the hd/pendrive. We would strongly recommend you restore data from the not initialized disk at first.
Fix #1 - Rebuild Partition Table with Diskgenius [Efficient method]
It is free to recover partition table with Diskgenius Free edition.
Download url:https://engdownload.eassos.cn/DGEngSetup5301066.exe
If the above download link does not work anymore, get its latest link at the following website that you will also find this function is free in the free edition stated in the comparison table.
https://www.diskgenius.com/editions.php
Steps to recover partition table with Diskgenius
Download it, install it on your computer and launch it
Click the whole disk

after it loaded disk maps (This step is important and required)
Click 'Tools' from the top navi in the software
Click 'Search Lost Partitions(Partition Recovery)' that would recover lost partition table for you and bring lost partition together with its data for you.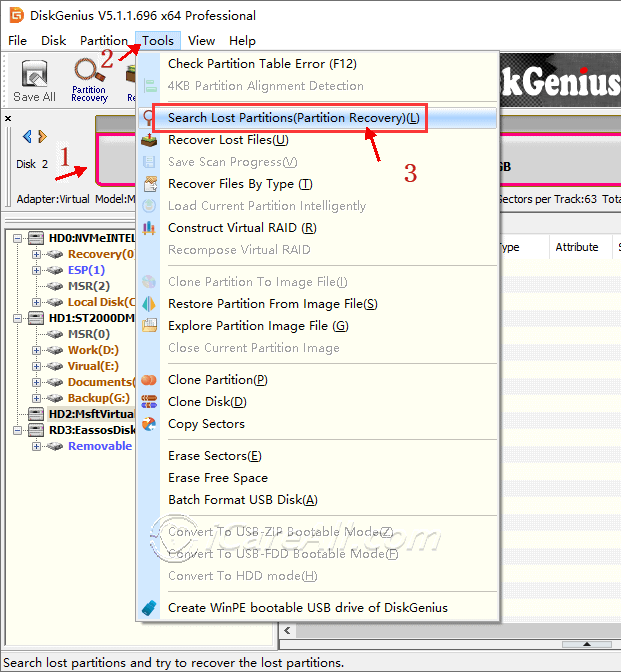 Diskgenius recover lost partition table
This is an efficient method feedback by users who used to remove disk without safe removal and got his usb disk reported as unknown not initialized. In this scenario, he got his partition back with all data untouched.
Diskgenius stated on their website that the free version provides partition recovery. If your downloaded version starts to asking for a fee for doing the partition recovery, please let us know(email support@icare-recovery.com), and we would update this information here.
Or you may follow the steps here for damaged disk recovery that is not initialized and disk unknown.
Step #1 - Click disk -> Partition Recovery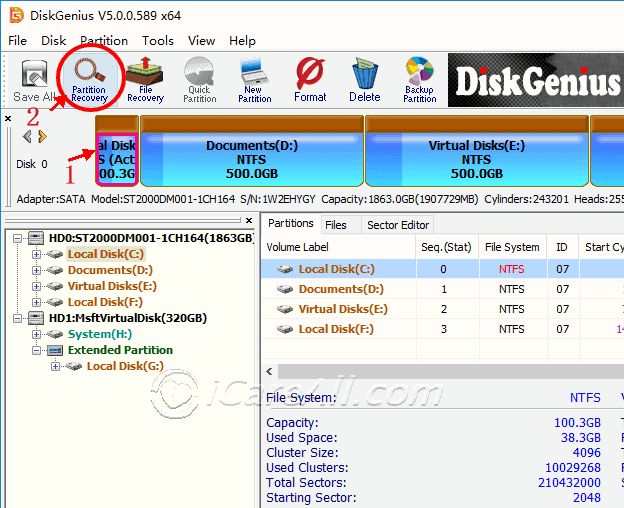 Diskgenius recover lost partition table
Step #2 - Click 'Whole Disk' in the following photo to start looking for lost partitions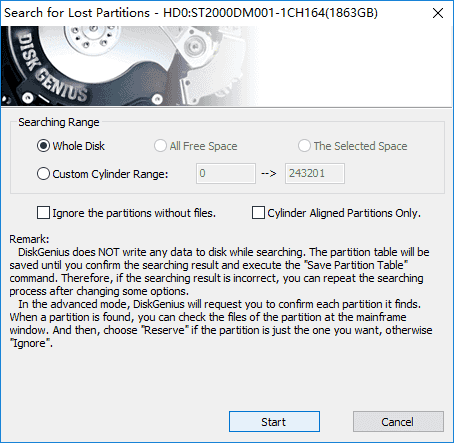 Diskgenius recover lost partition table
Step #3 - Click 'Ignore' in this step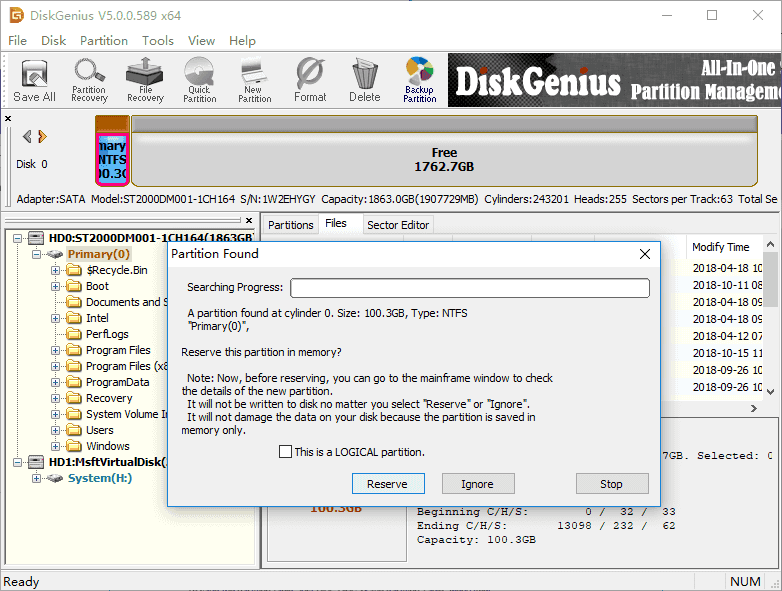 Diskgenius recover lost partition table
Step #4 - Once the program finished scanning lost partitions, you may click and look into what's included in the partition, and then select files, right click -> 'Copy To' to save them onto another device for emergency. Or you may ignore this step and it would also restore your lost data with partition in step 5.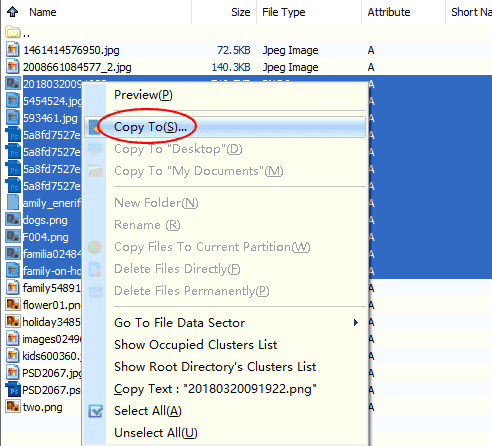 Diskgenius recover lost partition table
Step #5 - Click 'Save Partition Table' once you have checked the found partitions are what you need.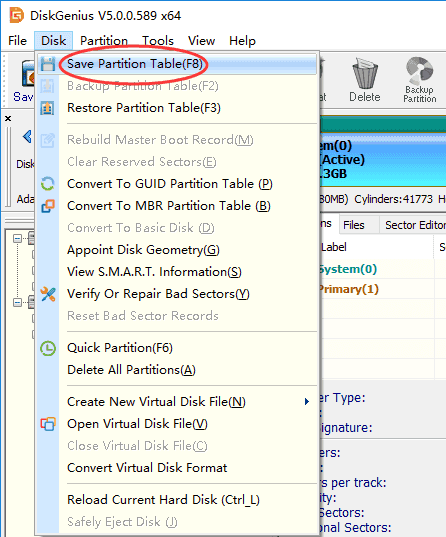 Diskgenius recover lost partition table
Video - how to use Diskgenius Partition Recovery
Note: if your OS can no longer boot, you may remove it from current computer and then connect it as external usb disk on another healthy computer; or you may use Diskgenius Winpe bootable functions for the recovery in such scenario.
Fix #2

- Not detected in Diskgenius? Try it with another computer or another usb cable

When Diskgnius won't be able to detect your disk, you may consider it to be physical damages or digital device error such as damaged usb cable, insufficient power supply etc.

To locate detailed error, you may change another computer to try, and also another usb cable if possible.
Fix #3

- Update disk driver in Device Manager

How to open device manager?

Right click 'This PC' -> Manage -> Device Manager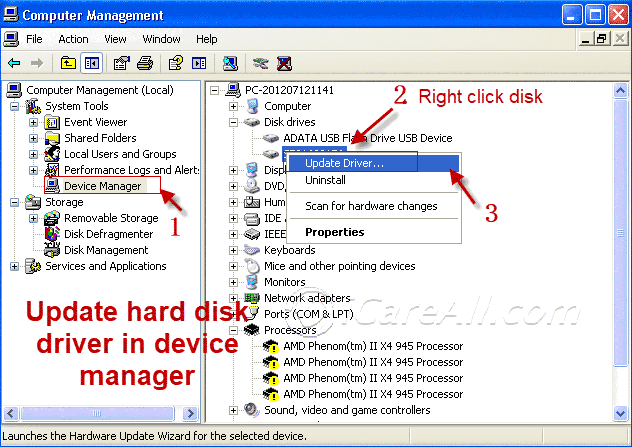 Update hard drive driver
Steps to update device driver in device manager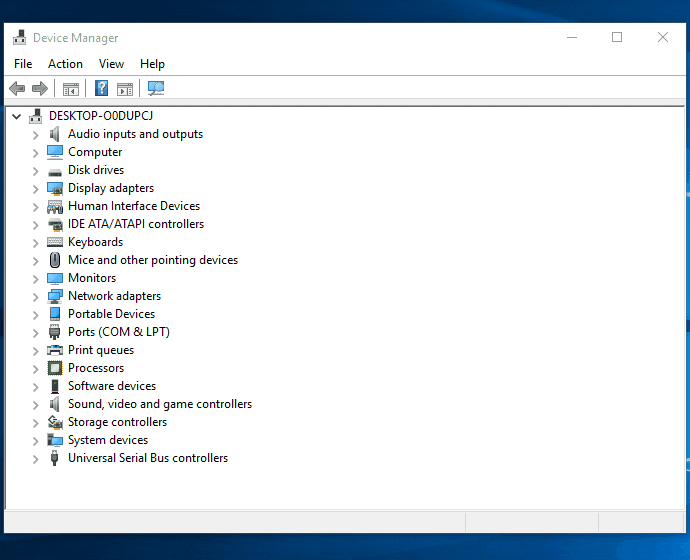 Update hard drive driver
Fix #4

- Uninstall hard drive from device manager

Uninstall it from device manager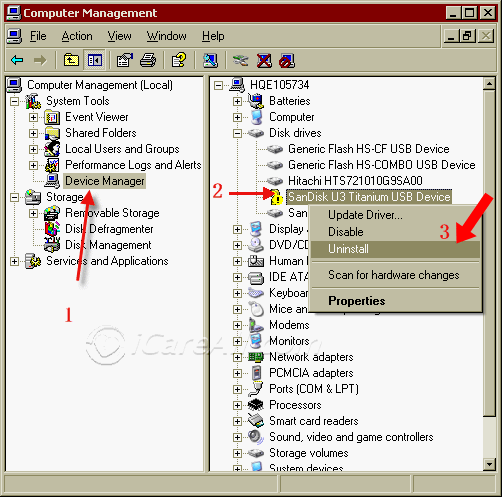 Uninstall usb disk, hard drive from device manager
And then reconnect the disk to computer, scan for hard disk changes to reload the disk.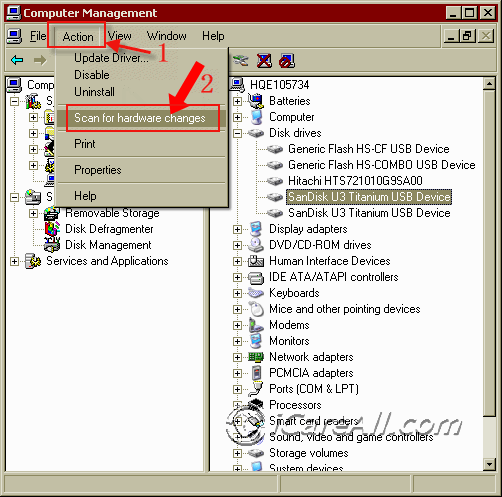 Actions -> Scan for hardware changes to reload usb drive/disk
Fix #5

- Repair damaged disk/usb with chkdsk /r/f/x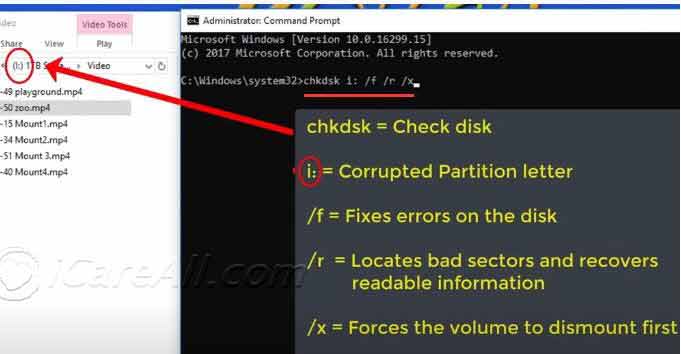 Chkdsk /f/r/x to repair damaged unknown disk
Chkdsk means to check disk and repair damaged disk with its command /f/r/x
Video - how to repair damaged disk and avoid disk failure
Fix #6

- Recover data from not initialized disk unknown, unallocated or no size

When your media can not be detected by Fix#1 diskgenius, you may need to recover data from the following disk recovery tool if the data were important to you before starting to initialize your disk.

Run iCare Data Recovery Free to recover files from the uninitialized hard drive on all Windows OS:

Step1. Free download iCare Data Recovery on computer and select 'Lost Partition Recovery' (It became 'RAW DRIVE RECOVERY' in latest edition).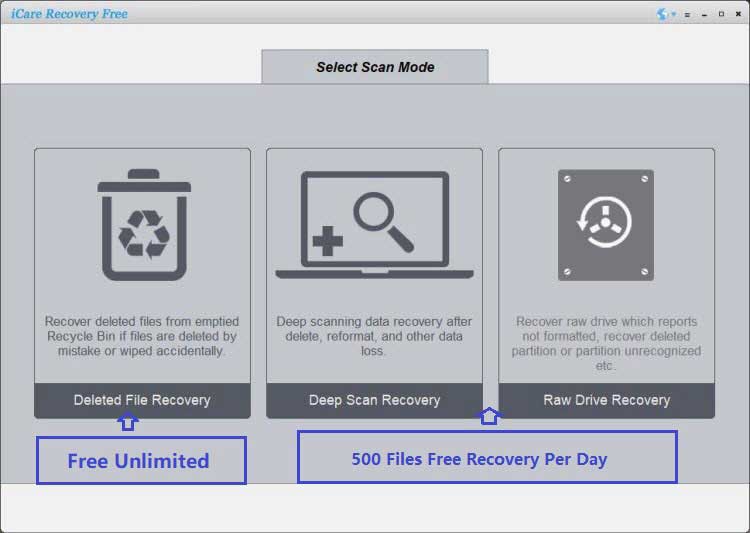 Step2. Choose the disk drive that shows not initialized and scan.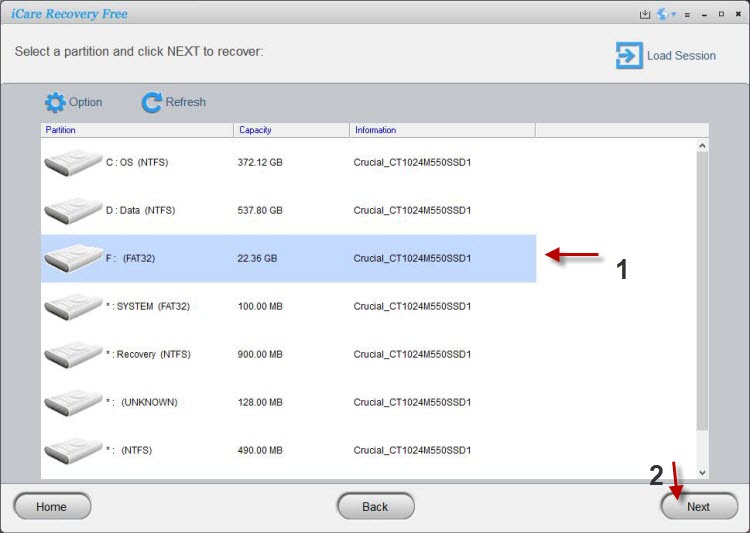 Step3. Preview files after scanning and then save the lost files to another drive.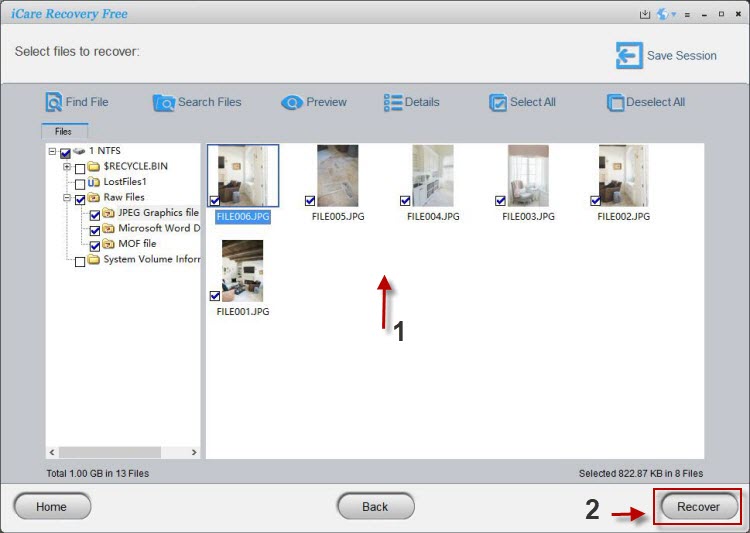 Once your data have been restored, you may start initialize your disk by the following guide to get it work again.
Fix #7

- Initialize disk in Disk Management

It's kind of similar steps with initializing a new disk in disk management that you may start it by connecting your disk to your computer and then follow the steps

Step #1 - Open disk management

Step #2 - Right click your disk to start initialize it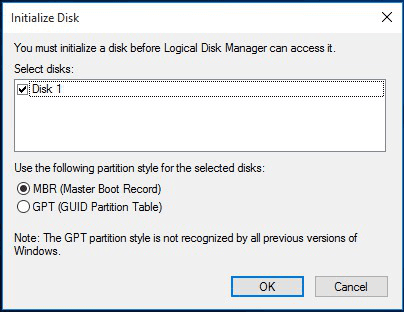 Initialize disk in disk management
Step #3 - Right click the disk and format it
Video - how to initialize and format a disk
Failed to initialize disk or access error? Follow #8 fix method.
Fix #8

- Fix disk MBR damaged using cmd when disk/Windows cannot boot

Note: Diskgenius also has winpe bootable function.

MBR is often named as the short of Master Boot Record that tells a computer how the storage device is partitioned and booted. Damaged disk could be fixed by rebuilding the MBR from Windows command prompt with the following orders.
Bootrec.exe/fixmbr
Bootrec.exe/fixboot
Bootrec.exe/rebuildbcd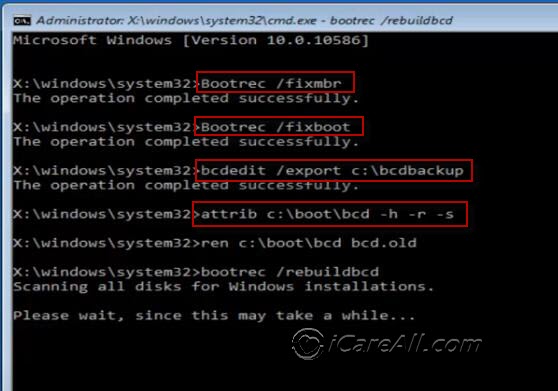 Bootrec Fixmbr
Video - how to fix disk MBR using cmd without CD
Possible Causes of HardDrive or USB Stick became Unknown Not initliazed
There are some frequently causes that may bring a disk or stick to be not initialized/unknown
Logical damages made by improper manuals from users
Logical damages brought by third party software, virus, etc.
Bad blocks, damaged partition table
Physical damages...
FAQs
Question: RAID disk is not initialized, My RAID 5 disk not initialized
Solution: Initialize disk in disk management if it's a new one, or you may use free tool IM-Magic Partition Resizer Free to initialize disk for free.
Last updated on Sept 14, 2023
Related Articles