The File or Directory Is Corrupted and Unreadable Error Fixing - 8 ways
Video Tutorial: how to recover corrupted and inaccessible file or directory
Table of Contents
"Drive is not accessible. The file or directory is corrupted and unreadable" is a pop-up message usually showing on various storage devices like USB stick drive, flash memory card or removable hard disk. When you are not allowed to access a disk drive that reports the same error message, iCare Data Recovery offers the best solution for file retrieval from those devices.
Free Data Recovery Software

Download iCare Data Recovery Pro Free to recover data from volume which has corrupted and damaged file or directory.
How to Fix Corrupted or Unreadable Directory Problem - 8 ways
When a disk drive reports its directory or file is corrupted and not readable, what do you want to do? You merely want to access the drive without caring about any data stored on it? Or you want to repair the problem without touching anything inside the drive? Below guide is aiming to fix corrupted file or directory with all data being untouched from the disk volume.
Soluton #1
– Recover files in corrupted drive without formatting it
To avoid causing data stored on the damaged drive to be overwritten or suffering any unknown disaster, we highly recommend you to recover files in the first step. If you need help for corrupted files recovery from any volume which has corrupted file / directory, you can make a try with iCare Data Recovery or consult our online help. Here, we offer simple online guide to restore data using the software:
Step1. Download and install the software completely free. After that, you can run the program and select the most proper mode to scan.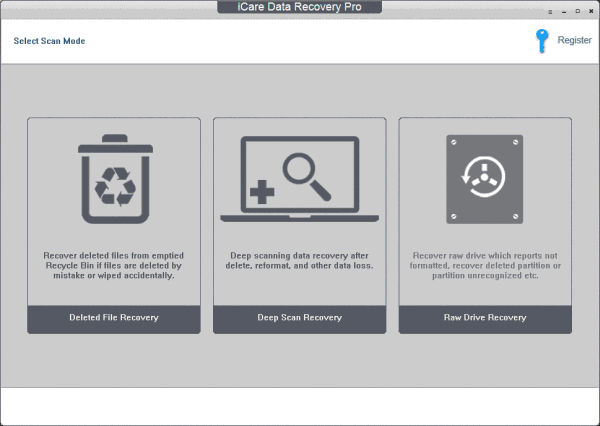 Step2. This program is going to deep scan whole selected volume and finds the files you lost.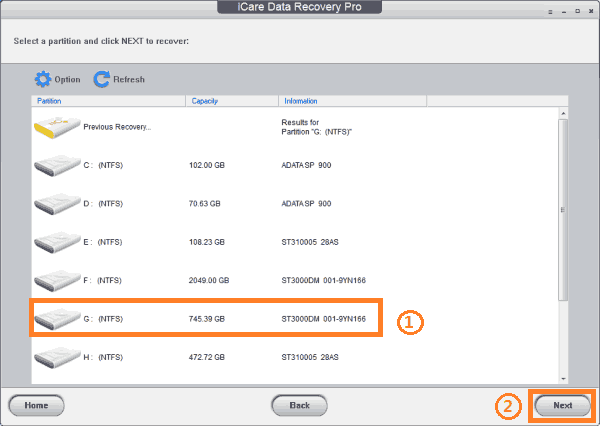 Step3. Finally, you are permitted to preview files and restore them all to another good volume.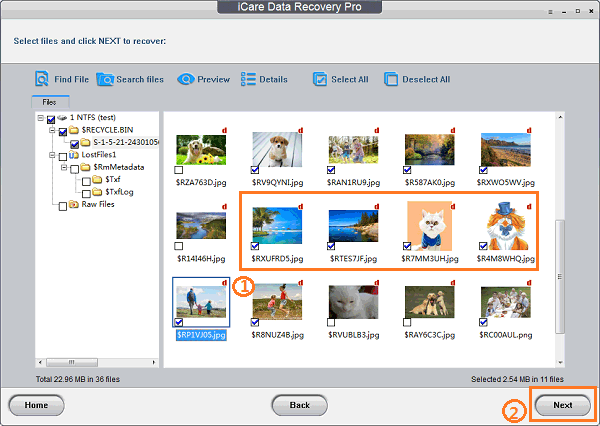 Methods to repair damaged/unreadable volume
Now, come to the second step, repair damaged partition! Below, we provide some common solutions which have helped many people that involved in the same issue:
Solution #2. Check disk to scan/repair bad block sectors using error checking
Since bad sectors would lead a volume to be corrupted, you can check disk to view whether there is bad sector in it. Two methods are available for Windows OS to check and repair bad sectors:
Run Error-checking tool on Windows
Error-checking tool is included in every Windows operating system, which can be used to check and fix problems on different volumes. You can start Error-checking tool from Properties of each volume.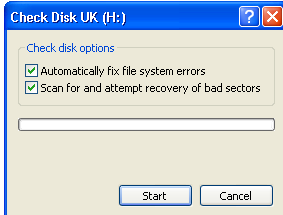 Recommend: How to fix bad sectors>>
Video - How to run error checking for fixing damaged media
Solution #3 - Run CHKDSK utility for fixing corrupted drive
You can launch CHKDSK in command line to use it to scan the unreadable volume. After running CHKDSK, you can merely type command chkdsk [drive letter]: /f (e.g. chkdsk h: /f) and then press the Enter button.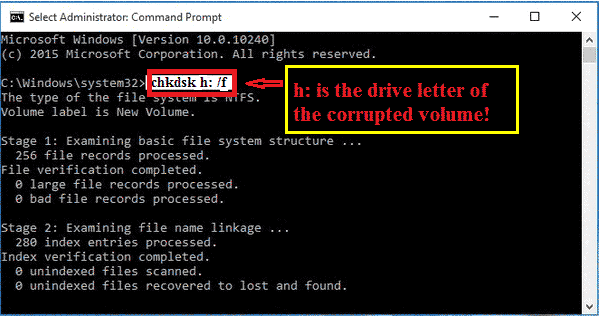 Tip: CHKDSK repair is risky, repair failure probably causes complete loss of all data. However, you can rest assured go if you have restored data in advance.
Solution #4. Change drive letter of the RAW partition that has unreadable directory
Open Disk Management on PC and right click the RAW partition to select Change drive letter and paths. For instance, if it is the f: drive that becomes corrupted and not readable, you can assign another drive letter like g:, h:, etc. You should give the corrupted RAW drive a drive letter which is not used by any other partitions on the same disk.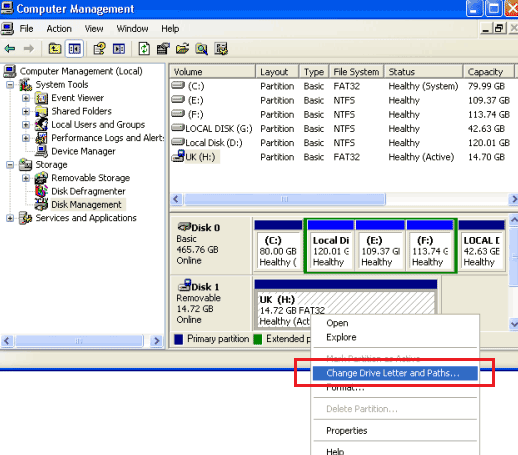 Soluton #5. Change the system permission to use the corrupted partition (This method is available for partition repair which was NTFS before changing to RAW)
Right click the RAW partition and click Properties option > Click Security tab
Under Security tab, you can see all groups or user names, you need to delete the useful groups and users names and only add your own user name there.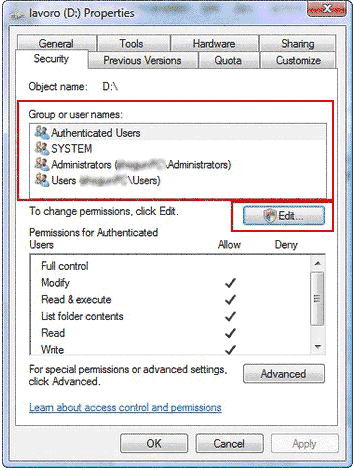 Solution #6. Format the volume that is unreadable and damaged
Well, everybody knows how to format a disk drive? You can go to Windows Explorer or Disk Management to format the corrupted drive to resolve the problem.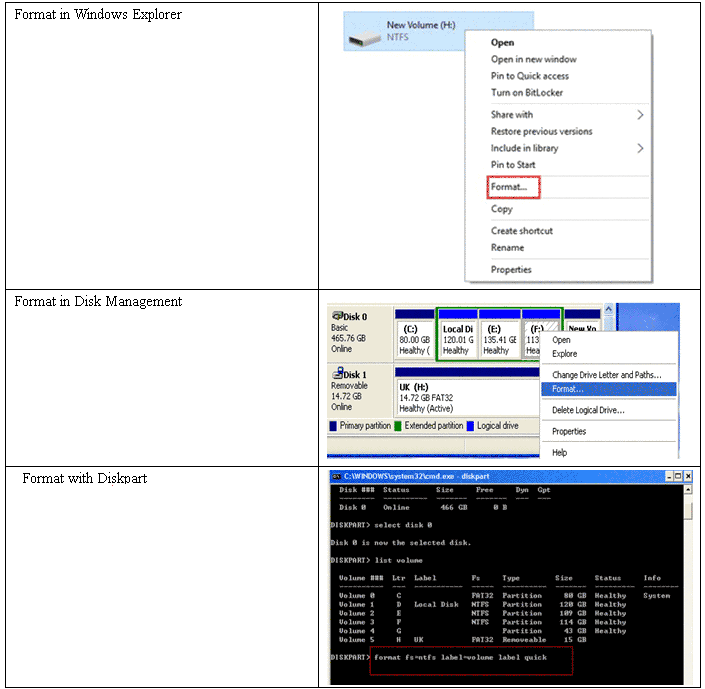 Solution #7. Reinstall system
System reinstalling seems to be a good solution for any PC problems, so you can reinstall Windows system and reformat the unreadable volume to resolve the issue if every method above does no help.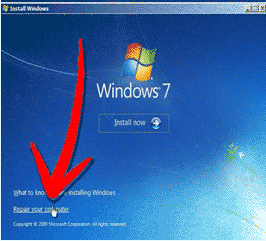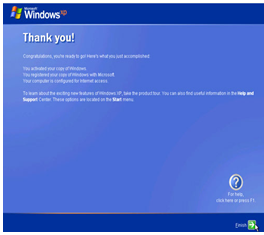 The Disk Structure is Corrupt and Unreadable
"Disk structure is corrupted and unreadable"? Windows OS give this message to users when they open a drive whose structure is corrupted.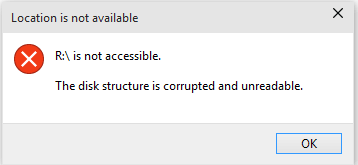 Solution #8 - Uninstall drive and then reload it
Apart from CHKDSK, reformatting or system reinstalling, you can try uninstall and reinstall the disk drive following right click Manage on My Computer > Device Manager > find the disk drives and uninstall it and then download and reinstall new drives.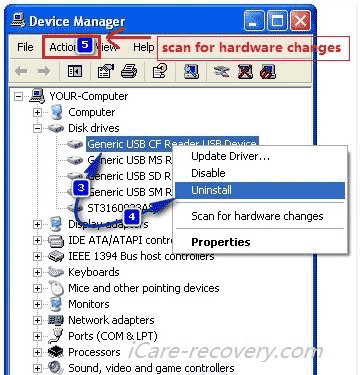 Symptoms of Corrupted and Unreadable File or Directory
Error message
In general, PC would pop up the warning message saying "Location is not available. Drive is not accessible. The file or directory is corrupted and unreadable" when you are going to view or open a drive. (e.g. "Location is not available. F:\ is not accessible. The file or directory is corrupted and unreadable.")

Errors related to corrupted file / directory problem
Resulting from corrupted and not readable directory on a disk drive, you would get some other error alerting when checking or viewing it.
1. "You need to format disk drive before you can use it" or "The disk in drive is not formatted do you want to format it now?" These two messages reflect the same meaning on different Windows. The former is shown by Windows XP, and the latter is reported by Windows 7 or its latter version of system.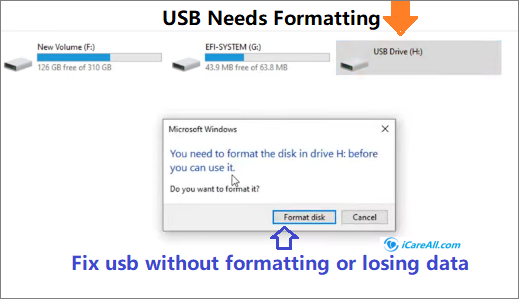 2. You cannot get useful information such as the volume's filesystem, storage capacity and used space, etc by checking Properties, the file system of the volume shows RAW and space shows 0 byte.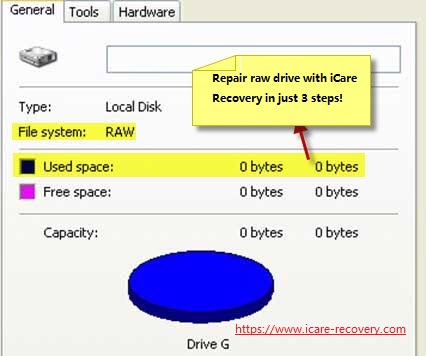 Common Reasons for File or Directory Corrupted and Unreadable Error
The file or directory probably gets corrupted and unreadable due to a lot of reasons. Here shares some common reasons that might lead to the problem on your hard disk drive or removable USB hard drive.
1. Partition table is corrupted
When partition table is corrupted, it would cause the hard disk partition information not to be read by Windows system. Therefore, the system would recognize the disk as an unformatted device without finding a correct directory.
2. File system is corrupted
On Windows operating system, the common file systems used for different device are FAT and NTFS. FAT including FAT16 and FAT32 is mainly used on USB flash drive, memory card and hard disk drive, while NTFS file system is specialized in external hard drive and hard disk drive that has capacity larger than 32GB. Whether it is NTFS or FAT file system that gets corrupted, it probably causes the volume to be corrupted and unreadable.
3. Digital device suffers from physical damage
Physical damage usually refers to irreparable damage such as water damage, fire damage and more. This kind of damage to a digital device usually lead the device to be unreadable and you have to send it to professional repair company or manufacturers to replace the damaged part of the device.
4. Digital device has logical damage
Logical damage is a concept relative to physical damage, which usually refers to the case that the device contains bad sectors or gets corrupted due to virus attack, improper operation and more similar reasons.
Windows Directory Corrupted or Unreadable
File / directory corruption problem often occurs on Windows computer, so all solutions above aim at Windows users. Every try to use any of methods, please use it based on the performance and features of your Windows OS. In principle, every way works similarly on each Windows, but there is a little difference when using the same method on different Windows platform depending on their user-interface, features, etc.
The File or Directory Is Corrupted and Unreadable C
Your computer usually cannot boot when C drive is corrupted and stops working. If your PC still works, but C drive (system partition) reports its file or directory is corrupted, CHKDSK can hardly repair the problem. The best advice for you is to reinstall Windows system to corrupted C drive fixing.
External Hard Drive USB Corrupted and Unreadable Fix
Our clients encountered a problem several weeks ago. His USB flash drive was corrupted and reports the directory corrupted and unreadable message every try to access that drive. After learning some basic information, we have helped him resolve the problem with inside data back.
Firstly, we used iCare Data Recovery to scan that inaccessible flash drive. Truthfully, it took some time to scan the USB drive because the software needs to scan every sector of the drive in order to find as much data as possible. Therefore, patience is a must if you want to take all data back.
After data recovery, then we went to fix the corrupted directory. For such a problem on a USB thumb drive or external hard drive, CHKDSK is worth a try. But if it fails, formatting can often fix the problem thoroughly.
SD Card File or Directory Is Corrupted and Not readable
SD card or other memory card has the similar work principle to computer hard disk or portable hard drive, so the same issue fix solutions are also useful to fix an SD memory card. To fix a corrupted SD card, you cannot fix it directly on your phone or camera, but need to connect it to computer.
Corrupted and Unreadable File Cannot Delete
"I tried to delete a folder that contains many files, but I got a message saying cannot delete file. The file or directory is corrupted and unreadable. If I open the folder and select all files to delete, all fines can be deleted completely. Then, when I went back to delete the emptied folder, it reported the same message. " - A user from the Tech Support Guy (To read the original FAQ online, please go to the end of this page - Corrupted files cannot delete faq)
For this error, please click Start button on computer > Run > Enter CMD > OK > Type rd/s/q "full path to folder" and press Enter. (E.g. If the folder is named family located in E drive, you can type rd/s/q\e: \family
If the problem still exists, please go ahead to run a disk check for the partition that contains the corrupted files.
Last updated on Nov 01, 2022
Related Articles
Hot Articles
External Links