CHKDSK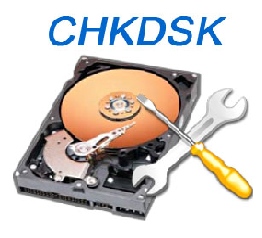 What Is "CHKDSK"?
"CHKDSK", the short name of "Check Disk", also called ""error-checking tool", is a Windows built-in disk diagnosing and repairing tool. It can help manage the computer files and file system in order and also report the physical state of the assigned computer storage devices, like hard disks or memory cards. For example, when you do not ensure whether your disk or memory card is damaged seriously, you can run this error-checking program on this storage device to see whether it is still healthy or workable.
How to Run "CHKDSK" to Fix Drive Errors?
Generally, there are two methods to run this CHKDSK utility to test your wanted computer disk.
1). Open the Error-Checking Tool from the "Tools" tab of "Properties".
If you do want to check the C partition, here are the detailed steps that you may need:
Step1. Open "My Computer" on the desktop.
Step2. Right click "Local Disk (C:)" to choose "Properties".
step3. Click the "Tools" tab in the open Properties interface.
Step4. Press the button labeled as "Check Now"
Step5. Choose your desired option to start according to your needs when you are given two "check disk" options.
Please Note: NO matter what happens, always patiently wait when this tool is scanning your disk.
2). Run the CHKDSK program by using command lines.
In order to fix some common problems of your C partition with CHKDSK, you also can run it like this:
Step1. Click "Start" to open the "Run" tool.
Step2. Enter "cmd" in the blank and then, directly type in "chkdsk c:/f ". Of course, if you do want to check other partitions, simply change the partition drive letter, like changing the "c" into d, e, f and the likes.
Step3. Type in "Yes" and click "Enter".
Step4. Reboot this computer to run this error-checking tool.
Please Note:
The above mentioned prompt code "chkdsk c:/f" only means to fix the possible disk errors. If you do want to find disk bad sectors and recover disk data, you'd better change that "f" into "r", like entering "chkdsk c:/r". To know more information of this disk, you are also supposed to correspondingly change the prompt code just like:
"chkdsk c:/v"---- Shows the full path and name of every file on that disk.
"chkdsk c:/i"---- Perform a minimum check of index entries
"chkdsk c:/l"----Set the log file size
"hkdsk c:/c"---- Skip checking of cycles within the folder structure
Common Problems & Solutions Related to CHKDSK
When using CHDSK tool to fix your disk errors or check the disk states, you do also encounter some problems. Here are some possible problems and solutions for you:
1). CHKDSK cannot be run for RAW drives?
When a memory card, hard disk or partition is displayed as RAW file system, no matter which way you choose to use this CHKDSK tool there, you often will be told this tool cannot be run there for RAW drives. In order to smoothly scan this device with error-checking tool, you'd better format this device to restore its common file system format, like FAT32 or NTFS.
Note: Always remember to extract all important data out from this RAW storage device before you really format it to convert its RAW format to NTFS or FAT32. In these cases, without data backups, RAW file system recovery software could help you a lot.
2). CHKDSK Seems to Run Forever?  
CHKDSK has scanned your assigned partitions or hard drives minutes or even hours and also has no sign to stop? Really want to know what you can do to this? OK! The tool is designed to help people thoroughly scan the selected disk and find all possible errors. It does take sometime. But, if you do really need do something else, simply close this computer and this error-checking task will be restarted when you reboot this computer well again. Note: Do not to stop or interrupt this scanning process to when this it is used with "/f" switch.
3).Don't want to run CHKDSK every time when you boot your computer?
If that CHKDSK runs every time when you boot your computer, such drive checking task seems to be added to the scheduled task list. Simply remove it out from that list (Start > search> enter "task scheduler") and you will never encounter this problem again.
Warnings:
There are also other tips that you should keep in mind to avoid farther troubles:
1). Do not interrupt or stop the Error-Checking tool when it is use with /f switch.
The disk integrity can be damaged or corrupted by your sudden interruption.
2). Do not forget to check storage device data well before running CHDISK.
When the hard drive, partition or memory card is in RAW, you'd better check device data well before you format it to NTFS or FAT32 so that you can easily check this device with error-checking tool. If you do need to extract or rescue the left device data out at first, simply use data recovery software to take chances. Of course, when you do get other device errors, also double check device data well and also update device backups well.
3). Do not forget to close all files, folders and programs before running this error-checking tool
Without closing all open files, folders and programs stored on this specific disk, you often also cannot smoothly running this CHKDSK tool there.
Why to Use CHKDSK?
The CHKDSK tool is often used by users to fix some basic hard drive or memory card errors due to its useful functions. Simply read this part to know more major functions:
1). It can help automatically fix file system error
In common use, some memory card or hard drive could be logically damaged for sudden extraction, instant power loss, or sudden rebooting, etc, and gets some file system errors which can bring you inaccessible devices or other unfamiliar issues. When you really encounter such errors, simply run error-checking tool and check whether it could help fix them all for you. This tool always can help fix some simple and basic disk problems easily.  
2). It can help scan specific device & Find Malfunction bad sectors out
Before you really start the CHKDSK tool on your disk, you are often also given two options: "Automatically fix file system error" and "Scan for and attempt recovery of bad sectors". As long as you do mark the later options, when you start the scanning process, this tool will help scan this drive and also find all malfunctioned bad sectors out at the same time. Moreover, most importantly, to avoid keeping writing new data on these unworkable bad sectors and arousing permanent data loss, it will also mark such bad sectors and tells the computer not to add anything else on such sections again.
3). It can help attempt to recover data from disk bad sectors
When finding and marking all bad sectors out, this CHDSK utility also will try to recover all possible data back from these searched bad sectors. However, the result may not be so hopeful. 
4). It can help display the present state of your device
When the scanning process is finished, it also will pop out a result interface and tells the present state of your scanned hard disk, like the file system format, volume serial number, disk errors and the likes. From such brief information, you can roughly judge whether this device is still functional as before.
---
Related Articles
More Articles That You May Be Interested
External Resource