CHKDSK Unable to Recover RAW Micro SD Card

"I realized that my micro SD card changed to RAW file system when I inserted it to my PC. Windows XP system says micro SD card is not formatted error. Since I cannot format the card, I tried to run CHKDSK to check and repair the error, but I received another message saying CHKDSK is not available for RAW drives. What can I do to recover data from the RAW micro SD card?"
"My 8GB micro SD card is corrupted in my Android phone. I have attached it to my laptop which runs under Windows 7 operating system, but it prevents me from opening the card. I have run CHKDSK but it says micro SD card has RAW file system. The card previously has FAT32 file system, but it is corrupted to RAW with unknown reasons. I want to know if there is any free data recovery tool for corrupted microSD card recovery when CHKDSK does not work."
Video - how to fix chkdsk is not available for raw sd card
Also read: chkdsk is not vailable for raw memory card fix
Data Recovery from RAW Micro SD Card
CHKDSK can help check and fix some errors, but it is unable to recover files from a RAW micro SD card. If you have important data stored on your micro SD card but it becomes unreadable due to RAW file system, you can use iCare Data Recovery software to perform micro SD card data recovery. This software works on all types of storage media to recover photos, music, videos, etc when you cannot access the card normally. Now, you can follow the steps below to recover files from micro SD card:

Step1. Run the data recovery software and choose a recovery module.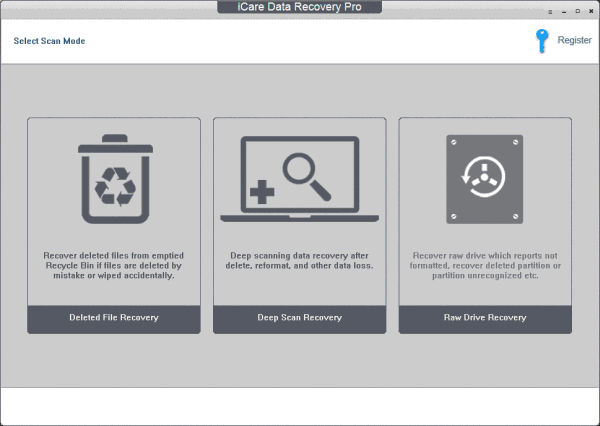 Step2. Choose the micro SD card as aim disk so that the software can scan it.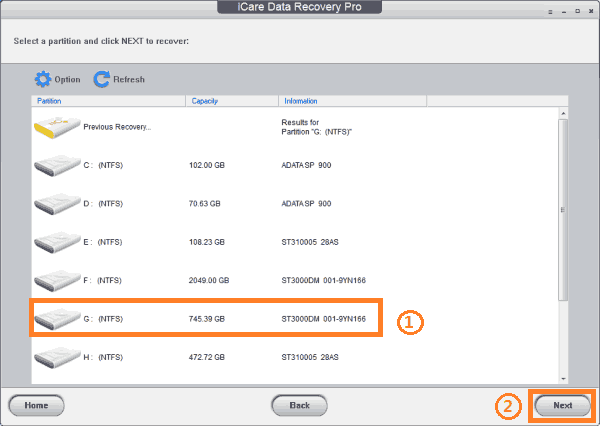 Step3. Preview the pictures when scanning is completed. Then, recover the files lost from the micro SD card.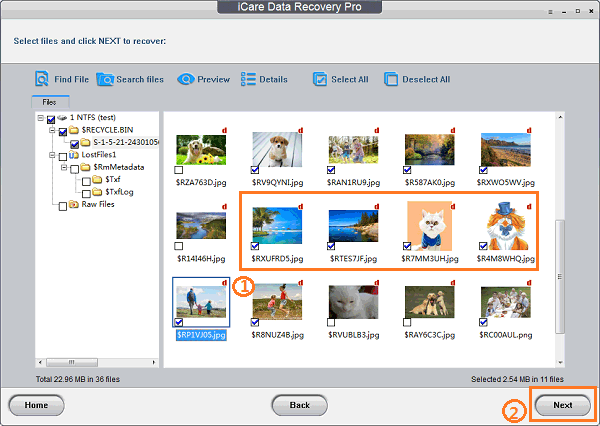 Tip:
Please do not format the RAW micro SD card in your phone or computer before data recovery. However, you can try the data recovery tool to recover deleted files from cellphone SD card if you mistakenly format the RAW microSD.
CHKDSK Converting RAW Micro SD Card to FAT32
"My micro SD card suddenly stopped working normally when I was viewing pictures on my cell phone. My phone said there is no micro SD card. After rebooting my phone and resetting the micro SD card, phone still could not recognize the card. Then, I connected the micro SD card to my computer and system recognized it as a RAW drive. How can I recover data from RAW drive?"
A micro SD card will turn to RAW file system due to many reasons including virus attack, bad sectors, etc. As long as the micro SD card is not physically damaged, you can format the card to convert its file system from RAW to FAT32.
How to Avoid RAW Error on MicroSD?
1. Use the micro SD card properly to protect it from being infected with virus
2. Remove micro SD card from phone properly
3. Avoid removing microSD card during data transferring or writing
Also read: 7 free memory card repair software
---
Last updated on Aug 30, 2021
Related Articles
Hot Articles