Recovering files from NTFS partition
Recover NTFS Files At Amazing Speed With iCare Data Recovery Pro
When you need to recover NTFS files, you can count on iCare Data Recovery Pro to help you accomplish your task quickly.  With easy to navigate menu items on a user friendly control panel, iCare is helping hundreds of users every day perform complicated tasks with no concern that they will lose files. Working with hard drive partitions and other types of NTFS files means you are performing tasks that could result in lost or corrupt data between hard drives.

Steps to Recover Data from NTFS Partition

Step1. Download and install the data recovery software on computer. Launch the software and choose a recovery module.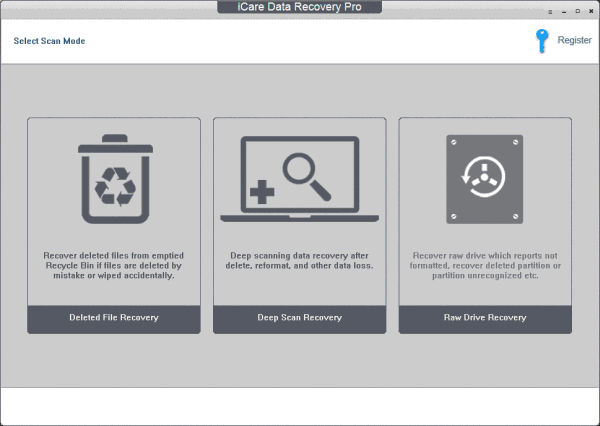 Step2. Choose the NTFS partition so that the software will scan it for lost files.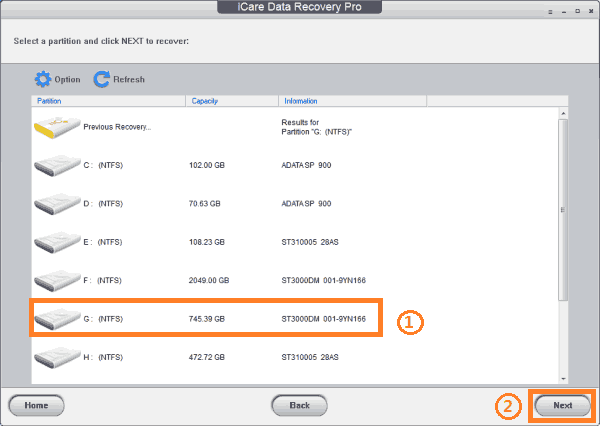 Step3. You are allowed to preview the found files when scanning is completed. Then, you can select the files you need and save them.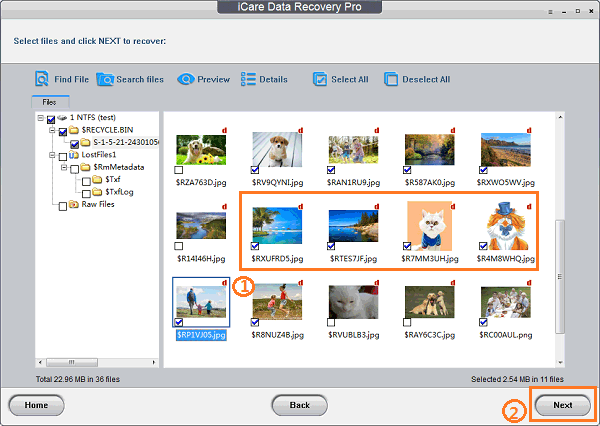 ---
NTFS partition has been formatted, deleted, lost by damged partition table etc.
We have much to owe to technology, and partitioning hardware and supporting software has made it possible for users to store unlimited amounts of data without sacrificing computer performance.  There are times, however, when the hardware malfunctions; and in cases such as these, it's an excellent plan of attack to have iCare Data Recovery Pro installed to reverse the effects of technical difficulty that put your files and folders at risk.
NTFS partitions aren't the only hardware supported by iCare Data Recovery Pro.  There are various files that are supported and protected by iCare including: MP3, MP4, zip files, and tons of other file folders containing NTFS file types.  Recovering files is accomplished quickly with iCare's easy-to-navigate user interface.  For unsuccessful attempts to recover lost NTFS files, iCare Data Recovery Pro includes free technical support, so you're never left alone.
Executing file searches, retrieving lost files, reversing an accidental format of a disk are only a few of the things you are able to accomplish with iCare Data Recovery Solutions.  If you have tried and tried to find a software that is capable of performing as difficult of tasks as you are, then your search is over.  iCare specializes in succeeding where other companies fail.  Computer users of all skill levels have run into problems with lost NTFS files that are not easily recovered.  For many of these users, iCare has been the last stop, and the first provider of an applicable solution.
An introduction to iCare is free and only takes a few seconds to download.  Take the time to download iCare Data Recovery Pro for free and browse the many features made available to you from this top of the line software.  Recover NTFS files, image files, media, and many other files and folders that you may have lost for any number of reasons, and find out why iCare is continuing to blow away the competition. 
Besides ntfs file recovery, iCare Data Recovery Pro is also able to restore files from corrupted pen drive, external hard drive, USB flash drive, etc whether it has NTFS or FAT file system.
Camera Cannot Recognize Memory Card NTFS File System
"My micro SD memory card has changed to RAW file system and asked me to format the card before I can use it, so I connected the card to my computer and format it from RAW to NTFS. Then, I reinserted the memory card back to my digital camera but the card cannot be recognized by camera normally. Is my memory card corrupted? How to repair the corrupted memory card?"
Have you ever met the similar problem? Usually, memory card has FAT file system, which can be compatible with digital camera or mobile phone. If you format the memory card to NTFS file system, digital camera might fail to recognize it. Therefore, you just need to format the memory card back to FAT and it can work normally again.

---
Related Articles