Recover formatted NTFS partition
Recover files after formatted drive - iCare Data Recovery Pro
iCare Data Recovery is able to restore files from formatted partition like NTFS partition, FAT partition and recover formatted SD card photos in Windows OS.
Reformatted partition did not really erased files on your partition but just mark them as empty place for new files to overwite the old files. You can restosre lost files after format with special tool iCare Data Recovery Pro. It is free to download and can search lost files for free before purchase and make sure it can restore 10 files for free.
Steps to Recover Data from Memory Card
Step1. Download and install the data recovery software on your computer. Launch the software and choose a recovery module.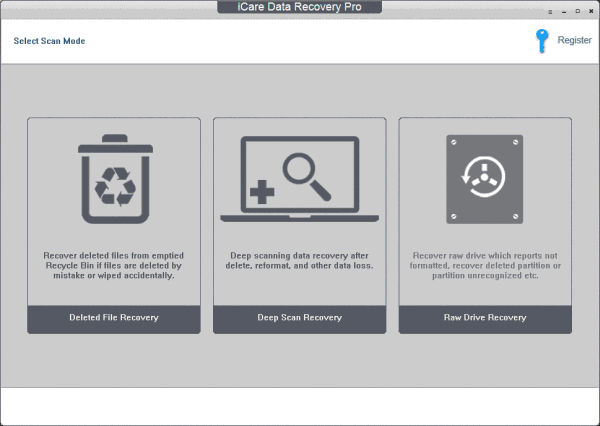 Step2. Choose the formatted partition and let the software scan. You only need to wait when the software is scanning.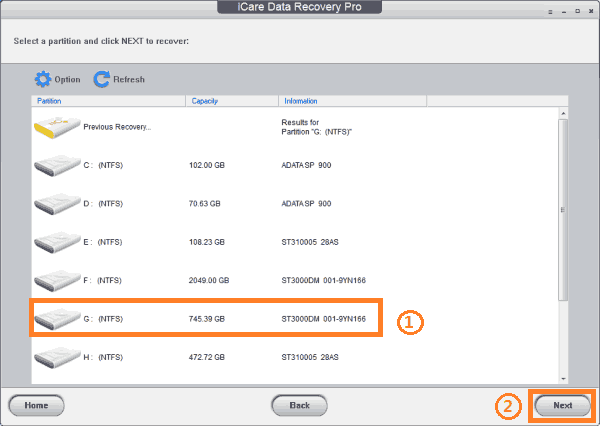 Step3. Photos can be previewed for free to make sure this program is able to restore your lost files. Then, you can select the files you need and save them.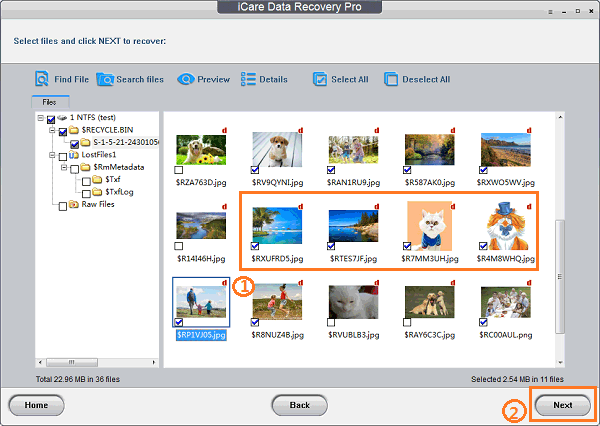 If you are working with Windows XP, Vista, 2000 professional or Windows Server 2000, 2000 and 2008 and lost NTFS drives, what to do in that situation?
There is no need to worry about this formatted ntfs partition because iCare Data Recovery can undo format and help recover formatted NTFS partition. All the necessary recoveries which include deleted partition recovery, deleted file recovery, lost partition recovery and re-formatted drive recovery are done very efficiently by the use of iCare Data Recovery Pro. This software is the best choice in a situation when you are interested in the recovery of lost partition data using NTFS.
Windows XP, 2000, 2003, 2008, NT and vista supports NTFS file system in them which is considered as much complex file access system although it is functional and in use today. Many facilities are provided by the NTFS like compression, file level security and many storage solutions like RAID.
In Windows operating systems hard drives are divided into multiple partitions which provides many advantages including easy data management, better performance of the system by partitioning of that hard drive, by dividing hard into multiple partitions provide the facility of installing multiple operating systems on different partitions.
In some situations user often deletes some partition mistakenly or in some situations partitions are often affected by the power surge, some kind of dangerous virus of sometimes by hard drive crash or file system corruption. In all that situation when want to recover data which have been formatted mistakenly we need some kind of efficient tool which could recover data in that situation then you have a great software available named as iCare Data Recovery Pro. iCare Data Recovery is very capable to restore files from formatted memory card, hard disk partitions, USD drives, flash drives, XD card, SD card, pen stick and to recover formatted NTFS partitions.
If you have lost some NTFS partition and want to recover it then the first thing which you have to keep in your mind that you should not overwrite that partition by the creation of new partition or do not repair and also do not try to repartition it. iCare Data Recovery Pro will provide you full capability to recover formatted partitions easily by following simple procedure in minimum time.
iCare Data Recovery can do all the tasks for you which are necessary for the recovery and even work in that situations where other software failed. iCare Data Recovery works with Windows Server OS and it also provide its facilities on PC. It is free to download a trail before you go for its purchase. You can use it to recover quick formatted partition or full formatted drive.
Last updated on Nov 01, 2022
Related Articles