4 Ways to Unformat Hard Drive/USB Flash/SD (3 free + 1 paid ways)
Summary:
How do I unformat a hard drive in Windows 10/11/8/7? Is there any unformat freeware that we can use the free unformat utility to unformat drive like portable hdd, hard disk partition, ssd, sd memory card, pen drive etc? When PC, camera, phone sd asks unformatting, or your device has been reformatted by mistake, please stop using the device immediately and download an unformat utility to unformat data at first and then follow the top 4 ways to recover and fix your storage media in this article.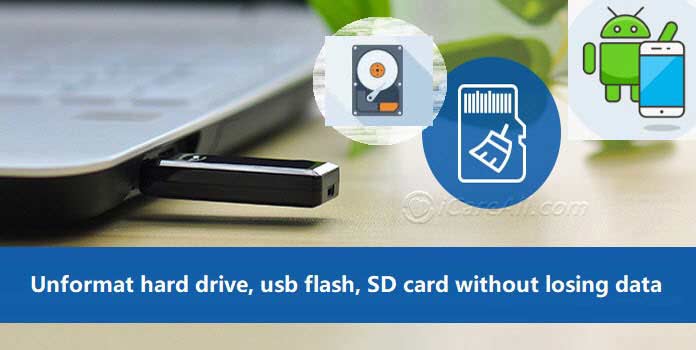 IT'S VERY IMPORTANT: Stop using the drive since writing new data to the media is making damages to the inside files. Then use the unformat tools which are 100% read-only to rescue inside files.
The case
How do I unformat hard drive in Windows 10? I mistakenly formatted my Toshiba external hard disk when it warned not formatting error and wanted to perform reformating. Is it possible to unformat the media and recover files lost due to reformatting? Is there any unformat cmd or any tool that could help me do the unformat?
Solution#1 - Unformat sd/usb/disk using Unformat command prompt -free
Unformat meaning, Definition of Unformat: (According to computing knowledge in Wikipedia)
An external command starting with DOS 5 that restores a formatted disk to its previous contents, providing it was formatted under DOS 5 without the /S switch. The /S switch bypasses saving Unformat information during the format process.
Here are the command line that you may follow to test whether this unformat command cmd could undo quick format or undo full format for you.
type:
unformat a: /test  
To unformat the disk in drive A, type:
unformat a: /u  
Note: Unformat is used in data recovery. However in Windows 95, the Unformat command was eliminated. There are better unformat software in Windows 11/10/8/7/Vista/XP than the unformat command. (Unformat tools will be introduced on this page in the rest part.)
Steps to unformat drive/card with CMD command in Windows 11/10/8/7/XP:
Connect your external drive/usb/SD card to your Windows 10 using a usb cable (A card reader is required for getting your device connected if it was an SD/microsd).
How to sart cmd? click START and type "CMD" in search bar and hit ENTER.
This will open new command prompt window.
Now type the following command: chkdsk E: /f and ENTER.
Next type – Y and hit ENTER to continue.
Type – E and hit ENTER
Now type the following command: E:\>attrib -h -r -s /s /d *.* and hit ENTER.
Note: since unformat was quite old command that was used in enitial state of the Windows systems, it may do not work well for your Windows 11/10/8/7. If it does not work for you, try the following rest methods.
Method#2 - Unformat with iCare Free
With iCare Recovery Free, it is able to resolve following problems: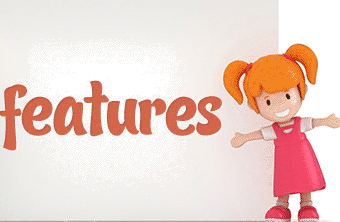 Step1. Connect the storage media to your computer. Free download and install the iCare Data Recovery on the same computer. Launch it and choose a module -'Deep Scan Recovery'.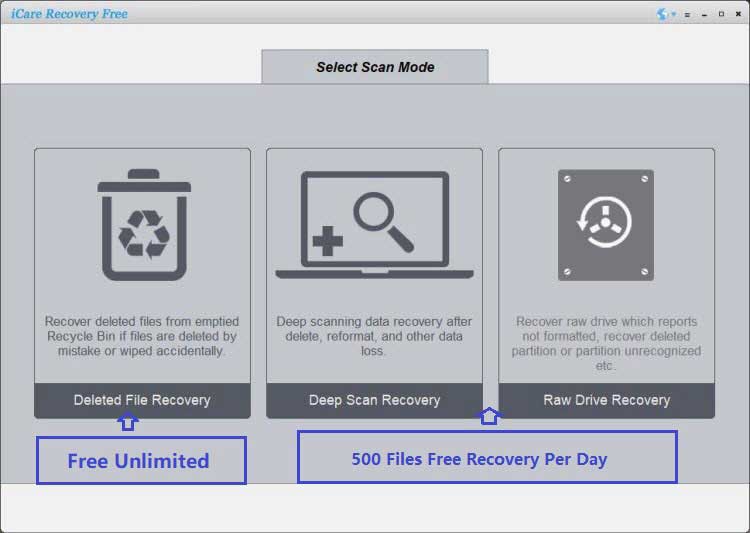 Step2.   Choose the drive you need to unformat to scan.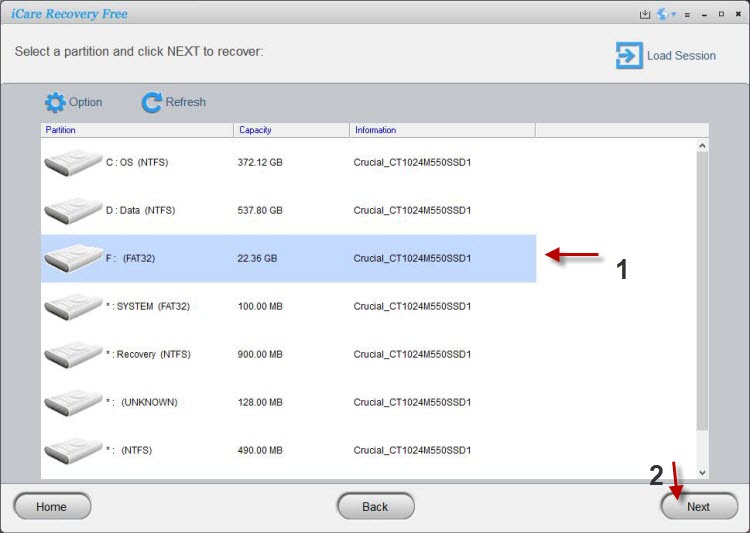 Step3. preview the found pictures and some other similar, and select files lost due to formatting and recover them.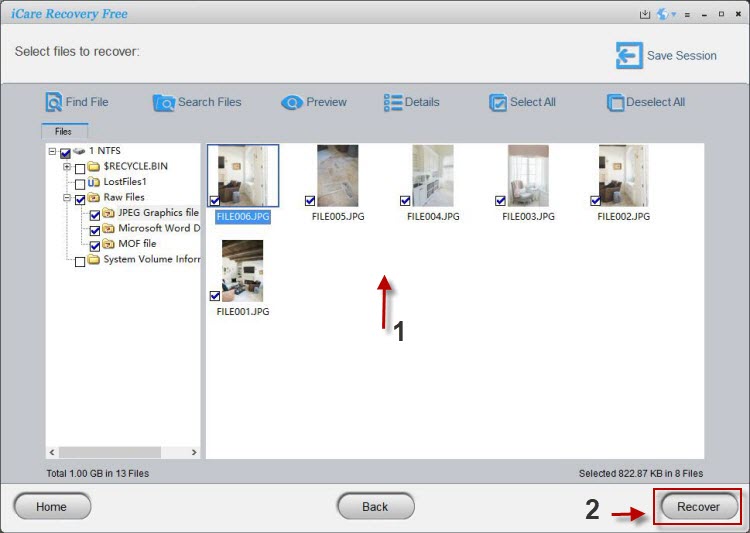 iCare Recovery Pro is a full/quick format recovery software, it can undo format whether you performed a quick or full format that caused data loss and it is totally free of charge for unlimited data recovery.
Method#3 - Unformat drive/card/ssd using Recuva - free
Recuva is licensed $29 for pro edition with support service. However its free for personal use that you may download it here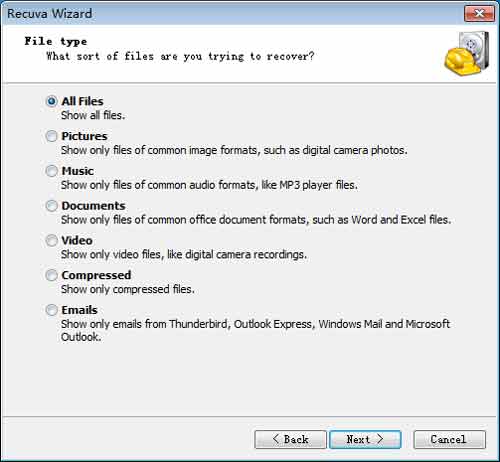 Steps for using Recuva
Download it and install it on your PC
Get your format problem media connected to PC and run Recuva
Let Recuva scan your device
And you will see your files
Method#4 - Unformat disk/usb/card on Mac
What does unformat mean? Simply say, undo format refers to the process to recover files after formatting storage media that was reformatted by mistake or has got format error due to other reasons.
Unformat hard drive on MAC or unformat usb drive on mac can be performed by the solution 4.
Here in solution 4, we would recommend an unformat tool that both provides unformat for Windows and MAC - Stellar Data Recovery, which is a paid tool that provides free unformat scanning and it would show you how it can work before you spend a penny.
Here are the steps that you may follow for unformatting your storage media with Stellar Recovery
Step 1: Get your device connected to PC/MAC if it was an external one you need to recover and then open Stellar Data Recovery, select file types you need to recover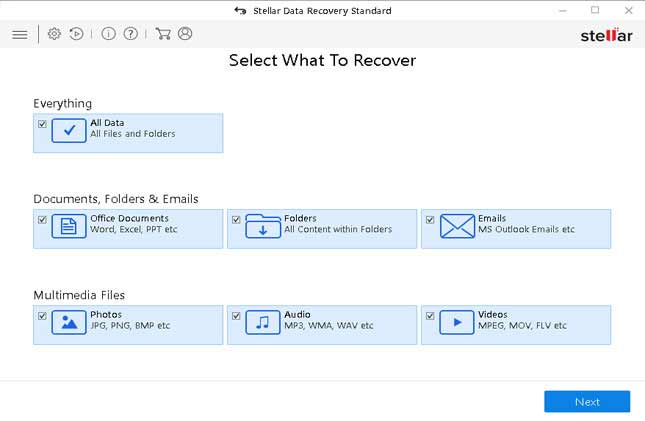 Step 2: Select your unformat device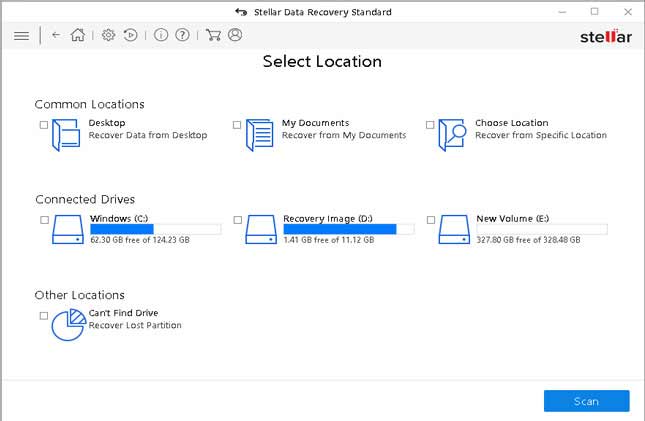 Step 3: Preview found data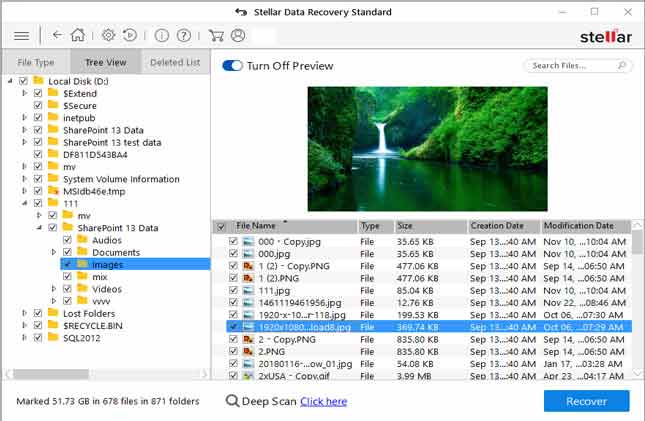 Step 4: Save files to another device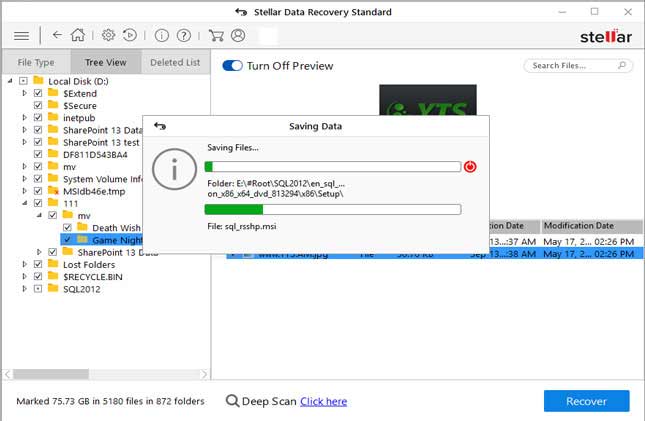 What to do when your drive/card reported unformat?
Unformat Hard Drive (Internal&External), USB Thumb Drive and All types of memory card
This unformat methods work for the following brands of hard disk/usb flash/SSD
Samsung disk, SATA hard disk, Western Digital hard drive, Seagate external hard drive, Maxtor HD, Hitachi disk, Sandisk SSD and more.
Usually, you can unformat any device to get back lost files by relying on data recovery software only if the storage media is not physically corrupted and lost data is not overwritten.
FAQs
??? How do I unformat a partition? Can you unformat a drive? Unformat SSD?
Answer: Unformatting a hard drive partition or unformat ssd with 3 unformat free ways on this page that you may start with the first free method and then the rest. Partition is a volume in a hard disk drive and unformat partition can be easily operated with the free tips here. SSD is one type of hard drive with solid state disk as its name which is formatted the same way as formatting a disc disk, so the unformat ssd is the same way as unformat a hard drive.
??? How do I unformat an external hard drive?
Answer: Unformat external hard drive is the same way when you connect the removable hard disk to a Windows computer as an enclosure, which is the same way of unformatting as an internal hard disk. Try the free ways on this page to get formatted external usb disk recovered.
??? Unformat hard drive windows 10/7
Answer: The unformat software mentioned on this page all work for unformatting hard drive in Windows 10, and besides the Windows 10 computer, they work for other Windows computers too with Windows XP, Vista, 7, 8, 11 supported. Windows 10 does not provided a special unformat command, the windows unformat command line was provided in earlier Windows os Win95. Lucky for users that there are many free unformat tools available in Windows 10/11.
??? Unformat command VS Unformat freeware
Unformat cmd, or unformat dos command is a little difficult to operate for computer starters, and since most of computer users are non tech nerds, the unformat utilities would be better option for getting devices recovered.
??? Diskpart unformat
Is diskpart able to perform the unformat job for formatted devices? The diskpart is able to make changes for hard drives, usb flash drive, memory cards including readonly attribution, changing file systems, delete, format, clean... So far as in our past test, diskpart is not capable of the job of unformat.
Unformat RAID volume
Is it possible to unformat raid disk? You may use iCare Data Recovery Pro Deep Scan Recovery that is able to search files after formatted raid volumes.
Can you unformat a quick format? How do I restore quick format
The format recovery tools mentioned on this page does offer an undo quick format to help restore files from quick formatted hard drive, external hard drive, usb flash drive, memory card etc.
Is unformat free?
Some of the tools mentioned on this page is free, some contains partial fee, some offers free preview to help ensure it could restore the correct files.
Last updated on Sept 14, 2023
Hot Articles
External Resource