Recover Deleted Files with Deleted File Recovery Mode by iCare
iCare Data Recovery Pro - Deleted File Recovery Software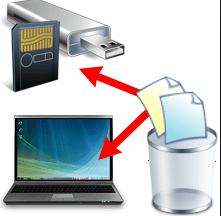 Are you looking for a free data recovery utility to recover deleted files free? Here is a free undelete tool called iCare Data Recoveryworking with almost all Windows Operating Systems, which is has the ability for deleted file recovery in all following situations:
Restore deleted files from memory card like SD card, micro SD, CF, XD card and memory stick, USB flash drive, pen drive, portable hard drive, etc
Undelete Android phone for deleted messages, contacts, photos, files recovery
Retrieve deleted files in Windows system
Rescue deleted photos, videos, music, documents, emails, etc
Recover files after deleting by pressing Shift + Delete keys, Delete key, or formatting.

>>Quick Solution for Deleted File Restoration
Download iCare Data Recovery Pro to fix any data after deleting from hard drive external hdd, memory card, usb, mobile phone and more.
Steps to Recover Files after Deleting
Step1. Download the data recovery software. Deleted File Recovery option is available for deleted file recovery. Or you can select Deep Scan Recovery.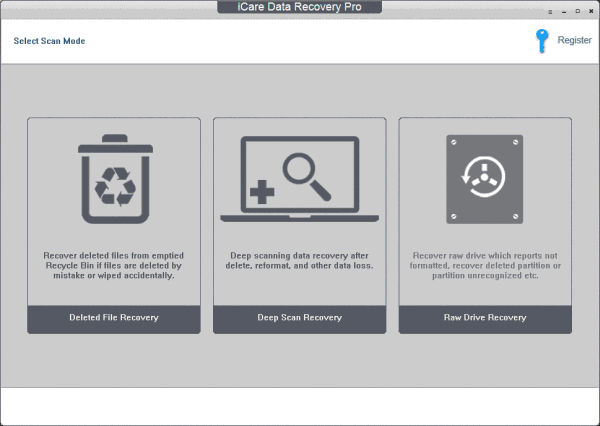 Step2. Choose the drive where data got deleted to scan.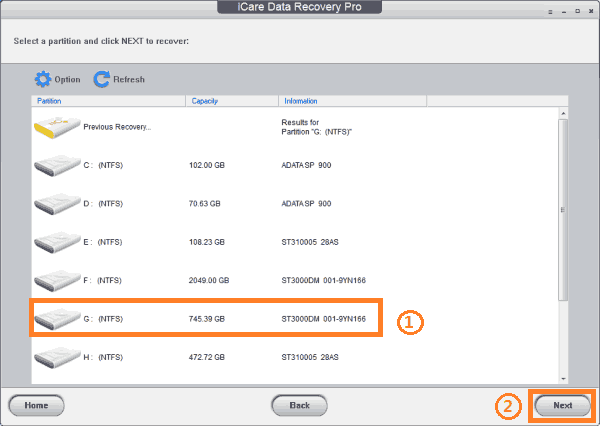 Step3. When scanning is completed, you can see all lost files so that you can preview and restore them.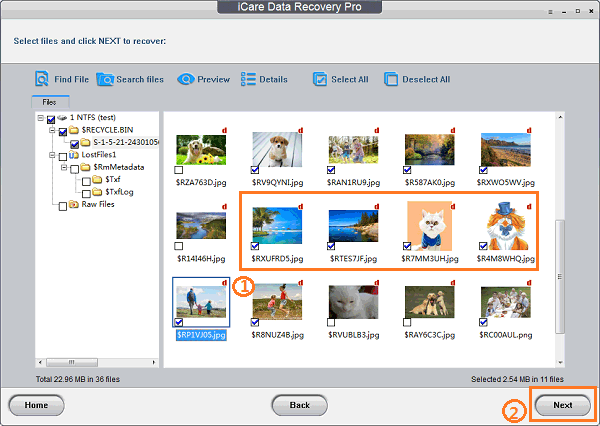 ---
Can I Restore Permanently Deleted Files?
Usually, when all data has been deleted from Recycle Bin or when you accidentally deleted files from a removable disk like memory card, flash drive or external hard drive, many people would consider the data as being permanently deleted. Then, can you restore permanently deleted files from a storage medium? The answer is yes!
Note:
The key point for deleted file recovery from any digital device is to avoid overwriting the deleted data by new added data. Therefore, use iCare Data Recovery to rescue any deleted file as long as the storage medium is not overwritten or physically damaged.
Deleted file recovery after Formatting
Have you ever feel sorry that you had deleted the important data which took days or even moths of your work or your personal savings? Are you wondering if it is possible to recover deleted files after formatting?
By some freeware for data recovery like iCare Data Recovery. You will not believe this but it is true that by empting the recycle bin or SHIFT DEL, your files are not really gone but were just marked as available room for new data. Once new data was accepted, your old data might start to be overwritten. Do not hesitate to stop using the partition or drive where you lost your data to increase the chance of recovery.
We found that a lot of computer newbies who might delete and lose files and was taken down in sorrow. When you deleted files like family photos after accidentally formatting and wanted to recover these data. Do not do anything, and do not rewrite to the hard drives any more.
What does data recovery software do? Scan data storage devices, search all files including the existing data, lost files; list the data and let you get the chance for recovery.
iCare Data Recovery will start a professional data recovery process immediately once you download and install it. It is a powerful data recovery software to retrieve the deleted data after shift deleting, permanently deleting or reformatting, etc.
How to get back permanently Deleted Files?
If you delete any file from computer's internal hard drive, you can find the deleted files by opening the Recycle Bin. Recycle Bin often shows on the desktop of your computer by default.
If you mistakenly delete files from other digital device, files would not be moved to Recycle Bin. In addition, if you empted Recycle Bin, you cannot restore deleted files.
In order to recover files permanently deleted, it is important to stop writing even a single file to the hard drive that was used to save the deleted data.
External Hard Drive Deleted File Recovery
Sometimes, you may find it inconvenient to save data to internal hard drive of your computer. In this situation, you may use external hard drive which has the same storage capacity to internal hard drive. You can take an external HDD to any place and connect it to different computer for data storage and transferring. Although a portable hard drive is easy to carry, files are also easily lost due to mistaken deleting or other reasons. Like all other removable disk, when you delete files from external hard drive, the data cannot be moved to recycle bin.
Recover Deleted Files Android Mobile Phone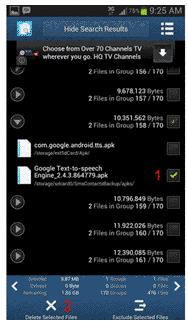 An Android phone or other mobile phone that runs other operating system usually has internal memory for data storage. You probably delete files from an Android cell phone by mistake sometimes. In general, you can select one or several files on the internal memory card of your smartphone and click Delete option so as to delete all selected files quickly and easily. Today's mobile phone has similar function as a computer, but no mobile phone offers a Recycle Bin to save mistakenly deleted files. In other words, when you delete a file from your Android phone, the data would be erased forever unless you can get a useable data recovery tool for Android phone.
Restore Deleted Files from Storage Card
A storage card can be different types, which are available for various kinds of devices. Today, memory card is widely used in some mobile phones, digital cameras and more.
It is possible to recover deleted photos after format memory card/stick or flash card or any other memory card. Because when a file is deleted it is not completely deleted, the Windows just mark the deleted space as available space so that the space can be utilized for storing other files or programs. There are usually two ways: Manual data recovery, and data recovery software. A data recovery professional is able to perform the file recovery manually with some special recovery devices or method, which is never easy for most PC users to understand.
You may need to perform memory card deleted file recovery from different kinds of memory card.
Recover Deleted Photos off SD Card, Micro SD, SDHC, SDXC
An SD card is available in SDHC, SDXC, micro SD and mini SD card. SD card can be used in different digital cameras, cellphone, PDA and some other devices. Micro SD card usually has small size with large storage capacity, so it is often used in mobile phones. Whether you mistakenly delete files from SD card, micro SD card or other types of SD memory card, you are able to undelete files from the SD card before writing new data.

Recover deleted files off SD microSD card
Repair Deleted Files from CF Card
Compared to other types of memory card, CF card has a larger size. It is often used in digital camera on which you can directly delete any photo or video from the CF card. A CF card is also compatible with Windows computer by connecting it with a proper card reader. It is much easier to delete files off CF card on your computer, but you had better think it twice before deleting any file because any data deleted from a CF card will not go to recycle bin.
Restore XD Deleted Pictures Videos
XD card is a kind of storage card, which is often used in Olympus and Olympus digital camera. XD card cannot be compatible with all digital cameras; so many other digital camera users would not like to use an XD card.
Rescue Deleted Data off USB Flash Drive
USB , also called thumb drive, flash drive or USB memory stick, is often used to store and transfer data. USB flash drive usually does not work on other digital devices. You need to put it to a computer or laptop when you want to read, write, copy, delete or move data from a flash drive. You may delete files from a thumb drive by accident when you put it to your computer whether it runs Windows or Mac. For USB deleted file recovery, you can use freeware like iCare Data Recovery.
Recover Permanently Deleted Files Windows system
No matter you delete files on Windows XP, 7, 8, or 10, PC would pop up a message to ask whether you are sure to delete the files. Since you may have different methods to delete a file on Windows 7, 8, 10, you may get different message.
Here are some common situations you perform delete on your computer. It pops up similar message no matter you perform delete on Windows XP, 7, 8 or 10 OS.
Taking Windows XP as an example: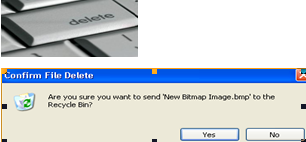 1. Delete
If you select a file and then press Delete key on the keyboard or you right click a file and select Delete option, you may get message saying:
"Are you sure you want to send (file name) to the Recycle Bin?"
Just like the message saying, it would move the selected data to the Recycle Bin when you simply delete any file.

2. Shift + Delete
You can shift delete files on Windows if you choose files and then press Shift + Delete keys on the keyboard of your computer, you will get message showing:
"Are you sure you want to delete (file name)?"
This method to delete any file would usually delete selected files permanently without moving them to Recycle Bin.
Deleted Data Restore Windows 7 / 8 / 10
On Windows 7, 8 and 10 operating system, the messages show a little different, but the same thing is that files will be at Recycle Bin when you simply delete them by Deleteand files will be permanently deleted when you press Shift + Delete keys.
Are you able to repair permanently deleted files from Windows 7 / 8 / 10 / XP after deleting by Shift + Delete keys or emptying Recycle Bin? iCare Data Recovery offers easy solution for permanently deleted file recovery on any Windows OS.
---
Last updated on Nov 01, 2022
Related Articles
Hot Articles