Support Center - Howto Guide of iCare Data Recovery Pro
Overview
This page shares tutorial on how to recover different types of files from digital device when files get lost due to different reasons.
Supported file types: Images (jpeg, gif, png, bmp, tif, etc), videos (mpeg, wav, 3pg, mp4, avi, etc), audio (mp3, wma, wav, midi, etc) and more other types of files.
Supported digital devices: Hard drive / external hard drive, memory card, USB flash drive / thumb drive / pen drive, digital camera, android phone, etc.
Supported situations: Mistaken delete / format, digital device has RAW file system, not formatted error, write-protection, or MBR damage, system crash, etc.
Welcome to iCare Recovery Support Center. Here you can find all iCare Recovery software tutorials, frequent asked questions, technical questions and answers... If you want to get a better solution for your case, please contact our support team for more help by sending an email to support@icare-recovery.com. We would give you a reply within 24 hours in business day.
Frequent Asked Questions
See often asked questions here https://www.icare-recovery.com/support.html
---
Video Tutorial of using iCare Data Recovery
Tutorial of Using iCare Data Recovery Pro with Screeshot
Step One: Download, Install & Launch iCare Data Recovery Pro for preparation, choose a recovery mode, usually 'Deep Scan Recovery' is most often used for many cases.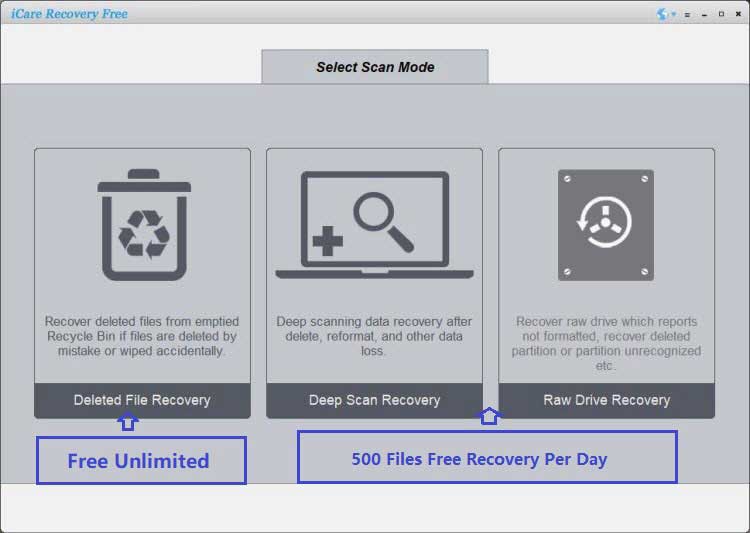 Deep Scan Recovery: it is highly recommended for almost any kind of data loss, except the partition deleted case
Deleted File Recovery: for most recent deleted recovery from recycle bin
Lost Partition Recovery: recover data when you won't be able to see your disk partition
Note:
1, Deep Scan Recovery is always the best recovery option for various kinds of data loss.
2, Deep Scan Recovery is able to find lost files names&folders together with raw files.
3. It is highly recommended to try each recovery mode one by one because it can find different files.
---
Step Two: Select drive that has contained your data for recovery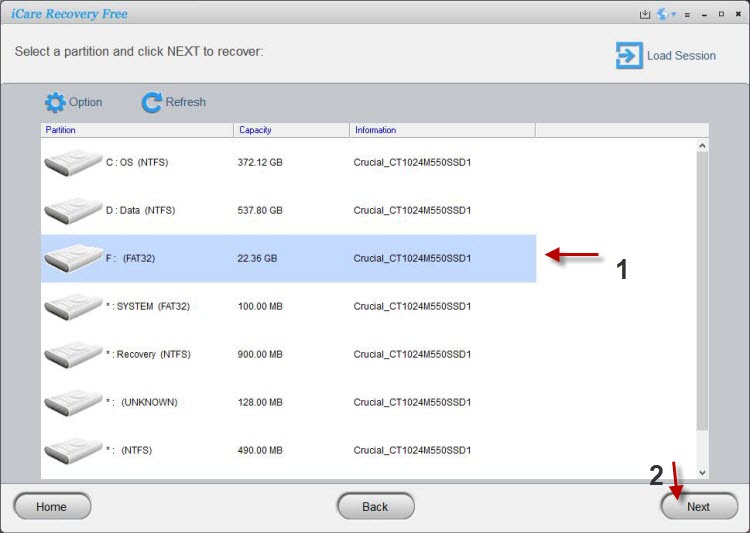 Note: Connect your media to your PC and then iCare Data Recovery Pro can list your drive here. If you just connected it to PC, then click 'Refresh' to get media listed here and then click 'Next' button to start data scanning.
Connect your media to your PC and then iCare Data Recovery Pro can list your drive here. If you just connected it to PC, then click 'Refresh' to get media listed here and then click 'Next' button to start data scanning.
---
Step Three: Wait until the software finish the drive scanning for lost data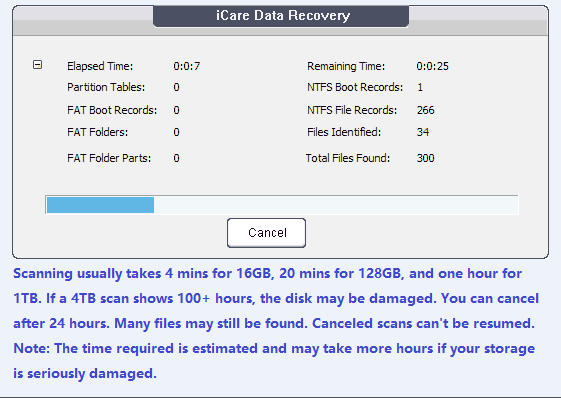 Note: Time consuming eg 'Deep Scan Recovery'
16GB usb flash, memory card: 10minutes or less
250GB hard disk, ssd: 30 minutes or less
2TB hard disk, sdd: 2 hours or less
Note: if drive corrupted, especially the external drive, it takes longer time than usual.
Note:
Cancel the scanning if it already taken 10 hours when your drive is corrupted, once scanning cancelled, there are also many data found.
---
Step Four: Select the first partition(recommended) that contains lost data and wait to see it shows found data (data were all found inside of the container - partition)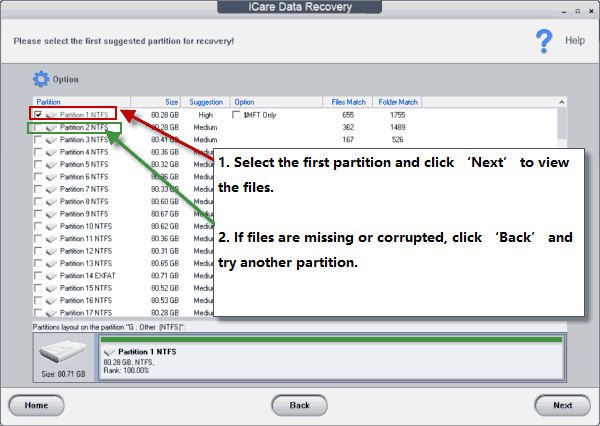 Note: patience is highly appreciated when the software is building up lost data file trees and folders. Please do not close the software at this step since it would definitely pass.
If the software hangs up when building up file trees, it is running out of memory. So please just select the first partition for recovery.
---
Step Five: Preview and save found files
Part I: click every folder in the partition and click every folder that has a + mark in front of a folder to get the inside data. Usually if you just click the folder without opening the + folder, it would only show you data found under the root folder. So we recommend you click every + folder if there is any.
Part II: When the data comes up in the right panel folder list box as below, click the ones you need, or you may click 'Select All' option which is on the top of the found data list to select all files and save all.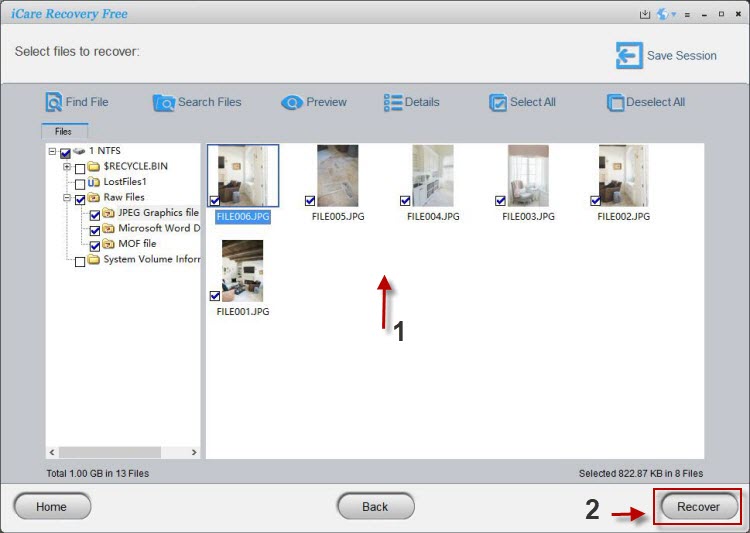 Toolbar on iCare Data Recovery Pro:
Find File: Use file name to find desired files
Search Files: Find lost data based on file types, dates, sizes and other parameters
Preview: preview the selected files
Thumbnail / Details: Change all files into Thumbnail type or Details
Select All: Select all listed files and folders in one click
Deselect All: Deselect the selected files
Note: only photo&office file types can be previewed. When a photo, or a doc file can be previewed, then it can be restored 100% sound.
Important Note: Since iCare Data Recovery Pro tries to recover every possible file on your drive, there would be some damaged corrupted files recovered which are very old deleted files if they were overwritten by your lately new files in the past.
Usually files are divided into two parts, the old file names&folders, the raw files that only were listed by file types. We would recommend you save all files if possible.
---
Find Specific Guide and Support Article from below List
iCare Data Recovery
+ Introduction of software
iCare Data Recovery is developed for recovering deleted, lost data from most storage devices including Windows hard disk partition, external hard drive, usb flash drive, memory card, sd, cf, tf, xd... It includes three parts inside of the software including different recovery modes for different cases of storage media emergency.
+ How to Download & Install iCare Data Recovery
Quick Overview: Please download iCare Data Recovery here and then install it on your computer. Note: in order to keep the best chance of recovery, please do not download nor install the software on any of your partition that needs data recovery.
+ Deleted File Recovery, Deep Scan Recovery, Partition Recovery, which one?
"Deleted File Recovery" is for recent deleted file recovery which takes several minutes for storage media scanning, however sometimes if files were not found by "Deleted File Recovery", the software would recommend you use "Deep Scan Recovery" for another better chance of recovery.
"Deep Scan Recovery" scans every possible file on storage media block by block and it takes several minutes for a memory card or a few hours for a hard disk drive which includes a lot of data.
"Partition Recovery" is for lost, deleted disk partition recovery when your hard disk partition is damaged or no longer accessible from your computer. The software would try to rebuild the last partition table that you most recent used, and then finds out its inside data to let you save the data from the lost partition.
+ How to use iCare Data Recovery Free
+ How to use iCare Data Recovery Pro
+ How to use Deleted File Recovery Mode in iCare
+ How to use Deep Scan Recovery Mode in iCare
+ How to use Partition Recovery Mode in iCare
Support Center
Home > Support Center