Recover deleted files FAT32
iCare Data Recovery - Deleted file recovery from FAT32
How to recover deleted files from FAT32 partition? Are they still recovable?
iCare Data Recovery helps you to retrieve deleted files from FAT32 partition if the files were deleted by accident, deleted by reformatting, deleted by virus from FAT partition, deleted by deleting the partition and files gone.
iCare Data Recovery Pro will start a disk scanning and search all deleted files and let you preview lost deleted files for free.

Steps to Recover Files after deleting from fat32 partition
Free download iCare Data Recovery to perform FAT32 drive data recovery including free pen drive file recovery, USB drive recovery, memory card data recovery, etc.

Step1. Download, install and start the software to show and select a recovery mode.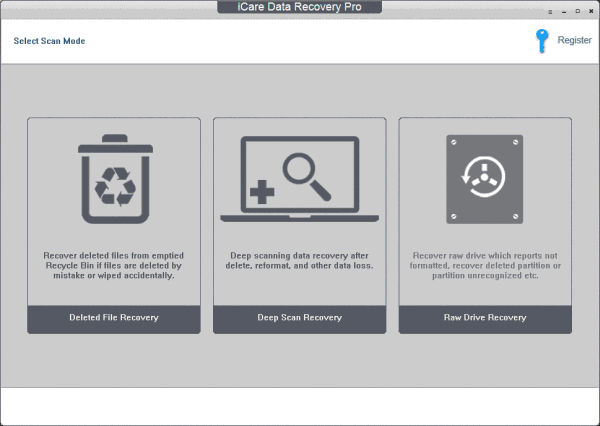 Step2. Choose the fat32 partition on which you deleted files and then wait when the program is searching for those deleted files.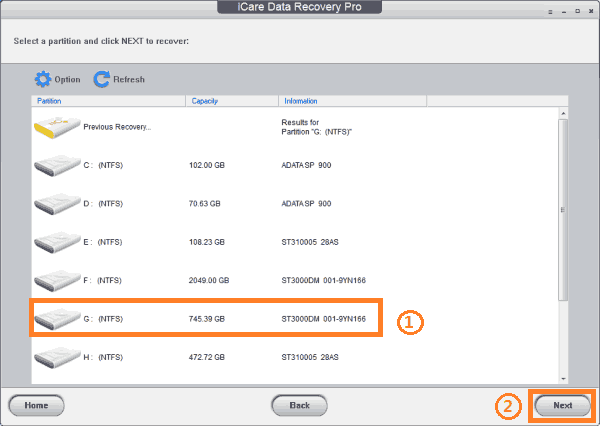 Step3. You are allowed to preview some files before recovering them. If you are sure those found files are deleted ones, you can save them.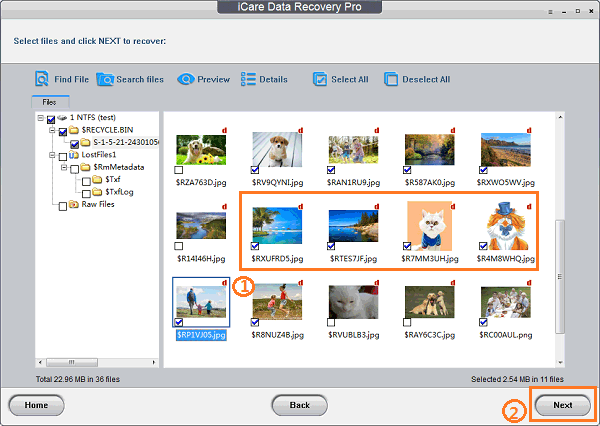 FAT32 deleted file recovery software
Are you some of those people who are looking for undelete files fat32, undelete files from formatted partition fat32, recover deleted fat32 files etc? With a deleted file recovery software, you are able to restore any deleted file from FAT32 partition.
FAT32 Partition Files Deleted
As we know most removable storage devices are using FAT32 file system like mp3 player, memory stick, memory card, digital camera, USB stick, etc. When your external storage devices encountered some problem and you sometimes deleted files from the devices, then you will be the same ones looking for recovering deleted files FAT32.
FAT32 partition data loss is unforeseen, for example, FAT32 partition formatted, deleting a file or program accidentally or mistakenly, deleting data intentionally but find they are still useful later, improper computer shut down, power failure, operating system corruption, data corruption, virus attack, etc.
Here we would like to tell you that most files deleted from fat32 partition can be retrieved by iCare Data Recovery, an undeleted program for FAT32 partition.
As we have offered the link above about how to use iCare Data Recovery, here we would like to make it simple for you to use it for recovering fat32 files.
In case of accidental removal of files on a NTFS (1.0 and 2.0) (default for Windows Vista, XP, 2000 and NT), FAT32, FAT16 or FAT12 (mostly used in removable storage device like USB drives, MP3, MP4, Camera and file system default before Windows XP)file systems this is the utility to help.
Recover Deleted Data from Windows FAT32 Drive
FAT32 is file system that can be recognized by all Windows OS. You are able to recover permaently deleted files from Windows no matter you delete any file from any media that has FAT32 file systemm, such as pen drive deleted file recovery, SD memory card deleted file recovery, CF card deleted file recovery or USB thumb drive deleted file recovery, etc.
How to Format a Corrupted RAW Memory Card?
Usually, a memory card has FAT16 or FAT32 file system, which can work normally in digital camera or cell phone. However, you might encounter the problem that memory card turns to RAW file system and needs to be formatted. In this situation, how to format a corrupted RAW memory card with data back? Do you need to format the memory card from RAW to FAT32 to get back lost files? Well, you had better not format the memory card. iCare Data Recovery can not only help recover data from FAT32 partition, but also it help recover files from RAW microSD card, unformatted CF card and XD, etc when it is corrupted and unreadable. When data has been restored, you can format the RAW memory card and fix the corrupted memory card.
Supported file systems for file recovery:
NTFS 1.0, NTFS 2.0, FAT12, FAT16 and FAT32

---
Related Articles