RAID 5 Data Recovery
RAID 5 is a type of array, which is widely used by individuals and companies because it provides a good solution for data storage. Data is striped at block level when you store files to RAID 5 array. RAID 5 does not makes backup for data, but it stripes data to each hard disk with parity information distributing among the drives.
When one disk drive is corrupted, you can restore data from the distributed parity, so you will not lose any data upon failure of one disk drive in RAID 5. However, you will be unable to restore data when two or more hard drives get corrupted in RAID 5. Today, this article will introduce how to recover files when you lose data from RAID 5 due to array failure or other reasons.
RAID 5 File Recovery Software Download
RAID 5 data will get lost due to various reasons, but you can always rely on iCare Data Recovery Pro to restore the lost data. This data recovery software supports RAID 5 array to help recover deleted files on raid 5, formatted raid 5 volume, raid 5 inaccessible or other data loss problem due to unknown reasons.
You can free download this data recovery software and install it on the computer on which you face data loss problem. iCare Data Recovery allows you to recover data from RAID 5 array on Windows OS like Windows 7, 8, 10 and Windows Server and more. It provides an easy and secure solution for lost data recovery from any hard disk drive without rebuilding RAID 5 array.
Steps to Recover Data off RAID 5 Array
Preparation: Free download and install iCare Data Recovery on Windows computer. Please do not install the software on the drive where data got lost and then follow the steps below to restore data:
Step1. Launch the data recovery software and then select a proper scan mode.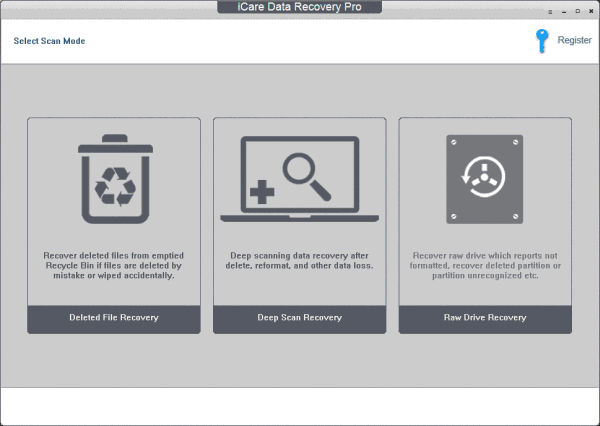 Step2. Choose the disk drive where data got lost and then the software will scan it to search lost files. You should wait patiently when the software is scanning.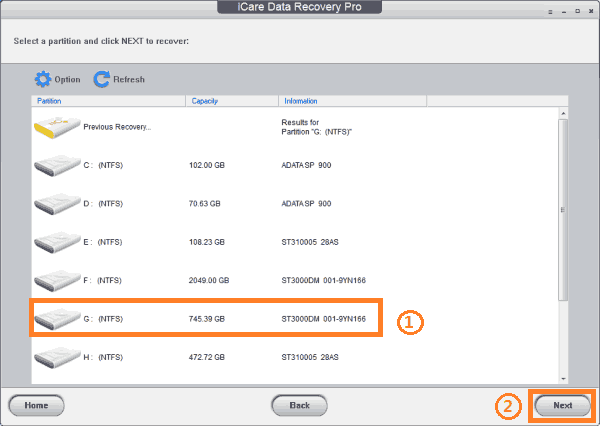 Step3. You can preview files after scanning and then save the lost files to a different drive.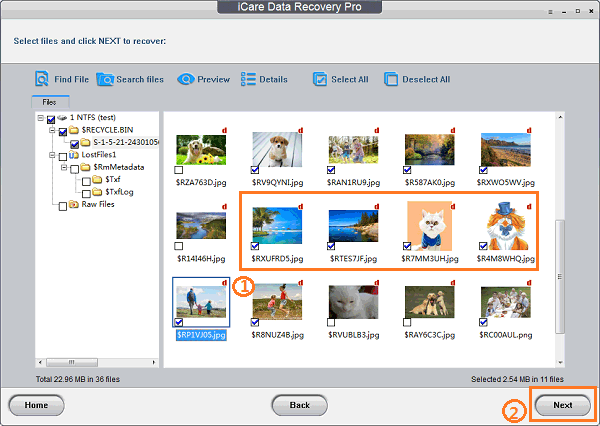 Key Points for RAID 5 Disk Recovery
When you can recover data from RAID 5 array successfully or not, it depends on the following points:
1. What is the cause of RAID 5 disk failure?
Many causes might result in RAID 5 failure, but data recovery is not possible when the RAID array is physically damaged.
2. Did you write new data to the failed drive in RAID 5?
If you write new data to the failed drive in RAID 5, it might overwrite the previous data and make it unrecoverable.
When RAID 5 fails, you should not make any effort to fix the problem because it might lead data to be lost forever.
RAID 5 Data Recovery When One Hard Drive Fails in Array
RAID 5 often stripes data at block with distributed parity. When one hard drive fails in RAID 5 array, the array can still work normally. You can restore data from the distributed parity when one hard drive fails in the RAID 5 array. Therefore, the problem is easily to be ignored when only hard drive gets failed in RAID 5 array. Although you will not lose any data when one hard drive is corrupted in RAID 5 array, you had better backup important data when you realize the problem, because if more than hard drive is corrupted, data stored on the array will be lost. You never know whether there is another hard drive will get corrupted sometimes.
RAID 5 Hard Drive Failure vs. RAID 5 Array Failure
RAID 5 hard drive failure is different from RAID array failure. Usually, when a hard drive gets failed in RAID 5 array, it does not cause data loss. It will cause data loss when two or more hard drives fail in RAID 5 array. RAID 5 array failure refers to the situation that the you cannot read or write data on the array due to hardware failure or software failure. RAID 5 array failure might result from hard drive failure.
RAID 5 Disk Is Not Accessible
RAID 5 provide a good solution for storing data, but it is usually terrible when you are unable to access the array for data reading or writing. Here are some possible situations that you might fail to access RAID 5 hard disk:
1. Two or more hard drives fail
As you know, RAID 5 is still able to work normally due to one hard drive failure in the array. However, when more than two hard drives in a RAID 5 array get failed, you may meet huge data loss problem.
Usually, hard drive might be corrupted due to reasons like virus infection, improper operation, bad sectors, sudden power outage and more other reasons. If hard drive is corrupted in RAID 5 array due to those kinds of reasons, you may encounter problem that RAID 5 array fails and shows RAW file system. You should be careful to protect the RAID 5 array from suffering such kind of problem in order to avoid data loss.
2. Hard drive has wrong order
Sometimes, hard drives in RAID 5 array might be in wrong order, which might cause array corruption and disable you to access any data on the array.
3. More other reasons
RAID 5 disk might become inaccessible due to more other reasons. As long as the previous inaccessible data is not overwritten, you can use iCare Data Recovery to retrieve all inaccessible data from RAID array corrupted hard disk.
About RAID 5 Array
RAID 5 consists of 3 hard disks at least, which usually stripes data with distributed parity. When you write a file to RAID 5 array, parity information is usually distributed to each hard drive in the array. RAID 5 array is similar to RAID 5, but the data reading performance is lower than RAID 4 because parity data is distributed among all drives. You can create RAID 5 array in Windows 7, 8, 10, Windows Server 2003, etc. The hard drives you add to create a RAID 5 array should have the same capacity. Otherwise, the RAID 5 array will be created based on the minimum capacity. It will be better if all hard drives have the same rotate speed to keep a best performance.
Differences between RAID 5 and Basic Hard Disk
RAID array is different from basic hard disk drive. Here are some differences between RAID 5 array and basic hard disk drive:
1. RAID 5 is created by 3 or more basic hard disk drives, while basic is usually divided into several partitions in a computer.
2. When you write files to a basic hard disk drive, the data will be stored to each sector of the drive. However, when you write files to RAID 5 array, the data is stripped at block level with parity information.
3. It is usually more complex to recover files from RAID array than that of basic hard drive, because data storage solution for RAID array is more complex than basic hard drive.
Case1: Hello! I have made the biggest mistaken recently. Please help me! In fact, yesterday, I just mistakenly open the RAID 5 Hard drive with 1 TB capacity instead of a hard drive there with 560GB capacity and coincidentally deleted a folder named file inside this RAID 5 hard drive wrongly at last. Honestly, I do have ever tried to undelete hard drive files from an external hard drive with delete file recovery software before and think whether that data recovery software also works in this case. But, this time, it is not a external drive, but, only a RAID hard drive. I am not sure. Can I still use this deleted file recovery software? Or do I have to select another special RAID hard drive deleted file recovery applications out there to take my deleted folder back? Thanks for any clue here! 
Case2: Hello, friends! I do have 5 hard drives used on my RAID 1 array and recently accidentally deleted one of the volumes used on these RAID 1 hard drives and many files and folders stored there are also deleted. What am I supposed to do now? Can I recover deleted data from recycle bin? Is that deleted volume destroyed completely? Is that possible for me now to recover deleted hard disk files on Windows 7 PC? Thank you in advance!
Hello! Find out all your RAID hard drive backups and see whether you can find some useful copy of the original hard drive data for future use. If you do have found no extra data copies or realized most of your deleted files have not been backed up elsewhere yet, also do not panic! Data recovery software still could be the chances to take deleted files, audios, photos, documents, mails and more contents back from that RAID 5 hard drive.
Video - Recovery deleted files from media with iCare Free
---
Last updated on Nov 01, 2022
Related Articles