Windows Server 2012 Data Recovery
Windows Server 2012 Data Recovery Software Download
For data recovery on Windows Server 2012, you need to use a data recovery program which is compatible with the Server 2012 operating system. iCare Data Recovery Free is a Windows-based data recovery tool, which is able to work on almost all Windows operating systems. Therefore, you can rely on this data recovery software to recover lost files like photos, videos, music, documents, etc on Windows Server 2012 RAID volume or any other storage device. You can free download and install iCare Data Recovery on your computer, which provides solution for various data loss issues. This data recovery software is a read-only tool, which provides a safe way to recover lost files without causing any hurt to the Server OS or lost data.
Steps to Recover Files on Windows 2012, Windows 2102 R2

Preparation: Free download and install iCare Data Recovery on Windows Server 2012 disk. You should remember not to install the software to the volume where data got lost. Then, you can launch the data recovery software and follow the steps below to recover files on Windows 2012:
Step1. Select a proper scan mode after running the data recovery software.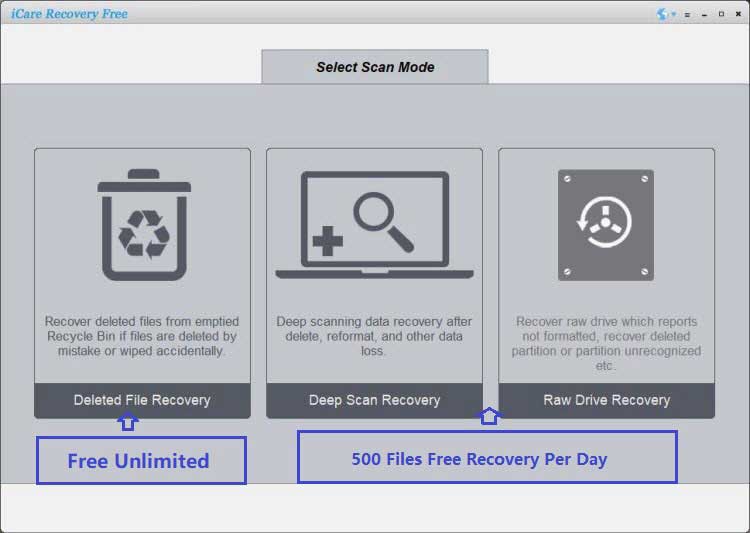 Step2. Choose the drive where data got lost and then you only need to wait patiently when the software is scanning the drive to search lost files.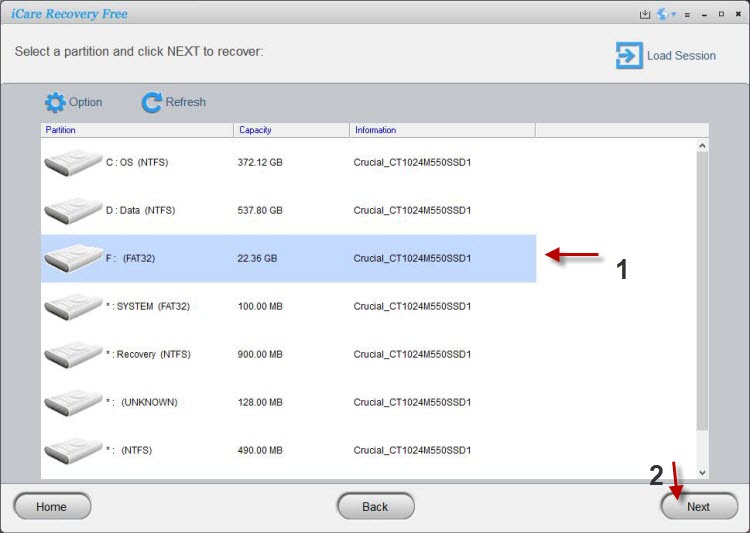 Step3. You can preview files after scanning and then save the lost files to another drive.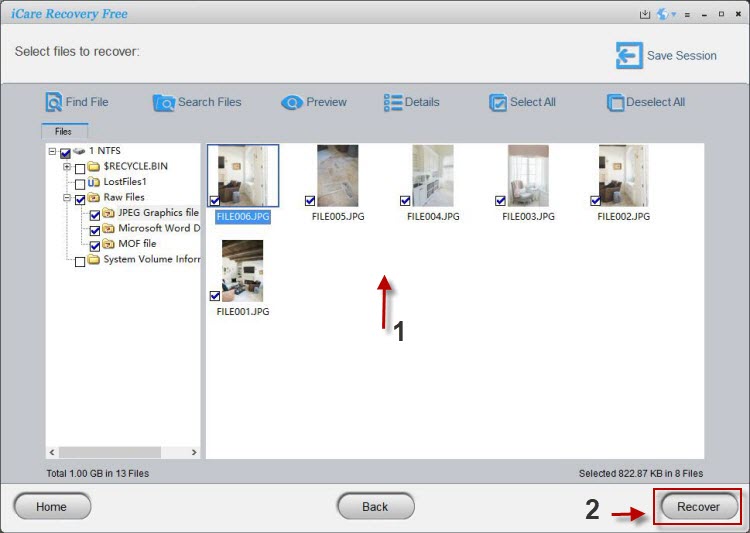 Common Situations for Windows 2012 Data Loss
Similar to other Windows personal operating system, you might mistakenly delete files on RAID volume or accidentally formatted RAID drive on Windows Server 2012. When files got lost due to such kind of reasons, you should remember not to write new data to the volume where data got lost because new data might overwrite the lost files and make them unrecoverable. On Windows Server OS, you might also meet data loss due to system malfunction or similar reasons like:
Windows Server 2012 system failure
Cannot enter Windows Server 2012 operating system
RAID hard drive corruption in Windows Server 2012 R2
Server 2012 shuts down unexpected due to unknown reasons
Windows 2012 reboots automatically due to virus infection
More other reasons
You may meet problem on Windows Server 2012 in many situations. If you lose important data due to the similar reasons, you can use iCare Data Recovery to recover lost files.
RAID Array Failure on Windows Server 2012
RAID array is usually created by two or more hard drives, which is widely used on Windows Server and personal operating system. For example, a RAID 0 array is created by at least 2 hard drives, while a RAID 5 array is created by at least 3 hard drives. RAID array provides a better solution for storing data than basic hard drive because it has fast data writing reading rate. Although some RAID array provides a safer solution for data storage, data stored on the array might be lost due to RAID array disk failure. RAID arrays usually gets corrupted due to different reasons like virus infection, hard drive bad sectors, improper operation, power outage, etc. When RAID volume fails, you might get different types of error message such as:
iCare Data Recovery supports to recover data on RAID 5, 4, 3, 2, 1, 0, etc on Windows Server 2012 or Windows Server 2012 R2. Please do not rebuild the array before data recovery because it might result in data lost forever.
Windows 2012 R2 Reboots Automatically
It is a common problem for almost all computer users that their computer might reboots or shuts down automatically. A computer, whether it runs Windows personal or Server operating system, may reboots automatically due to lots of reasons. Sometimes, you might get some error message before the automatical shutdown or rebooting of your computer. Sometimes, the computer might shut down or reboot without showing any information. Whatever, if it causes data loss due to unexpected shutdown of your computer, you had better stop all operations that you may perform to fix the problem. Instead, you should run iCare Data Recovery to get back lost files on the computer which runs Windows Server 2012 R2. If you need to fix the problem to prevent unexpected rebooting or shutdown to your computer, it is necessary to make it clear why the computer run into this problem:
1. The first possible reason is that the there is some problem with the hardware in your computer.
2. In addition to hardware problem, your computer running Windows Server 2012 or 2012 R2 might reboot due to software conflict. In fact, it is one of the most common reasons for blue screen of death which usually causes unexpected rebooting of a computer. This problem usually happens after you install some new software on your computer. You just need to uninstall the software which is not compatible with the Server operating system and then your computer will not show blue screen message or reboot automatically.
3. Another common cause that might lead your computer to reboot or shut down automatically is virus infection. Virus of spyware might cause different problems on your computer or even cause system crash, in which situation your computer might reboot or shut down automatically. Probably, you are careful enough to protect your computer from being attacked by virus, almost every computer has ever been attacked by virus more or less. There is no 100% guarantee to prevent virus infection to a computer, but you should always remember to install and update antivirus software on your computer.
About Windows Server 2012
Windows Server 2012 is a Server operating system released by Microsoft on September 4, 2012. Windows Server 2012 is the successor to Windows Server 2008 R2, but it no longer supports Itanium-based computers. Windows Server 2012 has many new features compared with Windows Server 2008 R2 including:
1. Windows Server 2012 has Metro-based Graphical user interface.
2. Windows Server 2012 has an IP address management, which is available for discovering, monitoring, auditing and managing IP address space of network.
3. Windows Server 2012 includes a new version of Hyper-V.
4. Windows Server 2012 also has many improvements on its Active Directory.
5. Windows Server 2012 has a new file system named ReFS, namely Resilient File System
Windows Server 2012 is an updated version of Windows Server 2012, which is developed by Microsoft in 2013.
Windows Server 2012 Update Failure
Did you meet the problem that you are not able to install Windows Server 2012 updates? It is necessary to install Windows updates in order to protect the Serve station from being attacked by virus or hacker. The workstation is taking a big risk working in a state without installing the latest Windows updates. Usually, Microsoft detects the updates automatically and it will alert you to install the Windows update on Windows Server 2012. Then, what can you do when Windows update is not working in Windows Server 2012?
Causes:
The Windows 2012 Server update usually fails in the downloading or installing process. The problem probably occurs due to network disconnection, insufficient available space for installing updates, system corruption, virus attack, software conflict, RAID array failure, turning off the Server without waiting the updates completed, and more.
Solution:
1. Enable the network connection and make sure that it works normally
2. Usually, it will pop up alert message when Windows updates failed. You should read the message carefully and fix the problem accordingly mentioned in the alert message.
3. You can boot Windows Server 2012 from Safe Mode > right click the computer and select "Windows Update" > click "Change Settings" > select never install new updates and disable "Allow all users to install updates on this computer" > reboot the Server to see if the problem can be resolved
Windows 2012 Server System Crashes with Stop Error
Windows 2012 system crash with stop error usually refers to the situation that one or more computers stop working (usually changes to blue screen) and shows error message with error code (like ***Stop 0x00000139, 0x000007F, 0x00000135, etc). You can find out the reasons for the problems and fix the issue, depending on different stop error codes:
0x0000000A – It usually refers IRQL_NOT_LESS_OR_EQUAL problem. This stop error code in Windows Server 2012 is usually caused by incompatible hardware or software or device driver.
0x0000001A – It refers to MEMORY_MANAGEMENT problem, which is usually caused by new added hardware or corrupted system memory.
0x00000044 – It refers to MULTIPLE_IRP_COMPLIETE_REQUESTS, which is often caused by new installed device driver. You can uninstall the recently added device driver to resolve the problem if you get this stop error code.
0x00000135 – It refers to UNABLE_TO_LOCATE_DLL. If Windows Server 2012 shows such an error code, it means that files lost / corrupted or the registry corruption. Usually, you can see the file name in blue screen messages if the problem is caused by file lost or corrupt. You can find the lost or corrupted file and save it to the system folder. If blue screen message does not show any filename, probably the problem is caused by registry corruption. In this situation, you can perform system restore or restore registry from the previous backup.
You may receive more other similar stop errors codes when Windows 2012 crashes and shows blue screen of death.
Windows 2012 Stops Responding
You probably connect one or two computers on Windows Server 2012 or R2, but the computer may stop responding sometimes. This problem might occur when after installing a new programs, adding a new hardware or in some other situations. If Windows Server 2012 stops responding and freezes up all of a sudden when you do something on your computer, you had better not force turn off the computer. Server 2012 probably stops responding when you launch too many programs or open too many Windows at the same time. You had better close some Windows or programs. In addition, you should uninstall the software that is not compatible with the Windows Server 2012.
Antivirus Solution for Windows Server 2012
Windows Server 2012 itself does not have any built-in antivirus software, providing security solution. Therefore, you may feel it a problem to protect the workstation OS for your computer from suffering unwanted damage due to virus infection, hack, Trojan, etc. Although Microsoft did not supply any official antivirus software for Windows Server 2012, you have many choices to provide antivirus solution for Windows Server 2012 to prevent unexpected damage. There are lots of antivirus programs that are compatible with Windows Server 2012 and Windows 2012 R2, so you can look for a useful one and install it on the workstation of the Server operating system.
---
Last updated on May 14, 2023
Related Articles