How Can I Remove Virus in My Memory Card and Recover Data
Last updated on July 28, 2021
Table of Contents: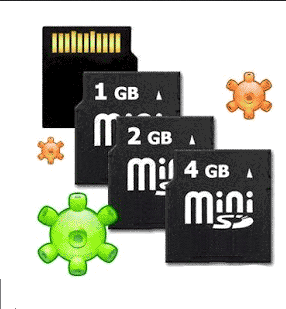 How to remove memory card virus?
Has your memory card ever infected with virus and all data stored on it becomes corrupted or unreadable?
>> SD card attacked by virus
>> XD card infected with virus
>> Virus-infected CF card
If your memory card has virus infection, remove them with antivirus program at first.
#1 - Remove virus infected memory card with cmd
CMD 1 - Type the following command: attrib -h -r -s /s /d f:\*. * and hit ENTER. You need to replace "F" with your memory card drive letter name. After this, Windows will repair your card and remove virus from your SD card.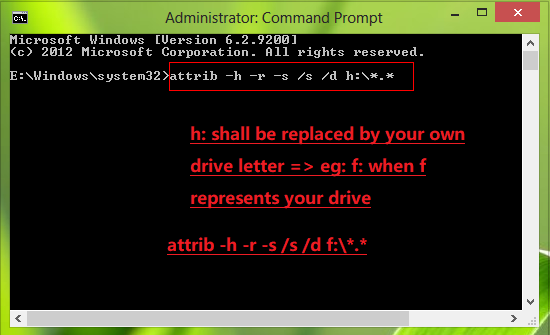 click "Start" Menu > "Run" > type "cmd" > type "attrib -h -r -s /s /d h:\*.* " (h:\ shall be replaced by your own memory card drive letter such as f:\ if it shows f on your computer)
CMD 2 - use the following cmd if d is the drive letter of your memory card. (You need to replace d with your own drive letter.)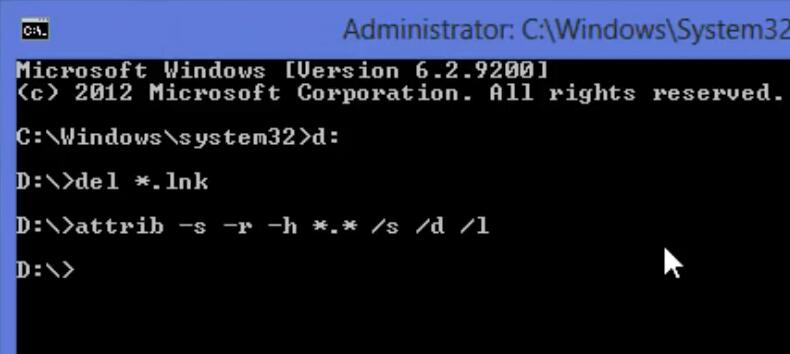 #2 - Remove virus from memory card with antivirus software
If there is antivirus protection on your Windows computer, just start virus scanning after inserting the memory card to computer.
No antivirus software? Install some of the following.
https://www.avast.com/c-virus-removal-tool
https://www.avg.com/en-ww/free-antivirus-download
Still no effort after scanning memory card with antivirus software?
#3 - Remove virus by formatting memory card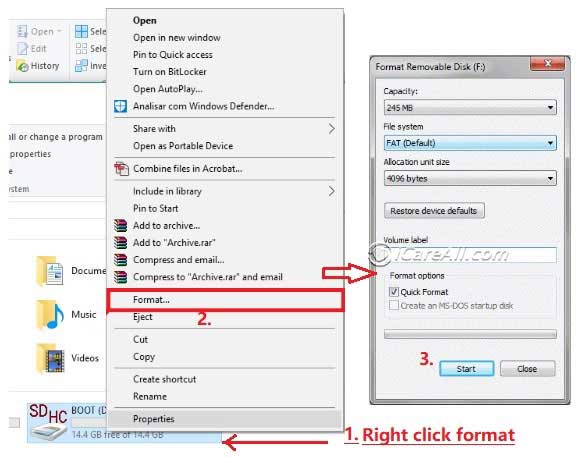 Also read: 5 free memory card formatters
Steps to Recover Data from Virus Infected Memory Card SD XD CF

Virus-Infected Memory Card Recovery
Try  iCare Data Recovery Pro to rescue files a memory card which has been attacked by virus before you run anti-virus software to remove the virus.
Step1. You need to connect the memory card to a computer with a card reader. Then, download iCareData Recovery Pro. choose a recovery module.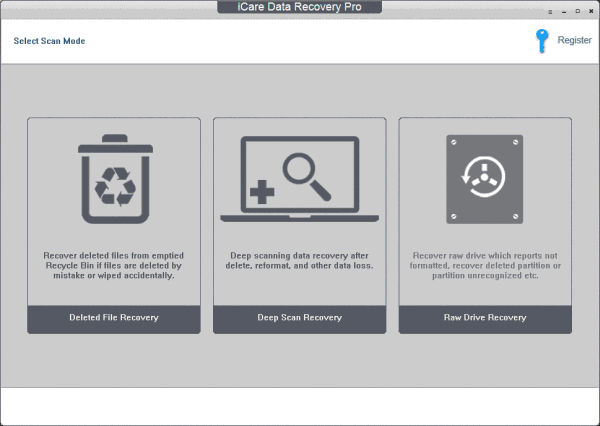 Step2. Choose the memory card need to be recovered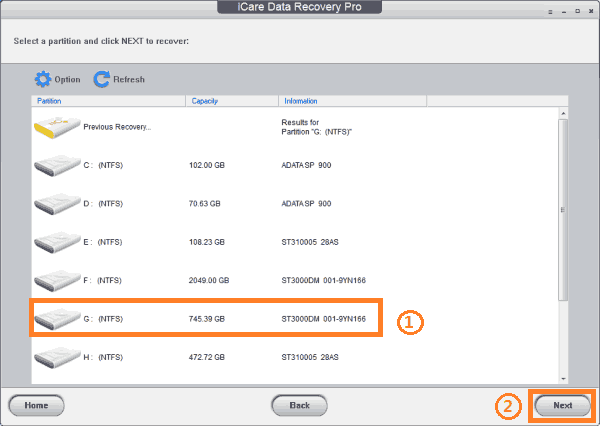 Step3. preview and choose all files you lost due to virus infection and recover them.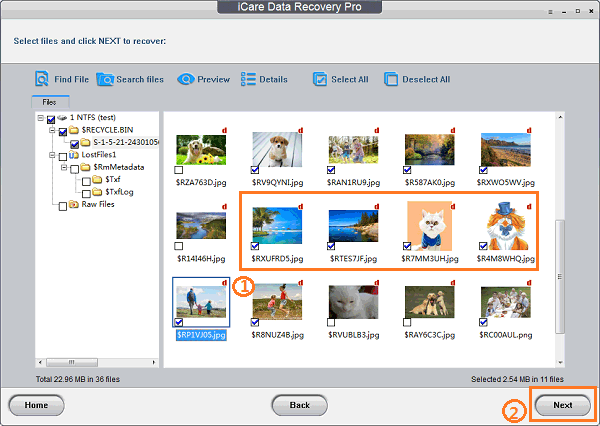 Data Recovery from Virus Infected Memory Card
Virus can spread through Internet among different kinds of storage devices. Generally speaking, a memory card might be attacked by virus in following situations:
Memory card contracted the virus after connecting it to a virus infected computer
Transfer virus infected files to a memory card
Visit a website which contains virus while the memory card is inserted in
Moe other unknown situations
When a memory stick contracted the virus, files stored on the card might be wiped by the virus. Even worse, virus might corrupt the memory card or data on the card.
Pay attention:
1. If the virus just removed the files stored on the card, data recovery program will be the best way to recover the lost data.
2. If data stored on the memory card is corrupted by virus, you may be unable to open the data even if you can restore it by using data recovery software.
Free downlaod iCare Data Recovery which is helpful with any data recovery from a virus-infected memory card, but you should ensure that the data is not overwritten or the memory card is not physically damaged.
SD Card Is inaccessible/Corrupted because of Virus Infection?
SD card is a type of storage device which is often used in Android phone, digital camera or some other devices. When it is attacked by virus, the SD card might be damaged and cannot be detected by camera, phone or PC. If so, iCare Data Recovery can help you to restore all your data from corrupted SD card.
Then you can format the inaccessible sd card to fix it, first just try the quick format tool or Disk Management. If it is not available, you can try CMD command prompt to repair it.
Repair damaged sd card with Windows built-in tool "Error-checking", right click your sd when connected to PC, and find its "Property", open it and navigate to Tools.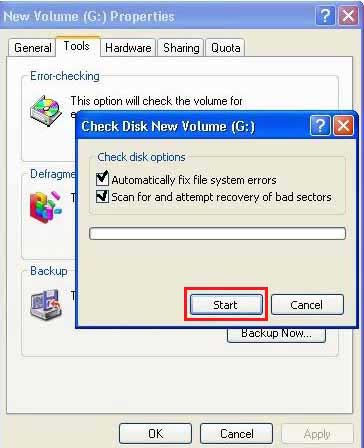 Repair virus infected sd card with Error-Checking
If the above method does not work, use cmd to repair the damaged memory card with cmd.
Step1: remove the virus on the SD card, insert the SD card into your computer. Run CMD.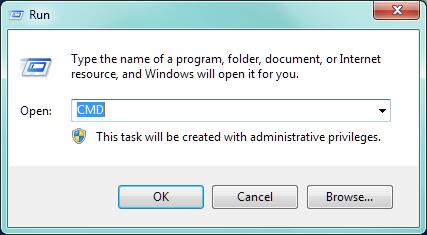 Repair inaccessible error SD card with CMD
Step2: Type"format l: /fs:ntfs"(l is the drive letter of your raw SD card)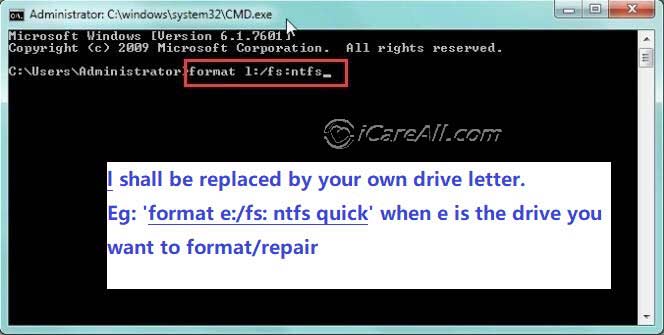 Repair inaccessible error SD card with CMD
Anti-virus Software Removes File Folder on Memory Card
Imagining: Your computer is infected with virus, so you install antivirus software to check and kill all possible viruses. Your memory card is right connected to your computer when you install the antivirus software. In this situation, the antivirus software might consider some files or folders on your memory card as virus and remove it. If antivirus software removes file folders on your memory card, what can you do? Do not panic! You can use iCare Data Recovery software to restore lost photos from SD / microSD, CF, XD, memory stick when data is wrongly deleted by virus if you have not put anything on the memory stick.
How to Format Virus Infected Memory Card without Losing Photos?
Sometimes, a memory card might become inaccessible or unreadable when it is attacked by virus. Many people would like to full format memory card when they realize that the card is infected with virus, but formatting will erase all precious photos and other kinds of data. Therefore,to avoid to lose any data due to formatting, you had better use data recovery tool to fix lost data from the virus infected memory card and then format the card.
---
Related Articles
Hot Articles