Windows 8 Data Recovery
Do you need Windows 8 data recovery software to recover lost data on your computer? This article will introduce a data recovery tool with 3 steps for Windows 8 data recovery.
Windows 8 Data Recovery Without Software
System Restore would be a nice choice if you have a previous system backup, files could be restored from the previous backup. (If you don't remember a backup was made, you may read the following article that would show to how to restore data from your Windows 8, 8.1 without a previous backup.)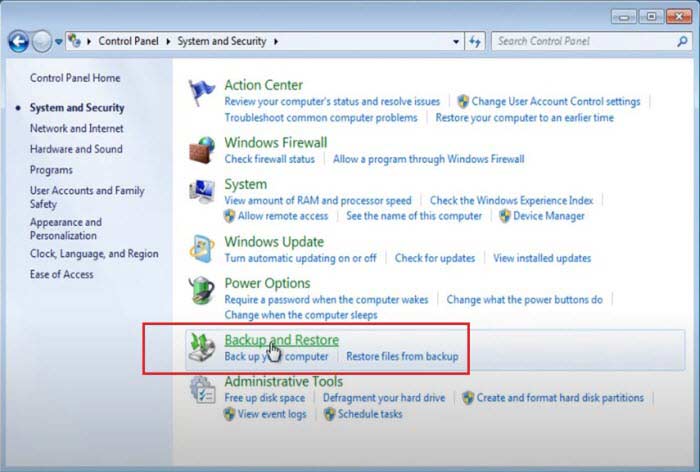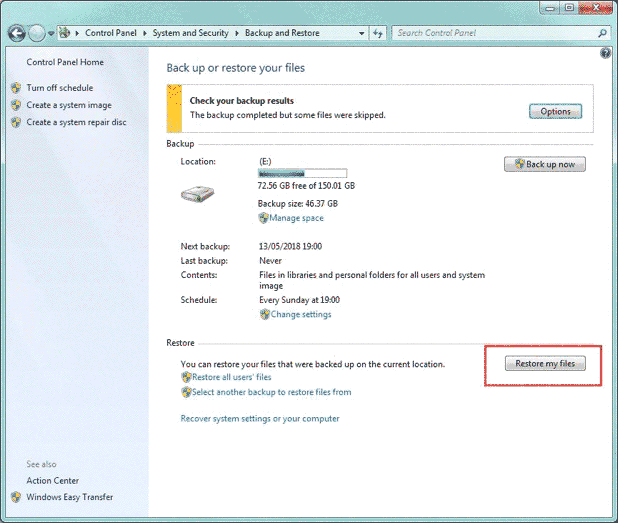 Restore files from windows 8 system restore
Quick fix -> how to recover deleted files from Windows 8 without software
In order to recover files on Windows 8 computer with no previous backup, you need to use a data recovery program.
3 Steps to Restore Deleted Files on Windows 8 Free
Preparation: Free download and install iCare Data Recovery on the Windows 8 computer. Please do not install the software to the drive where data got lost. Then, you can launch the software and follow the guide below to recover lost data on Windows 8:

Step1. Select a proper scan mode after running the software.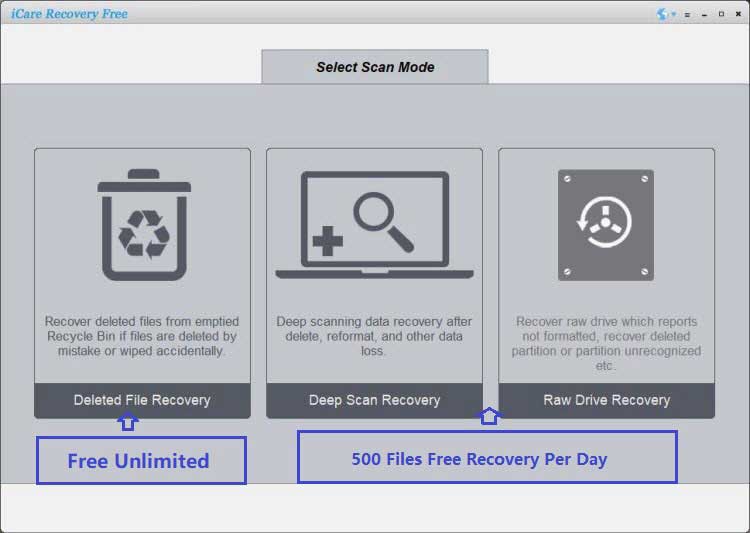 Step2. Choose the drive where data got lost and then you only need to wait patiently when the software is scanning to search lost files.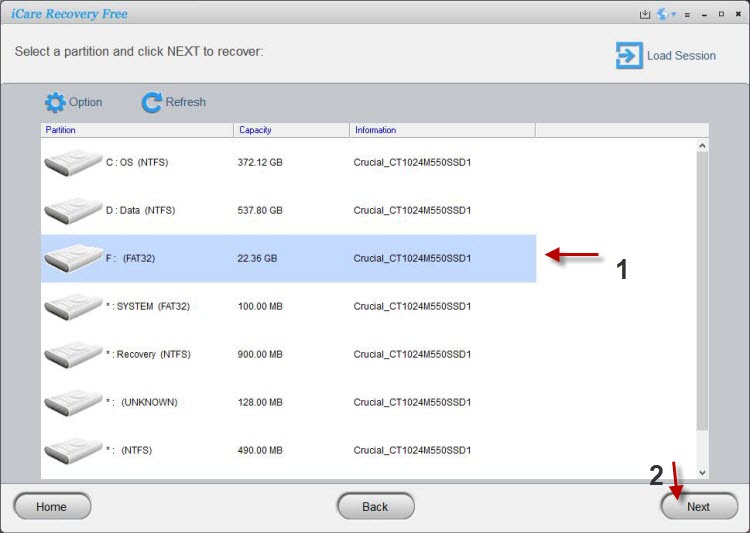 Step3. When scanning is completed, the software will show all found files. You are allowed to preview some files and then save the lost files to another drive.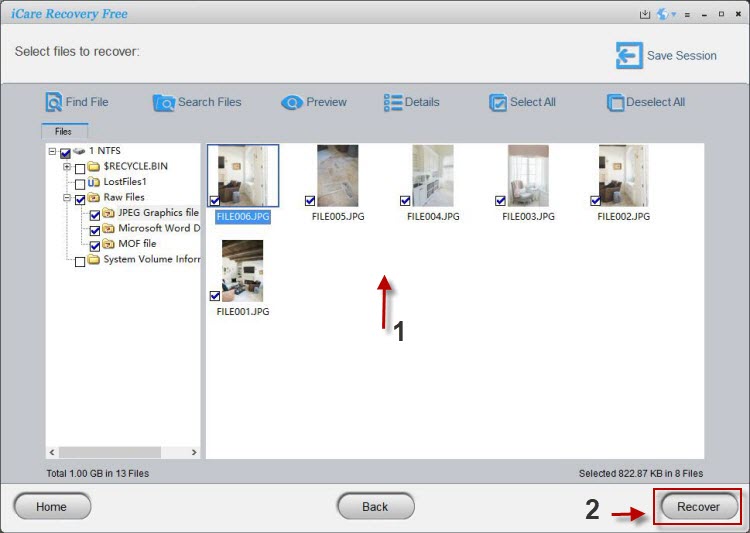 iCare Data Recovery is a Windows-based data recover tool, which is compatible with Windows XP, Vista, 7, 8, 10 and Windows Server 2003, 2008, etc. Therefore, you can free download this data recovery software for Windows 8 data recovery in any data loss situation. It's free to recover unlimited files.
Supported Data Recovery Situations in Windows 8 OS
Generally speaking, data will get lost on Windows 8 OS due to human mistake or system error. When you lose data due to both of reasons, you can use iCare Data Recovery to recover permanently deleted files on Windows 8 in following data loss situations:
Usually, human mistakes that lead data to be lost on Windows 8 include:
System error usually includes:
Probably, you connect your external hard drive to backup important data, but you mistakenly format the external hard drive with all data lost. Or you insert a memory card to Windows 8 computer to transfer some pictures, but you delete some precious photos by accident? Even worse, Windows 8 operating system is corrupted and shows some error message, in which situation you are unable to read data on hard disk drive? Well, data loss problem occurs on Windows 8 OS due to many reasons, but what can you do to get back all lost data?
Windows 8 Asks to Reformat Disk Drive
Windows 8 will report disk drive not formatted error on an internal hard disk drive or removable disk due to many reasons. PC will ask you to reformat the disk drive in order to resolve this problem. Usually, on Windows 8 operating system, the error message shows "You need to format the disk drive before you can use it". Disk drive not formatted error is a problem that can occur on any device on all computers, which will cause data to be inaccessible. Therefore, you need to use iCare Data Recovery to extract all inaccessible files off the disk drive which requires formatting. You had better avoid reformatting the disk drive before recovering all needed files.
Windows 8 Blue Screen of Death
Blue screen of death is an error screen that might show on any computer. Compared with Windows XP or Windows 7 operating system, blue screen message has been updated with less information show on PC which runs Windows 8 OS. When blue screen of death problem occurs on Windows 8, the error message might show "Your PC ran into a problem and needs o restart. We're just collecting some error info, and then we'll restart for you". Your computer usually restarts automatically when it reports the error message in order to prevent damage to your computer.
Some possible codes you may receive when blue screen of death occurs on Windows 8: 0x000000ED, 0x000008e, etc.
Possible reasons and solutions for Windows 8 blue screen of death
Windows 8 PC Shuts Down or Reboots Automatically
Probably, you are reading or writing data on your PC which runs Windows 8 operating system, but the computer shuts down or reboots automatically without showing any error message. Rebooting or shutdown unexpectedly is a problem that you might encounter on any Windows computer, which might result from many reasons like power outage, software conflict, system crash and more. Automatical shutdown of restarting or computer might result in unexpected damage to your computer. Especially, if you are transferring data on your computer while shutdown of the PC, it might cause huge data loss. If you want to avoid unexpected shutdown or reboot of your computer, you should install software that is able to be compatible with Windows 8 operating system and protect the software from being infected with virus and so on.
About Windows 8
Windows 8, a personal computer operating system for desktop, notebook, tablet PCs, etc, is developed by Microsoft. Microsoft released Windows 8 operating system on October 26, 2012. As a member of Windows NT family of operating system, Windows 8 operating system has some changes compared with its predecessors. Windows 8 has Modern UI interface in order to improve its user experience. Windows 8 provides a better support for screen touch. Windows 8 has some new and changed features including safety and security, online services and functionality, Windows Store apps, Web browsers and interface and desktop. PC running Windows 8 operating system usually runs more quickly and efficiently.
Last updated on Sept 14, 2023
Related Articles