Windows Server 2008 Data Recovery
How to recover deleted files on Windows Server 2008 r2? Is there anything you can do to recover data on Windows Server 2008? If you still have no idea, this article will tell the solution for Windows 2008 data recovery in various data loss problems.
Windows Server 2008 Data Recovery Software Download
A data recovery program is available for lost file recovery when files got lost due to any reason on Widows Server 2008. iCare Data Recovery Free is a Windows-based data recovery tool, which is able to work on all Windows OS.
3 Steps to Restore Files on Windows Server 2008

Pay attention: Do not install the data recovery software on the partition where data got lost because it might overwrite the previous lost files when you install it on the same partition.
Step1. When the software shows all scan modes, you need to select a proper scan mode based on the cause for data loss.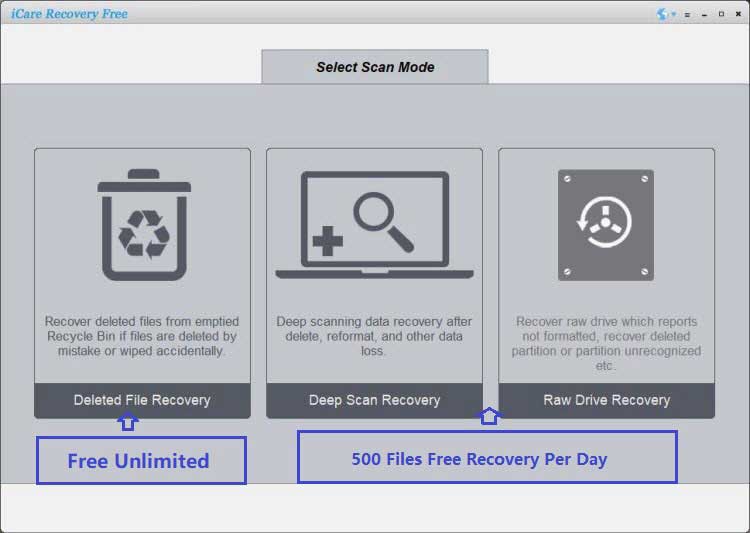 Step2. Choose the drive where data got lost and then the software will scan the selected drive to search lost files. You just need to wait patiently when the software is scanning.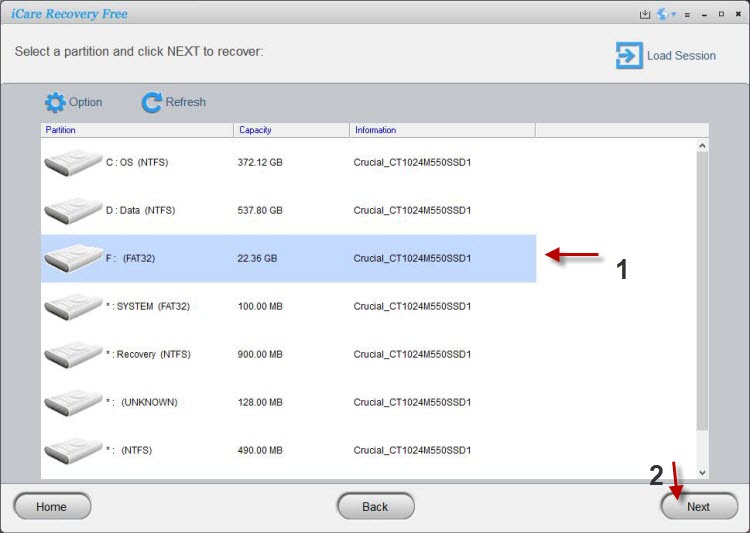 Step3. You can preview the found files when the software shows all data after scanning. Then, you can select the lost files and save them to another drive.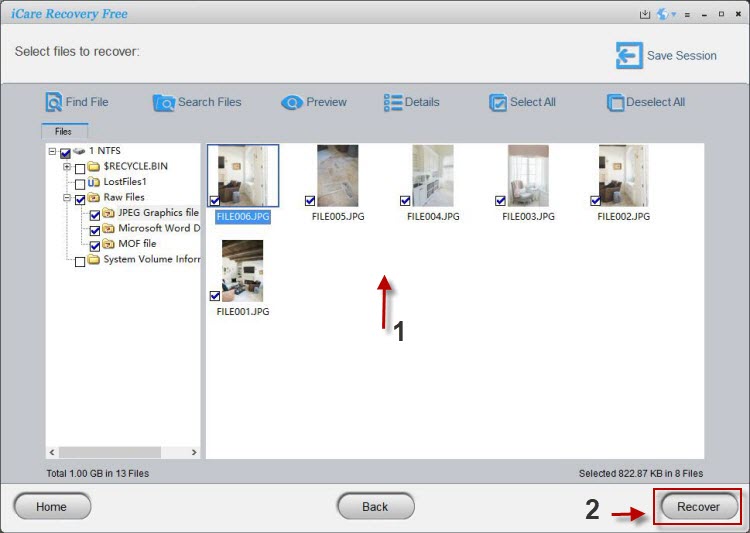 You can free download and use iCare data recovery software to restore any type of files on Windows Server 2008 after deleting files, formatting disk drive or Windows 2008 operating system is corrupted/crashed. Anyway, this data recovery software enables you to restore data from internal hard disk drive or removable disk on Windows Server 2008 OR Windows 2008 R2 as long as the storage media is not physically damaged or data is not overwritten by new data.
Recover Files on RAID Array on Windows 2008
RAID Array is commonly used on Windows Server operating system because it provides a better solution for data storage than basic hard disk drive. Although RAID array has a higher security, you might lose data on RAID array due to different reasons. Here are some possible causes for data loss on RAID array in Windows Server 2008:
If you lose any important data on any RAID array in Windows Server 2008, you can use iCare Data Recovery to get back lost files. Please do not try to rebuild the array when you meet any problem that causes data loss. iCare Data Recovery allows you to restore data from RAID 0, RAID 1, RAID 2, RAID 3, RAID 4, RAID 5, RAID 6, RAID 10, etc as long as the previous data is not overwritten and the hard drive is not physically damaged.
RAID 5 Volume Failure Showing RAW Format on Server 2008 SBS
Hard drive failure in RAID 5 array and you are unable to access data stored on the array in Windows Server 2008 SBS? RIAD 5 volume shows RAW file system asking to reformat the drive when you attempt to open the volume to read or write any data? RAW error could occur on basic hard disk drive or RAID array, which usually disables users to open the volume normally. When you receive the RAW error message on RAID 5 volume on Windows Server 2008 SBS, the first thing is to recover data rather than fixing the error. iCare Data Recovery is able to extract files off any inaccessible storage media when it reports RAW file system on computer.
Data Loss Results from Windows 2008 Power outage
Unexpected power outage during the running of Windows Server 2008 might lead to huge loss. One possible situation is that data stored on the RAID or disk drive might be lost. For example, you might update the Windows Server 2008 operating system or you might transfer some important data on your computer, but all of a sudden, the computer shuts down due to power failure. When you reboot the computer, you may find that some or even all data might get lost on the array or disk drive. You should always be careful to avoid unexpected power outage of your Server OS. If the problem occurs unavoidably, you can use iCare Data Recovery to retrieve files from RAID array or basic hard drive on Windows Server 2008.
Windows Server 2008 R2 Blue Screen of Death
Have you ever received blue screen message in Windows Server 2008 R2? System might show that Windows shuts down to prevent damage to your computer because some problem has been detected. You may also receive message saying directory services could not start because that the device attached to the system is not functioning. Blue screen message might show a little differently on different Windows OS, but it could cause the same damage to your computer due to blue screen of death. If it has caused data loss due to blue screen problem on Windows Server 2008 R2, you can rely on iCare Data Recovery to perform data recovery on Server.
Windows Server 2008 System Crash
Server 2008 is a stable operating system which improved its reliability compared with Windows 2003. However, it does not mean that your computer with Windows Server 2008 operating system always run in a safe and reliable environment. You may meet different problems on the operating system, which might lead to data loss. System crash is a disaster for all computers because it usually leads a computer not to work normally. Usually, an operating system might be corrupted because of many reasons, such as:
Computer is infected with virus after installing some software or visiting unsafe links
Some new installed software is not compatible with the Windows 2008 operating system
System partition runs on low disk space on Windows Server 2008
In order to prevent system crash to your computer, you can pay attention to following points:
Make sure that the all programs on your computer are compatible with the operating system
If the system crash is caused by software conflict, you had better uninstall the software
Resize the RAID volume when system partition is running out of disk space on Windows 2008
Install and update antivirus software to prevent virus attack to your computer
About Windows Server 2008
Windows Server 2008 is a Server operating system developed by Microsoft, which is the successor to Windows Server 2003. Microsoft released Windows 2008 on February 27, 2008. Microsoft has released 8 editions of Windows Server 2008 to meet different enterprise's demands, which include Windows Server 2008 Standard, Windows Server 2008 Enterprise, Windows Server 2008 Datacenter, Windows Web Server 2008, Windows Server 2008 for Itanium-Based Systems, Windows Server 2008 Standard without Hyper-V, Windows Server 2008 Enterprise without Hyper-V and Windows Server 2008 Datacenter without Hyper-V.
Windows Server 2008 has the same code base to Windows Vista, so it has lots of same architecture and functionality to Windows Vista. However, Windows Server 2008 also has many improvements and has some new features to make it a better operating system for enterprises.
Last updated on Sept 14, 2023
Related Articles