Hard Drive Is Not Initialized on Windows 11/10/8/7
Do you know why does a hard drive say it is not initialized and needs to be initialized? How to fix data from a hard drive that shows not initialized on Windows computer? You might be frustrated that hard disk drive shows uninitialized on Windows operating system when it contains many important data because you are unable to access any data unless initializing the hard drive.
Jump to : How to recover data from uninitialized disk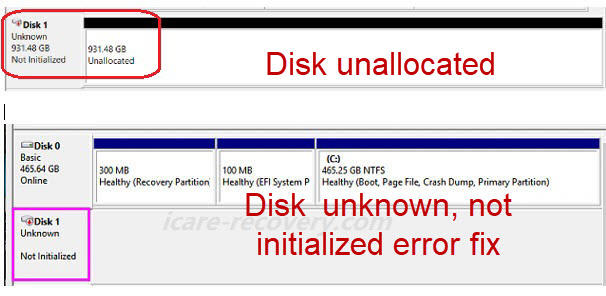 Disk 1 unknown not initialized
Fast fix -> 8 free ways to resolve disk unknown not initialized error
It will erase the hard drive if you initialize it. If you want to fix the hard drive initialized problem on Windows without losing any data, iCare Data Recovery can help you to repair deleted files from Windows first of all.
Video - 5 ways to fix disk unknown not initialized
How to Recover Data from Initialized Hard Drive on Windows?
You do not need to initialize the hard drive; instead, you can run iCare Data Recovery to recover files from the uninitialized hard drive on all Windows computers.

Step1. Free download iCare Data Recovery on computer and select 'Deep Scan Recovery' mode.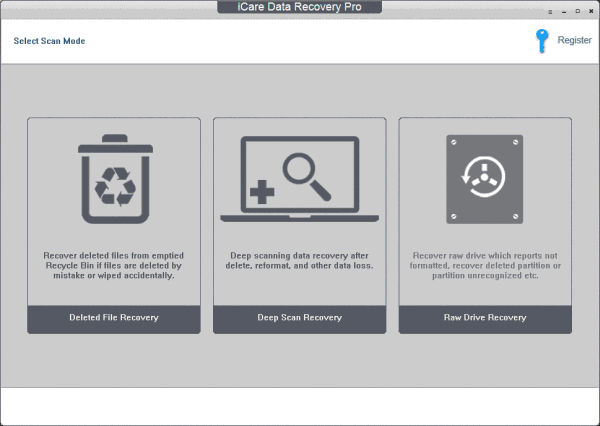 Step2. Choose the disk drive that shows not initialized and scan.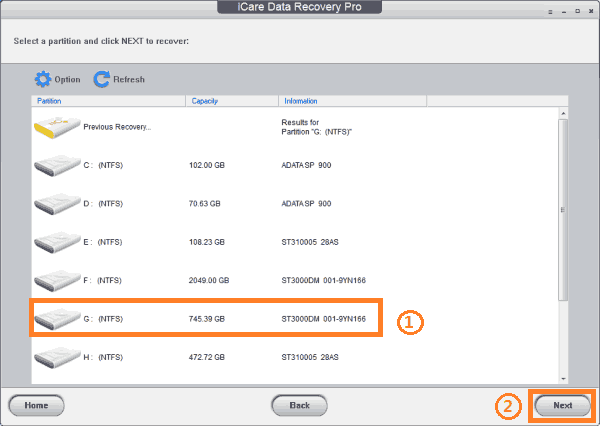 Step3. Preview files after scanning and then save the lost files to another drive.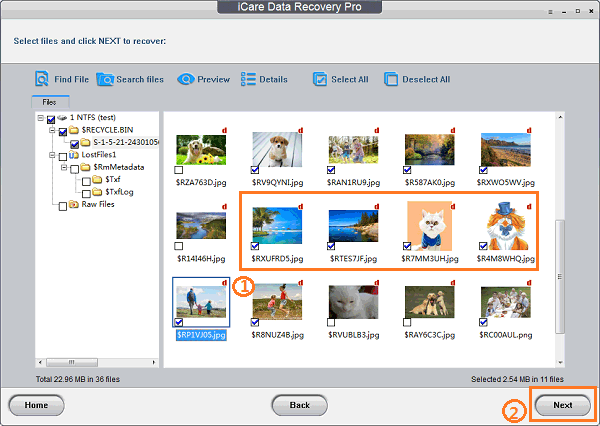 How to Initialize Hard Drive on Windows?
Then, you can select the Initialized disk option to initialize the hard drive. You need to knows that initializing the disk will erase all data stored on this partition, so you had better make sure that you have restored all needed data before initializing the hard disk drive under Disk Management.
Why Does Hard Drive Show Uninitialized on Windows?
It is not strange if it is a new hard drive shows uninitialized after installing on a Windows computer. Every time you install a new hard drive on a Windows computer, you need to divide it into several partitions and initialize it in order to make it work normally. However, it is a terrible problem if the hard drive shows uninitialized due to following reasons:
1. The hard drive contains bad sectors
Hard drive bad sectors will cause many problems, among which hard drive not initializing is a common problem. Besides, hard drive bad sectors might also result in hard drive RAW not formatted error, hard drive corruption and more.
2. Hard drive failure due to virus infection
If your hard drive shows not initialized on Windows computer, you had better run antivirus program to check yourhard drive. Virus infection can damage the file system of hard disk drive and you might face hard drive failure problem on your computer. In this situation, the hard drive might also say uninitialized.
3. Hard drive is damaged due to Windows system crash
Sometimes, hard drive will be damaged due to Windows system crash,in which situation the hard drive might shows not initialized when you attempt to open it.
External HDD Is Not Initialized on Windows
iCare Data Recovery is also helpful with data recovery from external hard drive and other storage media when you cannot open the disk normally since it shows uninitialized on Windows computer. In addition to what mentioned above, an external drive might be uninitialized due to incorrect operation. For example, you unplug external hard drive to computer unsafely during data transferring. You had better avoid these improper operation.
Hard Drive Not Initialized on Windows 11/10/8/7
Windows 10 operating system is the latest Windows OS developed by Microsoft. Windows 10 operating system has many improvements than its previous version, but you are still unable to access a disk partition when it shows not initialized on Windows 10 or its other versions like Windows 8/7/Vista/XP...
iCare Data Recovery is compatible with all Windows operating systems like Win10 to recover any lost data from all brands of hard drives like Samsung hard drive, Maxtor hard drive, WD , Seagate , Hitachi , Toshiba hard drive, etc when Windows OS reports that hard drive is not initialized and not accessible.
Similar Error like Hard Drive Not Initialized on Windows
You can try iCare Data Recovery to resolve data loss problem when run into the similar data loss problem as below:
Hard drive is write-protected
---
Last updated on Oct 20, 2021
Related Articles