Windows Server 2003 Data Recovery
Windows Server 2003 is a Microsoft operating system, which is usually able to meet different commercial demands However, it disturb lots of people when they encounter various kinds of data loss problems on Windows Server 2003 operating system. You may lose data on Windows Server 2003 due to following reasons:
Accidentally deleted files by pressing Shift + Delete keys or Delete key
Format disk drive by mistake on Windows Server 2003
Windows 2003 operating system is crashed due to virus infection, software conflict or any other reasons
Unexpected power outage or power off
Hard drive turns to RAW file system in Windows 2003
Data got lost after reinstalling Windows Server 2003 operating system
RAID disk failure on Server 2003
More other reasons
Do you know how to resolve the problem if you unfortunately run into the similar data loss situation? Do not worry! This article will introduce solution for Windows Server 2003 data recovery in all data loss situations.
Windows Server 2003 Data Recovery Software Download
Truthfully, you need to rely on data recovery software to recover lost data on Windows Server 2003. iCare Data Recovery Pro is a data recovery program that is able to work on Windows 2003 Server operating system. You can free download this software and use it to restore any file such as images, videos, music, documents, etc from Windows 2003 RAID volume or basic hard disk drive in various data loss situations. This data recovery software provides read-only solution for data recovery on Server 2003, so it will not lead any further data loss or damage on your computer.
Steps to Recover Files on Windows 2003

Preparation: Free download and install iCare Data Recovery on Windows Server 2003. Please pay attention not to install the software on the drive where data got lost. Then, you can launch the software and follow the steps below to restore lost files on Windows 2003:
Step1. You can select a proper scan mode after entering the main interface of the software.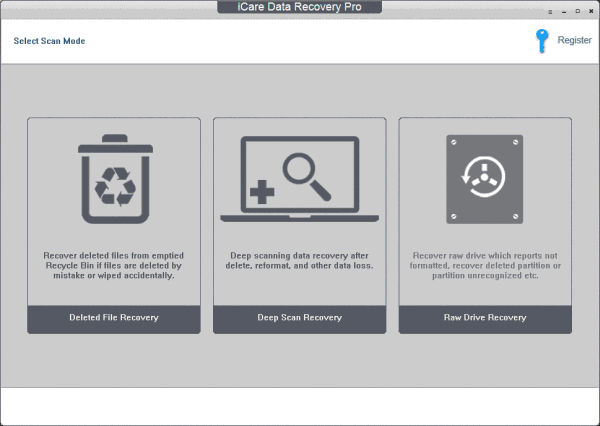 Step2. Choose the disk drive where data got lost and then you just need to patiently when the software is scanning the selected drive to search lost files.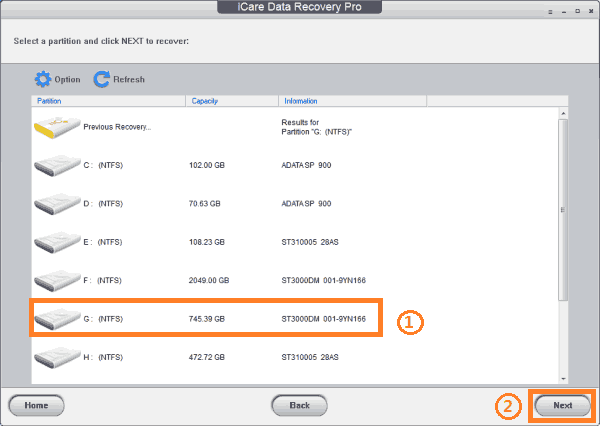 Step3. After scanning, you can preview some files like images and documents. Then, you can select all lost files and save them to another drive.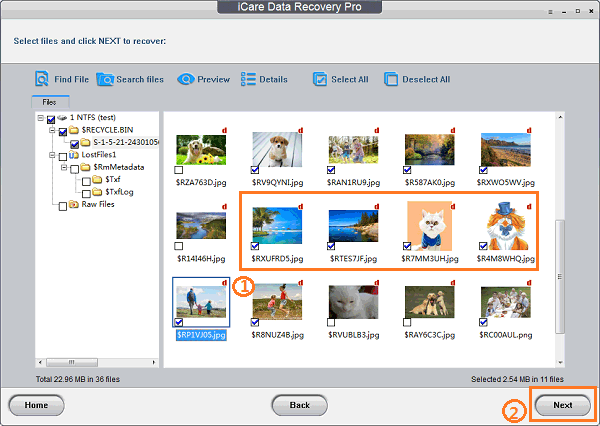 Server 2003 RAID Volume Data Recovery
Server 2003 is usually used in small or medium enterprises, where need to store and manage a number of data. RAID drive is a good choice for many enterprises to store a large amount of data, but is there anything you can do to get back the lost file if all data stored on the RAID volume in Windows Server 2003 operating system? Well, you might lose some or even all data from a RAID volume on Server 2003 due to many reasons like mistaken deletion, formatting, RAID hard drive failure, RAID array rebuilding, RAID volume virus infection, RAID hard drive bad sectors, etc. If you meet the similar problem at any time, you can use iCare Data Recovery to restore files from the RAID volume. This data recovery supports RAID 0 data recovery, RAID 1 data recovery, RAID 2 data recovery, RAID 3 data recovery, RIAD 4 data recovery, RAID 5 data recovery, RAID 6 data recovery and RAID 10 data recovery. By using this data recovery software, you do not need rebuild the array. Even if the RAID array is not accessible, this data recovery software allows you to extract all previous inaccessible data without rebuilding the array.
Windows Server 2003 Dynamic Disk Failure
Almost all Windows operating systems support basic hard disk drive, but only a few Windows operating systems support dynamic disk. You can easily convert a basic hard drive into a dynamic disk, but you should know that it is almost impossible to convert a dynamic disk back to a basic hard drive unless you can recreate the dynamic or rely on some professional tools. When you read or write data on dynamic disk on Windows Serve r 2003, the dynamic disk might be failed or corrupted due to many reasons. Usually, it might cause dynamic disk failure on Windows Server 2003 due to virus infection, improper operation, bad sectors, etc. If you are unable to read data from dynamic disk on Windows Server 2003 due to disk failure, iCare Data Recovery provides an easy solution for data recovery on dynamic disk.
Windows Server 2003 RAID 5 Failure
RAID 5 is an array commonly used in Windows Server OS, which provides a good solution for data storage. However, sometimes, you might meet RAID 5 disk failure problem on Windows Server 2003. Usually, Windows Server 2003 RAID 5 disk might fail due to following reasons:
1. Hard disk drive in RAID 5 array is corrupted
As you know, RAID 5 arrays is created by at least 3 hard disk drives. If more than one hard drive is corrupted or hard drive contains bad sectors in RAID 5 volume, it might cause RAID array failure problem.
2. RAID 5 volume is attacked by virus
Virus infection would cause various kinds of problems. RAID 5 volume might fail if it is infected with virus.
3. RAID 5 array fails after adding new hard drive to it
Sometimes, you may find that RAID 5 stops working normally after adding a new hard drive to the array. If so, you had better check if the new added hard drive is compatible with the RAID 5 array. You need to install a hard drive that is able to be compatible with the RAID array and the existing hard drive. Otherwise, the RAID 5 volume might keep failing.
Windows 2003 Blue Screen of Death
Since Windows Server 2003 operating system is developed for Server, it has default settings for some hardware. Therefore, people who install Windows Server 2003 on personal computer might meet some problem. Windows blue screen of death is one possible problem that you might meet on your PC which runs Windows Server 2003 OS. Generally speaking, PC usually shows blue screen of death due to conflict or incompatibility after installing some hardware driver. In addition, your computer may report blue screen of death and shuts down automatically because the operating system is not compatible with some software. What is more, a computer will also tell blue screen of death due to virus infection. Anyway, Windows Server 2003 blue screen of death is a problem that would be caused due to various reasons. You need to make it clear the reasons why your computer shows the error message so as to fix the problem efficiently.
About Windows Server 2003
Windows Server 2003 is a Server operating system which was developed by Microsoft. Microsoft developed Windows Server 2003 operating system based on Windows XP, so Server 2003 has some of Windows XP features. Windows Server 2003 was released on March 28, 2003, which has many improvements than Windows 2000. Microsoft stopped supports for Windows Server 2003 on July 14, 2015. Windows 2003 has several editions including Windows Server 2003 Web Edition, Windows Server 2003 Standard Edition and Windows Server 2003 Enterprise Edition. Windows Server 2003 R2 is the updated edition of Windows 2003, which was released on December 6, 2005.

---
Related Articles