Recover SD Card Data in Windows 10
"Hi! Please give me some help because I need an SD card data recovery program which can work in Windows 10 operating system. I reinstalled Windows 10 OS instead of Windows 7 OS on my computer. However, when I connected my SD card to computer which runs Windows 10, the SD card is not recognized by computer. I have more than 1000 images on this SD card, so please tell me how to extract files off the corrupted SD card."
"I have some photos, videos and music stored on my 8GB SD card. Considering the SD card is nearly full, I wanted to delete some not so important videos to free up space. When selecting files to delete, I wrongly deleted some photos which are unique and important. Can I recover photos from SD card after deleting on Windows 10?"
"Last week, I formatted my SD card in Canon digital camera due to mistake. When I got home, I forgot to perform data recovery from the SD card. Today, I connected my SD card to my computer (runs Windows 10) and attempted to recover files from formatted SD card in camera. After connecting the card to my computer, I found some pictures on the card. My mother told me that she used my camera a few days ago and took some pictures. Now, is it still possible to recover the lost data?"
Video - recover files from sd card in Windows 10
Also read: recover sd card photo
Recover Data from SD Card in Windows 10
For the data loss situations above, you can rely on iCare Data Recovery software to restore lost files. It is a read-only data recovery tool which can be compatible with Windows operating system to help recover images, music, videos, etc from SD card, mini SD, microSD, SDHC, SDXC, MMC and more other types of memory card. If you have any problem with SD card data recovery in Windows 10, you can follow the guide below:
Free Memory Card Recovery

Download iCare Data Recovery Pro Free to recover files from mobile phone camera memory card including photos, videos, music...
Step1. Run the data recovery software and choose a recovery module.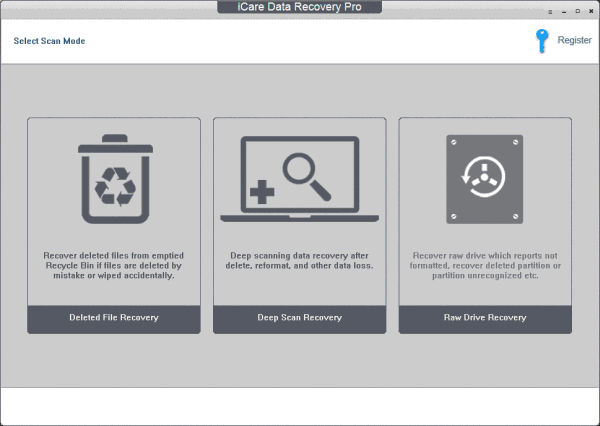 Step2. Choose the micro SD card as aim disk and let the software scan it for lost data.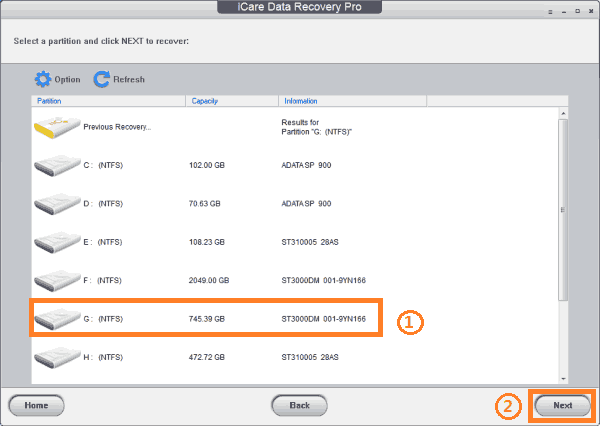 Step3. Preview the found files and recover the data lost from SD card.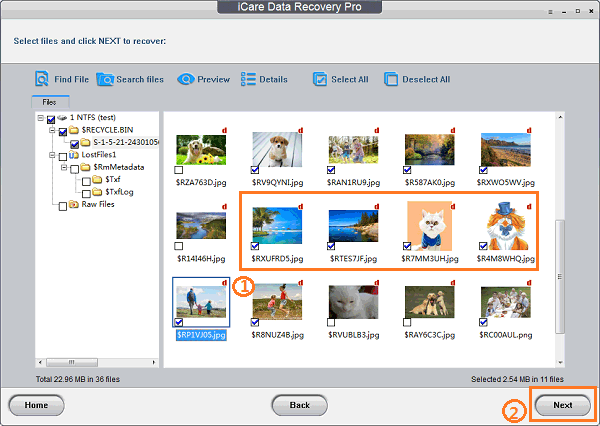 Recover Deleted Photos from SD Card in Windows 10
Imaging you delete some photos from an SD card in your digital camera, mobile phone or PDA, but you cannot recover deleted photos in devices like camera or phone, PDA. You have to connect the SD card to a computer for file restore. You can connect an SD card to Windows 10 through proper card reader or USB cable so that you can run the iCare Data Recovery for SD card deleted file recovery on Windows 10.
SD Card Is in RAW Format
In addition to the cases mentioned above, data can be lost from an SD card due to some other reasons. SD card RAW format is one of the most common reasons for data loss. Usually, you cannot access your SD card when it turns to RAW file system unless you can format the card. However, formatting is not a good choice because it will erase the memory card. Therefore, when you encounter SD card RAW drive error, you should perform data recovery first of all and then format the card to convert it from RAW to FAT32.
How Do I Access My SD Card in Windows 10?

Why does an SD memory card is inaccessible in Windows 10? Since Windows 10 is the latest OS released by Microsoft, you need to install proper driver devices that can recognize an SD card in order to make sure that it cannot be recognized and accessed.
---
Related Articles
Hot Articles