How to Fix RAW Disk/External USB without Formatting - 3 Ways

By Mike Ferrer, Last updated on Sept 14, 2023
Summary
Is there any tool that can convert raw external/internal hard drive ntfs without formatting or recover files from hard drive without formatting? Many users may query whether there is tool that can convert a raw drive directly to ntfs without formatting. For simple and fast solution, iCare Pro Free takes only 3 steps to perform raw usb disk recovery without losing data as a 100% safe solution.
How to Access Data When Disk is RAW - Users' Need
Is there any method that could fix my raw external usb drive without formatting? The external usb hard drive suddenly became raw and there are important data inside that can no longer be accessed. I just need some program that can make the disk work again...
Video Tutorial: How to fix raw disk drive
Way#1- Recover Files from Hard Drive without Formatting
>> Free RAW Disk Recovery -100% Safe
Download iCare Data Recovery Pro to rescue raw usb disk without formatting. It only takes a few steps to start repairing the raw drive.
Step1. Connect your hd to PC , install and launch iCare Recovery and choose a recovery mode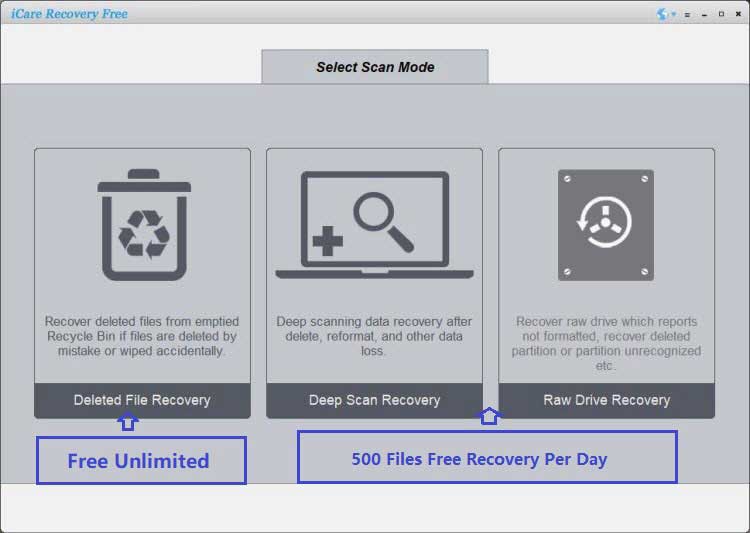 Step2. Then choose your raw external disk to start repairing.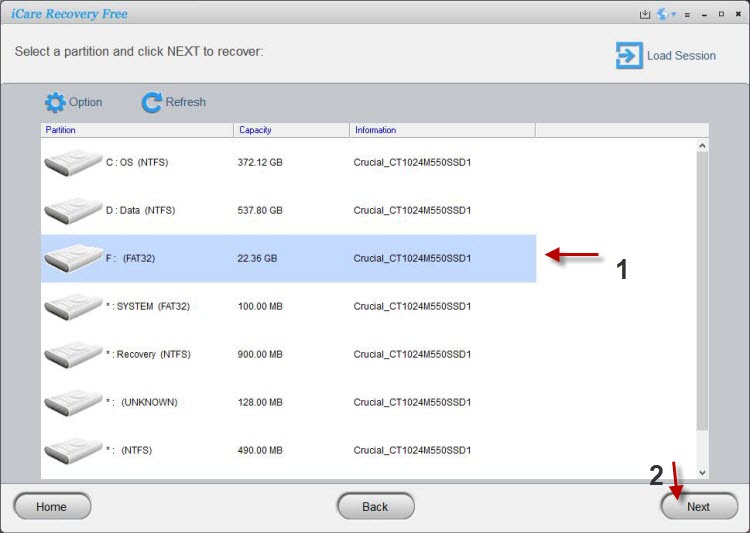 Step3. Save your raw disk data to a safe place other than the raw disk.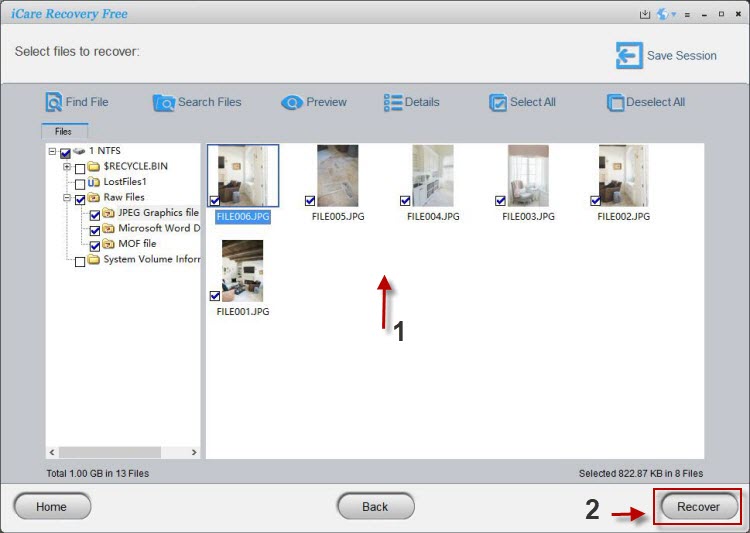 Way#2 - Change raw disk to ntfs/fat32 without formatting by changing its drive letter
When the disk suddenly turned raw, you may try changing its drive letter in the disk management.
Here are the steps to make the changes.
Insert disk to pc if it's an external disk
Right click the PC -> Manage -> Disk Management
When the disk is loaded in Disk Management, right click the raw disk, and go to option "Change drive letter and paths..."
Asigning a new drive letter for the raw disk and click OK
If this method does not work, try the following.
Way#3 - Repair damaged hard drive with chkdsk without formatting
Chkdsk is the command for repairing possible logical errors on the storage drives that can be performed under DOS cmd or the error checking tool in Windows.
Simply open Command Prompt, type "chkdsk [drive letter]: /f" (e.g., "chkdsk D: /f"), and press Enter. This command will attempt to fix file system errors on the RAW drive.
If your usb drive or hard disk shows drive letter E, you may use "chkdsk E: /f" and press enter in the command prompt window.
The following video shows how to repair raw disk without formatting.
Tips to Avoid Hard Disk to Become RAW
It often happens for users when their hard disk suddenly became raw and they need to fix the raw external hd to ntfs without formatting or losing data since there should be some vital files inside. The unsafe removal could be a top reason along with virus attack for a disk to become raw.
Here are some tips that you may avoid such awkward moments.
* Always have a backup of your disk data even when it is a backup disk, that means you may have at least 2 copies as backup for your important data
* Do not drop your disk or move it when it is connecting to PC
* Do not format too much of your hard disk
Also read -> convert raw drive to ntfs without formatting
What happened to a disk that became raw suddenly
A regular file system for a hard drive would be ntfs or fat32 for the past dozens of years due to the hard disk history. What happened when it suddenly shows raw?
The truth is the file system of a hd is damaged, so Windows is no longer able to recognize its file system property and it shows the RAW status the unformatted unused status. It could be caused by some of the following cases that brought the RAW to your hard disk
Eject external drive without safe removal that could bring external drive show raw
Virus attack and file system was damaged
Software failure brought to your disk file system damage
Other unknown reasons and suddenly usb disk became raw
Repair RAW Disk by formatting with CMD/Disk Management
If the disk has been rescued by iCare, you may go ahead to format the disk ntfs with a cmd command line, or just go to Disk Management of your PC and then see your disk under Disk Management, format it ntfs for future use.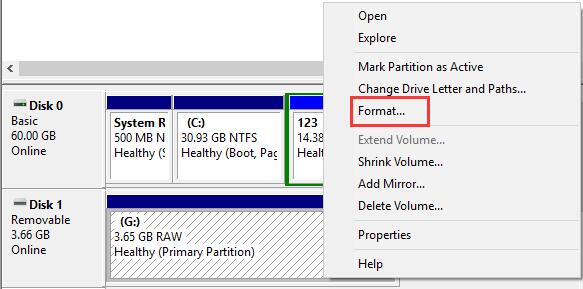 If it reported error cannot format usb, try solutions on this page: Windows cannot complete the format
Conclusion
Removable disks have become an integral part of our digital lives, primarily serving as a means for storing work files and safeguarding personal backups. They play a vital role in preserving our memories through photos, videos, and work-related documents, offering a convenient storage solution.
When a disk encounters issues, whether stemming from physical damage or logical errors, it can potentially result in a data catastrophe. In cases of logical problems, data recovery software can often be employed to retrieve lost files. However, when confronted with physical damage, recovery becomes a futile endeavor, and seeking assistance from a local disk repair center becomes necessary, albeit typically at a substantial cost.
THANKS FOR READING: As a special recovery center, iCare Recovery is dedicated on digital device recovery and can help bring lost data and get problem fixed.
Hot Topics