Recovering data from Seagate disk
This page guides you to recover files from Seagate hard drive / external HDD after deleting, formatting or Seagate has problems.
Table of Contents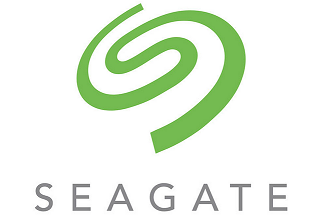 Seagate Data Recovery Software Download Free
Seagate Technology Corporation is specialized in hard disk and external hard drive manufacturing, so Seagate data recovery software is a recovery tool which supports for Seagate hard drive recovery and Seagate external hard drive recovery.
iCare Data Recovery Pro is a data recovery program which supports Seagate file recovery in different situations.
Seagate Recovery Tool Supported Situations
Simply say, Seagate disk drive users will encounter data loss issues due to two kinds of reasons:
1. Human mistake
This is usually refers to the situations that you make mistake to delete, erase or wipe data from a Seagate disk drive, such as:
2. Seagate disk drive errors
Without making any mistake, data sometimes gets lost from Seagate hard drive or removable hard disk due to some errors, like:
Seagate hard drive has I/O device error
Cannot access Seagate disk drive
Seagate portable hard drive is not recognized by Windows
Seagate disk drive has RAW file system
Whether it is human mistake or disk drive issue that causes Seagate data loss, you are able to get back the lost files before the disk drive gets physically damaged or overwritten.

For Seagate recovery, you can use iCare Data Recovery Pro. It is a Seagate data recovery program for Seagate HDD and portable hard disk file recovery in every data loss problem:
Step1. Download for free and install the Seagate recovery software on a Windows PC. Then, launch the software and select a scan mode for file recovery.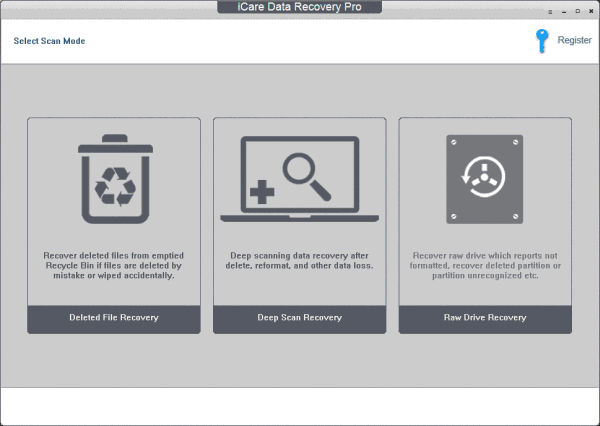 Step2. Choose the Seagate drive and then wait patiently when the software is scanning.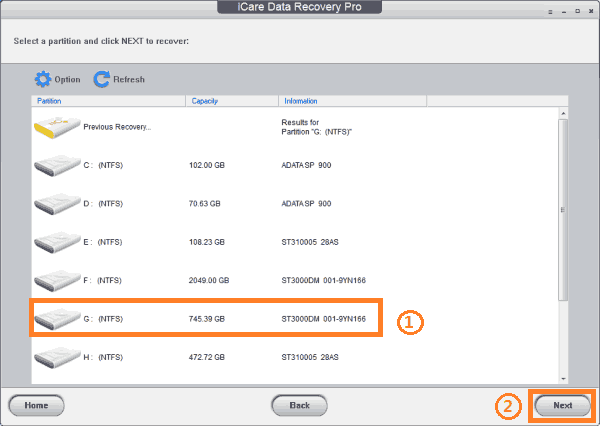 Step3. Preview files and then recover the files you need.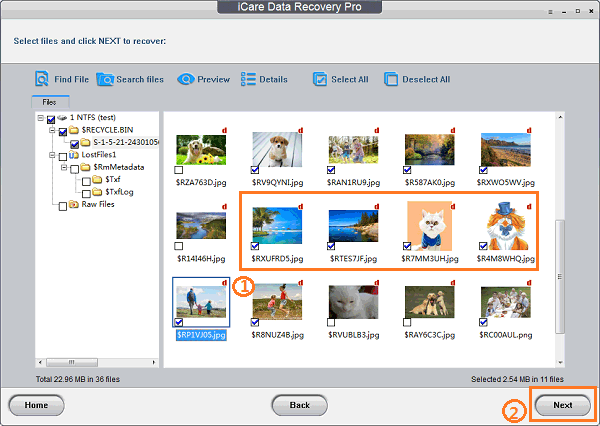 Seagate Retrieval Service
Seagate Technology Corporation mainly releases and produces different internal hard disks and USB hard drives. Both internal and removable hard disk can be used for data storage, so you may run into Seagate file loss on an internal hard disk partition or external hard drive. Any way, iCare Data Recovery Pro is available in files recovery from both internal and external HDD of Seagate:
Seagate Hard Drive Data Recovery
Seagate hard drive is well known for its good quality. As the largest disk drive manufacturer, Seagate Technology Corporation manufactures hard disk drives for desktop and laptop.
1. Seagate hard drive for desktop
Seagate Barracuda & reg hard drive – It is mainstream, high-performance and high-capacity desktop hard disk.
Seagate Barracuda XT hard drive – It is the first 2TB 7200 RPM hard disk for desktop, which has 64MB caches and SATA interface. This type of hard drive is available for PC game, multimedia expert, entry-level server and workstation.
Seagate Barracuda 7200.12 hard drive – It is designed with mature technology, components and leading manufacturing skills, which provides 32MB caches 1TB desktop storage. It is available in workstation, desktop RAID, high-end PC, mainstream PC and USB / FireWire / eSATA external storage.
Seagate Barracuda LP hard drive – It has the advantage of low power consumption, including good heat dissipation, energy saving, mute operation, etc.
Seagate Barracuda 7200.11 hard drive – It is often used for workstation, game PC, mainstream PC, high-end PC and desktop RAID system, etc.
There are many other hard disk series of Seagate. In general, Seagate hard drive has interface of SATA, PATA, SAS, SCSI and Fibre Channel.
2. Seagate hard drive for laptop
Seagate Momentus 7200.4 hard drive – It is used for mainstream and high performance notebook, workstation, etc.
Seagate Momentus 5400.6 hard drive – It has high performance, which is available for mainstream laptop, industrial application, etc.
Recover Files from Seagate External HDD
Seagate external hard drive can be used for all computers including Windows and Mac. Seagate external hard drive connection type includes USB, Firewire, Serial and Ethernet. Seagate portable hard drive capacity is from 500GB to 4TB. Usually, a Seagate external HDD used for Windows is usually formatted to NTFS file system, while Seagate external used for Mac OS is formatted to HFS+ file system.
With iCare Data Recovery Pro, it is able to recover files from Seagate external HDD for Windows that has NTFS file system and Seagate external HFS+ HDD for Mac OS.
Fix Seagate Disk Drive Problems
A Seagate disk probably have different reasons, in which situation stops you from reading or writing data to the disk. Generally, common problems on a Seagate internal or external disk include:
Seagate logical failure refers to the case that the Seagate disk can still be recognized by computer, but it reports some error message when you attempt to open the disk drive, such as Seagate disk needs to be formatted or has RAW file system, the file or directory is corrupted and unreadable for Seagate, Seagate disk contains bad sectors, Seagate portable HDD is unable to be formatted and more.
For all those logical failures on a Seagate disk, data recovery is available for inaccessible disk file recovery and formatting provides the best solution for error fixing.

Recommend: If you are looking for a way to fix different failures on Seagate drive, please go to: Fix errors>>
Seagate Drive Is Physically Damaged
Physical damage means that the Seagate disk cannot work anymore. This problem often occurs when you drop the disk or notebook on the ground or the disk drive suffers water damage, etc. It is necessary to send the physically damaged Seagate hard disk or external HDD to professional disk repair shop to fix it.
Seagate Disk Series
Seagate Backup Plus – Seagate backup plus external hard drive provides good solution for data backup or transferring, so it is used by many users.
Seagate Expansion – Seagate Expansion is another famous portable hard drive, which offers good performance and high capacity for data storage.
In addition, Seagate disk is also available in other series like Seagate SSD.