Erased/Deleted Seagate HDD External USB Partition - Recover data from lost partition
This article will introduce the way to recover Seagate partition when got deleted by mistake. As you know, a hard disk is divided into several partitions on a computer. Partition deletion means that the partition is erased from computer and files stored on the partition will also be erased accordingly. Most people think that deleted partition is unrecoverable, but it is not true. Deleted partition is also recoverable just like that you can restore deleted files.
Seagate Deleted Partition Data Recovery Software
Deleted partition recovery must rely on data recovery software for seagate, so the most important thing for you is to select a useful and reliable data recovery software. iCare Data Recovery allows you to recover deleted partition easily. This software can work on deleted NTFS partition recovery and deleted FAT32 partition recovery. In addition, iCare Data Recovery supports all kinds of hard disks including Seagate. This data recovery software is very easy to handle, so you don't need to worry that you have no professional knowledge.
Steps to Recover Data When Seagate Partition Deleted by Mistake
Step1. Free download and install iCare Data Recovery on your computer. Launch the software after installing and go to the proper option.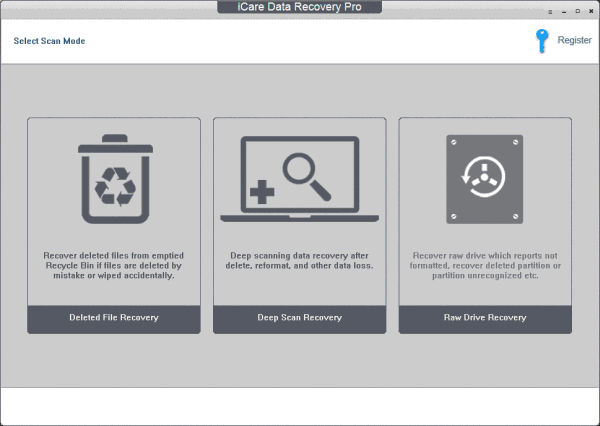 Step2. Choose device where partition got deleted to perform a scan. You can wait patiently in the scanning process.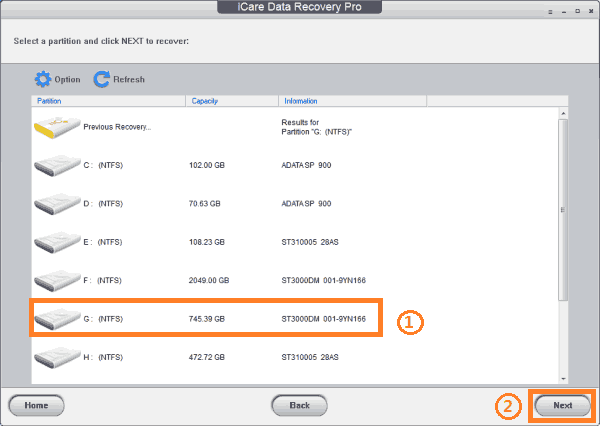 Step3. You are able to preview the found files after scanning. Then select the files you need and recover them.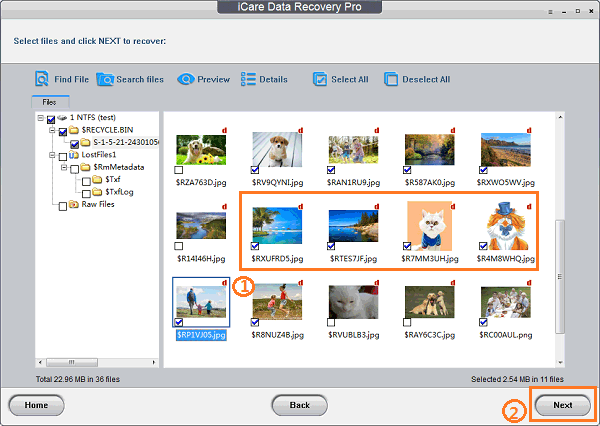 What Happened When Seagate HDD Partition Deleted by Mistake
Now, open "My Computer" and right click a partition, you may find that there is no "Delete" option. In another word, you cannot delete a partition in "My Computer", but you can only delete files from the partition. Usually, users might delete a disk partition in "Disk Management". If you open "Disk Management" and right click a partition, you can see that there is "Delete" option. Then, what will happen if you delete a disk partition mistakenly in "Disk Management"?
Well, when a disk partition such as Seagate partition gets deleted by mistake, the deleted partition will disappear from "My Computer", but it will be shown as an unallocated volume in "Disk Management". Therefore, the deleted partition is not really erased completely from computer. In this situation, Windows system will ask you to format the unallocated volume to access it. If you don't care about data stored on the deleted partition, you can format the partition and assign a drive letter to the partition. Then, you will find that the deleted partition will be shown as a local disk again in "My Computer", but it becomes empty with no data inside.
Recover Data from Seagate Deleted HDD Partition
Although similar question like "how to recover deleted partition" is often asked on Internet, some people still feel confused. In fact, deleted partition recovery often refers to file recovery from deleted partition. After running data recovery software, it will help you scan the device to search for lost files from deleted partition. Then you can recover and save the found files to another storage device. Finally, you can format the deleted partition (it is shown as unallocated volume in "Disk Management") and assign a drive letter to the partition.
NTFS and FAT32 Partition Recovery after Deleting
It doesn't matter if the Seagate partition is NTFS or FAT32 file system, iCare Data Recovery is helpful with data recovery when the partition is deleted by accident. The recovery software provides safe and reliable way to undelete files from the deleted partition with original quality. The iCare Data Recovery enables you restore all types of files such as pictures, videos, music, documents, emails, PDF files and more.
Download iCare Data Recovery to Recover Files at First
Works for Windows All Editions
---
Resource
iCare Data Recovery Pro : powerful all in one rescue software for Windows All OS
Related Articles
Other Articles